Have you ever wondered how Lane Cove Council identifies the community's main priorities and aspirations for the future …the answer is a Community Strategic Plan (CSP).
A CSP is a community's 10-year roadmap. It's a big-picture document directing efforts and resources toward a clearly defined vision.  The CSP outline the community's objectives on a broader scale. A CSP does not include individual actions and projects required to achieve those objectives. Those steps will be set out in a four-year delivery program and annual operations plans.
Every council in NSW is required to develop a CSP.   Lane Cove Council's role is to develop the plan on behalf of the community.  Once the CSP is drafted, the public can make comments and the final plan is presented to Laen Cove Council for adoption.  The CSP determines priorities until the next council election when the plan will be reviewed again.
Where Can I Find the Existing CSP?
Lane Cove Council adopted a new Community Strategic Plan – Liveable Lane Cove 2035 in June 2018.
Time to Review the CSP and Provide Your Feedback
It's now time to review Liveable Lane Cove 2035 to ensure it is still relevant and reflects the aspirations of the Lane Cove community.
This is a good opportunity for locals to provide feedback to Lane Cove Council about the issues important to them and to help shape the long term plan for Lane Cove – so get involved!!
Mayor Andrew Zbik would love you to get involved.
How Do I Provide My Feedback and Comments?
Until Friday 25 March 2022,  the Lane Cove community is being encouraged to participate in reviewing the CSP through a range of consultation methods, including:
A phone survey (not every resident will be surveyed – residents are randomly selected.  It is not opt-in.
An online survey  – complete the online survey here.
Interactive community workshops:

Wednesday 16 March 2022 – 11:00 am – 1:00 pm
Wednesday 16 March 2022 – 6:00 pm – 8:00 pm
Thursday 17 March 2022 – 6:00 pm – 8:00 pm

Make a submission to the General Manager by:
How Do Other Local Councils Obtain Feedback and Comments?
Many local councils adopt the same approach as Lane Cove Council (surveys and workshops) but is that enough to get real community involvement?  One of the first articles ITC wrote in 2012 was about how Lane Cove Council needs to find a better way to seek community feedback.
North Sydney Council has some interesting ways of collating feedback on their CSP from their residents including:
survey – prioritised the plan's current directions, outcomes and strategies, and identify new issues and priorities.
online map – dropping a pin on the online map to helped identify issues/concerns (and assign a category – value most, fondest memory or please improve).
story sharing – community members of all ages could share their stories and experiences about the North Sydney area using the Stories tool (see below) or via Instagram or Facebook.
photo album – share a photo of what you love most about the North Sydney LGA (e.g. favourite location, feature or experience) on Instagram or Facebook with the hashtag #mynorthsydney. Photos will be displayed during 2022. Selected photos will feature in the final plan.
children's artwork – children up to 12 years could visually depict their vision for the future of North Sydney on the provided template or any A4 format. Artworks will be displayed during 2022. Selected artworks will feature in the final plan.
round tables – peak bodies across a range of themes/services areas gathered online to identify emerging issues and priorities, and to discuss suggested solutions. Feedback will also be used to inform the development of Council's Community Development Strategy.
submissions – there was an online submission form or alternatively email and postal submissions were considered
market stalls – stalls were held at local markets providing the opportunity for face to face meeting
The Midcoast Council have had some issues, but they developed a system where you could complete the full survey or just list some top priorities
Port Macquarie/Hastings Council had some great ideas to include feedback from younger residents including a Minecraft competition.
Tweed Shire Council made sure all groups were represented and reached out to numerous community and sporting groups.
Keep Local News Free
---
Many of you have asked how you can support In the Cove. It's so easy – tell your friends about us, follow us on a different platform or subscribe to our weekly news blast.
We now have a Patreon account  where you can sponsor us for any amount you like (this allows us to keep local News free – no paywall!!!)
ITC wants to make sure you get local News when you need it by employing local people to help us out. We need your help – yes, local business advertises with us, but this is our sole source of funding. Feel free to be a reader sponsor if you have enjoyed our local news coverage – no amount is too small or too big. Thank you so much to the people who have already supported us via our press Patreon account. Help Us Here.
Stay tuned. We will be announcing our In the Cove Intern programme soon – where we will take on a part-time PAID intern who lives locally and is studying either PR, Social Media, Communication or Journalism.   This is our way to give back to Lane Cove, and as you would be aware, we offer free advertising for all local jobs as we are passionate about local jobs for local people.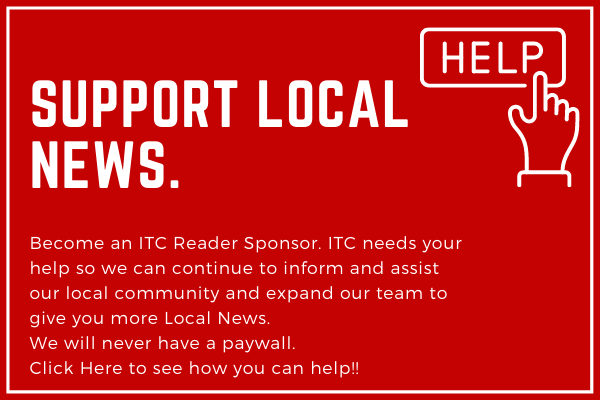 ---
Get Your Local News on Different Platforms
We have many platforms to follow, each taking a different take on Lane Cove News and Information. Don't miss out!
Facebook: www.facebook.com/inthecove