Updated 29 March 2021
Early Wednesday morning on 23 March 2022, In the Cove was advised there was police tape around the outside of Mama Hong's Vietnamese Restaurant.   ITC visited the area and there were three police waiting with a van parked near the restaurant.
Although the Police Media Unit told ITC that it had been logged as a break and enter, the matter was still unfolding, and they would be able to provide further details during the day.
Police Statement
The Police subsequently issued the following statement:
"About 9 p.m. on Tuesday 22 March 2022, a 22-year-old man allegedly entered a business on Longueville Rd, Lane Cove, and opened the cash register.
A short time later, two men – aged 37 and 28 – entered the business before they allegedly assaulted the 22-year-old man.
The 22-year-old man was then driven to an unknown location, where a 36-year-old woman entered the vehicle and allegedly assaulted him.
About 11.50 pm (Tuesday 22 March 2022), the 22-year-old man was released at a park on Henley Marine Parade, Drummoyne.
Officers attached to North Shore Police Area Command were contacted and commenced an investigation.
The man was taken to Royal North Shore Hospital with head and facial injuries, where he remains in a stable condition (as of 23 March 2022).
Following inquiries, officers attended a business on Longueville Rd, Lane Cove, yesterday (Wednesday 23 March 2022), where two men – aged 37 and 28 – were arrested and taken to Chatswood Police Station.
About 12.30 pm (Wednesday 23 March 2022), officers attended a home at Homebush West, where a 36-year-old woman was arrested and taken to Burwood Police Station.
All three were charged with take/detain in company with intent to get advantage occasion actual bodily harm and assault occasioning actual bodily harm in company.
The men were refused bail to appear at Hornsby Local Court today (Thursday 24 March 2022).
The woman was refused bail to appear at Burwood Local Court today (Thursday 24 March 2022)."
Timeline of Events
A Lane Cove local has told ITC that he walked past the business around 9.00 pm on Tuesday 22 March 2022.  He allegedly heard shouting coming from the premises.  He then decided to come back around and see if he could be of assistance and was allegedly told to go away and mind his own business.
Eyewitnesses said they saw the police start questioning the men as soon as they tried to open the store.
At about 2.30 pm five plainclothes police officers were seen at Mama Hong's premises.  Three were inside the premises taking photographs and two were outside the shop.
At around 5.00 pm local store owners were approached by an older couple who said they had not been able to contact their daughter and they did not know where she was.
Bail Refused
At the Burwood Local Court the next day the female owner of Mama Hong's, Ann Ngo attended court by video link where the matter was listed to be back in court on 18 May 2022, she did not apply for bail.
On 25 March 2022, a bail application was made on behalf of Ann Ngo and bail was denied.
Information for the Local Court Media Unit
2022/00083642-001 /  Seq 1 – Actual offence – Take/detain in company w/i to get advantage occasion abh-SI /  87683954
Application for Release/Detention/Vary of Bail Refused by Court

Bail refused. Matter remains listed on 18/05/2022.

2022/00083642-002 /  Seq 2 – Actual offence – Assault occasioning abh in company of other(s)-T2 /  87683954
Application for Release/Detention/Vary of Bail Refused by Court

Bail refused. Matter remains listed on 18/05/2022.
We have been unable to ascertain the following:
Details of the two other men involved in the matter and the status of their bail applications.
An update on the condition of the 22-year-old man who was taken to North Shore Hospital in a serious condition. The NSW Ambulance service do not have a record of a patient being picked up in Drummoyne and taken to Royal North Shore Hospital.  It appears that the man was taken to hospital by police.
ITC does not know if the 22-year-old man is a Mama Hong's employee or how he knows the owners.
The store has NOT reopened since the incident.
Background
Mama Hong's was opened in Lane Cove in April 2021.  At the time they already had a well know store at Concord.  After the second COVID19 lockdown in 2021 the Concord store did not reopen.
The store owners are Ann Ngo and her cousin Dominic.  Ann told ITC the following when she opened the Lane Cove store:
"We are 2 Westy kids who grew up in Cabramatta, the Vietnam of Sydney. We've been spoiled for choice, and now we want to share that with the rest of Sydney.
We don't have uni degrees, but we know how to work hard and with love.
Our parents escaped the war in Vietnam for a chance at a better life. Through their sacrifices, we have been blessed with the opportunity to do this.
Mama Hong's is a homage to our mums and the wealth of love, knowledge, and good food they have provided to us, despite the lack they experienced themselves.
This is to confirm that all the hardship was completely worth it, and my cousin and I work hard to make sure their legacy remains for future generations to come.
Mama Hong is a true representation of Australia – a nation that has embraced so many different cultures to become our own unique country. We spent over 10 years working in the hospitality industry, and our family back in Vietnam also own well-known restaurants, so food is in our blood."
The police will not provide any more information as the matter is before the courts.
Mama Hong's was an ITC business supporter.
---
Keep Local News Free
---
Many of you have asked how you can support In the Cove. It's so easy – tell your friends about us, follow us on a different platform or subscribe to our weekly news blast.
We now have a Patreon account  where you can sponsor us for any amount you like (this allows us to keep local News free – no paywall!!!)
ITC wants to make sure you get local News when you need it by employing local people to help us out. We need your help – yes, local business advertises with us, but this is our sole source of funding. Feel free to be a reader sponsor if you have enjoyed our local news coverage – no amount is too small or too big. Thank you so much to the people who have already supported us via our press Patreon account. Help Us Here.
Stay tuned. We will be announcing our In the Cove Intern programme soon – where we will take on a part-time PAID intern who lives locally and is studying either PR, Social Media, Communication or Journalism.   This is our way to give back to Lane Cove, and as you would be aware, we offer free advertising for all local jobs as we are passionate about local jobs for local people.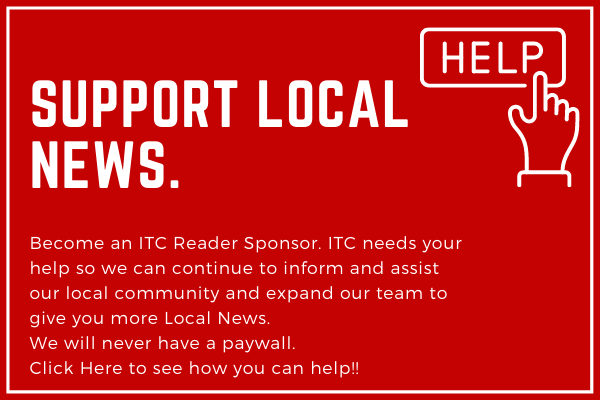 ---
Get Your Local News on Different Platforms
We have many platforms to follow, each taking a different take on Lane Cove News and Information. Don't miss out!
Facebook: www.facebook.com/inthecove