If you've never been to Gallery Lane Cove (located across from the Library), you should pop in and see one of their latest exhibitions.  Entry is free.
Drawn By Stones – 6 April to 14 May 2022
Drawn by Stones brings together artists who utilise the ceramic medium to interrogate contested histories, stolen land, Indigenous sovereignty, and national identity.
Exhibiting artists from Australia, Hong Kong, and Taiwan investigate 'nationhood' and ownership through ceramics and demonstrate how the ceramic form can memorialise and tell alternative histories.
Drawn by Stones takes its title from Marvin Bell's 1984 Poem Drawn by Stones, by Earth, by Things That Have Been In the Fire.  The exhibition recognises that the foundations of ceramic practice lie in the earth.
Drawn by Stones is curated by Bridie Moran with Assistant Curator Annette An-Jen Liu as part of the Curatorial Assistant Program mentorship (2020-2021) at 4A Centre for Contemporary Asian Art.
Bridie Moran says, "Drawn By Stones is a "ceramic exhibition" but what connects these artists' work is their engagement with the base material of ceramics – clay.  Drawn for the land, clay material has meaning beyond simply shaping objects; for the artists, in Drawn by Stones, clay symbolises country, home, nationhood and a means of exchange."
Within the exhibition, ochre and local clays from indigenous lands across Australia, Taiwan, China and Hong Kong, ranging from rich powdered red and oranges to malleable whites, browns and grey, are the means through which Dean Cross, Ray Chan, Ruth Ju-Shih Li, Wen-Hsi Harman and Jody Rallah shape contemporary stories grounded in knowledge.
Exhibition Details
Artists: Dean Cross. Ray Chan See Kwong with Chuen Lung community members, Ruth Ju-shih Li, Wen-Hsi Harman with Lakaw, Dogin, Palos, Lisin, and Byimu Jody Rallah
Dates: 6 April –  14 May 2022
Opening Night: Wednesday 6 April, 6-8 pm. All welcome to RSVP here
Our Cover Photo is New re New by Ray Chan See Kwong
Drawn by stones is a touring project initiated and presented by 4A Centre for Contemporary Asian Art. The exhibition and associated programming are supported by the NSW Government through Create NSW, with development support for this exhibition provided by the Ministry of Culture Taiwan and the Taipei Economic and Cultural Office in Sydney,  and The Gordon Darling Foundation.
Longing for Home – Pamela Leung 6 April to 14 May 2022
This exhibition is the culmination of the artist's long-term residency at Gallery Lane Cove. With installation, video, sound, sculpture and painting, the artist explores the idea of 'home' from an immigrant perspective.
It expresses melancholia, nostalgia and longing, heightened by distance, time and space, and when returning 'home' is no longer possible.
Exhibition Details
Artists: Dean Cross. Ray Chan See Kwong with Chuen Lung community members, Ruth Ju-shih Li, Wen-Hsi Harman with Lakaw, Dogin, Palos, Lisin, and Byimu Jody Rallah
Dates: 6 April –  14 May 2022
Opening Night: Wednesday 6 April, 6-8 pm. All welcome to RSVP here
Guest Speaker: Cassandra Hard-Lawrie, Curator & Visual Arts Coordinator
Willoughby City Council
Chats Accountants proudly sponsor longing for Home.
Enrol in an Art Class or Workshop – Gallery Lane Cove
Gallery Lane Cove + Creative Studios is located in the building directly across from the Lane Cove Library.  Melbourne might have the Paris End of Collins Street, but Lane Cove has the Cultural Precinct in Longueville Road (Gallery Lane Cove + Creative Studios,  Lane Cove Library and the Living and Learning Centre all located on Longueville Road).
Gallery Lane Cove provides the whole community with opportunities to attend art workshops and term classes in printmaking (including screen printing), sewing, jewellery making, knitting, life drawing, painting and pottery.  ITC is especially excited about going to pottery/ceramic classes (ITC became obsessed with pottery after watching the Great British Pottery Throwdown – like MasterChef for potters).
If you would like to know the courses coming up and be notified when there is a new course Email Gallery Lane Cove and put 2022 Workshops in the subject line.  They will then get back to you and let you know what is coming up.  Find out more here.
Buy Mum a Gallery Lane Cove Workshop for Mother's Day
Bring art and creativity to your loved ones with Gallery Lane Cove's wide range of gifting ideas. From handmade porcelain and glass jewellery and Christmas decorations, naturally dyed scarfs, handprinted towels, art class and workshop gift vouchers for adults and children and art packs, their gift ideas will cater for all types of creative personalities, hobbies and passions.
Gallery Lane Cove has a gift to suit everyone, and it's a lovely way to support our artists and artisans!
Pop into the Gallery Lane Cove foyer store which is located in our gallery on the upper Level at 164 Longueville Road Lane Cove. We can also tailor-make unique gift vouchers for specific courses for your loved one. What better way to start 2021 than with the gift of creativity!  Find out more about the courses they offer here (a brilliant gift for anyone in your life who has said they want to attend a pottery class or an art class).
You can also buy gift vouchers online here.
Contact Details and Hours
Opening Hours: 10:00 am – 4:30 pm Monday – Saturday and 10.00 to 2.30 pm
Gallery Lane Cove and In the Cove are community partners – Gallery Lane Cove is a not for profit organisation, and we offer a discounted ITC Business Supporter package to them – this article is part of that arrangement.
Keep Local News Free
---
Many of you have asked how you can support In the Cove. It's so easy – tell your friends about us, follow us on a different platform or subscribe to our weekly news blast.
We now have a Patreon account  where you can sponsor us for any amount you like (this allows us to keep local news free – no paywall!!!)
ITC wants to make sure you get local news when you need it by employing local people to help us out. We need your help – yes, local business advertises with us, but this is our sole source of funding. Feel free to be a reader sponsor if you have enjoyed our local news coverage – no amount is too small or too big. Thank you so much to the people who have already supported us via our press Patreon account. Help Us Here.
Stay tuned. We will be announcing our In the Cove Intern programme soon – where we will take on a part-time PAID intern who lives locally and is studying either PR, Social Media, Communication or Journalism.   This is our way to give back to Lane Cove, and as you would be aware, we offer free advertising for all local jobs as we are passionate about local jobs for local people.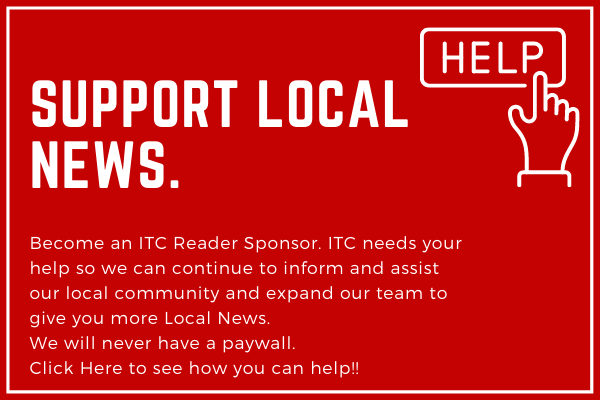 ---
Get Your Local News on Different Platforms
We have many platforms to follow, each taking a different take on Lane Cove News and Information. Don't miss out!
Facebook: www.facebook.com/inthecove