The Lane Cove Council May 2022 Meeting will be held on Thursday, 19 May 2022.  This is the first time the meeting will be held on a Thursday.  The Agenda items are released a week before, and this change gives both Councillors and Lane Cove Residents time to review agenda items in more detail.
Listed below are the agenda items for the meeting.
Have Your Say – Be Part of the Process
Residents can write to Councillors on any agenda item or issue. The email address that will reach all Councillors is: [email protected]
Members of the public are invited to attend the public forum of the meeting in-person or online, commencing at 7:00 pm.
If you would like to speak at the Council meeting (in-person or online), register via this
online form
no later than midnight on 18 May 2022.
A Zoom meeting link will be emailed to the provided email address.
A time limit of three (3) minutes per public forum address applies.
Officers Report for Determination
Sport and Recreation Facility Locations and Business Case Update 
Lane Cove Council has reviewed other alternative sites for the Lane Cove Sports and Recreation Facility.  The recommendation is that Lane Cove Council not pursue any further investigation of alternative sites.  The preferred site is the Lane Cove Golf Club on River Road.
At the Sports and Recreation Workshop, Mayor Andrew Zbik advised the Lane Cove Council was waiting for an in-principle approval from Transport for NSW to install traffic signals at the current golf course entrance on River Road before making a final decision on which project to pursue.
Lane Cove West Business Park Option
Interestingly one of the reasons the Lane Cove West Business Park option was rejected was the lack of public transport.  The Lane Cove Golf Club has limited public transport options and fewer options on the weekend.
The report notes:
"There has been discussion about the site not being serviced by public transport. This is potentially because there is currently low patronage of the existing bus services to the existing facilities, despite a bus stop being located adjacent to the entrance of the Golf Course. In summary, the 261 bus service connects the Lane Cove Village to the precinct and onto North Sydney (and return) every 25 minutes in peak hour and every hour otherwise from Monday to Saturday, with no Sunday service. As Council has experienced with the provision of bus services generally, as demand on routes increases, service levels will respond accordingly, including Sundays. This was evidenced when additional services were provided to the Lane Cove interchange and also along Mowbray Road to service the new developments in the area.
Alternatively, and/or in addition, Council could contract a bus service to provide a free shuttle to /  from the facility during peak periods, which would cost circa $100,000 p.a."
Surely the same argument applies to the Lane Cove West Business Park – more demand = more services.  In addition, it's not that easy to lobby for more bus routes.  More bus routes were added to the Lane Cove Interchange after lobbying by ITC; ITC attended a meeting at Parliament House, petitions and ITC finally arranged for our local member and transport officials to take a bus to the interchange.
The report further notes:
"Finally, the Lane Cove West Business Park, due to its relative isolation, is disconnected from the Lane Cove community generally, which is advantageous in terms of its operational impacts on any residences. The disadvantage of this, however, is that there is minimal opportunity to encourage patrons to utilise the facility beyond their sporting event, i.e. socialise, utilise the café etc. The general activity outside of business hours in the area also translates to a lack of night time activity, which would provide passive surveillance / safety for patrons entering and exiting the facility."
The Lane Cove Business Park is home to numerous businesses – were they surveyed to see if their staff would utilise the facility during non-peak times for a sporting facility (i.e. Monday – Friday during the day)?  They might want to use it for social competitions and also the cafe for meals and catering.   Did the Lane Cove Council consider the many parents who drop their kids off at existing sports facilities in the Lane Cove Business Park, such as gymnastics, dancing, and swimming? They may want to have a place to wait and have coffee while their kids are at involved in activities?
Did the Lane Cove Council speak to 9 Degrees Lane Cove about security and safety?  They operate a large climbing gym in the Business Park, which is open until 10 pm each night.
Pottery Green/Civic Centre Option
The open-air car park at the Lane Cove Council Chambers is a historical relic.  Open-air parking is the least productive use of important urban land.  
This land plus changes to the Lane Cove Council Chambers could be used to include council chambers and offices, a performance centre and a sporting centre.  This land used to be the town hall, and since the town hall has been removed, local music, theatre, and dance schools do not have a place to perform in Lane Cove.  We need to think outside the box.  The Cove room in the Lane Cove Council Chambers is poorly designed and includes large pillars, making it hard to use as a performance space.
Planning Proposal No. 39 – 448-456 Pacific Highway, St Leonards 
The Lane Cove Council Planning Panel has rejected the above planning proposal.   The officer's recommendation is that Lane Cove Councillors reject Planning Proposal No. 39, and as such, it will not be forwarded to the Planning Minister for a Gateway Determination.
This site is currently a car wash facility and offices located on the corner of Pacific Highway and Oxley Street (the boundary between the Lane Cove and North Sydney Local Government Areas).
The proposal describes three different development ideas, exceeding controls outlined in the St Leonards Crows Nest 2036 Plan.
Draft Community Dog Advisory Committee Charter 
Councillors are being asked to adopt the Charter for the Dog Advisory Committee and to call for expressions of interest for community representatives on the Dog Advisory Committee.
The Dog Advisory Committee members will be:
Five Community Representatives being:

Three dog owners living in the Lane Cove LGA (one from each ward)
One local dog owner from a local dog service industry (dog walking or training)
One local dog owner from the veterinary profession

One rep from a sporting club from the Lane Cove LGA who is a dog owner
One member of the Bushland Management Advisory Committee
One member from the Sports Advisory Committee
One non-dog owner
Sporting Club Advisory Committee  
Councillors are being asked to adopt the Charter for the Sporting Club Advisory Committee and to call for expressions of interest for community representatives on the Sporting Club Advisory Committee.
The Sporting Club Advisory Committee members will be:
One representative from each sporting club using Lane Cove Council Sporting facilities. These sports include but are not limited to AFL, Cricket, Rugby League, Rugby Union and Football.
One member from each school that uses Lane Cove Council Sporting facilities
One member from the Dog Advisory Committee
Subsequent Nominations for Community Representatives to Advisory Committees

Superannuation Contribution Payments for Councillors 
It is proposed that Lane Cove Council commence superannuation contribution payments for Councillors from 1 July 2022 at the same rate required under the Commonwealth Superannuation Guarantee (Administration) Act 1992, pursuant to section 254B of the Local Government Act 1993.
Village Public Art Program – Birdwood Lane – Commonwealth Bank Building Update
Third Quarter Budget Review – 2021/22 Budget
Blackman Park Lighting Upgrade Tender 
It is proposed that Council accept the quote from Havencord Pty Ltd T/A Flood Lighting Australia for $560,000.  The lighting is for the bottom grass ovals, the dog park and the basketball court.  Providing more efficient lighting will mean that Blackman Park can be used for longer hours by the public.
Third Quarter Review of the 2021/22 Delivery Program and Operational Plan
Lane Cove Council publishes a snapshot every month which sets out what has been happening over the month from development applications, parking fines, waste and landfill reduction reports, and reports on upcoming footpath maintenance.
Below are some of the stats of interest for April 2022.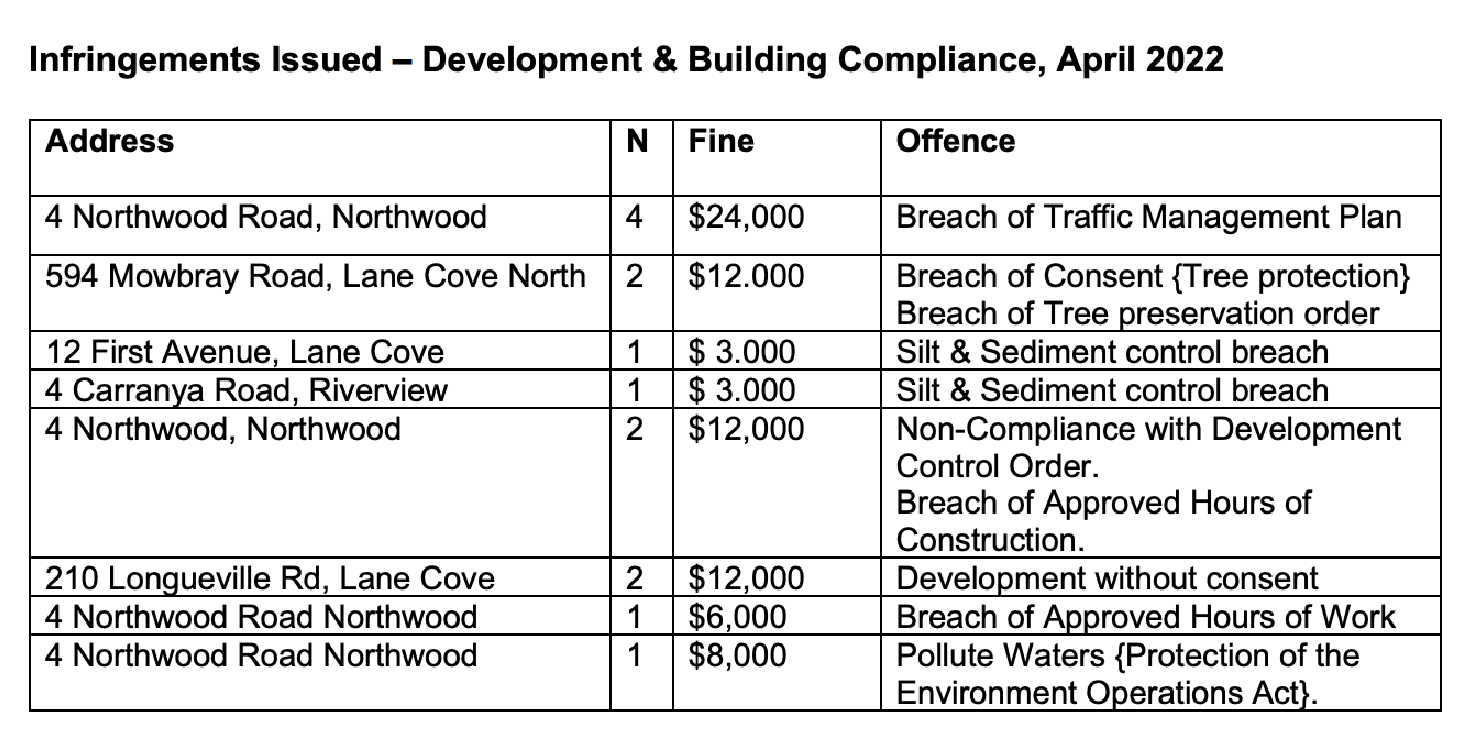 Help Support Local and Independent News
You can support us in three ways:
If you own a local business or a Lane Cove resident who owns a business, you can advertise with ITC – our packages start from a $30 monthly fee (for a 12-month commitment).  Email us here for our rates card.
Buy the ITC  team a coffee – our office is nearly every coffee shop in Lane Cove, and we regularly meet locals at coffee shops – buy the ITC team a coffee (or two) here.
Become an ITC reader sponsor –  Feel free to be a reader sponsor if you have enjoyed our local news coverage – no amount is too small or too big. Thank you so much to the people who have already supported us via our press Patreon account. Help Us Here.