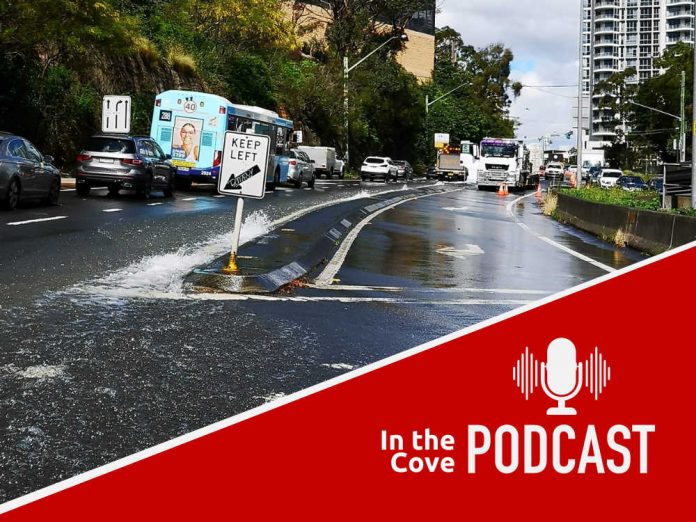 Welcome to the In The Cove Podcast.  This month we are looking back at #sydneywatergate (four days in September when parts of Lane Cove, North Ryde and the Lower North Shore were without water or had very low water pressure).
Listen to the podcast here (on your desktop or via Spotify or apple).
.
Background
The Lane Cove Council area, North Ryde and other lower north shore suburbs was impacted by a major Sydney Water outage that left some locals unable to shower or flush their toilets for up to four days.
The issue started on Saturday 10 September 2022 and was resolved on 14 September 2022  Sydney Water crews worked around the clock, and once they realised they could not quickly fix the burst water pipe, they had to take steps to reroute the water to other pipes to restore water to impacted locals. The main problem was that Sydney Water did not communicate this to the public.
The incident started at around 6.45 am on Saturday, 10 September 2022.
A water main burst so loudly it sounded like an explosion, and water started gushing onto Epping Road. Traffic on Epping Road was a nightmare, and some Lane Cove locals told ITC that they were stuck in traffic for over 2 hours on Saturday.
The traffic congestion only got worse on Monday morning when everyone was returning to work, and as the bus lane was flooded, Sydney buses were also impacted.
Sydney Water's Managing Director, Roch Cheroux, said the replacement of the damaged pipe was complex, and crews worked around the clock to return normal water supply as soon as possible.
"This was not an ordinary water main break. Crews have told me it's one of the largest blow-outs they've ever seen and that the impact of the break was so powerful, it created a 12 metre long, seven-metre deep and 10-metre wide excavation site."
"This was a complex and unfolding situation. The size and scale of this event and the full extent of how widespread the incident was on our customers changed rapidly over the course of the weekend," Mr Cheroux said.
On our podcast Jacky Barker from In the Cove interviews a cross section of people from local business, residents, and locals involved in the political process (at both state and local level).
How were they impacted and what did we learn?
List of Locals Interviewed for this Podcast
Joyce Aimond – Bakers Delight Lane Cove -13:07
Madeleine Huston – Lane Cove Local and works in local government in communications – 29:20
Rory Burke – Electorate Office for the Member for Lane Cove and Minister for Planning Anthony Roberts – 45:21
Denise Shrivell– Chatswood West Local (on border of Lane Cove North and Chatwood  West) Denise was part of the advisory committee for the formation of the Local and Independent News Association and has been championing local news at the hyperlocal level and involved with North Sydney's Independent (NSI) – 1:03:40
Marianne Bastiani – Lane Cove North Resident – 1:13:42
Andrew Zbik – Lane Cove Mayor – 1:29:37
The Podcast was recorded on 15 September 2022
Inquiry
The Sydney Water Crisis may have been only four days but the lack of communication was at a level never seen before.  As a result of this incident Anthony Roberts, the Member for Lane Cove and Tim James, the member for Willougby have called for an inquiry into Sydney Water.
At the September 2022 Lane Cove Council Meeting Mayor Andrew Zbik has put forward the following Mayoral Minute:
Subject:          Mayoral Minute – Sydney Water Supply issues in Lane Cove North and surrounds.    
Record No:    SU6013 – 54066/22
Division:         Lane Cove Council
Author(s):      Councillor Andrew Zbik
Executive Summary
The purpose of this motion is to provide feedback to Sydney Water and to request an independent inquiry into Sydney Water's handling of the burst water main and the communication provided to the community.
It is envisaged that recommendations be sought on how Sydney Water could better communicate with Council's and local communities to be prepared should such an issue occur again.
Discussion
On Saturday 10th September 2022, the water main located near Epping Road in Lane Cove North burst. Water flowed in a large quantity down Epping Road, pooling to the eastern side of the Epping Road bridge over the Lane Cove River. This held up traffic. Water continued to flow down Epping Road until early Tuesday morning 13th September 2022.
The burst water main created a twelve-metre-long, seven-metre-deep trench.
On Sunday morning, I personally started to receive messages from residents who has been without water for over 24-hours. Jacky Barker communicated to me that InTheCove was receiving a large volume of requests for help and were seeking information about what was happening. However, many residents reported via social media and to myself personally that when they searched Sydney Water's water outage page on its website that there were no water supply issues in Lane Cove North and surrounding areas.
Very little information was provided by Sydney Water via their website about the nature of the problem and any advice around what residents may be able to do to prepare for a potentially prolonged period without water supply.
On Sunday evening, Sydney Water sent several water tankers around the Lane Cove North area. However, there was no communication from Sydney Water if residents who were impacted by the water supply issues could access water from these water tankers.
Many residents experienced approximately four days of no water supply or extremely low water pressure. Many residents reported that they could not take a shower.
During this time, Lane Cove Council received no notice from Sydney Water about the issue.
Council's ability to assist the community was impacted as water supply was inconsistent to The Canopy, the Lane Cove Aquatic Centre and Council Chambers.
Council during this period liaised with St George Community Housing, Sydney Community Services and the State Member for Lane Cove office staff to see if any residents deemed vulnerable or at risk were contacted and supported.
It should also be noted that the team at InTheCove were instrumental in collating information about the situation and were proactive in contacting Sydney Water for information.
In summary, due to the lack of information provided by Sydney Water, the residents of Lane Cove and Lane Cove Council did not have the necessary information to be able to prepare for a prolonged period of no water supply.
RECOMMENDATION
That Council: –
1)   Writes to Sydney Water to provide feedback and express concern about the lack of communication with Council. Thus, hindering Council's ability to have information to assist our community; and
2)   Writes to the Minister for Lands and Water – Kevin Anderson MLA, Shadow Minster for Water – Rose Jackson MLC and Member for Lane Cove – Anthony Roberts MLA requesting for an independent inquiry into the matter with the purpose of developing a policy improve communication between Sydney Water and Local Council's/communities in the event of a major and prolonged water supply issue.
Lane Cove Rotary Fair and Sustainability Lane
To find out all the info on the Lane Cove Rotary Fair and Sustainability Lane read our article here – it is a much love day and everyone from old to young will enjoy it.
Date: Sunday 9 October 2022
Help Support Local and Independent News
You can support us in three ways:
Become an ITC reader sponsor –  Feel free to be a reader sponsor if you have enjoyed our local news coverage – no amount is too small or too big. Thank you so much to the people who have already supported us via our press Patreon account. Help Us Here.
Buy the ITC  team a coffee – our office is nearly every coffee shop in Lane Cove, and we regularly meet locals at coffee shops – buy the ITC team a coffee (or two) here.  When you buy us a coffee you do keep us caffeniated but also we use the funds to pay our ITC hard working team members – it allow us to pay them for more hours.
Do you own a Lane Cove Business or a Lane Cove resident who owns a business, you can advertise with ITC – our packages start from $30 monthly fee (for a 12-month commitment). Email us here for our rates card.