The 17th to 23rd of October 2022 is the official Bird Counting Week. This is your chance to help record the number of birds in Lane Cove. Anyone can be involved and even though the count started today you can still register here.
Guess what – there is an app for it (of course)!!
Just get comfy in your favourite outdoor space, make sure your eyes are peeled and record what you see for 20 minutes. Why not make it a family affair? You can count as many times as you like over the week. Get your family and friends together and head off into the great outdoors.
Simply record the birds you see on the Aussie Bird Count app or through the Submit a Count tab on the website. You'll instantly see live statistics on the number of people taking part and the number of birds and species counted in your neighbourhood and the whole of Australia.
Not only will you get to know your feathered neighbours, but you'll be contributing to a vital pool of information from across the nation that will help us see how Australian birds are faring.
Last year the most popular birds were:
The Top Three Birds on a State Basis were:
Lane Cove Birds
We know that Lane Cove has an amazing range of wildlife. Here is just a sample of some of the birds spotted in Lane Cove by In the Cove fans.
The Magpie above is Mummy (or Daddy) Magpie looking after a young magpie. A little magpie fell out of its nest on Burns Bay Road opposite the Bowling club. WIRES recommended putting the baby in the pot and hanging it in line of sight of the parents. The parents adapted to the plastic nest and are visiting and feeding the baby.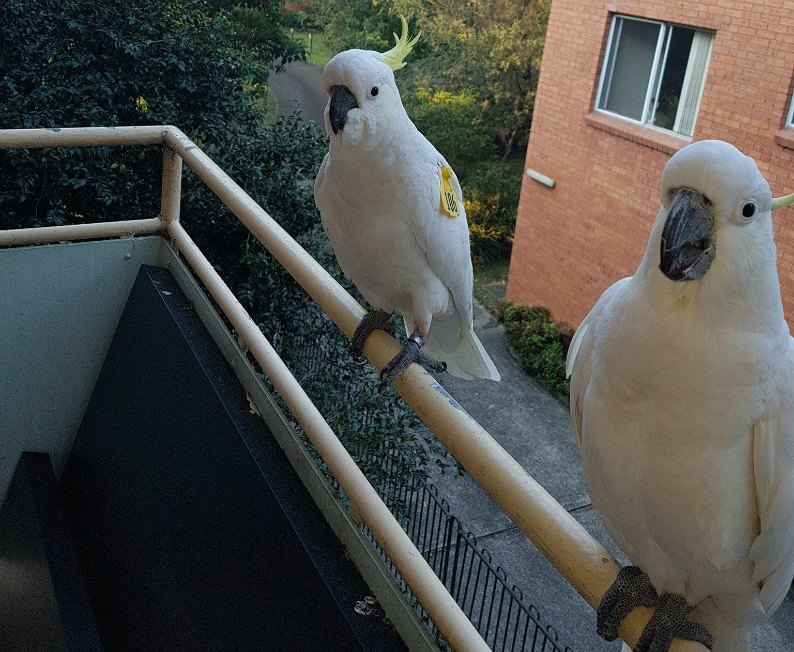 This bird turned up on a balcony in Lane Cove with a yellow tag on. The Cockatoo is part of Cockatoo.wingtags.com. 
The Brush Turkey – you either love them or you hate them.
Kookaburras at the Lane Cove Golf Club.  Photos provided by the Lane Cove Golf Club
So get together with your family and friends and do a bird count in Lane Cove.
---