It's that time of the year when school starts back and your child (or you) wants to be involved in Saturday or Sunday sports. Here's the low-down on how to get involved with a Lane Cove Sport Club.
---
---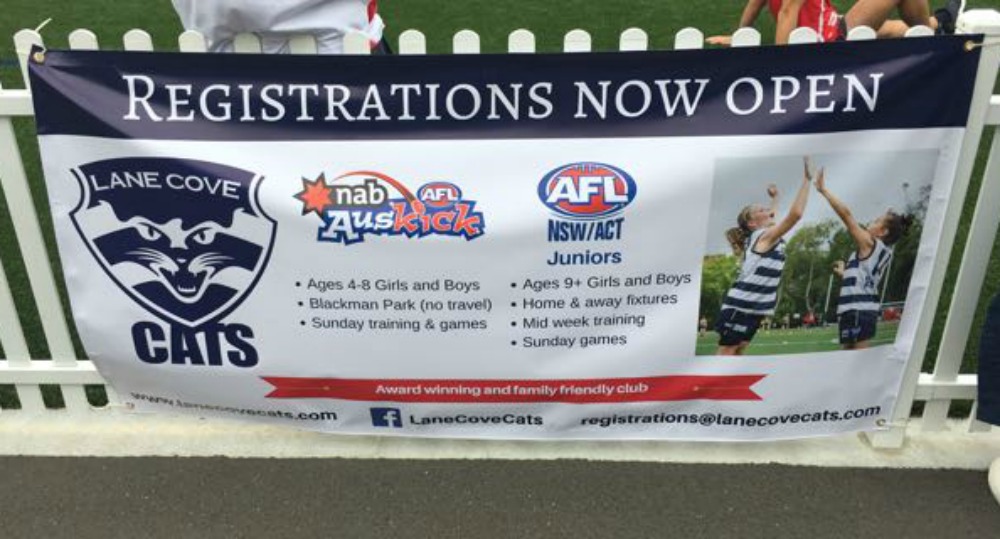 Becoming a member of the Lane Cove AFL club is simple.
Choose from
Premium Cats Family Membership and receive a Cats Supporters scarf, BBQ vouchers and exclusive access to events, or
Basic Membership
After joining your family as a club member you will be able to register your child/adult as :
2023 Auskick registration
2023 Juniors/Youths registration
2023 AFL9's registration fee
Auskick Registration
Auskick is for girls and boys aged 5 – 8 years old.
Boys
Boys play in the AFL Sydney Junior Harbour North league. Ages groups from Under 9 upwards are entered.
There is also an agreement with neighbouring clubs to combine players if numbers are insufficient for additional teams in that age group. This could mean training times are slightly different than mentioned above.
Girls
The Lane Cove Cats plan to field teams in the U10, U12 U14 and U16 youth girl age groups.
Adults
The AFL9s is the adults AFL comp played all year round at Blackman Park. Winter and Autumn seasons are usually played on Monday nights, while Spring and Summer seasons are played on Thursday nights.
---
Club Contact
Name: Matt Antoniolli
Number: 0402846482
Email: [email protected]
Website: https://www.lanecovetigers.com.au/
Facebook: lanecovetigers
---
Lane Cove Netball Club
---
Registration is now open for players to join Lane Cove Netball Club for the 2022 Winter Netball Competition.   Players are welcome from all schools.
Registration is now open for players to join Lane Cove Netball Club for the 2022 Winter Netball Competition.   Players are welcome from all schools.
Woolworths NetSetGO 
Female AND male players aged 7 to 9 years
Games on Sunday mornings from 9am
Cost – $380 (includes transaction fee)
JUNIOR NSNA
Female players who are 10 to 15 years
Male players who are 10 to 12 years
10 – 12 years – Games Friday afternoons from 4:30pm
13 – 15 years (+12A) – Games Saturday morning from 8:00am
Cost – $380 (includes transaction fee)
SENIOR NSNA 
Female players who are 16+ years
Games Saturday afternoons from 12pm *Seniors must be available for all afternoon time slots.
Cost – $380 (includes transaction fee)
*Must be correct age by the 31st December in the year of play. Final day/time allocations for games are made once teams are graded by NSNA.
Transaction Fees Apply. Once registrations close, we can only offer a partial refund for the cost of registration.
Club Contact

Email: l[email protected]
Website: lanecovenetballclub.com.au
Facebook: lanecovenetballclub
---
Club Contact

Website: www.lcwfc.com.au
Facebook:  LaneCoveWestFootballClub/

---
There are senior teams for both men and women.  Their motto is get fit, have fun and make friends.
The winter season typically runs from early April until mid/late August
They train on Wednesday evenings – in Winter on the all-weather pitches at Blackman Park in Lane Cove West and in the Summer at St Ignatius College in Riverview.
Registration for 2022 is open now – click here.
Club Details
Website: https://stmfc.org.au/
Facebook: STMFCLaneCove/
LCJRU plays all of its home games at Tantallon Oval, on Epping Road and trains at either Tantallon or Blackman Park.  The season typically begins in late March/early April and runs until late August/early September.
The club draws its players from a number of schools in the locality including St Michael's, Lane Cove Public, Lane Cove West, St Ignatius College (Senior and Junior school) and Greenwich Public.
Minis
For the U9s and below, the Minis, the game is about skill development and having fun. The Minis follow Rugby Australia's Pathway development programme, with tackling not introduced until the U8s.
"Try Rugby" –
Try rugby dates for 2023 are Sunday 19th Feb alongside their preseason academy at Tantallon and a fun event called "bring a buddy" on Saturday, 25th Feb at the Diddy from 3 pm with lots of entertainment and fun!!!
Under 8's and Under 9's
The U8s and U9s play in a Gordon District competition against other Gordon Village clubs, plus Mosman, Norths and Hunters Hill although the emphasis remains on having fun and applying the skills that have been learnt.
Under 10's and above
Graded competition begins in the U10s and Lane Cove competes in the Sydney wide competition run by the Sydney Junior Rugby Union.  Matches are mostly played on Sundays with the occasional game played on a Friday night.  Lane Cove would typically field a strong side in either A or B grade with subsequent teams distributed through the gradings based on ability.
Players from Lane Cove who are of a sufficiently high standard are eligible for selection by the Gordon District and numerous Lane Cove players over the years have been selected to represent Gordon at the NSW State Championships which are held on the Queen's Birthday Long Weekend in June every year. From here players are eligible for selection in SJRU representative squads.
Thier U14 team tour New Zealand every year in what has become a highlight for many of the kids junior rugby careers. Parents are encouraged to attend the New Zealand Tour and the boys all participate in fund raising activities to support the tour. The club also operates smaller NSW regional Tours every year for selected Mini and Junior teams.
The club holds various social events throughout the year including Jersey Day, Trophy Day, Parents Social and the legendary Long Lunch (in support of the U14 tour). It is a great way to engage with other families in the neighbourhood.
Club Detail
Registrar: [email protected]
Website: www.lcjru.com.au/
Facebook: LCJRU
Instagram: lcjru
---
A community sports club in Greenwich with teams in Mixed and Women's Football, Kids MiniRoos and Mixed Junior Football, Girl's Junior Football, Kids NetSetGo, Junior Girls Netball and Seniors Netball.
Registration for the 2023 Football teams is now open.
Information on Netball to be provided later.
Club Details
Phone:  Frank 0412 25 8080
Email:  [email protected]
Website: www.greenwichsportsclub.com.au

---
---
Chatswood Rangers Sports Club is seeking registrations for its Junior and Senior Football and Junior and Senior Netball teams.
 Although they may be called the Chatswood Rangers a larger percentage of the Netball club is made up of lane cove residents and the remainder between Artarmon and Chatswood residents. They offer:
·         Junior Netball from U7 to U15
·         Senior Netball from 16 years+
·         Junior Football from U6 to U18, including both Girl's and Mixed football
·         Senior Football from 18 years+, including both Men's and Women's Football
Club Details
Email:  [email protected]
Website: chatswoodrangers.com.au
Facebook: chatswoodrangers
---
Willoughby United
---
Willoughby United Netball Club is a community-based netball club catering for all players turning 7 and up.
---
Hockey
---
The Ryde Hunters Hill Hockey Club has a proud history of Lane Cove Players including some Australian Kookaburras.  Registrations will open shortly.
Club Details
Email:  [email protected]
Website: http://rydehockey.com.au/
Facebook: RydeHockey/
---
Basketball
---
Many local schools have their own basketball teams, however, you may want to play with a team at Northern Suburbs Basketball. Details here.
---
Swimming
---
Lane Cove Swim Club (LCSC) is a non-profit community swimming club based at Lane Cove Aquatic Centre.
LCSC promotes swimming in Lane Cove at every level from recreational and fitness to elite athlete squad training for competition at local, statewide and national swimming meets.
LCSC is one of the oldest swimming clubs in Australia.
Lane Cove Swimming Club's core activity is their Saturday morning swim meet that conducts friendly races from 7 – 9 am in summer.  Saturday morning club is a friendly social gathering for the whole family from infants to grandparents.
Adults of all ages take the opportunity to race with squad swimmers and younger swimmers.  It is common to see 80-year-olds racing with 8 year olds.
Club Details
Website:
Facebook:  https://www.facebook.com/LCSwimClub/?ref=page_internal
---
Drummoyne Water Polo
---
Drummoyne Water Polo Club has a free COME AND TRY event for all proficient swimmers (boys and girls) in their age group from Year 3 – 6 Primary School who want to try out Water Polo for the first time.
Use your swimming skills to score a goal and have fun with your team mates!
They usually hold come and try sessions in February – so check their website.
Club Details
Website:  www.drummoynewaterpolo.com.au
Facebook: @DrummoyneWaterPoloClub
---
Tennis
---
If you would like to know more about Tennis in Lane Cove just click here.

---
Lane Cove Taekwondo
---
Imagine a club that offers lessons on Goals, Discipline and Leadership and helps you implement these qualities into everyday life. At Lane Cove Taekwondo, we don't just focus on developing physical strength, but emotional strength. You will be proud. You will try new things. You will persist in the face of fear and doubt. You will practise.  Lane Cove Taekwondo is located at 9 Birdwood Avenue Lane Cove (Shops 5 and 6) – just near The Canopy parking – 3 hours free parking.
You will discipline yourself. You will start to make conscious choices about nutrition, strengthening, stretching and rest. You will set goals and you will achieve them.
Lane Cove Taekwondo is so much more than kick, punch, block – we present an active, exciting and powerful martial arts experience for the whole family.
Date and Time for Term 1:  Please see website for timetable
Address: 9 Birdwood Avenue Lane Cove (shops 5 and 6)
Book Here: Email us to book now
Email: [email protected]
Website: www.lanecovetaekwondo.com.au
Facebook: www.facebook.com/lanecovetkd

---
Dance
---
If you want to know more about Dance classes in Lane Cove click here.   
---
Other Sports/Activities
---
If you are interested in other extracurricular activities for your child such as music, art etc you can find out more here.
---
Play Safe
If you or your child is playing sport, make sure you invest in a Mouth Guard.
Did you know more than 5 million teeth are knocked out during sporting activities every year? What is even worse is that it's estimated between 30% and 50% of these injuries could have been prevented or would have been less severe had a mouthguard been worn.
Find out more here about mouthguards from www.appledental.com.au
---
If we have missed a Lane Cove Sports Club registration day please let us know.  If your club would like more exposure, contact us at [email protected].
In the Cove provides free event listing for all Lane Cove Sports Clubs and Community Organisations.
---