Welcome to our week in review.
Lane Cove Council Announces FABBA concert in The Canopy
Are you ready to dance, dance, dance and sing!!
FABBA is coming to Lane Cove so head to The Canopy on Saturday 11 March to sing a long to Mamma Mia, Super Trouper, Gimme! Gimme! Gimme!, plus more!
Money, Money, Money: $10.00 (plus booking fee) per person. Proceeds will be donated to Ruff Sleepers.
Say I Do, I Do, I Do, I Do, I Do and book online: here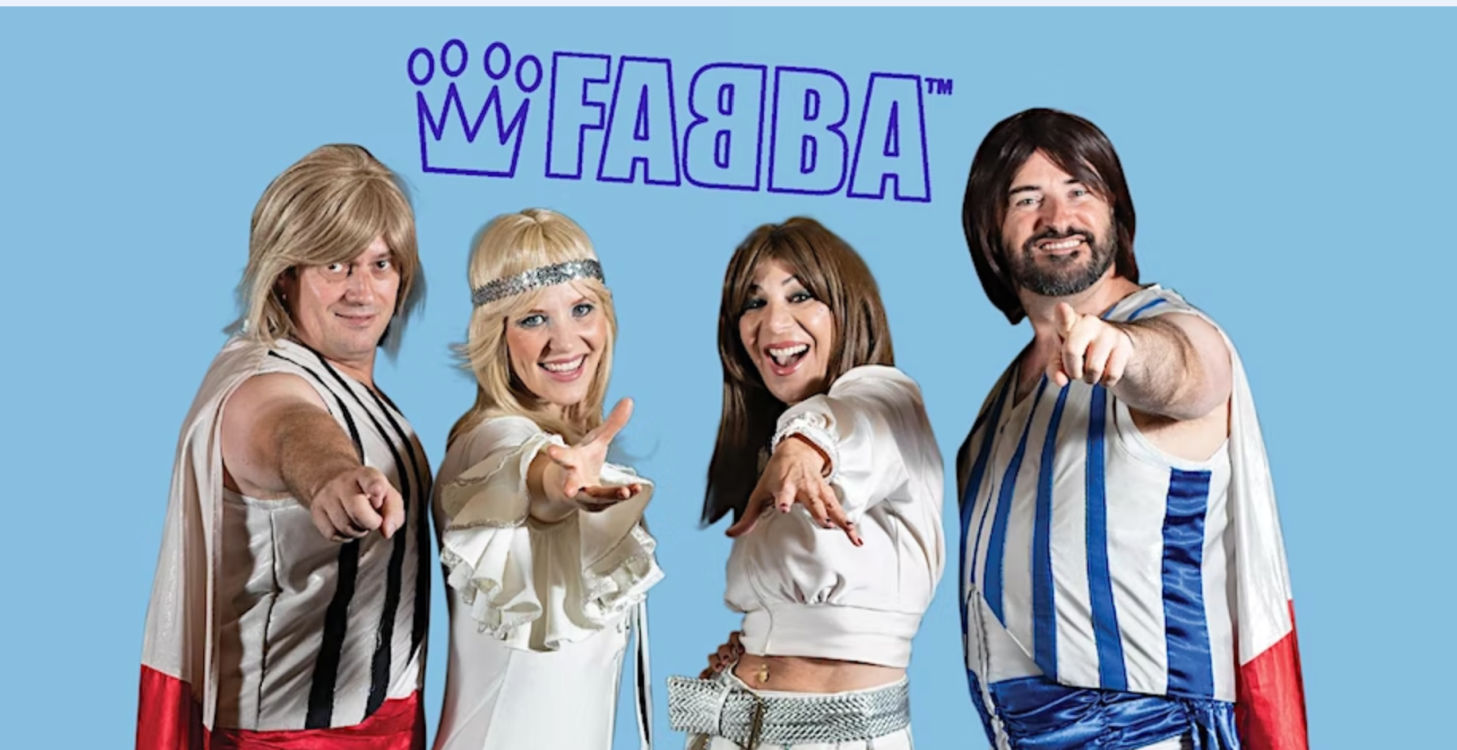 Lunar New Year Celebrations 2023
Last Friday, the Lane Cove Plaza and The Canopy were bustling with activity as the 2023 Lunar New Year were celebrated.
North Shore Police Area Command Issue Warning
The North Shore Police Area Command has warned about the higher than usual number of breaking at Apartment Complexes in Lane Cove and Lane Cove North – they have issued the following warning below.
Bus Problems Continue
Commuters are still frustrated with the frequency and timings of buses in Region 7.  You know things are bad with the buses when a Willoughby resident starts a pirate bus to get commuters to work.  Read more here.
Business Alert
Coles Lane Cove is now closing at 10 pm each night – previously, they closed at midnight – so say goodbye to midnight snacks.
Lane Cove Local Harvey Porter Recognised for his RSL Achievements
Congratulations to Harvey Porter for receiving an Australia Day Achievement Medallion. Harvey is a long-serving resident of Lane Cove and a member of Lane Cove RSL Sub Branch, currently Vice President.
The Award is a recognition of his many years of service to the community and veterans.
Below is Harvey Porter (left) with Lane Cove RSL Sub Branch President Graeme Davis. Read more about Harvey
here
– his time in the Navy is fascinating.

Supermarkets on notice to clean-up soft plastic stockpiles
Australia's largest supermarkets, Coles and Woolworths have been served by the NSW Environment Protection Authority (EPA) with a draft Clean-up Notice to remove more than 5200 tonnes of soft plastic stockpiled at 15 sites across the state.
NSW EPA CEO Tony Chappel said after widely promoting the REDcycle soft plastics collection program to their customers, the retailers have a responsibility to address the stockpiled waste.
"Thousands of customers diligently collected soft plastics and dropped them into their local supermarket's collection bin because they trusted their waste would be diverted from landfill and recycled," Mr Chappel said.
"The extent of soft plastic waste sitting in warehouses across NSW is very concerning and I know customers will be disappointed.
"As we transition to a circular and net zero economy, supermarkets have a responsibility to customers and the environment to address plastic packaging and take positive actions that contribute to solutions rather than the problem.
"These stockpiles are stored from the floor to the ceiling, blocking entry ways and preventing adequate ventilation with the soft plastic estimated to fill about three and a half Olympic sized swimming pools.
"To protect our communities and environment, these materials need to beremoved to reduce the risk of a fire."
The EPA has notified Fire and Rescue NSW of the high-risk storage facilities in 11 local government areas and requested the operators of these sites take immediate action to mitigate risks.
Mr Chappel said these materials, once bound for recycling may unfortunately end up in landfill but the regulatory action had to be taken to protect NSW communities.
"Despite this setback, which is a major blow to consumer confidence, we want to reaffirm our commitment to triple the recycling rate of plastics by 2030.
"Each year, NSW recycles around 66% of all waste but we know there is more work to do when it comes to plastic waste.
"Our largest retailers have an important role to play in how we continue to reduce plastic waste and we are committed to working together so we can support opportunities and minimise risk.
"We are also working closely with our counterparts in other jurisdictions to ensure we take a co-ordinated approach and understand the issues that impacted REDcycle's collapse."
Both supermarkets have six days to comment on the draft notices.
Through the Waste and Sustainable Materials Strategy and NSW Plastics Action Plan, the NSW Government is investing $356 million to develop new markets and infrastructure which will drive a circular economy and address problematic plastics and waste.
The EPA is currently finalising its $9 million Circular Plastics Program supporting businesses to transform and increase their access to the latest plastic recycling technology. For more information visit the EPA's website.
Lane Cove Events
The Farndale Avenue Housing Estate Townswomen's Guild Dramatic Society's Production of Macbeth is now showing.
The Lane Cove Theatre Company's 2023 season starts with a bang with a hearty laugh-out-loud comedy – The Farndale Avenue Housing Estate Townswomen's Guild Dramatic Society's Production of Macbeth. The play is directed by Andrew Castle.
The season commenced on 10 February and runs through to 26 February (weekends only) at The Performance Space @ St Aidan's in Longueville.
Lane Cove Sport
Rugby Union
Lane Cove Rugby Union Club would like you to know about the opportunities in 2023.  They have Senior Rugby, Colts U/21 and Women's 7's.
Colts Rugby
The club is rebuilding its colts group with the assistance of The Diddy, playing as the Diddy Colts and benefitting from associated Diddy sponsorship, membership and support.
Women's Rugby
This season introduces two new programs to encourage new players into rugby and better support the more experienced and those already in rugby. The season commences with the SportsFit program, the free 5-week pre-season fitness program being run by Fitrev on the bottom green of the Diddy for Lan Cove Rugby that also caters for all sports-minded women 17+ probably living on the lower north shore of Sydney simply keen to build their fitness in preparation for their 2023 sporting season.
The season then moves into the special Try Rugby Program catering for both those new to Rugby who may be interested or those with rugby experience SportsFit spots are limited.
Colts and Seniors
The club plans to engage Sam Wykes of Waratah and Sunwolves fame to run his special " Rugby reconnect " program of skills based training for all current and former rugby players particularly those not progressing much beyond school or district junior rugby.
FREE preseason fitness Program in February 2023 
Sports-playing women 17+ of the Lane Cove district are invited to join a free pe-season fitness program being run by Lane Cove Rugby on the greens of the Diddy through February 2023.
It would interest those keen to build their fitness in preparation for their 2023 sporting season.
The Program consists of 5 weekly Tuesday evening sessions from 6.30 to 7.30 commencing on Tuesday 31st January 2023 and finishing on Tuesday 28th February 2023 and run by Fitrev at The Diddy Cnr River Road West & Kenneth Streety Longueville Sydney.
Fitness Revelation is a well-known fitness studio located at the Diddy, and the program is free due to the sponsorship of the Lane Cove Rugby Union women's rugby group.
Places are limited to the first 30 applicants.
Contact: Bella.: 0466 111 165. Email: [email protected].
Info: www.lanecoverugby.com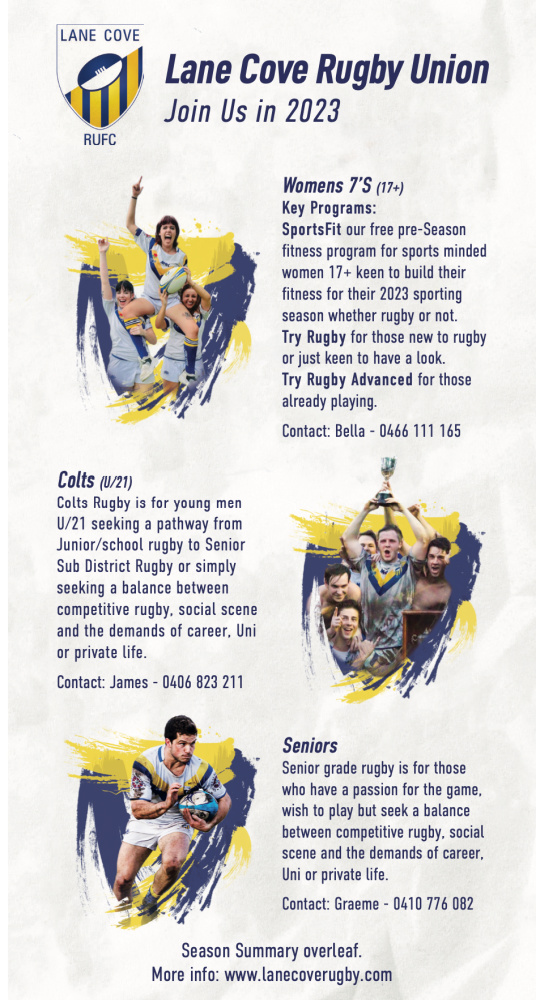 Week in Review Sponsor – Pilates First
Our Cover Photo is a Lane Cove Sunset by Luke David Canon