Welcome to our week in review.
Bus Issues Continue
Now that school is back in full swing, the issues with the reliability and frequency of buses is becoming even more pressing.  One parent posted the following on Lane Cove Chat by ITC:
"Hunters Hill High students just waited 35 mins at the Interchange for a bus to take them to school.
An almost full bus finally showed up and bunch of students were not able to board, are still waiting and will be late for school.
The students left behind have now waited for 40mins. No bus.
This is unacceptable."
Each time ITC raises this with Busways we are told it is all due to driver shortage.
WorldPride
Lane Cove Council has installed a rainbow Progress Pride Flag and bunting decorations put  before Sydney WorldPride kicks off on Friday 17 February. (see our cover photo)
They are also hosting a range of events to celebrate:
Sexual and Gender Diversity – Webinar for parents and carers
Thursday 2 March, 7:00pm – 8:30pm, online
Being a parent, grandparent, or primary carer of a LGBTQIA+ young person can be wonderful and enriching but can also seem overwhelming and confusing at times. Join Lane Cove Council as they provide information that can make a difference to the young person in your life.
Suitable for parents and carers of young people aged 10 – 24 year old.
Guided Walk for Silver Rainbow
Friday 3 March, 9:30 – 11:30am, meet at Lane Cove Plaza
As part of Sydney Word Pride celebrations, Lane Cove Council will host a guided walk around the Lane Cove area exploring the diverse mix of high street cafes and bushland nature.
Targeted at Silver Rainbow LGBTIQA+ Seniors, participants must be able to walk 5km comfortably as there will be some small inclines and declines.
Rainbow Families Storytime 
Friday 3 March, 11:00am – 11:30am, Lane Cove Library
Celebrate World Pride Sydney 2023 at a special Rainbow Families Storytime event with inclusive stories, songs and craft at Lane Cove Library. All welcome. No booking required.
Does Lane Cove Need Four Tobacco Stores?
A fourth tobacco store has now opened in Lane Cove near the Flight Centre on Longueville Road.  That is four located in the Lane Cove Village!!  Two of the stores are tobacco and confectionary stores.  In 2022 The Conversation published an article about a comprehensive review undertaken by ANU, which found vaping leads to smoking, the opposite of what supporters claim.
"A major review on the health effects of e-cigarettes reflects what public health advocates have feared – escalating use of e-cigarettes in school-aged children, early warning signs of increased smoking rates in young Australians, and direct health harms of vaping in all ages.
The review, which was released today, was commissioned by the federal health department and conducted by researchers at the Australian National University.
Overall, it found the health risks from e-cigarettes significantly outweighed any potential benefits.
The review should silence lobbyists, who have long used data selectively to promote the sale of e-cigarettes. This is despite the fact previous reports, none as comprehensive and rigorous as this latest review, have delivered similar findings."  Read more here.
Draft Blackman Park Skate Concept Design Released
The Draft Backman Park Skate Park Concept Design has been developed. Residents are invited to give feedback on this design by attending a workshop, filling in the survey or by writing to Lane Cove Council.
Lane Cove Council's skate park designers, Convic, hosted two community workshops in October 2022 (pre-design) to help develop a concept for the skate park. Convic used feedback from those workshops to develop the 'draft concept design' and LCC want to hear from you about this design.
From the October workshops:
SkateTypology – Participants favoured a transition style park with the inclusion of some street elements.
Skill Level – Intermediate was the most common but the design is still inclusive of provision for skill progression, allowing for beginners through to advanced levels
Skate Vision– An interesting creative facility which is made of transition style obstacles that are unique and create flow; including a mini ramp, spine, volcanos, vert wall and euro gap.
User and Spectator Amenity – A space for spectators and different user groups with break out areas and shade
Iconic Elements and Local Identity –  A range and choice of benefits and experiences that include active and passive recreation within a natural bushland setting.
Have Your Say
To have your say on the Draft Blackman Park Skate Park Design please make a submission to the General Manager, by either:-
Email your written submission to [email protected] or post to Lane Cove Council, PO Box 20, Lane Cove NSW 1595; quoting SU8992; or
Attend a workshop on Wednesday 22 February:
4pm – 5pm at Synergy Youth Centre (11 – 17 year olds)
6pm – 7pm at Lane Cove Library – Meeting Room 2 (all ages)
Surveys and written submissions must be received before 5.00pm, Sunday 26 February 2023.
Related Documents
Pre-design Consultation Summary Report
Hazards Near Me App Released
Residents  can now receive the latest flood and fire warnings in the palm of their hands, with the launch of the Hazards Near Me app.
The widely used Fires Near Me app, which has more than four million users, has been expanded and renamed to include flood alerts from the NSW State Emergency Service (SES), delivering on a key recommendation of the independent Flood Inquiry.
Minister for Customer Service and Digital Government Victor Dominello said it is critical for the community to have access to the latest information when it matters most.
"Being informed in an emergency situation can save lives, and the Hazards Near Me app will help people stay safe during fires, floods and other natural disasters," Mr Dominello said.
"The app has been jointly developed by the Department of Customer Service, SES and NSW Rural Fire Service (RFS), and I'm excited that app users will see additional features roll out in the future."
Minister for Emergency Services and Resilience and Minister for Flood Recovery Steph Cooke said empowering people with information is key to improving emergency responses.
"The independent Flood Inquiry identified the need for a single source of advice that can provide warnings for different types of hazards, and this app delivers on our commitment," Ms Cooke said.
"In an emergency every minute counts. Hazards Near Me will provide reliable and timely information directly from emergency services so people can make decisions to keep themselves and their families safe."
RFS Commissioner Rob Rogers said the NSW community has shown how important apps are during emergencies.
"For more than a decade, the NSW community has used Fires Near Me for bush fire information, and with nearly 3 million downloads during the 2019-20 bush fire season, it's a trusted source for fire information and warnings," Commissioner Rogers said.
"The Hazards Near Me app builds upon this experience, familiarity and extensive user base by allowing people to see localised and customised information based on the hazards in their area."
SES Commissioner Carlene York said the app is another way that emergency services can alert the community when action is required.
"In recent months, the SES has delivered a new approach to flood warnings in NSW through the adoption of the three-level Australian Warning System," Commissioner York said.
"The app will not only show where floods are happening and what people should do, but also alert users when new information is available so they can stay up-to-date and make safe decisions".
Existing users of Fires Near Me will need to update their app through their phone's app store. New users can download the app by searching for 'Hazards Near Me' in their app store.
Local Planning Panel – Community Representative
Lane Cove Council is seeking a community representative for appointment to Council's Local Planning Panel.  The Panel holds public meetings to consider and determine development applications (DAs). The Panel for each meeting is made up of three (3) experts and one (1) community representative selected from a pool of appointed Panel Members.
Community representatives who reside in the Lane Cove Local Government area and are committed to procedural fairness in decision making are encouraged to apply.
Applications shall include a statutory declaration stating that they are not:
A councillor of that or any other Council, or
A property developer within the meaning of Section 53 of the Electoral Funding Act 2018, or
A real estate agent within the meaning of the Property, Stock and Business Agents Act 2022.
All Panel members will be paid on a per meeting basis.
Applications must be in writing addressing the selection criteria as listed below. If you require any further details please contact Angela Panich on 9911-3611.
Written applications should be addressed to the General Manager, Lane Cove Council, PO Box 20, Lane Cove NSW 1595 or emailed to [email protected].
Applications close 5:00pm on 17 February 2023.
Lane Cove Local Planning Panel Community Representative – Selection Criteria
The Lane Cove Local Planning Panel is an independent determination and review panel for relevant development applications within the Lane Cove Local Government Area.
Council is seeking applications from a community representative for appointment as a Panel member.
A commitment to the Lane Cove area, its strategic vision, policies and objectives as stated in the Lane Cove Local Environmental and Development Control Plans.
Commitment to procedural fairness in decision making.
The capacity to remain objective and consider all sides of an argument.
Demonstrated ability to employ constructive approaches towards problem solving.
Understand effective team work.
Act appropriately in situations which may involve a conflict of interest.
All panel members must agree to abide by the Code of Conduct for Local Planning Panel Members, Code of Conduct for Local Planning Panel Members (nsw.gov.au),
The successful candidate will be subject to the following probity checks:
Search of the Public register of real estate agents
Bankruptcy Register Search
A Nationally Co-ordinated Criminal History Check
Lane Cove Council Announces FABBA concert in The Canopy
Are you ready to dance, dance, dance and sing!!
FABBA is coming to Lane Cove so head to The Canopy on Saturday 11 March to sing a long to Mamma Mia, Super Trouper, Gimme! Gimme! Gimme!, plus more!
Money, Money, Money: $10.00 (plus booking fee) per person. Proceeds will be donated to Ruff Sleepers.
Say I Do, I Do, I Do, I Do, I Do and book online: here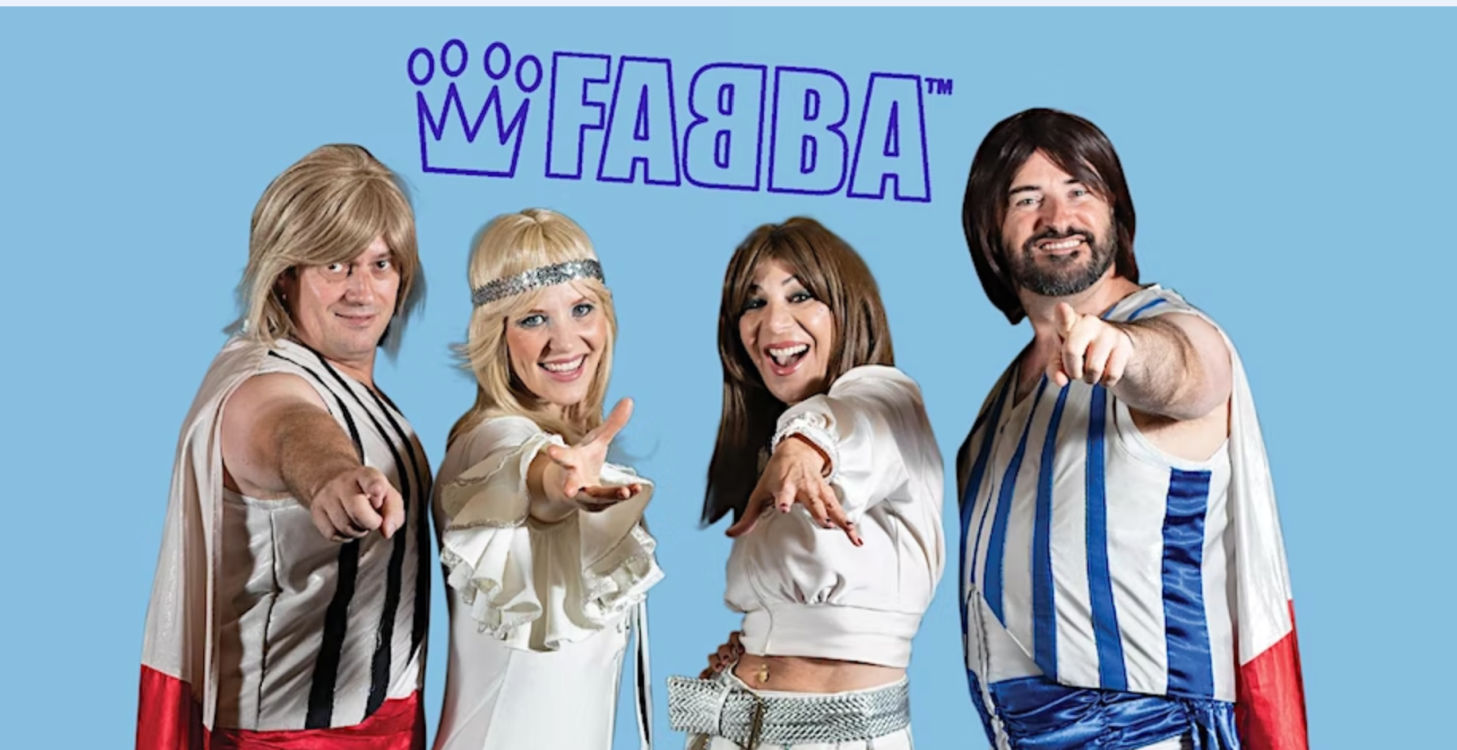 Lane Cove Sport – Women's Rugby Recruiting
Rugby Union
Lane Cove Rugby Union Club would like you to know about the opportunities in 2023.  They have Senior Rugby, Colts U/21 and Women's 7's.
Women's Rugby
This season introduces two new programs to encourage new players into rugby and better support the more experienced and those already in rugby. The season commences with the SportsFit program, the free 5-week pre-season fitness program being run by Fitrev on the bottom green of the Diddy for Lan Cove Rugby that also caters for all sports-minded women 17+ probably living on the lower north shore of Sydney simply keen to build their fitness in preparation for their 2023 sporting season.
The season then moves into the special Try Rugby Program catering for both those new to Rugby who may be interested or those with rugby experience SportsFit spots are limited.
FREE preseason fitness Program in February 2023 
Sports-playing women 17+ of the Lane Cove district are invited to join a free pe-season fitness program being run by Lane Cove Rugby on the greens of the Diddy through February 2023.
It would interest those keen to build their fitness in preparation for their 2023 sporting season.
The Program consists of 5 weekly Tuesday evening sessions from 6.30 to 7.30 commencing on Tuesday 31st January 2023 and finishing on Tuesday 28th February 2023 and run by Fitrev at The Diddy Cnr River Road West & Kenneth Streety Longueville Sydney.
Fitness Revelation is a well-known fitness studio located at the Diddy, and the program is free due to the sponsorship of the Lane Cove Rugby Union women's rugby group.
Places are limited to the first 30 applicants.
Contact: Bella.: 0466 111 165. Email: [email protected].
Info: www.lanecoverugby.com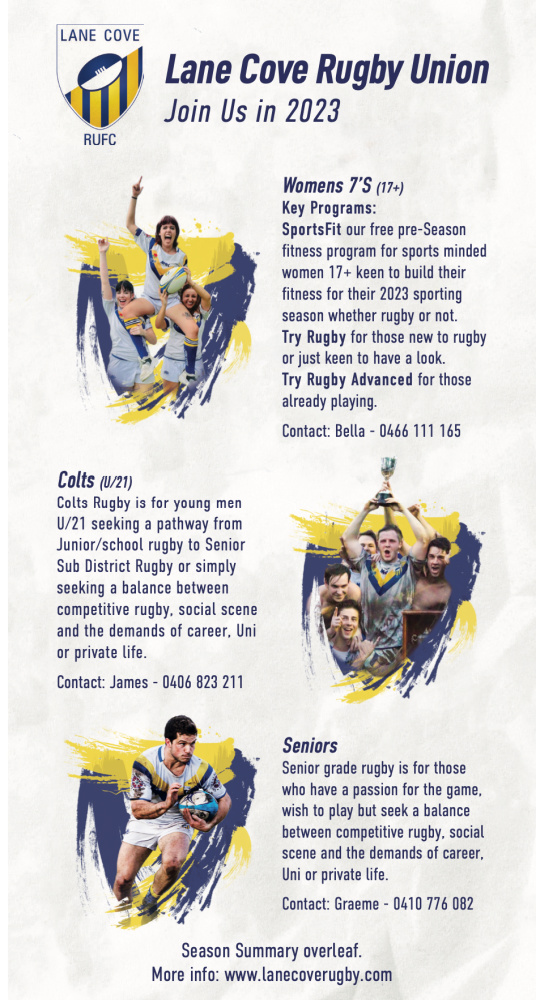 Week in Review Sponsor – PSK Private Wealth