At this time of the year we all make some sort of resolution about doing more exercise and eating healthier food. I have to admit that to me eating healthy food means BORING. I could write an article on '15 Things to do with Kale' and eating it would not be on the list. I now have a newfound respect for kale after being invited as a guest to A Cut Above Catering and ProFitness Personal Training's Healthy and Nutritious Cooking Workshop.
The Delicious and Nutritious Cooking Workshops are run by Wendy Middleton from A Cut Above Catering and Michele Roseby from ProFitness Personal Training.
Wendy and Michelle have launched a new course with a different menu.  So even if you have been to the class before, come back and try the new menu.  You will leave with heaps of ideas.  The new dates are: 12th and 19th August at 10.30 am.  You can book here.
Wendy is a well known and respected local caterer. Her finger food is often found at functions all around Lane Cove. Michele is a personal trainer and one of the fittest people you'll ever met. They have teamed up to share their passion for fresh fabulous healthy food.
The workshop is 2.5 hours long and concludes with a long table lunch in a beautiful setting with a glass (or two) of organic wine. You also get to mingle with some really interesting people who share a passion for food.
Wendy and Michele show you how to make a delicious dinner party from the canapes all the way through to dessert.
Wendy has some amazing local tips about where to source certain ingredients. She buys her vegetables locally from Lime Leaf Fruit Market.  Wendy also taught us some great cooking tips (how to get those pomegranate seeds out and how to massage your kale for extra tenderness).  Wendy's skills as a caterer are on show and she teaches you how to present the food in an eye catching and creative way.
During the two and half hours you:
Master the art of rice paper rolls;
Discover delicious and healthy meals such as slow roasted Moroccan Lamb with Pomegranates and Labna and very tasty side dishes to compliment;
Explore nutritious, yet decadent desserts;
Have fun tasting new ingredients;
Unravel food myths such as "is butter better?"
Learn how to make your everyday meals healthier.
Canapes
Rice Paper Rolls
I never thought I could wrap a rice paper roll, but with Wendy's expert tips – I did it and they looked and tasted fab.

Moroccan Lamb with Pomegranate and Labna (that is a cheese!!)
Ever wondered how to get those seeds out of a Pomegranate?  Just cut it in half and whack the back of it with a rolling pin.
Dessert is served!!
The long lunch setting is spectacular with kale not only used as a salad ingredient but a floral decoration.
Each participant leaves with a goodie bag and a copy of each recipe.
The cooking classes run throughout the year and you can buy gift certificates for a BFF, a wife, partner or significant other that loves to cook.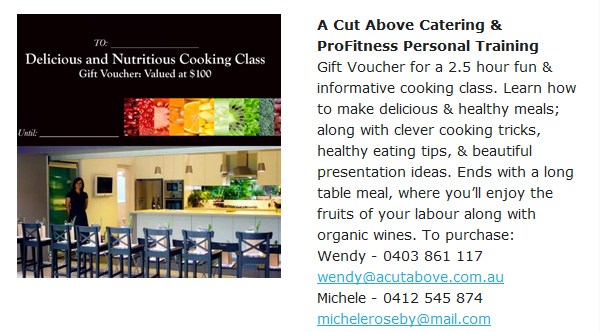 You can book for the next two workshops here:
If you would like to find out more about Lane Cove and also some fabulous promotions and competitions, you should subscribe to our newsletter.  Just click here to subscribe.
If there are any tips or questions you would like In the Cove to answer or investigate, please send us an email at [email protected].
Have you liked our Facebook page or Instagram Page – what are you waiting for?!