Welcome to our  Lane Cove Weekly Review for 14 to 20 November 2016.
Deborah Hutchens (Mayor of Lane Cove) and Councillor Soo-Tee Cheong were featured in the North Shore Times this week.  They were pictured in the empty Little Street Car Park.  The Lane Cove Council is trying to educate Lane Cove shoppers that this car park is open and ready for use.  Check out ITC's blog on car parking in Lane Cove – where we visit each car park to ascertain which car park is the easiest and quickest to park in.
Events in Lane Cove
On Friday afternoon, an event called Kaleidoscope celebrated cultural diversity in Lane Cove.    The sand art (featured above) was a stunning feature of the evening.  Sadly, after it was completed it was quickly demolished by the local kids (after they got the go ahead from the artists).
Lane Cove Real Estate
The Lane Cove property market continues to be very hot (and bloody expensive).
A three bedroom apartment at 13/20a Austin St, Lane Cove went for $978,000 under the hammer this weekend – considerably above its $900,000-$950,000 price guide.  Belle Properties Lane Cove Agent, Jess Goodman, said while the result had "pleasantly surprised" the vendors it was a reflection of the market.   You can read more about the Lane  Cove hot market here.
New Business Alert

L'valle Hair Salon is now open in the Rosenthal Arcade. The salon uses only essential oils based products. They are located near Pilates Connection and MBE Lane Cove.
ITC was told by Noodle King  (on Longueville Road) that they will be closing down in about 2 weeks time.
Work has begun on the small shop on Birdwood Lane, near Story Espresso. The word is it is going to be another cafe.
ITC LOVES A COMP
St Michaels Primary School is holding a raffle where you can win a Thermomix.  This innovative kitchen appliance unites the functions of over 12 appliances in one compact unit.
$20 per ticket with only 200 tickets available…Great odds! Winner will be drawn on 7 December 2016 . To purchase tickets click this link

Can You Solve This Mystery?
Stokes Street residents have been hearing an alarm every night for the last six weeks   The alarm has been going off intermittently for around 20-30 minutes at least five times between 6.00 pm and 5 30am. It is a low tone… Does anyone who lives in Huxtable Ave, Stokes Street, Helen Street and Murray Street to see if anyone else knows the source of the noise?  Please Email us here if you can solve the mystery.
Crime and Accident Report
This week ITC saw a increase in police patrols in Lane Cove.  In fact there were police patrols every day. One Roving Reporter told us they saw a man being arrested near BWS.  The man was carrying a satchel bag which was comprehensively searched by the police before he was escorted away to "help the police with their enquiries".
There was also a case of senseless petty crime outside the units located on Burns Bay Road. Six For Sale signs, near Hughes Park, were vandalised. If you saw anyone lurking around these signs or have any information please contact North Shore LAC – NSW Police Force
This week a car and a bike collided on Epping Rd at Centennial Avenue.  Emergency services attended the scene.  ITC hopes that the cyclist and driver were not seriously injured. 
ITC OFFER
Lasertech (located on Longueville road just down from the Longy) has fifty $10 gift vouchers to giveaway.  So if you are in the market for laser hair removal pop into Lasertech at 2/98 Longueville Road Lane Cove (an excellent Kris Kringle Gift)

Lane Cove Office Space For Rent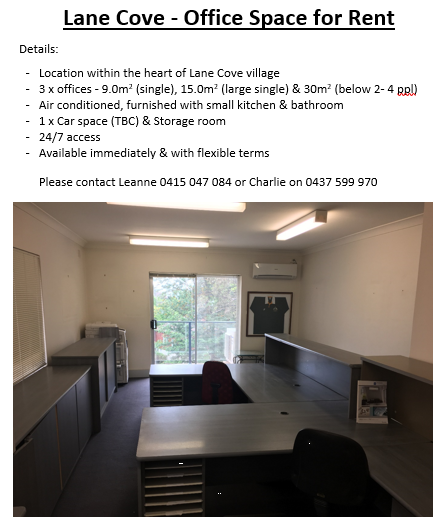 ---
Our Weekly Newsletter
Each Wednesday evening, we email out a newsletter to subscribers. You don't have to worry if you missed some of our Facebook posts. You can read this weeks newsletter HERE.
Subscribe for next week HERE.
Do you have a local issue you would like help with? ITC is here to help just email us at [email protected]
You can subscribe to our newsletter by filling out the form at the bottom of our homepage. Our newsletter is sent out every Wednesday Night at 7.30pm and includes details of Lane Cove Events for the next seven days or so, and articles you may have missed during the previous week.
Have you liked our Facebook page or Instagram Page – what are you waiting for?!