Greenwich Violist, Ella Brinch, is performing in an afternoon concert, on Sunday 30 July. Ella has recently returned home following 9 years in England. She has performed with orchestras both in Australia and England since 1999.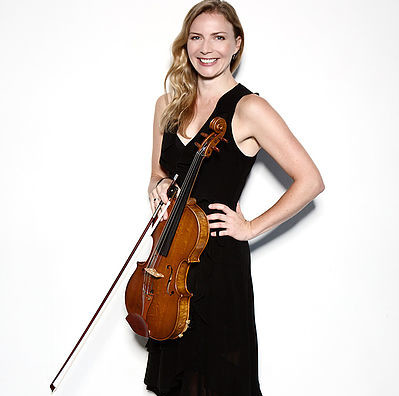 The myth of 'no female composers' will be exploded – in style! – in a wonderful winter afternoon concert on Sunday 30 July when Ensemble Vinifera makes its appearance in the popular Prelude in Tea series at the Independent Theatre, North Sydney. The monthly concerts featuring outstanding chamber musicians include refreshments – and a delectable selection of cakes!
"Why are there so few female composers?" It's a question that resurfaces regularly and yet, there are in fact many first-rate female composers; this concert will feature works from several, spanning the early 19th century through to the present day. The feature work is Ensemble Vinifera's first commissioned work from Sydney composer Jessica Wells. Vinifera will also be performing works by contemporary American composer Libby Larsen as well as Nadia Boulanger, Rebecca Clarke, Clara Schumann (student and wife of Robert) and Fanny Mendelssohn-Hensel (brother of Felix and considered a child prodigy of similar stature).
Ensemble Vinifera features Turramurra cellist Andrew Wilson, Greenwich viola player Ella Brinch and Naremburn's John Lewis (clarinet). The group was created in 2013 by several Sydney musicians who regularly perform together in the Australian Opera and Ballet Orchestra. Based around a core group of Viola, Cello and Clarinet, Vinifera metamorphoses as required to perform anything from solo Bach to octets for mixed winds and strings. The ensemble is inherently flexible, playing music from a wide variety of eras, genres and national backgrounds across a broad palette of instrumental combinations.
The musicians particularly enjoy bringing less frequently seen groupings, composers and works to Australian audiences. The founding members have studied and performed throughout Australia, the UK, Europe and North America covering the broad spectrum of chamber, symphonic and operatic repertoire.
As well as a love for great music, the ensemble members share a love for good food and wine in the company of good friends – hence their choice of name!
Guest artists for this concert include Christina Wilson (mezzo-soprano), Ewan Foster (violin), Lisa Osmialowski (flute), Azumi Lehmann (harp) and Alan Hicks (piano).
The Female of the Species: Ensemble Vinifera
Sunday 30 July from 2.30 (afternoon tea) for 3.30 concert
The Independent Theatre, 269 Miller Street North Sydney
Rebecca Clarke, Morpheus | Libby Larsen, Trio in Four Movements
Fanny Mendelssohn, Piano Trio Op.11 in D minor
Jessica Wells (New Commission) | Clara Schumann, Three Songs |
Nadia Boulanger, Four Songs
Tickets (incl afternoon tea): $47 adult | $30 conc | $22 student |$16 children
Bookings ph: 02 9955 3000 or on-line at www.theindependent.org.au­
"An especially civilised way of spending a Sunday afternoon." – Sounds like Sydney
Media: for more information, artist details, interviews, great images, recordings or review tickets,
contact Geoff at Sirmai Arts Marketing ph: (02) 9345 0360 m: 0412 669 272  e: [email protected]
---
Do you have a local issue you would like help with? ITC is here to help just email us at [email protected]