Welcome to our Lane Cove Week in Review for 7 to 13 August 2017.
The Lane Cove Plaza was alive with the launch of the Lane Cove Festival on Friday night.  You can find out about the festival events in our events calendar here.
Another fail for the Lane Cove Market Square Car park and the Lane Cove Council.  The roller door was not open for Sunday Trading.  The fault was logged by Woolworths and ITC with the Lane Cove Council "Emergency LIne".  Callers were advised that Rangers (who are able to manually override the system) were not available on Sundays and that it would be referred to the Lane Cove Council for action on Mondays. ITC contacted the Lane Cove Council General Manager by Email and he responded as follows:
I have no idea why the after hours call centre would give that response and agree it is unacceptable. I have spoken to Vlad, our senior ranger who will follow it up with them. He has assured me that is not the correct response by the call centre. 
Age Care Facility Developers lodge their DA for 266 Longueville Road
A Development Application has been lodged by the Uniting Church to develop 266 Longueville Road as an aged care facility.  The DA has not yet been loaded into the Council system for review, we will let you know when it is available.
Lane Cove Golf Club Concerned About its Future
The Lane Cove Golf Club was packed at last week's AGM with members concerned about the plans for the Lane Cove Golf Club.  You can read more about that here.
Meet the Candidates
Lane Cove Council Elections will be held on 9 September 2017. Voting is compulsory. Meet the Candidates and ask them about the issues that impact you. Local Government is important as they provide so many services that impact our day to day lives. Don't be part of the silent majority – come along and meet the people who will be representing you. You can book at https://www.trybooking.com/RNQP. If you cannot come please leave your questions below or email us at [email protected]. We do hope you come along.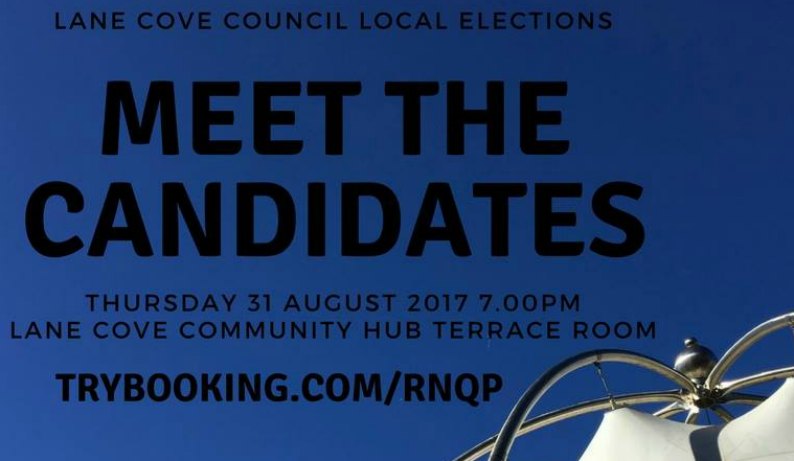 Crime and Incident Report
Someone was a little bit too keen to turn into the Speedway driveway on Friday.
From the North Shore LAC Facebook Page
Stolen Vehicle Detected – Lane Cove
Police have charged a 33 year old Redfern man and a 37 year old Chippendale woman after police stopped the car the pair were travelling in in Lane Cove over the weekend.
About 8:15pm Saturday 5th August police observed a white Mitsubishi Lancer sedan travelling south along Epping Road, Lane Cove. Police conducted checks on the vehicle which revealed it had been stolen from a Camperdown address earlier this month. Police stopped the vehicle and spoke with the driver and passenger with the driver stating he had borrowed the car from a friend. Both occupants of the vehicle were placed under arrest and conveyed to Chatswood Police Station.
The Redfern man was charged with take and drive conveyance without consent of owner and driver never licensed. The Chippendale woman was charged with be carried in conveyance taken without consent of owner. While in police custody enquiries made by police revealed the male and female both had outstanding warrants. As a result they were bail refused and went before Parramatta Local Court on Sunday, both are now serving a term of imprisonment for the prior offences and will face court again in the coming months in relation to these latest charges.
Our Weekly Newsletter
Each Wednesday evening, we email out a newsletter to subscribers. It is full of events, news and more! You can read this week's newsletter HERE.
Subscribe for next week HERE.
Do you have a local issue you would like help with? ITC is here to help just email us at [email protected]