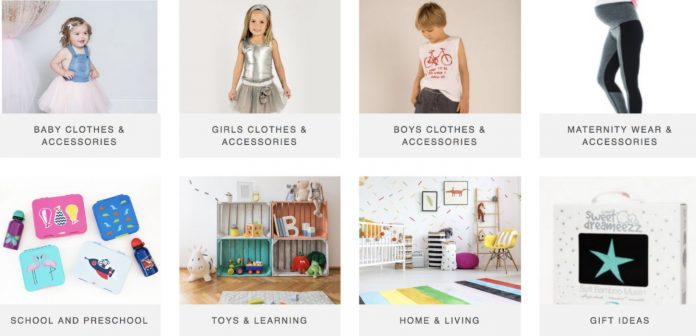 In the Cove loves to feature Lane Cove Online Entrepreneurs.  Today we are featuring Little Kids Cove.  Little Kids Cove's founder is Lane Cove resident Yvette Cherry.  We asked Yvette to tell us all about her business.
What is Little Kids Cove?
Little Kids Cove is an online store selling a delightful range of products for newborns, toddlers, kids and parents.  Our range of unique products includes clothing, shoes, accessories, bedding and sleeping bags, educational toys, arts and craft, pre-school and school essentials and everything in between.
Everything on Little Kids Cove is handpicked by myself.  I believe in offering the highest-quality products that are unique and affordable.  Little Kids Cove stock clothes from newborn to 8 years old.
What Prompted You to Launch Little Kids Cove?
During winter in 2014, Ben starting having trouble going to sleep and night waking. I read many books and articles and tried different things in search of a solution. I eventually found out that my little one was too cold at night. I shopped around at many stores in Australia but had difficulty finding anything so I started looking online for different products, sleeping bags, and PJs that would suit him.
When I put my little one in a fleece PJ's he started to sweat.  I became quite desperate to find a solution.  After extensive research on baby sleeping, I discovered that babies sleep better in or with natural fibres (particularly cotton or merino).  Natural Fibres absorb sweat and are better at maintaining body temperature.  I tried 5 or 6  different sleeping bags and found that my little one was still cold or he would sweat if I turned the heating up or added extra blankets.  My little one is also a kicker so it was hard to keep anything on him.
I decided to take matters into my own hands and source cotton and merino fabrics, PJ's and sleeping wear from New Zealand. I was handy with a sewing machine so I started making my little one some merino PJ's. I changed all his PJ's, sleeping bags and blankets for all merino or cotton materials.   Eureka!! I had done it he was now sleeping straight through and would not wake early feeling cold.
I then started wondering if other parents had the same problem. Being time poor and trying hard to find a part-time job, I decided to start my own online business – Little Kids Cove. As a parent, I know how hard it is finding that ONE store that stocks everything.
How Do You Select Your Stock?
There are so many new products and designs that come out every year. I am very selective and believe in product testing. I research and speak to mums about the products they like.  I always test a product myself, before I decide to stock the item on Little Kids Cove. For example, I only stock a few brands of tried and tested sleeping bags. They must be made of all natural material ie Ergopouch and Merino Kids as I believe it is very important for babies and toddlers to sleep in natural fibres.
What Are You Most Popular Products?
We really do have an extensive range of products.  Our best sellers include baby and kids clothes, lunch boxes, backpacks, baby plates, swimwear, gumboots, rainwear & pyjamas.
Which Colours Are the Most Popular For Little Kids?
Girls – pink and purple; and
Boys – blue, green and red.
What is Trending in Little Kid's Products?
The current trend in little kid's products is
Girls – rose gold, silver, ponies and of course unicorns.; and
Boys – dinosaurs, animals, plants, trucks and cars.
What is your unique selling point?
We are a one-stop shop for many of your kid's essential items tried and tested by a mum. We roam the globe to find the best products – we stock products from Australia, New Zealand, Spain, Canada, USA and the UK.  We also offer a 10% discount on every order to customers who sign up as a member.
You can shop online in your own time 24/7. I hope you love our Little Kids Cove range as much as I do, and if you have any questions about our products, any suggestions, or would just like to reach out and say hi as a fellow mum, please drop us a line.
What Do You Like About Living In Lane Cove?
We have lived in Lane Cove for nearly 4 years and I love the community and the vibe here. I have always lived on the North Shore. Lane Cove is so convenient. It's close to everywhere which is fabulous when you have family members spread all over Sydney.
Special ITC Offer
Little Kids Cove is offering all  ITC followers a 15% discount. Valid for 6 months. Just enter the discount code ITC15OFF17 when you go to the Little Kids Cove checkout.
Website:  Little Kids Cove
Email:  [email protected]
Phone: 0499 355 611
Instagram:  Little Kids Cove
Facebook: Little Kids Cove
---
This is a sponsored post.  If you would like to talk to ITC about promoting your online business (must have a lane cove connection) please email us.
Do you have a local issue you would like help with? ITC is here to help just email us at [email protected]