You may recall over the Christmas Holidays, clothing donations were dumped outside the local charity/goodwill shops. The donations were ransacked and clothes were left all over the footpath.  It's also common to see clothes donation bins overflowing.
In the March Lane Cove Council Sustainability News, the Lane Cove Council suggested a way for local residents to donate their clothes.
Not sure what to do with your unwanted clothing? That's where Clothing Cleanup can help. They take your old clothes and give them new life for someone in need. The service is free, easy to use and they collect the clothes from your home. You can donate all wearable clothing items, shoes, Manchester, accessories and handbags. Please donate items that are in a condition where you would be happy to wear them again.

By using the Clothing Cleanup service, together we are reducing the amount of textile waste that gets sent to landfill every year.

Visit the Clothing Cleanup website for more information and to book a cleanup service.
Who is Clothing Cleanup?
On the face of it, this seems like an excellent idea.  The question needs to be asked who is behind Clothing Cleanup? Will this impact local charities?
Clothing Cleanup is part of the King Cotton Pty Ltd group.  Clothing Cleanup is a new concept in Australia.
In response to numerous questions about who they are, Clothing Cleanup has responded to comments on their facebook page by noting they are transparent and they disclose they are a commercial entity.  Interestingly in the About section on the Clothing Cleanup Facebook page, they list themselves as a community organisation.
You can find this information on their website if you scroll down to the bottom of the page and read the FAQ's.
The clothes we collect are reused and mostly end up in 3rd world countries worn by people in need. While we are not a charity in the sense that we donate the clothing collected, we make considerable financial donations to support various charities that are close to our hearts like the Youth Off The Streets, Enough Is Enough and Make-A-Wish Foundation.
The following statement was made on Clothing Cleanup's facebook page:
The cost they are sold for is less than 80c a kilo, which barely covers the cost to collect, sort and ship (plus admin staff, drivers, marketing and so on). For the next 12 months, at least this service will not be in profit at all. We hope we get enough support to continue to grow the service so it can be profitable and can continue long term, to do that however we need to be collecting more than 10 times what we are currently collecting, so we do need a lot of support to make this happen. Clothing Cleanup believes very strongly in giving back. We are a family run business who has always given back to charities in Australia and believes all businesses should do the same. 20% of all profits we make goes to charities in Australia that are close to our hearts. Without such support, many charities couldn't run. Most businesses are lucky to donate 2 – 5% of their profits (or none at all), we hope by leading by example that others may follow. Regardless, we believe it is the right thing to do and we will continue to support charities we believe in. For Clothing Cleanup, we chose Youth Off the Streets and although we are not yet anywhere near being in profit we have still made a commitment to support them while we grow. Once again, this service is not about taking away from charities at all. It is about taking away from landfill.
Clothing Cleanup has not disclosed the exact figure they have given to their nominated charities.
Selling clothes to third world companies creates an issue. In 2015, Kenya, Rwanda, Uganda, and Tanzania agreed on a three-year plan to gradually phase out the importation of second-hand clothes and apparel from the United States in particular. This ban was to help stimulate the local manufacturing sector.  The ban did not go ahead due to the threat of trade sanctions.
Clothing Cleanup is not the only organisation that sells clothes to third world countries.  It is generally accepted that charity organisation  have a model where about 1/3rd of clothes donated are sold through stores, 1/3rd is sold to overseas and the rest is used for cleaning cloths.
Should You Donate to a Commercial Enterprise?
The Clothing Cleanup business model is easy for people who do not have the time to deliver their clothes to a clothing bin or a local charity store. If you are happy to donate your clothes to a business rather than a not for profit, then Clothing Cleanup might be the solution.
If you want to donate your clothes and know that the money raised by donating them (less admin fees) will go directly to assisting people in need, then you should donate to St Vincent's De Paul, Anglicare, the Smith Family or other local charities.
Are their Other Options?
You may also want to consider other options such as:
The Uplift Project
In the developing world, a bra is often unavailable or unaffordable. Used and new bras are sent worldwide. Drop off and postal details are here.
Tees to Totes
Tees to Totes upcycles old and used t-shirts and singlets into tote bags, using just a pair of scissors, providing them with another lifespan. Tees to Totes bags are lightweight and strong and a great substitute for plastic bags.  You can find out more here.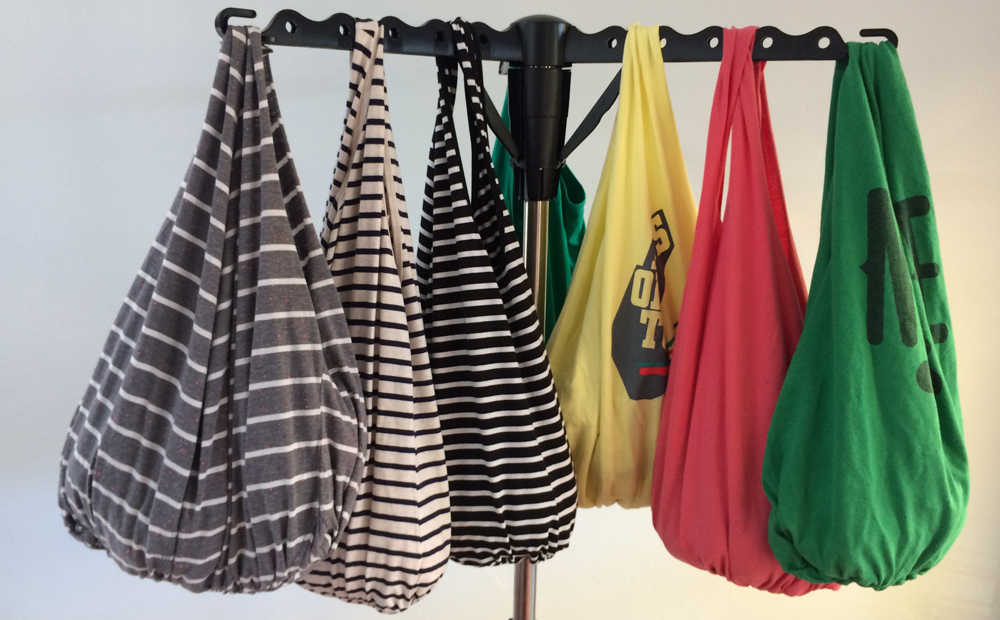 Dress for Success
What would you wear to a job interview? That is exactly the type of clothing Dress for Success is looking for to distribute to their clients. Your fabulous suits and other professional apparel could furnish another woman with the confidence to enter or return to the workplace, make a great first impression and land a job that could change her life. You can find out more here.
Lane Cove Council Clothes Swap Party
Last year during national recycling week, the Lane Cove Council organised a clothing swap party – look out for them in the future (they will on ITC's event calendar).
Second Hand Footy Boots
Students from Monte Sant Angelo Mercy College are once again looking to support  Aboriginal communities in Queensland.
As part of a community service -based project, they are collecting old, no longer used football, rugby and soccer boots to clean and package. These boots will then be sent up to rural Aboriginal communities in Queensland such as Inala and Cherbourgh, where they lack sport gear such as footy boots for the kids to play in.
If you have any unwanted boots, they would gladly take them off your hands.
Please contact the girls via email to arrange collection.
It really comes down to your personal viewpoint.  However, we thought we should point out that Clothing Cleanup is a commercial venture.
---
Do you have a local issue you would like help with? ITC is here to help just email us at [email protected]