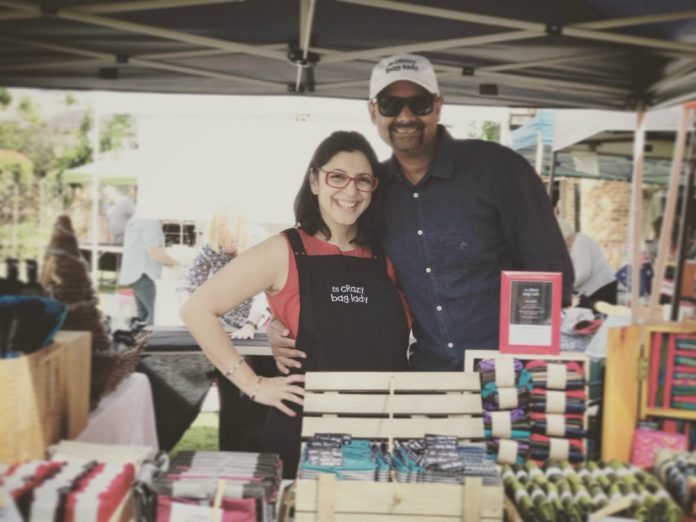 Dee is Lane Cove's Crazy Bag Lady.  Dee is passionate about sustainability and making the world a better place one bag at a time.  She is not a scientist or sustainability expert, she just cares enough to try and make a difference any way she can. She truly believes that if she can even change the habits of one person, one family, one community, then she has made her time on Planet Earth worthwhile.
Dee is the Founder of Crazy Bag Lady reusable bags.  The bags are reusable, tough, foldable, damn good looking bags.
How Did it all Begin?
For many years Dee's Dad paid skilled workers from various parts of India, and specifically Madras where Dee grew up, to make reusable shopping bags.  Her Dad would then randomly hand the bags out to family and friends, trying to convince them that single-use plastic bags were no good! (Dee's family has not used a plastic bag for buying groceries for over a decade).
​The workers making the bags were typically those that have been displaced by machine production methods in the large export houses. Dee's Dad was providing them with a crucial source of income that was not otherwise available.
​Dee eventually convinced her parents they could start a sustainable bag company. The world seems to be finally waking up to the disastrous impact single-use plastic is having on the planet. And so, The Crazy Bag Lady was born. Dee's Dad (aka the Walrus as he is fondly known) looks after the production of the bags… under the very watchful eagle eye of Dee's beautiful mum (aka the Walrus Tamer)!
For every bag sold, a family overseas eats better, sleeps better and thanks you for your generosity and care.
​The Crazy Bag Lady is brand new.  They are slowly learning, navigating, working their way through setting up a small business and learning the joys of online retailing and markets.  They would love you to buy a bag and give them your feedback.  They would be so happy if you sent them a cute little love letter!
Who is Dee?
​Dee is The Crazy Bag Lady (sometimes known as The Bag Hag).  She is a fun Indian girl who lives – and loves – in Australia. She wears blue glasses, sometimes red, paints with her heart and loves humans. She is crazy about a more sustainable future for her children and future generations.
​When she's not yelling down the telephone trying to finalise the design of a new bag, she can be found drinking copious cups of tea in her Bollywood Zen Pergola of Love, laughing with friends, wandering around shops aimlessly looking for inspiration and often on a yoga mat. Sometimes, rarely, seldom, once in a pink moon she also tries to get to the gym.
New Products
In addition to their durable reusable bags The Crazy Bag Lady now reusable produce bags. They're made by a very small tailoring unit of women in Pondicherry, India, and come in a handy 3-Pack set.
Available online, these beauties keep fruit and veg fresher for longer and can be used again and again, and again and again!!! So much better than single-use rubbishy plastic.
​Dee has one request –  please look after our planet. Dee says:  We can do this together, one reusable (foldable, durable, safe, strong, washable and damn good looking!!) bag at a time.
Contact Details
Website: www.thecrazybaglady.com
Facebook: @crazyaboutourplanet
Instagram: @the_crazybaglady
Email: [email protected]
---
Do you have a local issue you would like help with? ITC is here to help just email us at [email protected]