ITC is a water baby. I love to float.  I spend quite a bit of time at the amazing hydro therapy pool at Lane Cove Physio (where you work with a physio in the water) or just float.
I was reading Balmain's equivalent to In the Cove, Balmain Living (tell your Balmain Friends about this site) and I saw a post about SaltSoak Float Studio opening in Balmain.  You know ITC leaves and breaths Lane Cove, but I am prepared to venture outside 2066 if there's a service that is not available in Lane Cove.  After seeing the post, ITC immediately booked a float session at SaltSoak Float Studio.
I was excited – but apprehensive.  I was worried about the experience being claustrophobic.  I was also worried that they recommended floating in your birthday suit. No-one wants to see my birthday suit!! I did not have to worry the rooms all incredibly private.
I am pleased to say all these thoughts evaporated (water pun intended) after an hour floating in the amazing float tank pod.
What is a Float Pod?
It's a beautiful large egg shaped modern float tank (I did chuckle as it looked a bit like the Egg that Mork from Ork used travelled to earth) but muck sleaker. The pod is fitting with different coloured lights emanating from inside – so you are not in darkness. The Pod is as large as a splash pool and water filled with water and Epsom salts. Because of the high content of salt, your body, once inside the tank, will float.  Each tank is filled with approximately 30 centimetres of water and over 600 kilograms of Epsom salts. And just as your mother used to say, a nice long soak in Epsom salts will do you the world of good!
How Long Do You Float?
The float lasts for 60 minutes. Because the water is dense, you will feel as if you're like an astronaut floating in space – zero gravity. The water is heated to skin temperature so after a while the sensation of your body dissolves and you feel weightless.
Why Float at SaltSoak?
The benefit of float therapy is the body is placed in a fully relaxed state, removed from noise or distractions. Because the body is floating, there is absolutely no pressure from our body, resulting in relief from pain.
Just some of the reasons to float are:
Trouble sleeping or feeling anxious?
Have chronic pain, sore back, or aching joints?
Is your creativity blocked or are you having trouble with problem-solving?
Want to calm addictive behaviours and give something up?
Or do you just need to escape from all of the noise in your daily life?
The SaltSoak Float Studio is pristine, relaxing and the staff are all about you relaxing.
I will not lie. I was worried about being claustrophobic and also drowning.  I should not have worried.  There is no requirement to close the lid on the pod. If you feel anxious about the space don't worry: the pods themselves are surprisingly roomy once you are inside. There is no lock on the pod lid so you can open it with a simple touch at any time and leave it open if you choose. I originally had the lid open and then I closed it – very spacious and the coloured lights helped.
I was given a soft foam circle to put under my head – this immediately made me feel better. The Epsom salts increase your buoyancy to such an extent that you are completely safe to fall asleep.
What Do I do After My Float?
After your float, you will be invited to extend the experience even further by relaxing in SaltSoaks' sunroom with a cup of hot or cold tea.  Salt Soak Float Studio hopes you will ease yourself back into the chaos of your daily grind gently. Even taking ten minutes to absorb the experience can be powerful.
SaltSoak Float Studio also offers a powder counter with mirror, hair dryer and flattening iron for you to style your hair or apply make-up and get yourself ready for the rest of the day or evening ahead.  Why not make a day of it, after you leave Balmain head back along Victoria Road/Burns Bay Road and stop at Infinity Hair or The Beautician and have your hair done and/or a facial after the soak.  Wow would that be an amazing Mother's Day Treat!!! – here is how to book and email this article to your partner NOW.  By the way Infinity Hair was Lane Cove's first Sustainable Hair Studio.
Why leave 2066?
It took me 15 minutes to drive to Balmain (not in peak hour).  I found parking in the street (2 hours).  There is four hour street parking in both side streets near Salt Soak Float Studio.  You know that ITC loves a comp.  Take some midweek 'me' time! All midweek (Monday – Friday) floats during the month of April and will be entered to win a prize pack containing: 1 @aqua_beauty_therapy Saltsoak candle, 1 @lbogreasesoaps Saltsoak soap, and one FREE 60 minute float! To be eligible to win book your mid-week float, make sure you're following SaltSoak on Instagram, and like their Facebook page. Multiple mid-week floats = multiple entries!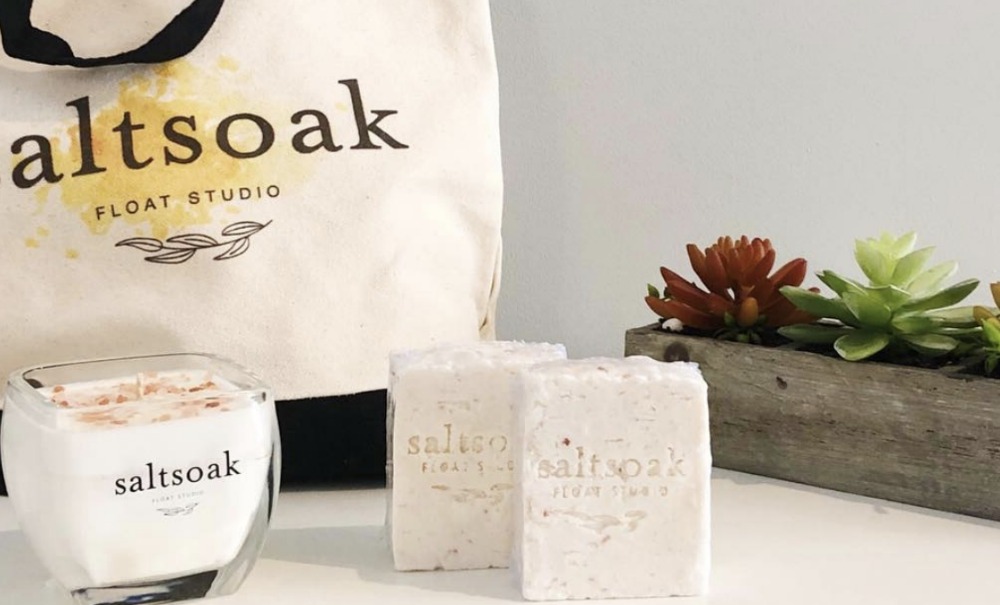 Salt Soak Floating Studio's Contact Details
Address: 337 Darling Street Balmain 
Phone: 02 9159 3065
Email: [email protected]
Website: Salt Soak
Facebook: @saltsoakfloatstudio
Instagram: @saltsoak
Book Here: SaltSoakBookings
This is not a sponsored post – ITC just wanted to try a new experience.
---
Do you have a local issue you would like help with? ITC is here to help just email us at [email protected]
Sign up for the weekly In the Cove Newsletter
Like us on Facebook
Follow us on Instagram @inthecove
Tweet us on Twitter @InTheCoveITC
Pin us on Pinterest inthecoveITC
Tell your friends about ITC (they will thank you!!). Remember to tell them that ITC is a website and they do not have to have access to any Social Media to enjoy ITC – we often speak to people who tell us they want to follow ITC but don't have Facebook or Instagram account (you don't need them)