A big week in Lane Cove this week, police action, our local member threatened, a big win for a Lane Cove local, and developments in the spotlight.
Police Action in Lane Cove
On Tuesday afternoon, the drums were beating as commuters and residents saw police swarming around Epping Road. Police arrested two men who were charged in relation to incidents in North Sydney, Crows Nest and Lane Cove. Read more here.
This week, a Hornsby man was arrested for making a threatening phone call to our local member Anthony Roberts' electoral office. Read more here.
Development Update
Lane Cove hit the news this week with an article in the Australian Financial Review about the St Leonard South Master Plan and the obstacles that developers have been encountering in relation to their plans for high rise buildings.   These plans impact not only St Leonards, but Greenwich residents and anyone who uses River Road regularly.
The article quotes the Urban Taskforce and states the following:
"However developer lobby group Urban Taskforce's Chris Johnson said developers and home sellers were duped by the council's heavily advertised development plans and described it as "a scandal"."
Read the article here.
The Lane Cove Council's August Council Meeting will be held on Monday 19th August at 7 pm.  The Lane Cove Council will be discussing the findings of the Independent Planning Commission report on the draft St Leonards South Residential Precinct Plans and outlining Council's Draft Local Strategic Planning Statement.
If you're interested in planning and development in Lane Cove, then come along to the Lane Cove Council meeting on Monday night and express your views. Details of the Lane Cove Council's agenda items are here.  If you would like to make a public statement in the general forum before the meeting you must register here.
A Development Application has been lodged to convert the old Billy Blue Building on the corner of Greenwich Road and River Road into 92 Bed Aged Care Facility.
It seems that Aged Care Facilities/Seniors Living DA's are very popular at the moment.
A DA for aged care/seniors living have been lodged for the following sites:
🧓 266 Longueville Road Lane Cove:
🧓 Greenwich Hospital Upgrade to include seniors living;
🧓 The Metro Petroleum Site (previously known as Speedway Petrol) on Northwood Road Northwood; and
🧓 40A Cope Street Lane Cove (currently with NSW State Planning).
Boomgate Blues
It's  been a while since ITC has mentioned that dreaded "B" word – yes BOOMGATE.
On Monday 12th August at around 6.30 pm the Little Street Carpark boomgate was not working.  To make matters worse the exit intercom was not working. ITC was contacted by a concerned resident. Was this the start of the same issues as Lane Cove Market Square?  She was also concerned there was no way to contact anyone to have the boomgate manually lifted. ITC asked the LCC for a comment (and also to confirm there will not be a boomgate at the Canopy).
Below is Lane Cove Council's  response:
"On Monday night there was a network outage in Lane Cove which caused both Council car parks to stop working. The connection was restored at 7.54pm. A Council ranger attended the car park to manually open the boom gate as soon as he was made aware of the issue.
The new car park which will open at The Canopy will operate on the same system as the Market Square car park– i.e. No boom gates."
ITC has suggested that it would be helpful for an emergency phone number to be displayed so drivers could call Lane Cove Council to immediately arrange for a ranger to attend.
The Canopy is the new name for the Rosenthal Avenue Car Park Development – read about the construction progress here.
Emergency Services Levy
From 1 July 2019 the NSW Government planned to collect an additional $160 million (in 2019/20) from local councils and those paying insurance premiums to provide better workers' compensation coverage for volunteer and career firefighters.
In May 2019 local councils were sent an invoice with a letter from Revenue NSW stating that NSW council contributions would increase in 2019/20. Lane Cove received an invoice from Revenue NSW for $759,252 for its 2019/2020 emergency services levy contribution (an increase of 11.70%).
Local Councils were concerned that the cost of the emergency service levy would result in money previously allocated to local projects would be diverted to pay this fund.
Lane Cove Council resolved at its July 2019 meeting to write to the Premier, NSW Opposition Leader and relevant Ministers calling upon the government to fund the 12 months of this extra cost rather than requiring councils to find the funds at short notice when budgets have already been allocated
This week the NSW State Government announced it will fund the first-year increase of the emergency services levy for local councils, meeting the cost of new workers' compensation arrangements for firefighters.   The NSW peak local government body is still intending to discuss this issue with the state government.  They hope that by working together they can ensure the way forward doesn't penalise communities across NSW in need of council services such as childcare, and infrastructure such as parks, roads and footpaths.
Water Restrictions
This week, ITC received in our letterbox a reminder about water restrictions. From 1st September 2019, if you fail to comply with the water restrictions, you might be fined. Make sure you know when you can water your garden and the type of nozzle you need on your hose when washing your car. Further details here.
Traffic Black Spots
It seems like Mowbray Road is fast becoming the number one accident area in Lane Cove.
This week, local residents were woken up by another loud crash between Centennial Ave and West Chatswood Library in Lane Cove North.
Both drivers had minor injuries, all emergency services were quickly in attendance. Mowbray Road was blocked in both directions for around half hour, causing extensive delays to early morning peak hour traffic including buses to city and heavy vehicles that didn't have sufficient room to turn around.
We have some good news to report about another notorious black spot, the intersection of Longueville Road, Kenneth Street and River Road West (aka The Diddy intersection).   We have been advised by local businesses (who for the last 30 years have been calling ambulance and police to attend accidents) that by moving the turning arrow to another pole and changing the arrow direction, the number of accidents at this intersection has decreasing significantly.  See our cover photo.
Lane Cove Theatre Company's Managing Carmen Opens
Mr ITC is a beer and sports man (nothing wrong with that) and he does not usually attend local theatre.  On Saturday night ITC attended the opening night of David Williamson's play Managing Carmen.  It was hilarious.  ITC highly recommends you see the play.  It's so nice to be able to attend a high quality theatre production without worrying about battling traffic and going into the city
Book now so you don't miss out. This play is David Williamson at his best.  The play is about a cross-dressing AFL footballer. Stage Whisper said David Williamson writing is "immensely funny, zips along faster than the NBN, and has a pay-off that's poignant in its plea for tolerance in our sport-obsessed society." Read more here.
Lane Cove Winner
Huge Excitement in Lane Cove this week when Raleigh from Cake Shack Sydney won the 2 Day FM Secret Sound (worth over $100 000). This could not have happened at a better time.  For Raleigh to grow her already popular business she needs to find premises to lease for cake viewing appointments. Raleigh and her husband Shawn are two of the nicest people you will ever meet. Raleigh is always helping out ITC by donating cakes for charity functions. Last year she donated the most amazing cake for Drought Angels.
ITC has a feeling that 2Day FM were very keen to give the money away as not soon after the money was given away they announced they would be axing the breakfast team
Business Alert
Lane Cove Local Darren Simpson (who has lived in Lane Cove for over 40 years) and has been painting for 25 years has launched his own painting company called Multistyle Professional Painting Services. He wants to work on local houses as his kids go to a local school. Please contact Darren for a quote as he would love to work with you.
Crime Report
A roving reporter reported the following to ITC.
"Hi ITC , I'm really upset to report that one of my friend's apartment was broken into on Friday night (16th August) on Mindarie Street. As they were moving furniture into their apartment they found a man inside stealing their belongings."
The thief escaped and a report was made to the North Shore Area Command. Make sure you report any suspicious behaviour to the North Shore Local Command and keep an eye out for your neighbours.
Upcoming Events
Lane Cove 12ft Sailing Club Fundraiser
You may recall that the Lane Cove 12ft Sailing Club suffered a loss this year when one of their storage sheds went up in flames.  They are holding a fundraiser on 7th September and would love Lane Cove locals to come along.  Details here.
Fashion Parade with Local Cancer Survivors as Fashion Models
LAST CHANCE to book for a fashion show featuring Lane Cove locals and businesses. Come and join in the fun at Liverity's inaugural fashion show. Celebrate the journey of cancer patients as fashion models as they showcase the latest spring fashion from Lane Cove stores that have come onboard to support this great cause. 100% of funds raised will be donated to Can Assist to support rural families in need of support who are undergoing treatment for cancer.  Further details here.
Food and Wine of Spain
Little Red Robin Restaurant has just released information about their next wine and food evening.  They will be showcasing the food and wine of Spain.  Further details here.  Book soon as these evenings do sell out.
This week in review is sponsored by The Alcott.  The Alcott is located on Birdwood Avenue (in the old Lane Cove Club).  It has been beautifully refurbished.  About a month ago they released a new menu and today ITC had a chance to sample some of the new dishes.  Below is the 250 gm Ranger Valley Black Angus Rump.
The Alcott is an ITC Platinum Sponsor.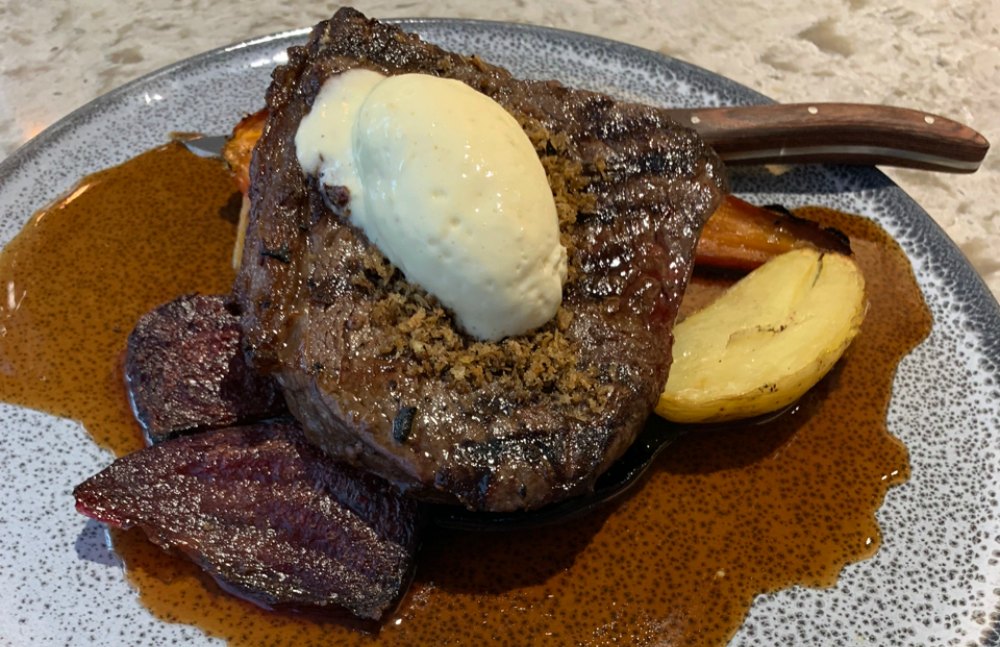 Want to Know More About Lane Cove?
In the Cove publishes new content every day. It could be an article, an event, a job or local info. To make sure you don't miss this info sign up to our newsletter. It comes out every Wednesday Night at 7.30pm and includes a wrap up of everything posted on our Facebook site in the previous week. Here is this week's newsletter
Did you know that In the Cove has an instagram page? Yes we do and we feature pictures from our roving reporters and our ITC team that do not appear on our Facebook page. Follow us on @inthecove