Comedian Simon Kennedy is a busy man. He is in constant demand as a comedian for corporate events and the comedy circuit. He also keeps very busy as a voice-over artist (he has a studio at home) and writer for television, radio, and print.
Simon lives in Lane Cove with his partner and children. Some of you may have seen a local comedy gig Simon did at The Alcott last year. He was incredibly insightful and nailed some local Lane Cove people (remember imitation is a form of flattery).
As a writer, Simon has worked in radio and advertising bringing brands to life. He was the head creative behind the NOVA radio brand for 7 years and has since worked with many other brands to add personality, humour and creative edge to their public personas.
Simon's first Melbourne International Comedy Festival show was Fishing for Cigars in 2001, followed by his successful one-man show The Angina Monologues at Sydney's famed Old Fitzroy Hotel Theatre and the 2003 Melbourne Fringe Festival.
You never know when you will need a Donald Trump impersonator!  You could have a meeting with a Russian Diplomat lined up, you might be building a big wall or you might be stuck in customs.  If you need a Donald Trump impersonator we have one for you and he lives in Lane Cove and is ready to make Lane Cove Great Again.
Simon Kennedy is a Lane Cove local and a very talented comedian and he has nailed Donald Trump.  If you would like to know more about Simon Kennedy you can read our blog on his work and his tragic connection with 9/11 here.
If you would like to be your local office Donald Trump impersonator Simon Kennedy shows you how.
This is how Simon Kennedy looks by day:
Simon has some great tips on how to nail your impersonation. Simon also has a good Tony Abbott impersonation but let's face it, that impersonation is not going to be needed very often.  However, we think Simon has a good four years of work out of Donald Trump (we did say four years and not eight).
So try and catch one of Simon's gigs.  You can find out where he will be performing on his Facebook Page
Simon's friends also have a good sense of humour – looked what one of them left on his doorstep.  So if you like FAKE news and a FAKE Donald Trump you will love Simon's impersonation.
9/11
As seems to be the case for many comedians, Simon's life has been tinged with sadness and grief. Simon's mum worked hard all her life. After she retired, she planned an amazing trip-of-a-lifetime to the United States. She had a fabulous time and was on her way back to Australia. On September 11 2001, she boarded American Airlines Flight 77. This was the plane that crashed into the Pentagon. There were no survivors and Simon's mother was the only Australian on board. This tragic death changed Simon's approach to his comedy: "I think it really cemented my moral compass…..it made me think what do I believe in? I developed a real hatred of racism out of the experience".
Some of Yvonne's personal objects were recovered from the crash site, and have been donated to the National Museum of Australia. ITC highly recommends you read the page dedicated to Yvonne Kennedy on the National Museum of Australia's website. It is fascinating.
There is also a memorial to Yvonne at the Pentagon.
Simon has documented his feelings in a book called 9/11 and the Art of Happiness. It is an amazing insight into survival and regrowth following a devastating tragedy. How do you forgive anyone who commits a random act of deadly violence against a family member? How do you learn to be happy again?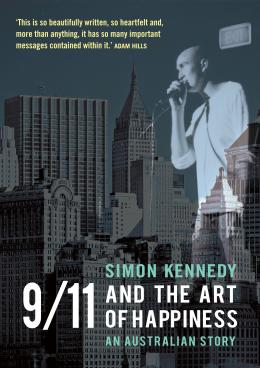 So try and catch one of Simon's gigs.  You can find out where he will be performing on his Facebook Page.  You can purchase  his book here.
Lane Cove News
To make sure you don't miss Lane Cove info sign up to our newsletter. It comes out every Wednesday Night at 7.30pm and includes a wrap up of everything posted on our Facebook site in the previous week.
Read this week's newsletter
Did you know that In the Cove has an instagram page? Yes we do and we feature pictures from our roving reporters and our ITC team that do not appear on our Facebook page. Follow us on @inthecove