Stuart Leal Art Gallery  is now located in the old Adam Larissa shop in The Village Shopping Mall in Lane Cove.  He is now located at Shop 1 43 Burns Bay Road Lane Cove. You will be able to see his new gallery very easily as it is across the road from Coles Lane Cove.
Find out about other shops in The Village Shopping Mall here.
Stuart has a stunning range of contemporary Indigenous Art for sale.   He sources most of his paintings directly from the artists in the Northern Territory.  Stuart has recently added some wonderful new artwork to his range.  The artwork is stunning and worth viewing. Some of his featured artists are below
Gloria Petyarre
One of the notable additions to the Stuart Leal Gallery is Gloria Petyarre's 'big leaf' Medicine Leaves.  Gloria won the coveted Wynne Prize in 1999, and has been a finalist another four times.  Gloria has also featured in the prestigious Indigenous art competition 'Telstra National Aboriginal and Torres Strait Islander Art Award'.  Gloria's works are widely collected and commonly held in the finest Aboriginal Art Collections and Museums worldwide.  
The Bush Medicine Plant is native to Australia and grows wild in Central Australia. Bush Medicine leaves are collected put into a container and boiled with water.  The paste that is extracted is mixed with Kangaroo Fat and is used for colds and flu, headaches, backaches, stomach aches or for cuts and scratches.
See our cover photo to see how amazing Gloria's artwork looks in situ.
Polly Ngale
Polly Ngale is part of the oldest living generation of Utopia women. Pollly is regularly named as one of the most accomplished painters to have worked there during the past twenty years.
Polly is one of the most senior custodians of her country Alparra, in the heart of Utopia. She shares this country and the Bush Plum (Arnwetky) Dreaming with her sisters Kathleen Ngale and Angeline Pwerle Ngale. Like Kathleen, Polly creates her paintings by using a layering technique  to create multi-dimensional images.


Many of Pollys paintings show the bush plum and its vibrant yellow seeds. Other paintings showcase designs associated with Awelye, Womens business and ceremonial law.  Her paintings are infused with her traditional knowledge and her self assured approach to painting can be witnessed in the way she assembles streams of seeds, piling dots upon each other to create rich thick fields employing glowing palettes of colour.

Her themes are drawn from acute observation and memory. Intimate knowledge of country, personal history and ancestral journey. Seamless in her portrayal of these elements her paintings are sensory mind maps that Reveal the artists place, and her sense of self all within one framework.
Her work has appeared in the Telstra National Aboriginal and Torres Strait Islander Award since 2003. Her honourable mention as a 2004 finalist was followed by representation at the Contemporary Art Fair in Paris at the Grand Palais Champs Elysees. 

Polly's work has been exhibited throughout Australia and overseas.
Betty Mbitjana is the daughter of renowned artist Minne Pwerle and sister of artist Barbara
Weir. Her husband was Lena Pwerle's son, Paddy Club, who sadly passed away in 2012.  

Betty paints the awelye, bush berry and bush plum dreaming. Her mother and other women used to collect these fruits, cut them up into pieces, skewer them on a piece of wood and dry them to be eaten in times when bush tucker was scarce. 

Betty's Awelye paintings depict the designs that the women would paint on their bodies, and the dancing tracks which are made in the sand during women's awelye ceremony. Through their awelye ceremonies, women pay homage to their ancestors, show respect for their country and dance out their collective maternal role within their community.

A design based on these dancing tracks is painted on women's bodies before a ceremony is performed, and this same design can be seen today in Betty's works on canvas and in the works of her mother, sisters, and aunts. Ochre, charcoal and ash are all used to paint designs on the women's upper bodies, and Pwerle women paint their chests, breasts and upper arms for awelye in ochre, red and white. The designs they use have been passed down for many generations, and only the Pwerle or Kemarre owners can paint them.

Betty is a hard working artist, whose works are very popular and have wide appeal. 
The paintings are aerial views of women's ceremonies and depict the waterholes (often in sacred places) where they take place. Much of the work is taken up with pairs of striped breasts moving forward as the woman dances, giving a great sense of movement to the work. Occasionally there will be patterns of the seeds and the bush plums the women eat at the ceremony.

With such an interesting design, and Betty's sense of movement and colour, the paintings have a sense of greeting, and have a very uplifting effect in any area where they hang. It is this, and the very contemporary design which make her works so popular.
George Tjungurrayi
Born near the claypan and soakwater site of Wala Wala in the far reaches of the Western Desert, George Tjungurrayi's initial contact with the outside world occurred as a seventeen-year-old boy.
He left the Gibson Desert on foot in the company of three other Pintupi companions to walk the long road east until intercepted by a truck just south of Mount Doreen. Soon after walking in to Papunya in 1962, he became a guide for Jeremy Long's welfare patrol into Pintupi country later that year.
He finally settled in West Camp, Papunya, where he began painting around 1976 after encouragement from Nosepeg Tjupurrula. Over the following decade George worked intermittently at Yayayi and Mount Liebig, and also Walungurru.
His works, created during the 1970's and throughout the 1980's, were characterized by the ubiquitous dotted grids of lines and circles common to works by Yala Yala Gibbs, Anatjari Tjamptjinpa and others who played a formative influence in Pintupi Tingari imagery.
While painting at Papunya and its outstations in the late 1970's, George worked in close proximity to these and other 'established' artists. It was not until well in to the mid 1980's that he expanded his palette beyond the autumnal tones created by the basic palette of red, yellow, black and white by mixing in a wider array of colours and experimenting stylistically.
His preoccupation from the outset had been the ceremonial activities and men's stories associated with the travels of the Tingari ancestors as they relate to his most significant sites including his birthplace Wala Wala, and the region surrounding Kiwirrkura, Lake Mackay, Kulkuta, Karku, Ngaluwinyamana, and Kilpinya to the north-west of Kintore.
George Tjungurrayi held his first solo exhibitions in 1997 at Utopia Art Sydney and the following year at Gallery Gabreille Pizzi in Melbourne, about which Robert Rooney wrote a rave review in the Melbourne Age.
In 2006 he was highly commended 34th Alice Prize and the following year he was selected as a finalist in the Wynne Prize at the Art Gallery of New South Wales. George Tjungurrayi's work is held in many important international museums including the Groniger Museum in the Netherlands and the Musee des Arts d'Afrique et d'Oceanie in Paris. Alongside Ronnie Tjampitjinpa, George Tjungurrayi has now become the principle living exponent of Pintupi men's art.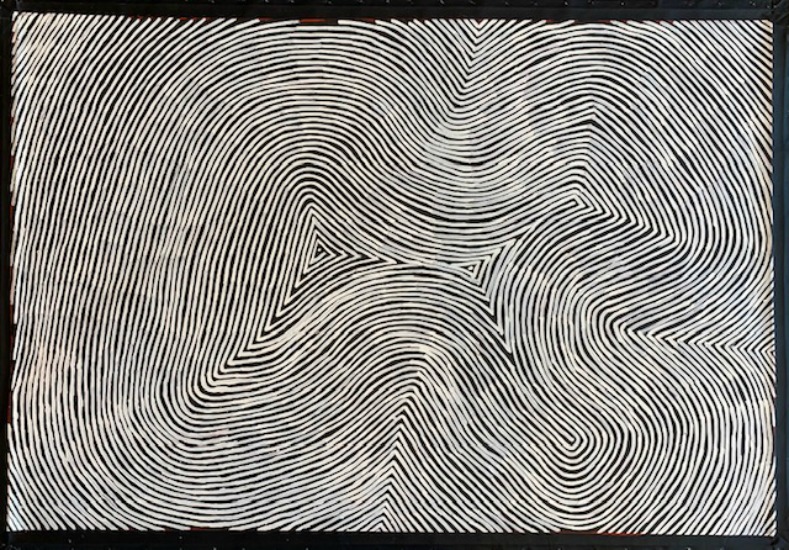 Contact Details
Address: Shop 1 43/45 Burns Bay Road  (opposite Coles and next door to Nibu Cafe)
Phone: 0414 551 956
Facebook: @stuartleal
Instagram: @stuartleal
The Stuart Leal Art Gallery also now offers Framing.
This is a sponsored post.