It's that time of the year when school starts back and your child (or you) wants to be involved in Saturday or Sunday sports. Here's the low-down on how to get involved with a Lane Cove Sporting Club.
The NSW Government's Active Kids vouchers are available. Parents, guardians and carers can apply for a voucher valued up to $100 per calendar year for each student enrolled in school. The voucher can be used towards your registration. Apply online and you will be given a voucher number which you can then use when you register.
---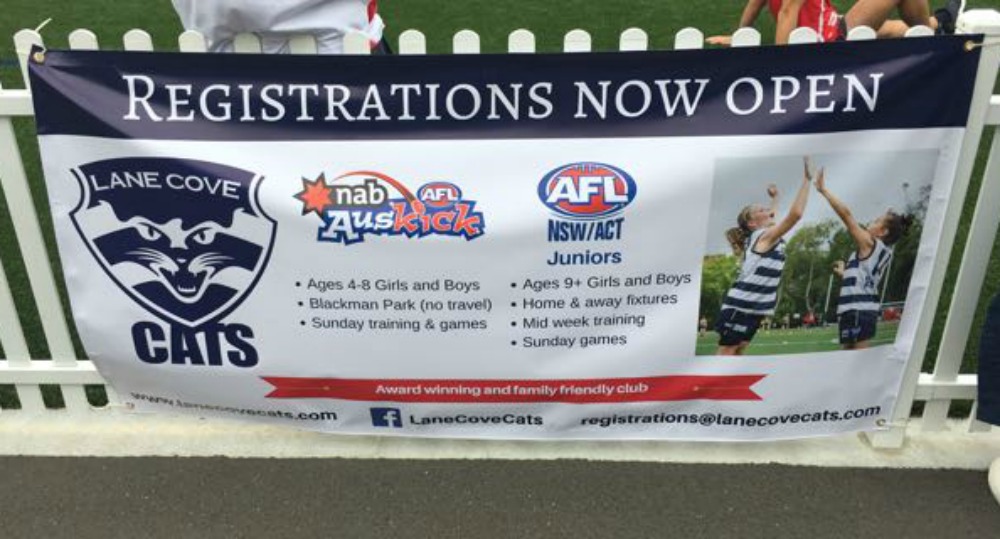 Auskick
Recommended (but not limited) to children aged 5-9.
Games and training are held on Sunday mornings at Blackman Park.
Click here for more information
Under 9's and up
Children play in age groups from U9 upwards. Both boys and girls teams are available.
The Cats play in the AFL Sydney Junior competition, with games held on Sunday mornings. Training is held on Wed/Thu afternoons.
Click here for more information
Youth Girls AFL
The Lane Cove Cats enter teams in the Greater Sydney Juniors AFL competition. More information on the GSJ can be found here.
In 2020 they plan to have teams playing in Under 10YG, Under 12YG and Under 14YG divisions.
Click here for more information
---
Boys and Girls Ages 4 – 15
Come and try Junior Rugby League at Tantallohn Oval at 17th  and 25th February 2020.  Details here.
There are teams for everyone with the Lane Cove Junior Rugby League Club
---
Lane Cove West Football Club
Lane Cove West FC is a small club that plays football in the Northern Suburbs Football Association on Sydney's lower to upper north shore.
They offer teams for Men's' All Age (18 years and over), Men's O35s and Men's O45s.
Registrations for the 2020 season ARE NOW OPEN!  Boys & girls of all shapes and sizes welcome.

Prices range from $170 to $250 (GST included), depending on your age group. A family discount is available with every second child $15 off and third child $15 off. You can use the $100 NSW Government's Active Kids vouchers for 2020.
Players receive shorts, socks & a training top & free entry to Waratahs home games!
There are approximately 14 rounds of rugby.
Come and "Try Rugby" nights – Friday 7th & 21st February Blackman Park.
Gordon Junior Rugby are running weekly Skills Development Program Friday nights in February (7th, 14th, 21st, 28th). This is for boys and girls U8 to U13 and will be run at Blackman Park.
Registration days in Lane Cove Plaza on 22nd and 29th February and 7th March.
Pre-season training for Juniors starts in late February.
Jersey Day is on Friday 20th March, 5:30 to 7:30pm at Blackman Park.
The season starts the weekend of 27-29 March for Juniors and 4 April for Minis.
Girls 7s competitions (Under 12s, 14s, 16s) run in February and June for 7 weeks plus finals. Registrations for Girls 7s are not yet open – if you are interested in registering for Girls 7s Rugby, please email

[email protected]

and provide your name, age, mobile and email.
Lane Cove Long Lunch – Friday 15th May!

If you have any questions or need help with registration, please contact our Registrar at [email protected]. Otherwise please follow us @LCJRU on Facebook and Instagram for further details about the 2020 season.
---
A community sports club in Greenwich with teams in Mixed and Women's Football, Kids MiniRoos and Mixed Junior Football, Girl's Junior Football, Kids NetSetGo, Junior Girls Netball and Seniors Netball.
Registration for then 2020 Football and Netball seasons is now open.
---
Chatswood Rangers Sports Club is seeking registrations for its Junior and Senior Football and Junior and Senior Netball teams.  I am a previous LC resident and my youngest goes to Mowbray Public School currently.  Although they may be called the Chatswood Rangers 60% of the Netball club is made up of lane cove residents and the remainder between Artarmon and Chatswood residents)They offer:
·         Junior Netball from U7 to U15
·         Senior Netball from 16 years+
·         Junior Football from U6 to U18, including both Girl's and Mixed football
·         Senior Football from 18 years+, including both Men's and Women's Football
---
Lane Cove Netball
Lane Cove Netball Club plays netball at the Northern Suburbs Netball Association, 2 Small Street, Willoughby.
During the winter season, they offer teams for girls and boys 7-12 years and girls 13-17 years.
They also offer Senior teams for female players 18+ years.
Training mostly take place on Tuesday nights at Lane Cove Public School.
Games
7-9 year olds play Sunday mornings.
10-12 year olds play Friday nights.
13-17 year olds play Saturday mornings.
18+ year olds play between 1pm and 4pm Saturdays and can opt not to train.
At Lane Cove Netball Club, we are passionate about netball and we want to share our love of netball with others who might not have a team at their school. No matter your age or experience level you can play netball with Lane Cove Netball Club.
Registrations close 12th February.
To register, or for more information, please visit lanecovenetballclub.com.au
---
Willougby United
Willoughby United Netball Club is a community based netball club catering for all players turning 7 and up.  In 2019 we fielded 24 teams in the Northern Suburbs Netball Association Winter NetSetGo, Junior and Senior competitions.
Willoughby United draws school age players from schools all over the North Shore and caters for all playing standards.  Senior players of any age are also welcome! Registrations are now open and grading/training starts Wednesday 5th February at the Willoughby Leisure Centre Courts, 2 Small St, Willoughby.
---
Hockey
The Ryde Hunters Hill Hockey Club has a proud history of Lane Cove Players including some Australian Kookaburras.  If you would like to play hockey you can sign up to play here.

---
Basketball
Most junior basketball is organised through local schools.  If your child's school does not have a team or if you are want to join a team, just click on this page.  There is now a full sized basketball/netball court at the Kingsford Smith Oval.
---
Swimming
Lane Cove Swim Club (LCSC) is a non-profit community swimming club based at Lane Cove Aquatic Centre. LCSC promotes swimming in Lane Cove at every level from recreational and fitness to elite athlete squad training for competition at local, statewide and national swimming meets.  LCSC is one of the oldest swimming clubs in Australia.  LCSC core activity is their Saturday morning club that conducts friendly races from 7 – 9 am in summer.  Saturday morning club is a friendly social gathering for the whole family from infants to grandparents.  Adults of all ages take the opportunity to race with squad swimmers and younger swimmers.  It is common to see 80 year olds racing with 8 year olds.
If you want to join the Lane Cove Swim Club, just press the JOIN NOW icon on the Lane Cove Swim Club's home page.  This will direct you through the registration process with Swimming NSW and Lane Cove Swim Club.  If you need assistance or further information you can Email the club here.  The Lane Cove Swim Club's major sponsor is Aussie Lane Cove.
---
Tennis
If you would like to know more about Tennis in Lane Cove just click here.
---
Lane Cove Taekwondo
Imagine a club that offers lessons on Goals, Discipline and Leadership and helps you implement these qualities into everyday life. At Lane Cove Taekwondo, we don't just focus on developing physical strength, but emotional strength. You will be proud. You will try new things. You will persist in the face of fear and doubt. You will practise.  Lane Cove Taekwondo will be moving into a new permanent studio on 29th January 2020. It is located at 9 Birdwood Avenue Lane Cove (Shops 5 and 6) – just near The Canopy parking – 3 hours free parking.
You will discipline yourself. You will start to make conscious choices about nutrition, strengthening, stretching and rest. You will set goals and you will achieve them.
Lane Cove Taekwondo is so much more than kick, punch, block – we present an active, exciting and powerful martial arts experience for the whole family.  Book a Free Trial for Term 1 here
Date and Time for Term 1:  Please see website for timetable
Address: 9 Birdwood Avenue Lane Cove (shops 5 and 6)
Book Here: Email us to book now
Email: [email protected]
Website: www.lanecovetaekwondo.com.au
Facebook: www.facebook.com/lanecovetkd

---
Dance
If you want to know more about Dance classes in Lane Cove click here.   We also have a dance uniform shop in Lane Cove – www.balletstuff.com.au
---
Other Sports/Activities
If you are interested in other extra curricular activities for your child such as Tae Kwon Doe, music, art etc you can find out more here.
If you are looking for activities for kids between 0 – 5 click here.
---
Play Safe
If you or your child is playing sport, make sure you invest in a Mouth Guard.
Did you know more than 5 million teeth are knocked out during sporting activities every year? What is even worse is that it's estimated between 30% and 50% of these injuries could have been prevented or would have been less severe had a mouthguard been worn.
Find out more here about mouthguards from www.appledental.com.au
---
If we have missed a Lane Cove Sports Club registration day please let us know.  If your club would like more exposure, contact us at [email protected].
In the Cove provides free event listing for all Lane Cove Sports Clubs and Community Organisations.
---
No more FOMO – be a Lane Cove Legend
To make sure you don't miss Lane Cove info sign up to our newsletter. It comes out every Wednesday Night at 7.30pm and includes a wrap up of everything posted on our Facebook site in the previous week.
Read this week's newsletter
Did you know that In the Cove has an instagram page? Yes we do and we feature pictures from our roving reporters and our ITC team that do not appear on our Facebook page. Follow us on @inthecove
Our Cover Photo was taken by Thomas Shanahan and shows locals enjoying the Screen on the Green at Hughes Park – this was a free event held by Lane Cove Council.