We have put together a list of businesses that will deliver to your door or provide a home service if you have been asked (or choose) to self isolate due to Covid 19.
You will also be supporting local businesses who will need your support during this period.
If you use online shopping for deliveries of food, medicine or other necessities, make sure delivery instructions say that items should be left outside, not handed over in person. If you ask friends or family for help bringing you supplies, get them to do the same.
Elderly or Vulnerable People
Sydney Community Services (9427 6425) is a central source for anyone in Lane Cove or Hunters Hill who either need to self-isolate or choose to not go outside as they worry they are at risk of the Corona Virus.
If you are a neighbour of someone who may be at risk please check they are ok and let Sydney Community Services know if they need to be on the vulnerable list.
They are putting together a database of people who are in isolation but they also need volunteers who are able to help others who need emergency supplies, or even just give social contact, through a phone link.
From Monday at 8.30 am they will have a line to take any referrals by phone on 9427 6425. In the meantime email [email protected] with your details.
Some Lane Cove Council Events Cancelled
Lane Cove Council has cancelled some events  – further information here.
Milk and Bread
If you have tried to shop online at Coles and Woolworths you will be aware you may not be able to obtain a delivery date for a few days.
Jack and Co Food Stores are now on Deliveroo and they will deliver bread and milk (as well as bakery items/confectionary goods).  As it is delivered by Deliveroo there is a delivery fee however it will be delivered promptly.
Meat
Both Springbok Delights and Humerstons Gourmet Meat will deliver.
Home Style Meals
Local Caterer Bern the Chef works from a commercial kitchen and she is now delivering home-cooked meals.  She has advised as follows:
"I'm in a unique situation. I have a commercial kitchen, I work in a protected mostly isolated business location. We only cook for catering purposes, not for the general public. This means everyone who comes in and out of my business location has to abide by NSW health regulations and use best practise with hygiene & care in food production.
I also have access to great fresh food, fruit & vegetables straight from the markets, meat & fish suppliers and dry goods.
I'm a small business and I've been in operation now for 12 years with this business, after being in business & partnerships with other food operators. I'd like to stay in business during this difficult period, so I've changed tack.
I'm going full-on Granny Cook and putting together Family Meals for delivery & for pick up.
There's a menu coming, it will change weekly, and there will be some dishes that folks dream about.
Beek Cheeks in Stout, Lancashire Pie, Persian Chicken with Almonds & Rosewater, Golden Syrup Dumplings, Poached Quince, Nutmeg Roast Pudding, and more.
At this stage, a delivery service will run in the local area on Thursday afternoons or pick up from the kitchen (non exposed/non-quarantined only) on Tuesdays, Fridays & Saturdays.
Food Delivery Essentials and Prepared Meals
Vanilla Blue Catering has launched Vanilla Blue @Home and they are delivering food boxes and ready made meals to your door – no more trips to the supermarket needed!
Grocery Essentials – Fridge, Pantry, Veggie & Fruit boxes
Chef Made Meals – 30 choices, just heat and eat
Burns Bay Bookery
Ths shop is trading as normal.  However, if it helps anyone self-isolating at home, they are operating a local home delivery system!! Call the shop on 9427 4218 or email your wish list to [email protected]

Even if you don't have a wish list – we'll be happy to put together a selection for you and the kids.
Pharmacy
Riverview Pharmacy will deliver items and do not charge for delivery.
Hearing Aids
WHAT hearing specialist has introduced a service for repair of hearing aids for the elderly in Lane Cove.
NEW! Hearing aids pick up and repair service
Collected from your home
Fast easy pick up of hearing aids from your home (by a courier no packaging required)
Repaired at WHAT hearing centre's Lane Cove office
Returned to your home
Available to most hearing aid wearers not just our clients
(Hearing Services Program clients on a maintenance contract with another provider will need to contact their own centre for repairs unless they relocate their services to us).
Avoids human contact especially for the frail and elderly
Gets your hearing aids working again especially when self-isolating or unable to travel.
Call WHAT the Hearing Centre for more details and a quote:
WHAT the hearing centre
Celebrating 20 years of outstanding Audiology service
Eyewear and Repairs
Eyes on Lane Cove offers a convenient home delivery service for prescription glasses ordered in-store. If the patient has a current prescription, they can fit frames at home, with selected frames available. Also available at Eyes 4 You.
Phone 9418 3329 to organise.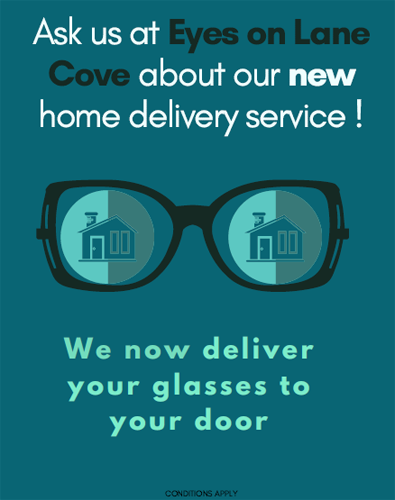 Mobile Vet
If your pet is ill  Loving Care Mobile Veterinary Service. This was established by Tonia Norton to provide a caring, professional veterinary service to her clients. Having been a vet for over 30 years and managed a busy vet clinic, Tonia believes there is a need for more personalised care, where animals are treated like family. Tonia will work with you to ascertain the best way of caring for your pet while you are in isolation.
Pet Food and Supplies
Oliver Barkley is an independent pet store in Lane Cove West and they will deliver.
Library Books – Library to Your Door
A first for Australia, Lane Cove Council has launched a ground-breaking new service enabling all residents to have library items delivered directly to their door.
The service, operated by Lane Cove Library and launched in October, is Australia's first seamless online-shopping style public library experience, called Library to Your Door.
For a small fee of $2.50, time-poor residents can reserve items and have them delivered within three working days of the item becomes available.
A pickup service for any items borrowed from the Library is also available. The pickup service costs $1 per item.
Library to Your Door is available to residents aged 18 years and older who live within the Lane Cove Local Government Area.  More details here.
Restaurants and Cafes
Many of our local restaurants and cafes deliver via menulog or ubereats. Check to see if you favourite eating spot will deliver.
Alcohol
Although not a staple, if you do feel like a drink Porters Northwood offers free delivery.  This would be useful if you have to isolate because you have returned from overseas and you want some antioxidants from a good red wine (in moderation).
Medical Consultation by Telephone In Some Cases Covered by Medicare
Temporary Medicare Benefits Schedule (MBS) and Department of Veterans' Affairs (DVA) items will allow doctors, nurses and mental health professionals to deliver services via telehealth, provided those services are bulk billed.
The new MBS items will allow people to access essential health services in their home while they undergo self-isolation or quarantine, and reduce the risk of exposure to COVID-19 for vulnerable people in the community.
This is a temporary six-month measure. Should the Australian Health Protection Principal Committee (AHPPC) recommend an extension, it will be considered by the Government.
Who benefits?
Telehealth services will be available to:
people isolating themselves at home on the advice of a medical practitioner, in accordance with home isolation guidance issued by the AHPPC, and people who meet the current national triage protocol criteria for suspected COVID-19 infection after consultation with either the national COVID-19 hotline, state COVID-19 hotlines, registered medical or nursing practitioner or COVID-19 trained health clinic triage staff
people aged over 70
Aboriginal and Torres Strait Islander people aged over 50
people with chronic health conditions or who are immunocompromised
parents with new babies and people who are pregnant.
People in isolation or quarantine for COVID-19 can see any eligible health provider through new telehealth items.  Patients in vulnerable groups can additionally see a health provider via telehealth for a non-COVID-19 matter if they have seen that provider face-to-face at least once in the previous 12 months.
Medical Assistance for Non Covid 19
If you are unwell outside business hours for reasons other than Covid 19 and you do not wish to attend a hospital emergency centre then you might want to visit WISE.
If you've ever waited in the emergency department at Royal North Shore you will know that it can sometimes be a long wait.  If you have a child who plays sports you will know the wait can be a while as new patients continue to come in and the doctors and nurses work hard to keep up with the waiting list.  What if you could avoid this waiting time?  There is a solution and it is WiSE Emergency Clinic.  
WiSE Emergency Clinic provides walk-in specialist medical care for non-life threatening illness or injury.
Data Usage
As more and more people work from home data usage will increase.  Optus has announced it will give its mobile customers one-off data quota boosts in April.  The following announcement was made:
Optus will support our customers with additional data as businesses and schools across the country transition to working remotely with the spread of the COVID-19 virus.

Optus will offer eligible Postpaid mobile customers a one-off add-on of 20GB of data during April 2020. Eligible Prepaid customers that recharge with $40 or more during April will receive 10GB of extra data. Each offer can be activated through the My Optus App.

Optus CEO designate Kelly Bayer Rosmarin said: "These are unprecedented times, and we want to help Australians who find themselves having to self-isolate or work from home to stay connected."

"We understand how much it means to customers to stay connected with their colleagues, classmates, family and friends. Access to data is critical, so we are playing our part in helping the community with our additional data offer".

More information will be available through the MyOptus App by Friday 20 March 2020.
We will continue to update this list as more businesses offer home delivery.
Want to impress with Your Lane Cove Knowledge?  Just two simple things to do!!
To make sure you don't miss Lane Cove info sign up to our newsletter. It comes out every Wednesday Night at 7.30 pm and includes a wrap up of everything posted on our Facebook site in the previous week.
Did you know that In the Cove has an instagram page? Yes, we do and we feature pictures from our roving reporters and our ITC team that do not appear on our Facebook page. Follow us on @inthecove