We have reached out to local businesses and we have put together a list of businesses that do takeaway, home deliver to you or will be able to provide services ONLINE.
Stage One Shut Downs
The National Cabinet has met and they do not want to implement the non-essential shut down proposed by the NSW premier today. However, the following will now be shut:
▪️
Registered and licensed clubs and licensed premises in hotels and pubs.
▪️
Entertainment venues and cinemas, casinos and nightclubs.
▪️
Restaurants and cafes will be restricted to takeaway only.
▪️
Indoor sporting venues including gyms.
▪️
Enclosed spaces for funerals will have to following four square metre rule
At this stage, advice around schools has not changed and they will remain open. However, parents can choose to keep their children at home under their parents responsibility. Shopping Centres are open and takeaway bottle shops are allowed to operate. Lucky
Porter's Liquor Northwood
home deliver
Elderly or Vulnerable People
If you are elderly or vulnerable you can arrange for priority shopping with Woolworths. Coles is working to introduce their priority home deliveries by the end of this week.
Woolworths has introduced Priority Assistance home deliveries to help the elderly, people with disability, those with compromised immunity and those in mandatory isolation. To apply for Priority Assistance delivery, please complete the form at woolworths.com.au/priorityassistance
Coles Online has been temporarily diverted to the Coles Online Priority Service (COPS), allowing them to focus on delivering food and grocery essentials to elderly and vulnerable members of the community, including retirement and nursing homes. They will shortly announce how customers can access COPS; please check www.coles.com.au for more details.
Sydney Community Services (9427 6425) is a central source for anyone in Lane Cove or Hunters Hill who either need to self-isolate or choose to not go outside as they worry they are at risk of the Corona Virus.
If you are a neighbour of someone who may be at risk please check they are ok and let Sydney Community Services know if they need to be on the vulnerable list.
They are putting together a database of people who are in isolation but they also need volunteers who are able to help others who need emergency supplies, or even just give social contact, through a phone link.
From Monday at 8.30 am they will have a line to take any referrals by phone on 9427 6425. In the meantime email [email protected] with your details.
Fresh Food/ Grocery Items/Grog and Pet Food/ Pet Supplies – Home Delivery
Restaurants and Cafe Home Delivery and Takeaway
Coffee Shops and Cafe
If you can preorder via an app.  Some coffee shops are taking phone orders.
Home Style Meals Delivered to Your Door
Local Caterer Bern the Chef works from a commercial kitchen and she is now delivering home-cooked meals.  She has advised as follows:
"I'm in a unique situation. I have a commercial kitchen, I work in a protected mostly isolated business location. We only cook for catering purposes, not for the general public. This means everyone who comes in and out of my business location has to abide by NSW health regulations and use best practise with hygiene & care in food production.
I also have access to great fresh food, fruit & vegetables straight from the markets, meat & fish suppliers and dry goods.
There's a menu coming, it will change weekly, and there will be some dishes that folks dream about.
Beek Cheeks in Stout, Lancashire Pie, Persian Chicken with Almonds & Rosewater, Golden Syrup Dumplings, Poached Quince, Nutmeg Roast Pudding, and more.
Food Delivery Essentials and Prepared Meals
Vanilla Blue Catering has launched Vanilla Blue @Home and they are delivering food boxes and ready-made meals to your door – no more trips to the supermarket needed!  They are located in Artarmon.  One of their senior managers lives in Longueville and they proudly employ some Lane Cove locals.
Grocery Essentials – Fridge, Pantry, Veggie & Fruit boxes
Chef Made Meals – 30 choices, just heat and eat
Other Lane Cove Services
Pharmacy
Riverview Pharmacy will deliver items and do not charge for delivery.
Gardening
If you are working from home with kids, you will know that all other to do lists go out the window!
We have 2 local gardeners that offer once off jobs or ongoing maintenance.
Hedge Trim Mow –  Hedge Trim Mow is a boutique gardening service run by Lane Cove local, Anthony. We understand that your home & garden are important to you and take the time to listen to your needs. We work around your busy schedule to ensure your garden receives the care it deserves.
Laws R Us- Just because the world stops, your garden won't! If your new office outlook is your backyard you may as well make it nice. They can help! Servicing Lane Cove, Riverview, Longueville and surrounding suburbs. Run by Lane Cove local Rob
Hearing Aids
WHAT hearing specialist has introduced a service for repair of hearing aids for the elderly in Lane Cove.
NEW! Hearing aids pick up and repair service
Collected from your home
Fast easy pick up of hearing aids from your home (by a courier no packaging required)
Repaired at WHAT hearing centre's Lane Cove office
Returned to your home
Available to most hearing aid wearers not just our clients
(Hearing Services Program clients on a maintenance contract with another provider will need to contact their own centre for repairs unless they relocate their services to us).
Avoids human contact especially for the frail and elderly
Gets your hearing aids working again especially when self-isolating or unable to travel.
Call WHAT the Hearing Centre for more details and a quote:
WHAT the hearing centre
Celebrating 20 years of outstanding Audiology service
Eyewear and Repairs
Eyes on Lane Cove offers a convenient home delivery service for prescription glasses ordered in-store. If the patient has a current prescription, they can fit frames at home, with selected frames available. Also available at Eyes 4 You.
Phone 9418 3329 to organise.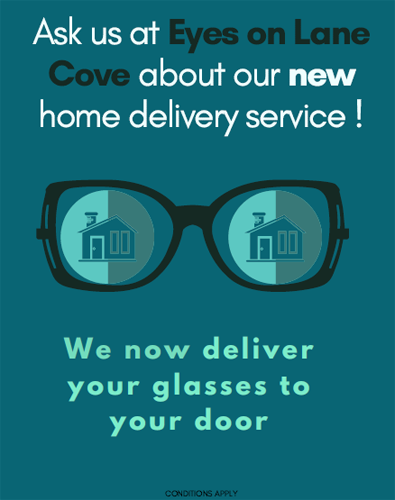 Mobile Vet
If your pet is ill  Loving Care Mobile Veterinary Service. This was established by Tonia Norton to provide a caring, professional veterinary service to her clients. Having been a vet for over 30 years and managed a busy vet clinic, Tonia believes there is a need for more personalised care, where animals are treated like family. Tonia will work with you to ascertain the best way of caring for your pet while you are in isolation.
Pet Food and Supplies
Oliver Barkley is an independent pet store in Lane Cove West and they will deliver.
Pet Grooming
Furever Pets will be offering home delivery for pet products as well as drop off and pick up services for grooming. The best contact number is 0403 048 034. Please call or text to arrange a time for us to drop round.
Bloomingtails Dog Grooming also offer a unique, safe and reliable pet taxi service to transport your fur-baby to and from their grooming appointments and doggy daycare at Bloomingtails. 0420 371 855
Online Services
Speech Therapy
Sydney Speech Clinic – will be operating via  Zoom online video conferencing.  Call their office to arrange an appointment on 02 8404 0715.
Sydney Therapy Co – is online using ZOOM. They will continue to run our service online for Speech Therapy, Educational Therapy and Occupational Therapy. Clients wanting to access these services can let their admin team know 0449619182 to make bookings.
Education
Kumon Lane Cove
is traditionally a home-based, pencil and paper programme – ideal for extended periods at home! At Lane Cove, they are offering students the ability to study by correspondence, with online or phone support to help you keep learning while social distancing or in isolation.
Please check their
Facebook
page for more information.
Gyms and Classes
Fit Lane Cove – will be announcing online classes soon.
Soulful Fitness – online courses are now available for members.
Lane Cove Taekwondo – they will be releasing online classes on 1 April 2020.
Legal Advice
SRM Lawyers can still provide legal advice to you.  They are local lawyers and they can work over the phone, email or via video conferencing.
James A Shevlin is an experienced local solicitor.  James can work with you over the phone or email for most matters.
Nutrition
A Cut Above Nutrition is continuing classes online. They have special for 30 minute consultations to create personalised Immune Strengthening Plans for individuals and families. $47.00 (normally $77)
Dietician
Body Fusion will continue to offer 1-1 video consultations to our clients or any new clients who are seeking a Dietitian. they offer Skype, Facetime and Zoom consultations within normal clinic hours. Phone calls for clients without access to computers or phones are also available.
Body Fusion will also be offering extra support to existing or new clients during this time including education in regards to:
Immune nutrition for self or family
Ideas for home cooking and stocking a healthy kitchen
Mindful eating during long periods at home
Food and mood to support mental health and anxiety
Healthy budget meals
Business workshops/webinars
These can be individualised to the need of the business to support staff and include a mix of the above topics
To book call  0422 297 721 or email: [email protected]
Clothing
Adam Larissa is open and you can also order online and offer a flat rate shipping of $10 or free shipping for orders over $100.
Computer Repairs
Professor Mac
will continue accepting Apple devices for repair, and is happy to offer "no-contact" drop-offs and collections if requested. Any devices left for repairs will be disinfected prior to commencement of any work, and prior to collection by the customer.
They will, as always, continue to provide remote support via telephone, Teamviewer remote control, and video chat.
Onsite visits will be limited to urgent work that cannot be done remotely.
We will be updating this article very soon with how you shop online for gifts and other products.  We have requested local businesses to send information to us.
Tek Doctor
can provide remote assistance by logging into your PC or Mac and resolving any software-related queries such as email problems, program installs or setup.
If this is not possible due to no internet access or a hardware issue such as not being able to turn on for example then, we can offer a no-contact service whereby the device can placed outside of your home, be picked up and dropped off again once resolved. Additionally the device will be safely sanitised before returned
Computer Supplies
A Lane Cove Local family owns the IT business Technotronics. They told ITC, that with the number of people working from home, there has been an increase in demand for computer monitors and other computer hardware. This has resulted in some larger stores running out of stock or long lead times. They have access to additional distribution avenues and they would be happy to speak to any Lane Cove locals who need computer supplies. They will deliver for free to Lane Cove. Email
[email protected]
if you want to talk about your computer hardware needs. Their website is 
www.technotronics.com.au
Self Isolation and Self Distancing Tips
Keep Up to Date With In the Cove
To make sure you don't miss Lane Cove info sign up to our newsletter. It comes out every Wednesday Night at 7.30 pm and includes a wrap up of everything posted on our Facebook site in the previous week.
Did you know that In the Cove has an instagram page? Yes, we do and we feature pictures from our roving reporters and our ITC team that do not appear on our Facebook page. Follow us on @inthecove