Please see below our daily update regarding Lane Cove and other important Covid 19 news.  If you have elderly or vulnerable people in the community who do not have access to social media then please ask them to sign up to our newsletter and we will provide information to them via our newsletter. Sign Up here.
NSW Department of Health – Geographical Data
The NSW Department of Health has now released some geographical data on Covid 19 confirmed cases.  You can access the data here.
Community Recycling Centre Closed
The Community Recycling Centre in Artarmon (which is very popular with Lane Cove residents) is now closed.
Sydney Community Services
Sydney Community Services is located in Lane Cove and has a long history of providing services to the aged and people living with a disability including social activities, gardening, home nursing, podiatry, Community Care Advisory, clean sheets and towels, home delivered meals, home modifications and maintenance, flexible respite, carers support, shopping services, community and engagement programs, medical transport and assistance in daily life.
Sydney Community Services (9427 6425) is a central source for anyone in Lane Cove or Hunters Hill who either need to self-isolate or choose to not go outside as they worry they are at risk of the Corona Virus.
If you are a neighbour of someone who may be at risk please check they are ok and let Sydney Community Services know if they need to be on the vulnerable list.
They are putting together a database of people who are in isolation but they also need volunteers who are able to help others who need emergency supplies, or even just give social contact, through a phone link.
They take referrals by phone on 9427 6425. You can also email [email protected] with your details.
They are now the first line of contact for many elderly and vulnerable people in our community. Need for their services is growing daily and they have asked In the Cove to put a call out for donations.
Non Elective Surgeries – Deadline Extended
The rules reported on elective surgeries have changed again.   The National Cabinet agreed to extend the deadline for the suspension of semi-urgent Category 2 and 3 elective surgeries at private hospitals to 11.59 pm on 1 April 2020.
Category 1 – Needing treatment within 30 days. Has the potential to deteriorate quickly to the point where the patient's situation may become an emergency
Category 2 – Needing treatment within 90 days. Their condition causes pain, dysfunction or disability. Unlikely to deteriorate quickly and unlikely to become an emergency
Category 3 – Needing treatment at some point in the next year. Their condition causes pain, dysfunction or disability. Unlikely to deteriorate quickly.
Expansion of coronavirus testing criteria
The National Cabinet has agreed to expand the current coronavirus testing criteria to include testing people with fever or acute respiratory infection in:
all health workers
all aged/residential care workers
geographically localised areas where there is elevated risk of community transmission as defined by the local public health unit
where no community transmission is occurring, high risk settings where there are two or more plausibly-linked cases, for example:

aged and residential care
rural and remote Aboriginal and Torres Strait Islander communities
detention centres/correctional facilities
boarding schools
military bases (including Navy ships) that have live-in accommodation.
National Cabinet also agreed that testing will be expanded to include hospitalised patients with fever and acute respiratory symptoms of unknown cause, at the discretion of the treating clinician.
Backflip on Hairdressers
The Prime Minister announced today:
"Following the receipt of feedback on the practical implementation of measures announced regarding barbers and hairdressers it was agreed by Premiers and Chief Ministers at National Cabinet last night that the instruction regarding 30 minutes per patron will be lifted (effective immediately), but that the 4sqm rule per person must be strictly observed within the premises and that personal contact during the patron's visit should be minimised wherever possible."
National Cabinet Meeting
National Cabinet will meet again on Friday, March 27 2020.  The Prime Minister usually holds a press conference after this meeting.  You can watch the conference live on most TV stations and online.
Changes to Retail Hours
Supermarkets and pharmacies will be able to operate around the clock in NSW to guarantee communities have access to essential goods at all times during the COVID-19 pandemic.
Changes to the Environmental Planning and Assessment Act 1979 enabled Planning and Public Spaces Minister Rob Stokes to issue his first order to override normal planning controls restricting hours of operation.  Mr Stokes advised:
"These orders cut red tape so we can move quickly and decisively to ensure the health, wellbeing and safety of our community during this time," Mr Stokes said.
"The focus of our first order is giving people the flexibility to visit their local supermarket, pharmacy or corner store at any time of day if those retail premises choose to operate for extended hours.
"This means the community will have access to food, medical supplies and essential household goods whenever they need it.
"Stores will also be able to dispose of their waste at any time of day, rather than during restricted hours, to dispose of the significant and sudden increase in stock."
The order also provides greater flexibility for home-based businesses to operate at any time and expand their business as necessary.
"For those businesses operating out of home, we are facilitating more flexible operating hours and increasing the number of people working together from two to five, providing they can abide by the social distancing rules," Mr Stokes said.
This is important as more and more people work from home and need flexible working arrangements."
Today's move is on top of changes made last week to allow for 24/7 deliveries at supermarkets and pharmacies. The changes will be in place until the crisis is over."
At this stage, Coles and Woolworths both close at 8 pm and this allows supermarkets times to restock.
Mental Health Support
If you aren't feeling yourself lately the Way2Wellness team are available to listen. Talk to a trained mental health supporter using a free and confidential wellbeing service.
For more information visit: www.way2wellness.org.au or call: 1300 120 446 to chat.
Elderly or Vulnerable People Priority Online Shopping
If you are elderly or vulnerable you can arrange for priority shopping with Woolworths. Coles is working to introduce their priority home deliveries by the end of this week.
Woolworths has introduced Priority Assistance home deliveries to help the elderly, people with disability, those with compromised immunity and those in mandatory isolation. To apply for Priority Assistance delivery, please complete the form at woolworths.com.au/priorityassistance
Coles Online has been temporarily diverted to the Coles Online Priority Service (COPS), allowing them to focus on delivering food and grocery essentials to elderly and vulnerable members of the community, including retirement and nursing homes. They will shortly announce how customers can access COPS; please check www.coles.com.au for more details.
NSW Covid 19 Health
Closest Covid 19 Testing Clinic
There is a Covid 19 Testing Clinic at Royal North Shore. These clinics are currently assisting with the assessment and testing of people with fever, cough or flu-like symptoms who are returned travellers or a contact of a confirmed case.
NSW Department of Health Advice on Social Distancing
Everyone should practise social distancing, as it reduces the potential for transmission.
Social distancing is an effective measure to reduce the potential for transmission, but it is recognised that it cannot be practised in all situations.
While practising social distancing, people can travel to work,including on public transport. For non-essential activities outside the workplace or attendance at schools, universities and childcare – social distancing includes:
avoiding places where it is difficult to keep the appropriate distance away from others
avoiding small gatherings in enclosed spaces, for example, family celebrations
attempting to keep a distance of 1.5 metres between themselves and other people where possible, for example when they are out and about in public place.
avoiding shaking hands, hugging, or kissing other people
avoiding visiting vulnerable people, such as those in aged care facilities or hospitals, infants, or people with compromised immune systems due to illness or medical treatment.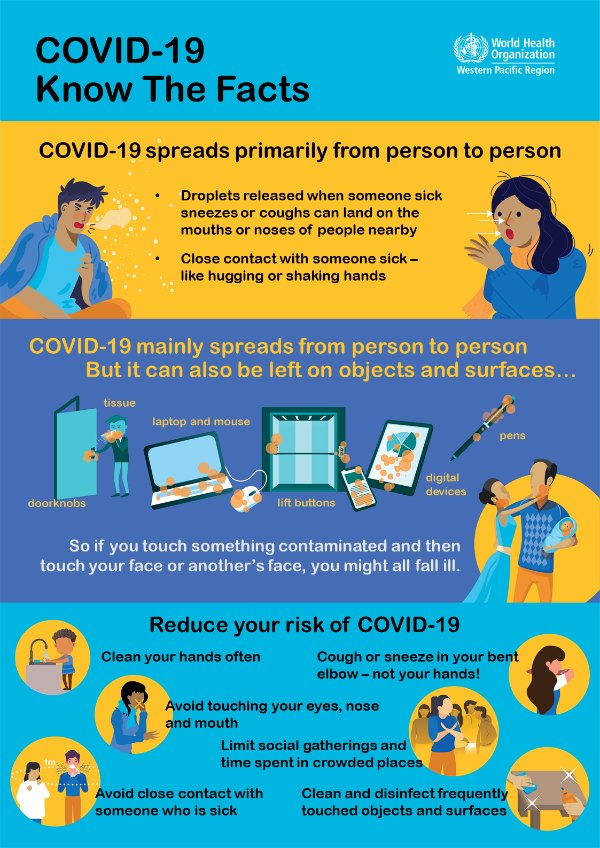 Keep Up to Date With In the Cove
To make sure you don't miss Lane Cove info sign up to our newsletter. It comes out every Wednesday Night at 7.30 pm and includes a wrap up of everything posted on our Facebook site in the previous week.
Did you know that In the Cove has an instagram page? Yes, we do and we feature pictures from our roving reporters and our ITC team that do not appear on our Facebook page. Follow us on @inthecove