For the last two years, Lane Cove Council has been holding seminars aimed at residents who have been made redundant or are having a hard time getting a job.  The workshops are well attended.  They are run by Lane Cove locals who provide their services free of charge; Mike Taylor and Katrina Digby
Covid19 has seen a number of changes in the job search process. One such change is the almost universal introduction of 'online interviews.'
Online, compared to face to face interviews, requires the interviewee to be aware of the different elements required to be successful. The environment is totally different. It is, for example, more difficult to get a feel for how 'warm' the exchange is progressing, and body language is much more challenging to interpret.
Mike Taylor's Tips for Online Interview Success
Some aspects to be considered include:
Camera placement
We've all seen those ghastly interviews on TV, where you are looking up the magnified nostrils of a person because they are looking down at the mobile or laptop they are using. It is necessary to ensure the camera is roughly just above your eye level.
Camera quality
For best results use a high definition camera (around 1080 pixels).
Lighting
Natural daylight is best. Facing an exterior window, but not in sunlight. Overhead or side lighting produces shadows. Generally, 'soft' lights either side of your screen and at the same height as the camera give the best result if natural daylight is not an option.
Internet connection
A good upload speed, not less than 10Mbps (preferably 30+).
Background
Ensure that whatever is behind you is appropriate for the interviewer to see. Keep clear of the scenic virtual backgrounds. Generally, a plain coloured background is best.
Headphones with microphone
Certainly, headphones with a mic provide better quality, however, they don't always look the best for personal selling. Better to have a separate microphone (out of sight) near you.
Surroundings
Check for any external noise (close the window). If other people are around, make sure they know you need quiet.
 Username
Make sure it looks professional.
Dress
Appropriate, including below the waist (you never know, you might have to stand up).
Body language
Have your head, shoulders and upper body in the picture so you can still demonstrate active body language.
Where do you look?
To achieve eye contact (necessary for any interview), you need to look at the camera. You do, of course, need to be able to keep an awareness of the interviewer's image (it takes practice).
Be Prepared
Have water, pen and paper, notes nearby. Mobile off or silent. If you wear glasses, make sure they are not reflecting in the light.
Artificial intelligence has made possible the 'robot online interview,' which again needs specific considerations.
Get That Job Workshop
Do you need help getting a job?  Lane Cove Council and Mike Taylor is holding a Get that Job Seminar on Thursday 27 August 2020.
You're invited to a free workshop for local residents who are looking to get back into the workforce.
Join Mike and Katrina and you will receive:
Tools and tips from an experienced career management consultant
Opportunities to share experiences and form support networks
One-on-one follow up session Places are strictly limited. Bookings essential.
Date: Thursday 27 August
Time: 9:30am – 1:30pm
Location: The Terrace Function Room Lower Ground Floor
Lane Cove Community Hub
1 Pottery Lane, Lane Cove
Bookings: [email protected]
Read about David Mitchell and his success story about getting a job after attending a Get that Job workshop here.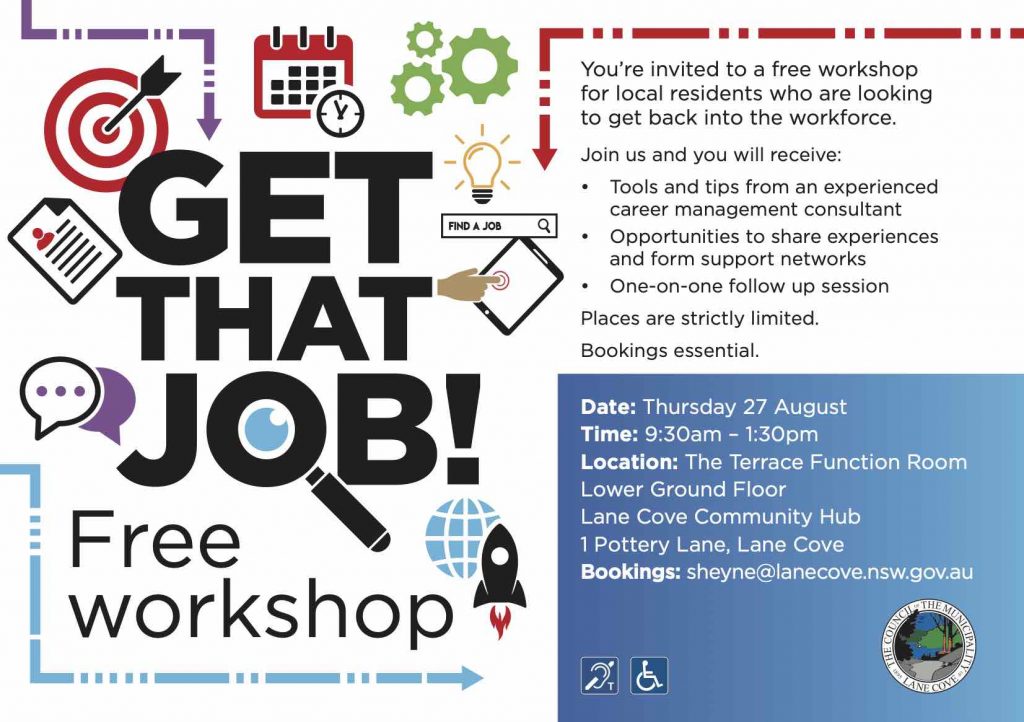 Resume Tips
An ITC follower with over 15 years of HR experience recruiting across telco, media, financial services is offering to help review resumes, provide useful tips and tricks on job search approach, updating Linkedin profile and interview techniques. She has also had many years of career counselling and mentoring experience. She is hoping to help people who've lost their job recently due to COVID19 and is providing her services free of charge.  For assistance email [email protected]
In the Cove Local News – Get in Every Wednesday!!
To make sure you don't miss Lane Cove info sign up to our newsletter. It comes out every Wednesday at 7.30 pm and includes a wrap up of everything posted on our Facebook site in the previous week.
Did you know that In the Cove has an Instagram page? Yes, we do, and we feature pictures from our roving reporters and our ITC team that do not appear on our Facebook page. Follow us on @inthecove
Want to find out what your neighbours are chatting about – head over and join ITC Lane Cove Chat – also if you have lost anything or found something this is the place to post.