You don't need to leave Lane Cove to find a fab Father's Day Gift this year. We've put together a selection of gift suggestions all available locally in our Lane Cove Father's Day Gift Guide 2020.
---
Fit and Healthy Dad
---
Fit Lane Cove
Get Dad the gift of fitness with a membership with FIT Lane Cove. Over two exciting floors, our Lane Cove club will inspire and motivate you to achieve your best performance every time you walk through the doors. Our mission is to take our members on an interactive and inspiring fitness journey, in a world class facility and with world class service. We strive to provide an environment where our fitness community can connect, engage, enjoy and achieve a healthy lifestyle through education, leadership and accountability.
---
Downward Dad – If you are a dad come down to Soulful Fitness and you can do Pilates Matwork, Meditation, Barre, Virtual Spin and Yoga for one month for $99 for new members exclusive to ITC followers. Soulful Fitness is a boutique studio.  They concentrate on Yoga, Pilates and Spin Cycle.  The team at Soulful Fitness appreciate the efforts of our members for simply walking through the door. Soulful Fitness provides a safe and comfortable studio to exercise in, encouraging members to move a little and do what they can do whilst providing a non intimidating non gym feel. Soulful Fitness understands that every day is different and so are member's needs and caters for the days members need to detox and de-stress, the days they want to play and the days they have a heap of energy to burn. It's a very welcoming and comfortable space for people to exercise in and even enjoy a cup of tea after a class and socialize or share a recipe with other members.  Call  9427 9855 or email [email protected]
Shop 9, 43-45 Burns Bay Road, Lane Cove NSW 2066
94279855
http://soulfulfitness.com.au/
Facebook: Soulful Fitness Lane Cove
Instagram: Soulful Fitness
---
Lane Cove Taekwondo
Lane Cove Taekwondo presents an active, exciting and powerful martial arts experience and now they have a Fathers Day Kickstarter pack. These sessions are guaranteed to have Dads sweating, smiling and learning.  It will help with fitness and you will learn the proper technique.
Address: 9 Birdwood Ave, Lane Cove NSW 2066
Website: www.lanecovetaekwondo.com.au
Facebook: facebook.com/lanecovetkd
---
On the Move Dad 
---
Show Him You Care About Him with a Renegade Cycles Bontrager WaveCel cycling helmet. With WaveCel you are 48 times less likely to have a concussion if you have an impact.
Available in a variety of models, sizes and colours starting at $169.99. All helmets come with an unconditional 30-day comfort guarantee.
Address: 161 Burns Bay Road Lane Cove
Email:[email protected]
Website: www.renegadecycles.com.au
Facebook: https://www.facebook.com/bikeslanecove/
---
Alerts Locks and Security
For over 30 years, Alert Locks and Security have been servicing Lane Cove and North Sydney. It's a family run business that has grown and grown.  The Managing Director is Vince Mico who is a member of the Master Locksmiths of Australia. Being a family owned business, Alert Locks and Security can offer you prompt and personalised service.   Alert knows Lane Cove very well, Vince and his wife raised their children in Lane Cove.
Alert Locks and Security has a Fathers Day Special:
50% off all Squire Security Bicycle and Motorcycle safety locks.
Address:  Lane Cove Business Centre
Unit 38, 2 Chaplin Drive
Lane Cove NSW 2066
Office & Shop Trading Hours
Mon-Fri 8:30am-5:00pm
Express Call: 1300 280 536
After hours emergency service available on (02) 9418 9277
Facebook: alertlocksmiths
Website: alertlocksmiths.com.au
---
Book a car service for your dad.  He is busy and forgets to service the car, so book his car in and make his day.
While it may seem logical to delay servicing a car that's not driven often, you may want to think twice as this could open you up to much larger expense down the track. 
There's actually quite a few things that can happen internally to cars over a period of time – regardless of how often or how far it's driven.  So save your Dad some money.
---
Audio/Visual Dad
---
Len Wallis Audio
Contact Details
Address: 64 Burns Bay Road Lane Cove
Phone Number: (02) 9427 6755
Website: https://lenwallisaudio.com/
Facebook: @lenwallisaudio
Trade back your existing soundbar and receive a 20% saving on the B&O Stage
The popularity of soundbars continues to gain momentum. The space limitations of most TV's are so severe that it is impossible to install speakers of quality, severely affecting the intelligibility of the spoken word. The common solution has been to add a soundbar, but the market has become so competitive that the downward pressure on price has resulted in many soundbars performing little better than the TV's they are connected to.
One of the best soundbars on the market is the BeoSound 'Stage' by B&O. It also has the advantage of being one of the most attractive, and despite its heritage and performance it is very well priced. There are two versions, which are distinguished only by finish.
Silver Frame with Black Fabric grille                       RRP $2,500
Bronze Frame with Taupe Fabric grille                    RRP $2,500
Natural Oak Frame with Grey Fabric cover            RRP $3,500
Until the end of September Len Wallis Audio is offering a trade-back to the value of 20% of the models above (a saving of $500 or $700 depending on finish) on your existing soundbar, irrespective of brand, quality, or condition. So for example if you trade back your existing soundbar and choose Silver or Bronze finish you'll pay $2,000, or on the Natural Oak finish you'll pay $2,800.
>Click here for more info on the BeoSound Stage Soundbar<
---
Gourmet Dad (food and wine)
---
Porters Northwood
Keep your Dad in good spirits this Father's Day with a wide range of gifts on offer at Porter's Liquor Northwood. Whether he loves a smoky whisky, an infused gin, a great vintage bottle of red from our cellar, or a selection of craft beers, we can help you find the perfect gift for any budget. If you know what you want – just ring ahead on 9427 1337 to order and we can deliver it to you for free within the local area.
Address: 1 Northwood Road, Northwood/Longueville NSW 2066
Phone: 02 9427 1337
Website: Porter's Liquor Northwood
Facebook: Porter's Liquor Northwood
Instagram: @portersliquornorthwood
---
Bird and Barrel
Pack no 1.
The Road to discovery Trio $140
For the wine loving Dad who seeks a road less travelled, three outstanding examples of lesser known but emerging wines.
Pack no 2.
Japanese Whisky and Beautiful Reds $170
He who apricates the very best will truly understand the masterpiece of Japanese Whisky making not to mention two elegantly crafted premium regional red wines
Pack no. 3
The Award Winners Trio
Each of these wines is the leader in its field, either recognised by the most respected wine writes or decorated at major wine shows.
Truly impress Dad this year with a gift from our range. We have 3 brand new gift packs perfect for the special men in your life.
Delivered in our premium pine boxes this gift is guaranteed to knock Dad's socks off!
We delivery Australia wide and shipping is free to NSW or ACT on orders over $120.
---
Jack & Co. has new jams and relishes range! They are all sourced from top notch quality products direct from growers in the Mid North Coast! It's just another addition to Jack & Co's Paddock to Plate range. Great gift ideas, or just keep for yourself.  You might also want to look at their Jack and Co Coffee or bake Dad some yummy Choc Chip Cookies for Fathers Day
---
Sustainable & Ethical Dad
---
This year, Father's Day will certainly be celebrated differently. Dads can be tough to buy for but we have some great ideas that you can mix and match to give your dad a gift that he will love. We've even created some ideas for gift packs that we are sure will reflect any dad's personality.
Does your dad enjoy gym sessions or spending time exercising outdoors? Then why not put together a 'Post Workout Gift Set' that includes our stainless steel water bottle and some protein balls for his post-training snack?
Or, if your dad's a bit of a foodie and likes his meals a little on the spicy side, make him up a mini-hamper with a selection of our curry powders and herbs for his next barbecue.
The great thing about The Source Bulk Foods Lane Cove is no matter what type of dad you have, you can come in and custom make a gift pack he will love! We've put together a few ideas to get you thinking but of course, we have so many goodies in our stores that you can let your imagination run wild. Ask our team for advice and we can help you put together a great selection to make into a gift pack for your dad.
We would like to say thank you to all our fathers, grandfathers, and male role models out there. Enjoy your special day!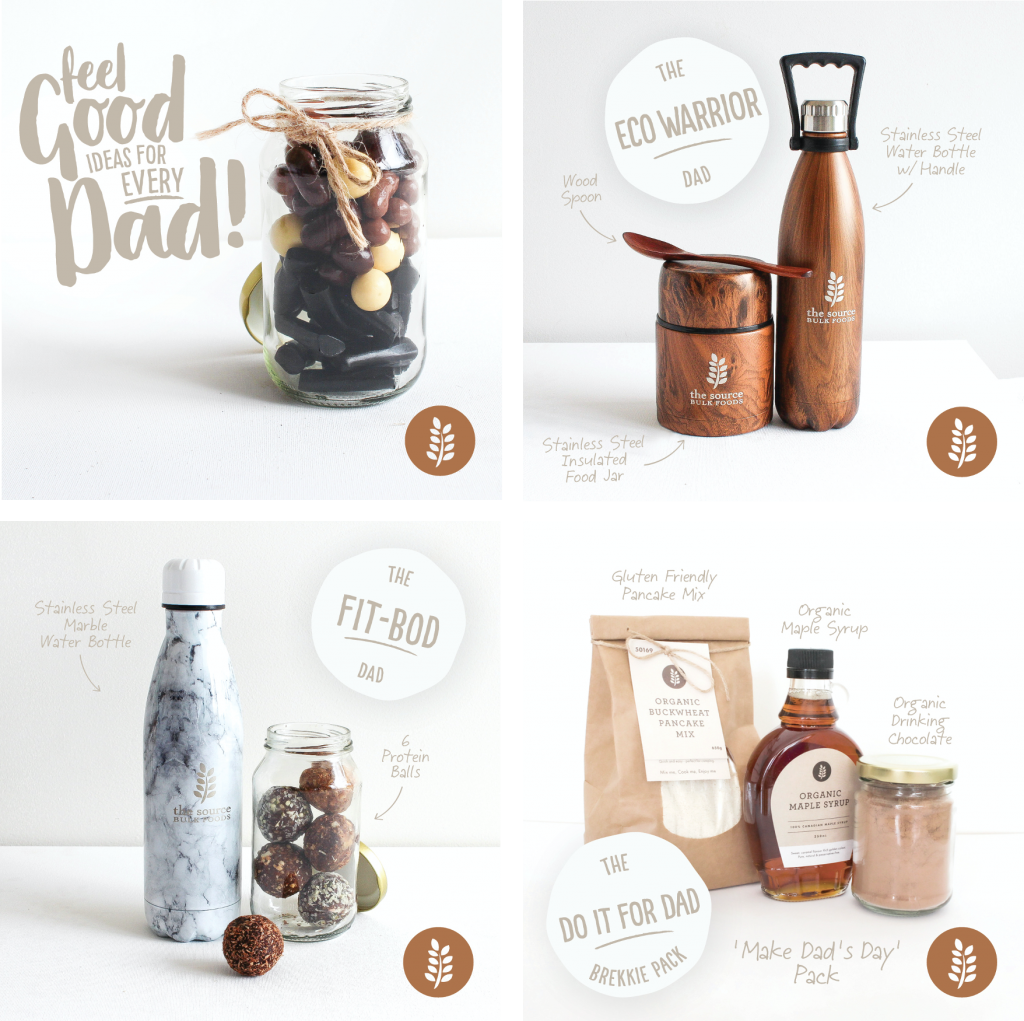 Email: [email protected]
Website: www.thesourcebulkfoods.com.au
Facebook: @thesourcebulkfoodslanecove
Instagram: @thesourcelanecove
---
Let's make Dad's Day  that extra special this year!
We have a fabulous Fair Trade and Ethically sourced Father's Day gift range including Hand Made cotton Hawaiian/party shirts, recycled motor bike tire wallet range, Inkkas footwear, Conscious Steps socks and a huge selection of the most delicious organic chocolate products plus much, much more!
---
Photogenic Dad and Beast
---
Kylie Dunlop is an award winning family photographer who has an amazing reputation in Lane Cove.  Families trust her so much they keep coming back to her  to capture milestones.
A photography session is one of the best gifts you can give! Call 0416 387 449 to purchase your Gift Certificate for that special Dad this year.
Phone: 9405 2058
Mobile: 0416 387 449
Facebook:@kyliedunlopphotography
Website: http://www.kyliedunlopphotography.com
---
Marie Ramos
This Father's Day celebrate Dad with a photo session with the greatest treasure in life- his family. For just $199 our Father's Day portrait package includes a 1hr studio session, 90 min design consultation 5×7,6×9 and 7×10 enlargement. (Save $206)
Purchase online now and print your gift voucher from home!
Conditions: Offer valid Tuesday-Friday only, offer expires 6th September 2020.
---
Treat your loved one to a Father's Day Gift Voucher with Furry Munchkins Pet Photography.
Purchase before the 2nd of September and get…
A 2-hour Pet & Family photo session (worth $250 – cost not inclusive of wall art or digital files)
$100 Artwork credit to purchase any wall art or digital files (no digital files or wall art come with this voucher)
A physical/digital Gift Voucher with a personalized message to your loved one
All for $180

Contact us before the 2nd of September at furrymunchkins.com.au/contact
Email: [email protected]
Website: furrymunchkins.com.au
Facebook: furrymunchkins
Instagram: furrymunchkinsphotography
---
Stylish Dad
---
Eyes 4 You
Buy Dad a pair of MAUI JIM Sunglasses.
Colour. Clarity. Detail. PolarizedPlus2® lenses eliminate 100% of UV radiation and provide protection against a number of additional stresses, helping your eyes stay healthy so you can keep taking in all the world's beauty. These are the sunglasses for the Lane Cove Dad.

---
Eyes On Lane Cove
Eyes on Lane Cove, carry an extensive selection of designer frames to suit every age, style, personality and budget. Below are just some of the brands that we carry in our practice. If there is a specific frame that you are looking for, please advise one of our team, who will be more than happy to assist you.
Persol's polarised sunglasses epitomise its extraordinary style: the high-quality lenses and frames are the product of true Italian craftsmanship, showcasing the best the brand has to offer.
Address: Shop 8, 115 Longueville Road, Lane Cove NSW 2066
Phone: 9418 3329
Website: Eyes on Lane Cove
---
Gazman
Whether you're looking for a special gift for your own Dad, buying on behalf of someone else or even spoiling yourself with a gift, GAZMAN has a wide range of new season clothing and accessories that'll suit even the fussiest of Dads. Check out their gift guide – gazman.com.au/blogs/journal/made-for-dads
Gazman is located on Longueville Road Lane Cove.
Address: Shop 1/146 Longueville Rd, Lane Cove NSW 2066
Phone:  (02) 9427 3095
Website: www.gazman.com.au
Facebook:  @gazmanclothing
Instagram: @gazmanclothing
---
Bridget Kennedy Contemporary Jewellery
Lane Cove Local Bridget Kennedy has an online shop that you will want to visit.  She is a contemporary jewellery artist and also showcases other local jewellery designers.  Why not buy Dad luxurious handmade sterling silver 'torpedo' cufflinks by Sydney artist Jenny Fahey. These have a handmade cuff link mechanism that sets these in a design class of their own and ensures you stand out from the crowd in style!  These cufflinks are $380
Address:  Shop online or at 53 Ridge St North Sydney
Email: [email protected]
Website: bridgetkennedy.com.au
Facebook:  https://www.facebook.com/bridgetkennedyprojectspace/
---
Found Gifts and Homewares
Found Gifts and Homewares has a range of leather goods for Dad.
Next time you're in Lane Cove make it your mission to find Found.  They are located in the Lane Cove Arcade (near Four Frogs Creperie).  
Found Gift Vouchers are available. They are the perfect gift for those hard to buy for dads.
Contact Details
Address: Shop 3, 115 Longueville Road, Lane Cove NSW (Lane Cove Arcade)
Facebook: https://www.facebook.com/FoundGiftsandHomewares
Email: [email protected]
Phone Number: 0411427670
---
Pamper Dad
---
Anya Natural Healing
Thanks for giving me the finer things in life,
Your time, your care and your love.  To all Dads!
Now let us do a special return for you Daddies.  We love you and  we know what can make you happy as you deserve.
Anya Natural Healing is one of the best massage practices in Lane Cove, pride of its quality, friendly and cheerful.  This is the only time to show your dad/your hubby how much you care especially this funny time, you know they need it the most.
Visit ANH for Gift Vouchers, don't hesitate, be prepared and relax.
Good things happen at Anya Natural Healing.
Happy Father's Day!
 59 Tambourine Bay Road, Riverview NSW 2066
 0497 098 671
Website: www.anyanaturalhealing.com.au
Facebook:  Anya Natural Healing
---
Why not shout Dad a remedial massage?  Just call Sarah for a gift voucher.
SARAH FOLWELL is a Traditional Chinese Medicine Practitioner and Remedial Massage Therapist. Sarah utilizes various acupuncture, massage and herbal techniques to help optimize your total well-being. During her many years experience as a health practitioner she has achieved measurable positive results for her clients. Why not let her skills and enthusiasm benefit you? Sarah is available in 2 clinics, located in Lane Cove and Miranda. Health Fund Rebates and Gift Vouchers available.
---
The Beautician
The Beautician is pleased to welcome Australian made, men's skincare label, Charles + Lee to our stable of products available in Salon. It's no fuss skincare for men – and super affordable. PS – each product package contains a fun little unique quote that your man will love (eg: This Oil Free Moisturiser does not contain gold from Tutankhamen's tomb, nor does it make you a better lover. But it's a damn good moisturiser. )
Developed by two men with lots of experience in the skincare industry, we have a range of individual products and gift sets available (starting at just $29.95!). For more information – visit : thebeautician.net.au/skincare-for-him/
---
Relax Him
Treat your father to a massage gift certificate!  We have a wonderful massage therapist who would love to pamper your father.  If he has never had a massage before, he doesn't know what he is missing.  Gift vouchers are $95 for a 1 hour remedial massage
Tune Up
Product 2: Does your dad take his car in for a tune up?  It might be time to take his spine in for a tune up! Get a gift voucher for a full posture and spinal checkup for $37 and we will get him well oiled and dancing like a new man.
Address: Chiropractic Central Suite D 161 Burns Bay Road Lane Cove
Email: [email protected]
Website: www.chiropracticcentral.com.au
Facebook:  https://www.facebook.com/ChiropracticCentral/

---
Be.U Natural
This is the first of our Father's Day edit. Look at these fab products needed to begin a close & gentle wet shave regime. We have gorgeous Shaving brushes and luxe shavie soap by Washpool, perfect for Dad! 🧔🧔Handmade in Ballandean, Queensland, in the heart of Granite Belt Wine Country.⠀⠀
Visit the  Be U Natural website for more details on packs available and how to purchase.
Be.U Natural is open Wed-Sat 9-2pm. Call 0419 997 541 to check hours.
---
House Proud Dad
---
Celebrating 25 Years! Surprise your dad with a stunning bouquet of Australian wildflowers!  It will be a stunning display in your house.  Pure Flowers Lane Cove has a 
Luxe Wildflower Box
.  Prices start From $99.  You can order online, call 9427 8214 or visit them  at 3/23-25 Burns Bay Road Lane Cove (behind Bakers Delight)
---
Home HQ Artarmon
Spoil your dad this Father's Day!
A unique lifestyle shopping destination in the heart of the lower North Shore, HOME HQ ARTARMON has gift ideas to suit all budgets including the latest in technology, furniture and homewares
Check out our Father's Day Gift Guide on https://homehq.com.au/offers/fathers-day-gift-ideas/
---
Spotted Orchid
As usual, Spotted Orchid has an online store and free delivery. Same day delivery if order placed before 1:00pm.
Anyone that knows Rita understands she loves to chat… finding out the reason for someone's purchase.
Just call Rita and tell her what you want and she will send you some photos.
For Father's Day she has a variety of treats from Rocky Road to chocolate covered pork crackle! She also has beautiful potted plants to help green-up dad's home office.

---
Eden Gardens
Spoil dad this father's day with a plant gift from Eden Gardens!  

With more time spent together and at home, it's the perfect time for dad to be getting to know plants – in the home, on your balcony or in the garden!  Plants as a new hobby, gardening for exercise or just the feel good vibes surrounding yourself with nature gives – there has never been a better time to give a living gift!

We have brand new plant & basket or pot combinations if you're wanting to grab something quick – or why not one of our new hampers! For something different we have Olive trees for that dad that's dreaming of holidays in Greece or lavender in lieu of your trip to the French Riviera – both 20% off.  Citrus trees whether planted in the ground or in a pot on your terrace are a great option as they continue to show your love as they grow and bring fruit!  All our garden tools are also 20% off!

Enjoy Father's Day with us as we will serve a special breakfast & lunch menu in our Kiosk. With our gardens' spring blooms, it's the perfect time to visit!