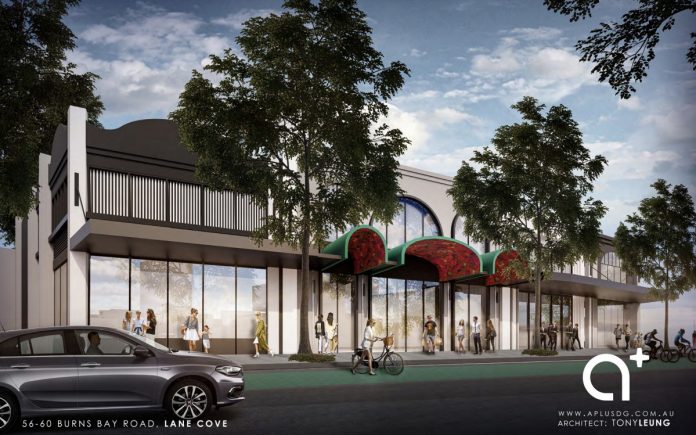 In October 2019, the Sydney North Planning Panel (SNPP) approved plans to demolish and redevelop the Coles Supermarket Site on Burns Bay Road.
The Developer has now lodged some new less ambitious plans which result in a renovation and refurbishment of the site.  The Developer is Sun Property Pty Ltd (SP).
You can view  DA 115/2020 here.
New Development Plans
New plans have been lodged to basically renovate and refurbish the existing centre (see our cover photo).
This proposal will result in alterations to the existing premises to allow for:
• supermarket;
• liquor store;
• medical centre;
• food and drink premises.
This proposal will also result in an upgrade of Burns Bay Road building façade. While the current application seeks consent for building works to facilitate the proposed land uses outlined above, separate applications detailing tenancy use, fit-out, hours of operation and hours of trade will follow once final occupiers have been secured.
There has been a hot rumour that Harris Farm is interested – we asked Harris Farm to comment, but they have not responded.
Specifically, the proposal seeks consent for internal refurbishment works and façade upgrade.
These works include:
• Demolition of the existing glazed roof;
• Demolition of the existing shop front, awning and pedestrian access;
• Construction of new shopfront, roofing, awning and pedestrian access;
• Installation of travelators, lift and stairs;
• Demolition of internal walls and alteration to the floor layout resulting in:
 Level 1 Stock Room 286sqm;
 Level 2

Tenancy 1/Medical Centre 335sqm
Tenancy 2/Medical Centre 370sqm
Tenancy 3/Public toilet 70sqm
Tenancy 4/Office (existing) 23sqm
Stock room (existing) 146sqm

 Level 3:

Tenancy 5/Liquor Outlet 249sqm
Tenancy 6/Food and Drink premises 95sqm
Tenancy 7/Existing shop 64sqm
Tenancy 8/Supermarket 1977sqm
The proposed works will result in a reduction in a 610sqm of building nett leasable area and a corresponding reduction in car parking from 44 spaces to 37 spaces, primarily as a consequence of providing new travelators, a lift and stairs to connect with the lowest parking level. Other than the abovementioned changes to car parking number, the car park layout and circulation arrangements will be unchanged. Furthermore, all vehicular access to the site will remain unchanged.
Pros and Cons of New Plans
The Good news is that this development will:
revitalise the Burns Bay Road end of the Lane Cove Village;
the tired-looking facade will be given a facelift (let's hope they remove the glass windows near the up ramp as it makes it hard to see pedestrians);
the toilets will be upgraded in the centre
another supermarket creating even more competition in Lane Cove
The Bad news is that:
the Coles car parking station will not be upgraded – it is difficult to navigate and floods when there is rain;
Sera Street will not be upgraded; and
A there will not be a performance space in the new complex.
Previously Approved Development Plans
The Developer has consent for the demolition of existing structures, and the development of the site for Mixed Uses incorporating:
Shops (Retail Premises including a supermarket);
Restaurant (Food and Drink Premises);
Business premises;
Community Facility;
Shop Top Housing, and;
basement car parking and servicing.
Reasons for Approving the Coles Site Redevelopment
SNPP gave the following reasons for approving the redevelopment plans:
The existing facility is 'tired'.
The proposed development is of good design and will deliver a vibrant mixed-use development as well as a high amenity for future residents, workers and the community, with the streetscape enhancement along Burns Bay Road and Sera Street.
The proposed development complies with significant planning controls and fits into the desired future character of the area.
Benefits of the Redevelopment
The Lane Cove Performing Arts Community had pushed for a performing arts centre in the heart of Lane Cove (the Lane Cove Council Chambers used to be one of two Town Halls and was where concerts etc. were held before it was converted into Council Chambers).
Representatives from the Lane Cove performing arts community asked Lane Cove Council to consider using the proposed new community facility at the sites for performing arts and a theatrette/presentation space for groups such as:
Lane Cove Theatre Company;
Lane Cove Concert Band;
Local Dance Schools;
Sporting Groups to have an end of season awards nights;
Local Community Groups to hold fundraisers with comedy acts, movie nights and more.
There were to be another 99 public car spaces.
In total there will be three levels of basement parking with 142 car spaces (43 allocated to residents and their visitors), ten motorbikes spaces and 13 bicycles spaces.
Sera Street was to be improved, and the current council car park was to be demolished.
Want to know more about Lane Cove businesses?  Read our September business round-up here where we let you know about businesses that have opened, closed or relocated and businesses for sale or lease.
Are You Looking to Buy or Sell in Lane Cove?
In The Cove is now producing a weekly Lane Cove Property Update.  See our latest update here. 
If you are selling, ask your agent if they are an ITC Lane Cove Property Guide supporter.

In the Cove is on Instagram
If you would like to follow ITC's travels throughout Lane Cove and see some beautiful pictures of where we live, follow ITC on
 Instagram here.