The AFL and NRL seasons will be winding up soon.  But, that does not mean your footy season or sports season is over.  Several local clubs have spring/summer comps for the whole family to enjoy.  There is AFL, Soccer, Rugby Union, Swimming and a new running studio.
---
Lane Cove AFL Cats – Junior AFLX
Registrations for the upcoming Junior AFLX series are open.
The AFLX North Shore competition is open to boys and girls in the U10 and U12 age groups. You will be asked to select one of four teams in each division: Flyers, Bolts, Rampage or Deadly. Each team has its only distinct playing top. However, there are only 10 spots per team, so register now to secure your spot.
AFLX is a fun and exciting modified version of Australian Football. Teams consist of 10 players – 8 on the field & 2 on the bench. There are super goals, game changers and personalised footy jumpers. Games played in under an hour!
No previous AFL experience required. And its a great way to bring new friends to the game.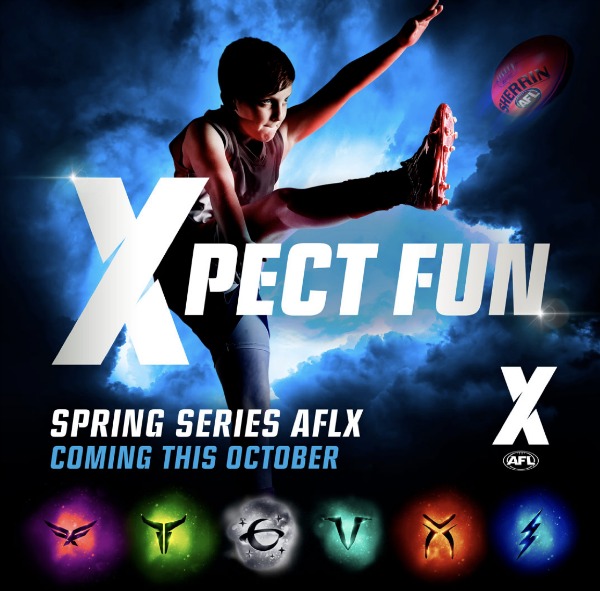 Competition details
Where: Gore Hill Oval, St Leonards
When: Wednesday's – 28 October to 16 December
Match Times: 4:45pm & 5:30pm
Age Groups: U10 & U12 boys, U12 girls
Register a team of 10 players here.
Don't have a team? Click here.
---
Lane Cove AFL Cats – AFL 9's
AFL 9s is the AFL's social version of the game. It's a fast, free-flowing game that involves 9 players on each team playing on a smaller field. Best of all, it's 'touch football' with no tackling or bumping, making it suitable for people of any age or skill level. Importantly, AFL 9s is easy to play, not too physically demanding and provides an environment where fun, enjoyment and safety are a priority.
AFL 9s enables people of all ages and ability levels to participate in male, female or mixed competitions that fit around their busy lives and provide a social and fitness outlet.
The spring season of AFL9s will be held on Blackman Park starting Thursday 15 October.
Games will be played on the synthetic field at Blackman Park. Starting times will vary, but will be played from 6.30 pm.
For those who haven't played before, AFL9s is a social, touch only version of AFL football. It is played outdoors on a rectangular field and requires the usual AFL skills, minus the tackling. You can kick goals, lay off a quick handball and take a diving mark. You can learn about the game and its rules by going to the AFL9s website. In the past, this has been the most popular season for this non-contact version of AFL.
---
Lane Cove Summer 7's Rugby Union
LANE COVE SUMMER 7S – TOUCH FOOTBALL
16TH OCTOBER – 4TH DECEMBER 2020
REGISTRATIONS NOW OPEN
GAMES AND TEAMS
Each team will play 1 x 30 min game per night.
We suggest teams have no more than 10 players per team with 7 players on the field during the game.
REGISTRATION FEES
$100 per player
$140 per player needing singlet
If you played previous years and have grown out of your singlet, we will gladly swap it for free.
AGE GROUPS
All children are placed against competing teams according to age, some age groups will be separated by gender. Age group will be selected based on DOB:
Under 8s – Born 2011 & 2012 (Mixed Boys and Girls)
Under 10s – Born 2010 & 2011 (Mixed Boys and Girls)
Under 12s – Born 2008 & 2009 (Separated Comp depending on team numbers)
Under 14s – Born 2006 & 2007 (Separated Comp depending on team numbers)
Adults Social
Adults Competitive
(Under 16s and older will be combined into the Adults Social or Competitive)
COVID SAFETY
We are conscious of the COVID-19 restrictions on community sport and are working within those guidelines to ensure that everyone who has enjoyed Summer 7's in the past gets to enjoy it again this year. Instead of playing two 15 minute games each week teams will be playing one 30 minute game (15 minute halves) each week for each team. The games will start with the younger age groups from 5:00pm and run through to later on in the evening depending upon the schedule. It will be as it has been for community sport during the winter a 'drop off' and 'play' situation with limited bar and food facilities available subject to the COVID-19 restrictions.
We will be running games both on B1, B2 and B3. Just like for the winter sports there are some restrictions:
No spectators inside the fence;
One manager per team for the children's teams;
The manager is responsible for entering the scores with the registration table at the end of each game;
The teams to be escorted from the field before the next games come on; and
Teams will be limited to 10 players.
Each player should have their own:
Singlet,
Water bottle; and
Towel.
Everyone needs to be ready to play five minutes before their scheduled start time and ready to leave the playing area once their game has been completed and the score has been registered. Please respect the marshals that will be assisting with the operation of each game, each night as they assist with the change over from one game to the next.
Please contact Haley Blair on [email protected] or 0477411811.
---
Lane Cove Football Skills Programme
---
Lane Cove Swim Club
Registrations are now open to join Lane Cove Swim Club. Club activities include: swim squads, Saturday club racing; annual Club Championships; junior and senior swim camps; and the Roma Edmunds Memorial Mile – plus much more!
For further information please contact the Lane Cove Swim Club Registrar, Joshua Baker, at [email protected] 

---
Greenwich Baths – Beach Safety Programme
Season 1 – Sunday 27th October Week 8 – Sunday 15th December – Santa Day

Season 1
| Book | Time | Year of Birth |
| --- | --- | --- |
| Email for waitlist | 8:00am | 2012 2013 2014 2015 2016 2017 |
| Email for waitlist | 8:35am | 2011 2012 2013 2014 2015 2017 |
| Email for waitlist | 9:10am | 2011 2012 2013 2014 2015 2017 |
| Email for waitlist | 9:45am | 2010 2011 2012 2013 2014 2016 |
| Email for waitlist | 10:20am | 2010 2011 2012 2013 2014 2016 |
Please email [email protected] for waitlist.
ACTIVE KIDS VOUCHERS
If you have a $100 NSW Active Kids Voucher, please:
Enter your voucher number below

Press the "Coupon Code" button

Enter the word ACTIVE

Press "Apply" and $100 will be reduced from your payment

Press "Pay Now"
Online registrations open – Tuesday 22nd Sept '20
Week 1 – Sunday 1st Nov '20
Week 8 – Sunday 20th '20 Dec Santa Day
COVID Information / Changes
Classes will have 5 mins break between each for staff to wipe equipment and for families to swap with less commotion
We appreciate this program starts a day at the beach, however we ask that where possible you bring less spectators, and arrive before the class and leave afterwards. Again, the benefit of this program is a family day out so this is a recommendation, not a rule
There will be a COVID marshal ensuring the change rooms remain clean and social distancing is practiced, particularly by parents when the tide is up and there is less room
Season 2
Class times released Tuesday 1st Dec '20
Online registrations open – Tuesday 8th Dec '20
Week 1 – Sunday 7th Feb '21
Week 8 – Sunday 28th Mar '21 – Carnival Day
Program information and Cost
The program includes a 30 minute class where beach familiarisation, activity and fun are the main goals.
Classes are grouped by 'year of birth' and include beach-based activities, races and games.
We strongly encourage students to stay after class for a swim to increase their confidence in the water.
Student to teacher ratios are strict at a maximum of 1 teacher to every 8 students, with at least one extra instructor floating between groups. This ratio is dropped further to 1 to 7 for the 2015 classes, 1 to 6 for 2016, and 1 to 5 for the 2017 class. A 2018 class will be added in February 2021.
The cost is $144 for an 8-week season
There are no spectator fees payable for any family or friends
Students are allowed complimentary entry to the Greenwich Baths during the season
Students of either season receive free entry to the end of season 

Beach Safety

 Carnival.
Please note that classes are on no matter what the weather and water conditions are like.
If water pollution is possible or likely, beach-only activities will be run
Also note, it is compulsory that parents or a guardian remain on site during the class.
One x $100 Active Kids voucher per student is able to be used per season booking. Voucher numbers are collected in the registration process
What to bring:
Swimmers – Beach Safety swimmers are available for purchase however not compulsory
Rash shirt – Beach Safety rash shirts are available for purchase however not compulsory
Sun screen
Towel
Water bottle
Warm clothes for after the session. This is really important so children don't catch colds.
Greenwich Baths Beach Safety cap, which is compulsory for all children to wear each session. These are available for purchase in the online enrolment or at the café.
Please ensure you arrive early, as parking is a premium.
---
Fit Lane Cove
Not into organised sport, but want to exercise? Fit Lane Cove is introducing RUN ATHLETIC. A performance-based run & HIIT studio launching October 2020 to redefine your indoor running experience. Find our more here.
Fit Lane Cove is an ITC Platinum Sponsor.
---
Lane Cove Activities for 0 to 5
Want some activities to get your little one moving?  Check out our 0 to 5 Activities Guide – the activities are grouped by day so you can work out what suits your timetable.
---
Local Free News – that is ITC's promise.
In the Cove is run by locals. It is the only online hyperlocal media company based in Lane Cove.  We provide local free news – we do not have a paywall and will never have a paywall.
Lane Cove Chat by ITC – Chat with other Lane Cove locals about local issues, lost pets, local info and more on our closed Lane Cove Facebook group.  We closely monitor membership, to make sure (as much as possible) that members either live or work in Lane Cove.
Lane Cove News Every Wednesday – sign up for our Lane Cove news blast delivered to your inbox every Wednesday night.  Sign up here.
Check out last week's newsletter here.
Instagram – Follow our adventures around Lane Cove as we snap our lovely leafy Lane Cove.
We are also on Twitter and Pinterest.