Get ready to dive in.  The Lane Cove 50m Outdoor pool is open and it looks amazing.  The water is crystal clear and apparently, the temperature is around 27 degrees (according to one swimmer).
Some Lane Cove 50m Pool Facts
The pool, new grandstand and youth centre cost $12 million.
The grandstand seats 800 people and has a range of accessibility and sustainability features.
It has a fibreglass swim wall which can be raised to segment the pool for a range of uses for lap swimming, swim meets and swimming carnivals including 4 x 50m lanes, 8 x 25m lanes or even 16 x 25m lanes.
To contribute to Lane Cove Councils sustainability targets, the grandstand is fitted with a 62kw solar panel system.
Other sustainability features of the project include energy filters for power and water to reduce waste-water and chemicals used in the pool; a condensing boiler which uses gas and is 92% efficient as it reuses heat from the flue and the boiler; water-saving devices are included in the new on-deck showers and on taps/showers within the change rooms and unisex toilets; LED lighting is installed using the Dali system which allows for sensors and general energy efficiency; a pool blanket helps reduce evaporation and retain heat, and a 22,000-litre rainwater tank was also installed on-site to provide irrigation to the adjacent Pottery Green Oval.
As part of Lane Cove Council's ongoing commitment to inclusiveness, the project has a number of accessibility features including an accessible ramp into the water; accessible toilets; and a brand new accessible changing facility equipped with adult change table, hoist and shower which allows people with high support needs to fully participate in the community.
It takes 1.1 million litres of water to fill the outdoor pool.
The pool depth varies from 1.2 metres to 2 metres deep
The grandstand is designed to account for acoustic needs including panels on the ceiling and acoustically-directed speaker systems
Alongside the pool is a public art installation inspired by water
Lane Cove Pool Construction Timeline
The original pool was opened in the early 1960s.
Pool Closed in December 2018.
Demolition of the original pool started in March 2019
Construction started in July 2019 and was completed in September 2020
During the construction Council recycled the water needed to help drain and test the pool to areas by sending to 300,000L to Blackman Park, 100,000L to Pottery Green Oval, 32,000 to Burns Bay Reserve as well as initiating a funding campaign to transport 225,000L of water to drought-affected Armidale.
There were times when the pool was full due to massive rainstorms.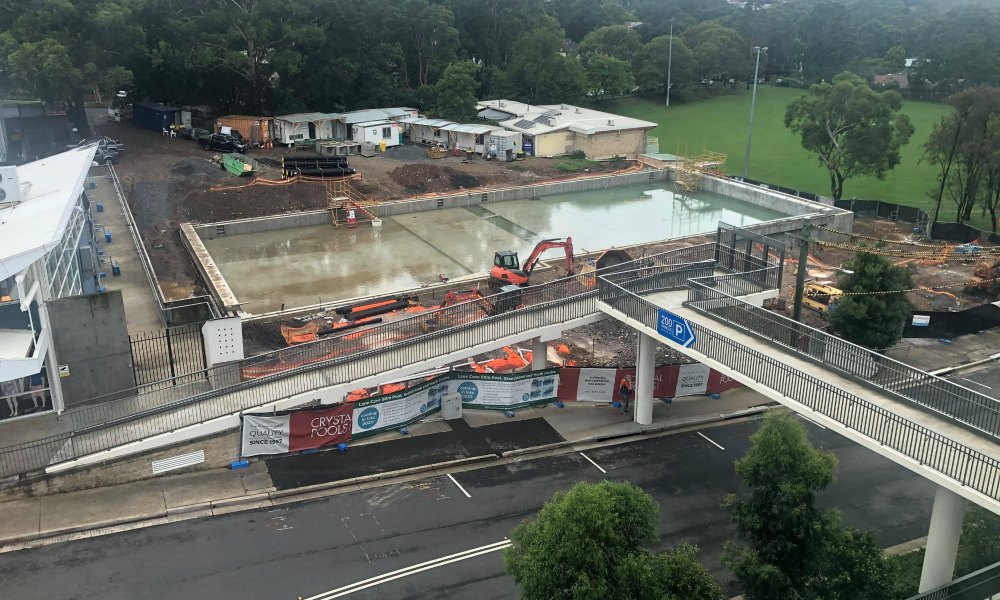 The pool was tested for leaks.
Solar Panels were installed in July 2020
Official Opening
The Official Opening was on 3rd October 2020.  The official party included Pam Palmer, Lane Cove Mayor; Trent Zimmerman, Federal Member for North Sydney, Anthony Roberts State Member for Lane Cove and Ian Thorpe.
How to Book
You can dive into the new outdoor pool from October 3rd, 12:30pm onwards. To avoid over-crowding, keep the facility COVID-safe and within State Government regulations there is a booking system in place. Bookings are required between 5:30am-8:30am and 3:30pm-6:30pm Monday to Friday (6 people per lane max) and are required this long weekend
Local Free News – that is ITC's promise.
In the Cove is run by locals. It is the only online hyperlocal media company based in Lane Cove.  We provide local free news – we do not have a paywall and will never have a paywall.
Lane Cove Chat by ITC – Chat with other Lane Cove locals about local issues, lost pets, local info and more on our closed Lane Cove Facebook group.  We closely monitor membership, to make sure (as much as possible) that members either live or work in Lane Cove.
Lane Cove News Every Wednesday – sign up for our Lane Cove news blast delivered to your inbox every Wednesday night.  Sign up here.
Check out last week's newsletter here.
Instagram – Follow our adventures around Lane Cove as we snap our lovely leafy Lane Cove.
We are also on Twitter and Pinterest.