Welcome to our Lane Cove Business Round-Up for September/October 2020.  In this article, we tell you about new businesses, renovations, refurbishments and businesses who support ITC by becoming part of our Local Business Directory.
Open
Pacific Smiles Dental
Pacific Smiles Dental is now open in Lane Cove Market Square.  They are open 7 days a week.  Read more here.
Lane Cove Return and Earn
The new Lane Cove Return and Earn is now officially open.  This facility is where you can take bottles and cans in exchange for cash. It is located at 67 Mars Road Lane Cove West Business Park. Brandon and Mason have opened the centre, and they are pictured below with our local member Anthony Roberts. The feedback so far is it is easy and quick to get your bottles recycled and be paid some cash. You can also have them pick up from your house. Find out more here.
Opening Soon
The popular Garcon restaurant from Tramways will be opening in Lane Cove on October 10th in the Canopy.  It will be open for breakfast, lunch and dinner. French flavours with seasonal ingredients. Garcon has been a hit at The Tramsheds and will be big at The Canopy
Given the excitement with the Sugarlane opening week booking out we suggest you book asap.
Facebook DM https://bit.ly/3ixkVXF
Instagram DM https://bit.ly/2HUubs1
Phone: l 0415868550
Two local mums, Rebeca Carter and Belinda Young will be opening Lane Cove's first consignment store, and one of just a handful on the North side of Sydney on 15th October 2020.
What is consignment? Consignment stores procure and curate luxury and high-end fashion including clothing, shoes, designer handbags and accessories from a wide variety of sources. Consignment is not necessarily "pre-loved" and contains many brand new, unworn items. Rebeca Carter, the stores co-founder says "It is estimated that the Australian woman spends in average $250,000 on clothes throughout their lives and sadly most of these items will never be worn". At Bec and Bel a service is provided for women to sell their unwanted items, and provides consumers the opportunity to find unique, classic items in a huge variety of brands that a regular small boutique may envy.
Bec and Bel came about in July 2020, after both co-founders lost their regular incomes because of the COVID-19 pandemic. Rebeca, a Marketeer with her own Travel PR and Marketing company, and Belinda, a corporate lawyer, got together to try something new… and Bec and Bel was born.
One of the core reasons for establishing the business was sustainable and circular fashion. Being mothers with young children, they both wanted to start a new business that had a focus on sustainability and reducing the impact the luxury clothing industry has on the planet. Also, they will invest a portion of their profit to support local women's charities and aim to help women in need.
Bec and Bel offer a full range of designer brands including international brands such as Gucci, Dior, Chanel, Jimmy Choo and Prada to local outfitters such as Zimmerman, Camilla Franks and Sass and Bide. New deliveries arrive almost daily, and as such a regular supply of items appear on the racks.
Established by locals, for locals and people Australia wide, the ladies tend on building their community or "tribe" via social channels such as Instagram and Facebook, and already are seeing great engagement and sales. The idea is to scale up the business to a dynamic, web-based business over time. Sales can be made in-store, via social media or via the website.
They will be opening in the same arcade as Four Frogs.
Snow Bear 
Snow Bear Hair Salon will be opening soon in Lane Cove Market Square.
Lamin8Patisserie
Two shops are currently being fitted out near The Canopy.  One of them is the refurbishment of Story Cafe, and another is fitting out for the new patisserie called  Lamin8 Patisserie  

Business Changes
330fit
330fit has launched a new website.  330fit if a boutique personalised personal fitness studio in Lane Cove North.  Check out their new website here.
Riverview Butcher
It's hard to start a business in these challenging times, but Riverview Butcher is going from strength to strength.  They have hired  4 new staff members.  More details here.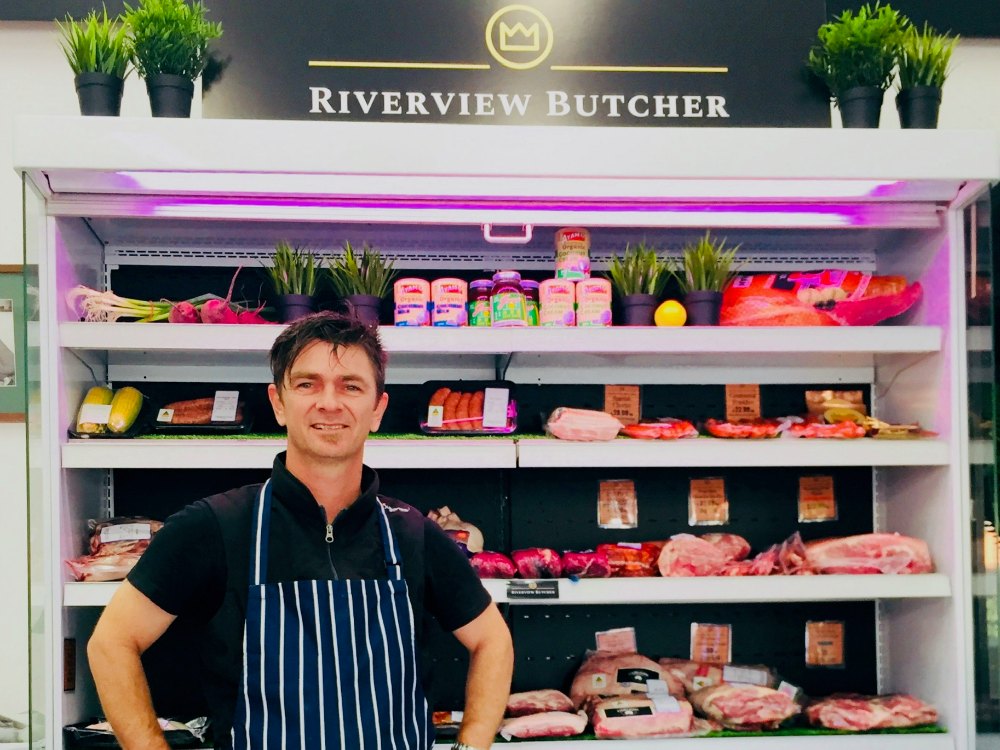 Demand for advice from Mortgage Brokers has increased during COVID19.  As Spring is usually when people start to think about buying or selling their home, Aussie Lane Cove is now open 6 days a week.  They now have two new brokers working with them as well as Adam Parsons.
Little Ele – Online Sustainable Business
Swimwear brand, Little ele was launched in early 2020by Lane Cove local, Tarli, a mother to Gisele (4) and Max (2).  Little ele's mission is to create simple and classic pieces for little ones. The range includes girls and boys kids resort and swimwear ranges for 6 months to 5 years in age.
Their swim range is made from a sustainable fabric called ECONYL® from Europe. It's a high-end recyclable nylon fabric made from waste products such as discarded fishing nets.
Little ele is dedicated to preserving our beautiful planet for our children and our children's children.  They have now expanded their range to include more resort wear.
Website: www.littleele.com.au
Instagram: @littleele_
Facebook: @littleeleau
Milestones
Bakers Delight Lane Cove
Congratulations to Bakers Delight Lane Cove who recently celebrated 25 years in Lane Cove.  This month they are donating bread and tasty treats each week to Delvena Women's Refuge, and on the 1st October 2020, they donated $600 to Delvena from sales made on that day.  Bakers Delight Lane Cove is a brilliant example of a local business who gives back to the community and employs young Lane Cove kids.  Each night any leftover bread is donated to Mathew Talbot Hostel.  Volunteers from St Vinnies pick up and deliver the bread every night.
Springbok Delights
Springbok Delights is celebrating 20 years in Lane Cove.  Below is the message sent to their loyal customers:
We are so very pleased and proud to celebrate our 20th YEAR OF TRADING AS SPRINGBOK DELIGHTS!
"Starting out in the small butcher shop on Mowbray Rd in Lane Cove at the end of September in 2000, I would not in my wildest dreams have predicted where that journey would lead us to… Our success is of course attributed to you, our wonderful and loyal customers.
To say thank you, we had a whole range of festivities and celebrations planned for this very special occasion. Unfortunately, due to COVID restrictions imposed on businesses, we had to change those. Instead, we'll celebrate for an entire month with weekly specials and "COVID-friendly" contests, starting on Thursday 1 October.
I want to extend a very special thanks to our fantastic team at Springbok Delights, as well as all of those who have worked here over the past 20 years and contributed to our success and longevity. You have all become part of my family.
We look forward to another 20 years of service excellence, supplying you all with the best Biltong, Boerewors and SA products, superior quality meat and of course, the largest range of South African wines, beers and Spirits in Australia. Literally!
We've turned back time, and for the WHOLE MONTH OF OCTOBER, we'll have:
1kg Plain Beef Boerewors – was $18.99 kg NOW $16.99 kg
Windhoek Lager Case was $70.00 ea NOW $60.00 ea
Keep an eye out for more weekly specials!"

Lane Cove Market Square
According to a recent article, in the Australian Financial Review, Neighbourhood and sub-regional malls anchored by supermarkets and discount department stores have demonstrated their renowned resilience during the COVID-19 pandemic.
The annual Shopping Centre news survey, which ranks the retail sales performance of shopping centres with between 6000 and 20,000 square metres of lettable retail space, shows that over the 12 months to July, about half reported improved performance on the prior year.
Lane Cove Market Square is second on the list below – it will be interesting to see how the figures change with the opening of The Canopy.
Businesses For Sale
Are you interested in running a cafe located in a prime corner position in Lane Cove?  Details here.
Perhaps you would like to operate a coffee shop in a neighbourhood shopping centre? Details here
A Thai massage shop is for sale.  Details here.
A retail shop or commercial offices is available for rent in The Village Shopping Centre.  Details here
Development Applications
The Lane Cove Squash courts closed last year.  Construction has started on four townhouses.
In October 2019, the Sydney North Planning Panel (SNPP) approved plans to demolish and redevelop the Coles Supermarket Site on Burns Bay Road.
The Developer has now lodged some new less ambitious plans which result in a renovation and refurbishment of the site.  The Developer is Sun Property Pty Ltd (SP).
You can view  DA 115/2020 here.
Lane Cove Business Directory
The following businesses are now listed in our Local Business Directory.
Our advertisers have provided information provided below.
Rent a Nerd is locally based, jargon-free computer assistance company that provides a personal touch when it comes to, at home computer help. We can troubleshoot computer issues that you are facing over the phone before determining that we should come to you to provide help.
We specialise in a home office setup, including multiple computers, cloud storage and backup, printer connection and troubleshooting, internet diagnostics and generally ensuring you are spending more time getting the important things done (like work or spending time with family), rather than worrying about your computer setup.
Call us for an obligation-free chat. Get $10 per hour discount if you mention ITC.
COVID 19
Given the current climate with COVID, so many people now are required to work from home. Our services give you maximum efficiency by setting up your desktop, laptop and handheld device to talk to one another and synchronise the content.  We can come to you with all the necessary precautions taken to keep you safe and to solve your computer problems as quickly as possible.
NO FIX NO FEE POLICY 
At Rent A Nerd we believe in providing cost-effective
 computer assistance
, we have a "no fix, no fee" policy and we are always aware of the time factor. Hence, we work efficiently to keep our visits as short as possible.  Are you a little unsure of the type of computer help or assistance you need?   Don't hesitate to
contact us
for a friendly discussion about what help we can provide for you. There is no cost to call and discuss your computer issues with us. We won't waste your time or your money. If we don't think that we can assist you, we will happily point you in the right direction. We are here to help cut through the technical problems and let you move on to the more important things in your life.
Skin and Laser Studio
Skin and Laser Studio is a boutique clinic located in St Leonards. We pride ourselves on delivering the utmost care and professionalism from the moment you walk through our door and will always ensure you feel welcome and comfortable throughout your treatment. We have a small team of experienced therapists that are passionate about making you look and feel your best!
We offer a range of treatments, such as:
Laser Hair Removal
Microdermabrasion
HydroJelly Masks
Oxygen Infusion Facials
Skin Needling
Cosmetic Injectables
Chemical Peels
LED Light Therapy
Laser Skin Tightening
Laser Pigmentation Removal
Lash & Brow Treatments
Manicures & Pedicures
Spray Tans
Waxing
Special Occasion Makeup Application
Electrolysis
At Skin & Laser Studio, we use the highest standard products & devices to ensure you receive quality results.
Jane Iredale – The Skin Care Makeup
Xtreme Lashes by Jo Mousselli
Skinstitut – Serious Skincare
Intraceuticals
Candela GentlePRO Medical Grade Laser Device
Healite ll LED Light Therapy
Elleebana – Professional Lash Enhancement Products
We offer complimentary skin & laser consultations to discuss your needs and to provide you with a tailored treatment plan.
Skin & Laser Studio is a short 9-minute walk from St Leonards train station, or 2-hour free parking is available on Hume St.
Book online via our website or call us on (02) 80847351.
Keenspark Electrical
In need of a Local Electrician?
Ben Keene has grown up in Lane Cove and is a known local!
His Business, KeenSpark Electrical, offers Upfront Pricing with No Call out fee.
KeenSpark offers customers $50 off their first Electrical Job, if they mention InTheCove, and we also offer 10% off to all pensioners and seniors.
Give Ben a call on 0432 145 674 and discuss your Electrical needs.
Services include but not limited to:
Switchboard Maintenance & Upgrades
Surge Protection
Lighting Solutions
Power Solutions
Apparatus & Appliance replacement and installation
Fault Finding
Smoke Detectors
Earthing Systems
Testing
TV Solutions
Data & Internet
Test & Tagging
Hot Water Systems
Home Re-wires
Level 2
At KeenSpark Electrical, we focus on our customers and providing a service to ensure your absolute satisfaction. With fully stocked vans, we are ready to tackle any job you require.
For an amazing service every time, call the local Electrician, Ben, on 0432 145 674.
Support ITC and Advertise With Us
Not all of the businesses noted above advertise with In the Cove – we like to give all businesses a free shout out when they are starting out.  However, we are so grateful for those businesses who become part of the ITC Business Community.  Without their support, we could not undertake our community and advocacy work.
ITC has hit a few milestones recently.  We now have
Facebook – Over 18 000 followers
ITC Lane Cove Chat – Over 7000 members
Instagram – Over 7000 followers
In The Cove – Web Site Views – Over 2.2 million views since we started our website.
If you would like to advertise and promote your business locally to a very engaged audience email us at [email protected] or message us on Facebook