Lane Cove has become a foodie destination.  With so many new restaurants opening in the last two years and The Canopy, Lane Cove now has a diverse and exciting restaurant scene.  In the Cove has put together a cuisine guide.
Bookmark this page to easily download the guide and decide which restaurant you will be booking tonight.  This is a restaurant guide and only includes restaurants open at night with seating.
Download the Guide – clickable booking links 
Lane Cove Cuisine Guide by ITC (4)

The Alcott
Not Strictly on Longueville Road, but only a few steps away is The Alcott. Slip into a cosy sofa or pull up a chair for a long dinner with friends and enjoy a contemporary menu with classic Mediterranean flavours and some amazing chargrilled dishes.
Contact Details
Address: No. 1 Birdwood Avenue, Lane Cove NSW 
Phone: (02) 9428 5155
Website: www.thealcott.com.au
Facebook: @thealcott
Instagram: @thealcott
ITC Business Community Supporter: The Alcott
Licensed:  Fully Licensed
---
The Longueville
The Longy Bistro has something for everyone.  They have just released a new menu.
Warm and welcoming, you'll love the Longueville Hotel. Open 7 days until late; there is always something perfect for you.
The Villa Bistro
Contact Details
---
Shorties Bar and Dining
Shorties is an intimate restaurant and bar serving up food, designed to be shared, emphasising fresh produce and where everything is made in house.  The owners, Phil and Steve, know their stuff and know what patrons want.  Phil is the co-owner of Small Bar in Crows Nest, and Kirribilli and Steve part-owns The Hayberry in Crows Nest.
Shorties have just released a new menu – read about it here.
Why not try the cocktail named after In the Cove: Gin in the Cove!!!  If cocktails are not your thing, then try a selection of their craft beer.   Shorties are the place you can visit for a pre-dinner cocktail, dinner or an after-dinner cocktail.  The menu is here.
Contact Details
Address:  Shop 1/96 Longueville Road  Lane Cove NSW
Website: Shortieslanecove
Facebook: @ShortiesLaneCove
Instagram:  @ShortiesLaneCove
Email:  [email protected]
---
Lillah
Lillah means beautiful night in Arabic.  Lillah is reminding people that Middle Eastern cuisine is more than Lebanese or Turkish food.  He worked with Nour executive chef Roy Ner to fuse Egyptian, Turkish, Israeli and Lebanese favourites into great dishes.  It's about taking traditional bringing Middle Eastern flavours together and putting a modern twist on the dishes.
ITC has eaten at Lillah several times and each time tasted a different cauliflower dish – if cauliflower is on the menu, order it, you will not be disappointed. There is something on the menu for everyone with a range of vegan, vegetarian and meat dishes. See what all the fuss is about and make a booking for Lillah as soon as you can. Do not leave until you have had the Nutella baklava.
To see the full Lillah menu, click here.
Contact Details
Address:  128 Longueville Road Lane Cove NSW
Facebook: @LillahKitchen
Instagram:  @Lillahkitchen
Email:  [email protected]
ITC Business Community Supporter: Lillah
Licensed:  Beers, Wines, Cocktails, and Spirits
---
Little Red Robin
Little Red Robin will be changing from a degustiation menu to a new modern Italian dining experience. They released the following statement:
Little Red Robin in mid-June, we will debut a brand-new look  with a new modern Italian dining experience offering a selection of delicious Italian inspired dishes PLUS a refreshed and more relaxed dining room & bar, ALL with the same quality service you have come to expect at Little Red Robin.
Think modern Italian dishes with lots of tasty starters, in-house-made fresh pasta, mains & delicious desserts with dishes you'll be familiar with and some new and unique dishes you'll discover, with regular menu updates based on seasonality.
Plus, with our ethos of excellent quality products, we will continue to work with our same top-quality suppliers and continue to support ethical & sustainable farming practices as well.  Expect the same excellent service, same skilled team, same extensive wine list (with a little more focus on Italian wines!) plus the same quality produce, just a more relaxed dining experience with lots of Italian vibes and fun!
You're going to LOVE it.
To celebrate and farewell our wonderful modern degustation dining experience, between Wednesday 12th of May and Saturday the 29th May, we will be offering an exclusive degustation only dining option from Wed to Sat with bookings available at 6 pm and 8.15 pm.
Book Now!  If you have been wanting to try our modern contemporary degustation dining (or you're a regular and LOVE it), make sure you get in before the 29th May to experience this before it's wrapped up to make way for our new direction.  $95 per person with matching beverage pairing add on. It's a true journey of culinary delights."
Little Red Robin will be closed for refurbishment from 30th May and reopening 18th June.
Contact Details
Address:  4/85 Longueville Road, Lane Cove  (enter via Birdwood Lane)
 0294189529
 Littleredrobinrestaurant
 littleredrobinrestaurant
 https://littleredrobin.net.au

---
Four Frogs Creperie
Lane Cove is loving Four Frogs Creperie. It's a very popular place for brunch, lunch and dinner.  Four Frogs Creperie is more than just a French restaurant – it's a real French creperie, with full table service, owned and operated by four French men (the "four frogs").
Try out their sweet crepes for dessert, and savoury galettes for a delicious meal, with a glass of cider or wine and some good company. They're always made to order and are natural, fresh and delicious.   They mill their own buckwheat and make their own sauces.  Four Frogs shred wheels of Swiss cheese every day, slice their own ham as well as chicken and smoked duck. All of their veggies are fresh, and they cook a large volume of mushrooms daily; it's a rather incredible feat! Their onions are cooked in the Britanny tradition of cider, which gives it a great taste. Monthly specials are made with fresh produce, whilst hot food items such as their slow-cooked lamb, garlic and parsley snails are all lovingly prepared in-house. Et Voila! To see the full Four Frogs menu, click here.
Contact Details
Address:  115 – 119 Longueville Road Lane Cove NSW (next to Eyes on Lane Cove)
Facebook: @fourfrogscreperie
Instagram:  @fourfrogscreperie
Email:  [email protected]
---
Kasina Korean Eatery
The Korean Fried Chicken has been a huge hit.  The owners live in Lane Cove and wanted to bring a touch of Korea to Lane Cove.  The wait staff are excellent at recommending dishes.  You must order the Bibimbap. The word Bibimbap translates to "mixed rice with meat and assorted vegetables".
Contact Details
Address:  Shop 5, 79-83 Longueville Road Lane Cove
Phone: (02) 8041 3307
Facebook: @KasinaKoreanEatery
Instagram: @KasinaKoreanEatery
---
Encasa
Encasa Spanish restaurant's owners are seasoned restauranteurs and Lane Cove locals. Maria Barona and Francisco "Pachi" Rodriguez were so excited to bring a little bit of Spain to Lane Cove.  Translating to "at home", En casa operates with the vision of providing Lane Cove with 100% authentic Spanish food – just as you would find on the streets of Spain. Their family-friendly dinner service starts from 5 pm.  Popular dishes include pork and beef meatballs swimming in Pachi's mum's tomato sauce, the lightly battered calamari and potato bravas, fried potato covered in aioli and spicy salsa.
Contact Details
Address:  132 Longueville Road  Lane Cove NSW
Phone: (02) 9418 8577
Website: EncasaLaneCove
Facebook: @Encasa
Instagram:  @EncasaAustralia
---
Foogoo
Foogoo is a modern, fresh Asian restaurant. The name Foogoo is a play on the words Food Good (and the food is good). They serve Yum Cha and modern Chinese and also some of your favourites like Kung Pao chicken.  Foogoo is owned by a Lane Cove couple who are passionate about fresh food.  They make everything on site, including their dumplings and sauces. Foogoo caters for a family dinner or a night out without the kids.  The steamed dumplings are a hit.  This is not your average suburban Chinese Restaurant.
Contact Details
Address:  94B Longueville Road Lane Cove NSW
Phone: 02 7900 7081
Facebook: @Foogoo
Website:  http://www.foogoorestaurant.com.au/
---

Masala Kitchen
Masala Kitchen presents the concept of modern Indian cuisine – unedited and unapologetically authentic. Diners will be taken on a taste trip to India's oldest flavours, with intense and intoxicating dishes and aromas made in a hand-crafted manner. Using only the freshest top-quality ingredients and chefs trained in the traditional Indian school of cooking, they bring to you a truly unique sensory experience.
Masala Kitchen in an Indian restaurant that also has high teas and a gin bar.
Contact Details
Peanut Butter Jelly
Peanut Butter Jelly offers street food-inspired dishes from cultures worldwide, infusing flavour combinations from regions such as South East Asia, North America, Central and South America.
There are tacos, burgers, Curry Arancini Balls, Pork Belly Bao and more.
Garcon
Let Garcon take you to the heart of Paris from our very own Lane Cove. We've brought some French charm from our signature Tramsheds venue to the vibrant, sunny Canopy, making our new home in the North Shore. With an elegant and varied menu, inspired by traditional French cooking and transformed by our signature Lane Cove touch, our food is sure to impress.
Enjoy a meal overlooking the green Canopy or dine under our indoor forest with views of our chef's magic in an open kitchen. The perfect go-to venue for your next meal, join us for a drink with friends, a long lunch with family, a dinner date or a quick lunch break. Our fresh and inspired day menu, and a delectable dinner menu with a wine list to match, will be sure to make Garçon a local summer favourite.
We're proud to provide a touch of France to Lane Cove, so call for "Garcon"! We'll be here with a smile, ready for your next visit.
Come book a table and join us at the Canopy.
Contact Details
---
Pho Sam
Pho Sam has a variety of soups, including Raw Beef Noodle, Chicken Laksa and Special Beef Combination Noodle Soup. If you feel like a curry, look no further than Pho Sam.
Contact Details
---
Da Mak Fusion Restaurant
Da Mak promises the Nepalese Experience.  Da Mak is ideal for parties and occasions. They offer a buffet or banquet menu as per your need. They are BYO wine only. Their in house specials include Nepalese street food.
Contact Details
---
Delhi Hut
Delhi Hutt Indian Restaurant is Family owned and operated. Proudly serving since 1998. We really strive for authenticity in any way possible.
Delhi Hutt delivers honest, authentic, homestyle Indian cooking, created using traditional recipes with characteristic Indian spices, herbs, vegetables with the warmth and hospitality from the land of spices.
They make Fresh bread in a traditional clay oven.  Spiced by Delhi Hutt is your perfect destination for a romantic dinner, group bookings, catering and even takeaway and free home delivery for those nights you just don't feel like cooking and want to treat yourself.
Hot and fresh bread, candles, dim lights, and soft instrumental music makes your dining experience truly magical.
They have Gluten-free and Vegan options available also. Free home delivery. They are licensed and BYO (Beer and Wine). Their banquets start from just $34.90 per person.
Check out their banquet menu here.
Contact Details
---
Cocktails
Looking for cocktails, then check out our cocktail guide here.
Brunch
Looking for brunch in Lane Cove, then check out our brunch guide here.
Are You Looking to Buy or Sell in Lane Cove?
In The Cove is now producing a weekly Lane Cove Property Update.  See our latest update here. 
If you are selling, ask your agent if they are an ITC Lane Cove Property Guide supporter.

In the Cove is on Instagram
If you would like to follow ITC's travels throughout Lane Cove and see some beautiful pictures of where we live, follow ITC on
 Instagram here.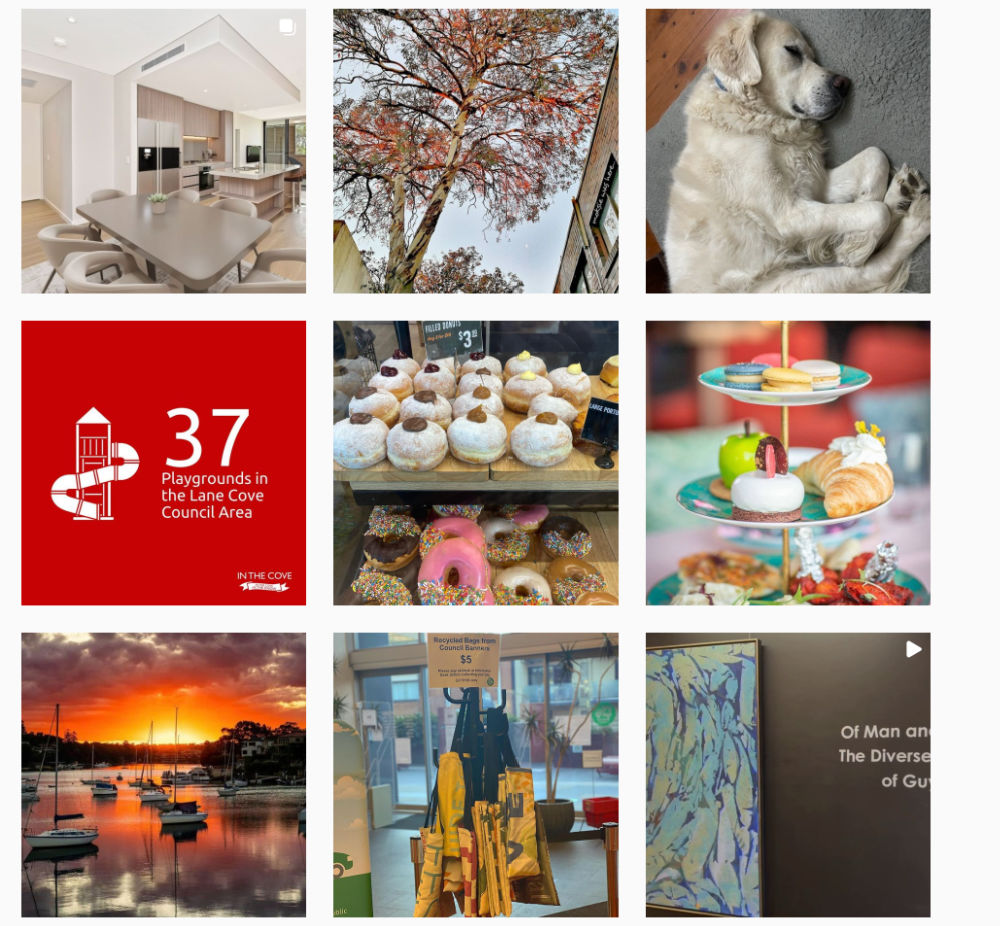 ---