Welcome to our week in review.
Lane Cove 2021 Citizenship Awards
This week the Lane Cove Council held their annual Citizenship Awards. So many wonderful people were recognised for their role in making Lane Cove a great place to live.  John Devine, the chair of Sydney Community Services, was named 2021 Citizen of the Year.
Please read all about the worthy recipients and what they do to make Lane Cove a great place to live here.
Lane Cove 2021 Neighbour Awards
At the same ceremony, the annual Neighbour Awards were announced. Well done to the Residents of Avalon Avenue, Julie Mckibbin and Tanya Duffy, for receiving a Neighbour Day award. Find out more here.
Traffic Congestion has Returned
On Saturday morning the ITC family was driving back from the City to Lane Cove just after midday.  The traffic heading into the city was backed up to Reserve Road exit on the Gore Hill Highway.  It was bumper to bumper.  The Sydney Morning Herald published an article on Sydney Traffic Congestion and they found:
"Saturday traffic in Sydney is as bad as it's ever been, with recent weekend volumes returning to, or even exceeding, pre-coronavirus levels across the city.
An extra 230,000 traffic movements were recorded on average on Sydney's roads between 11 am and 12 pm on Saturdays in April and May compared to 2019, new Transport for NSW data."  You can read the full report here (it is paywalled).
COVID19 Vaccination Update
Starting on Monday, 17 May 2021, people aged 50 years and over can now receive the AstraZeneca COVID19 vaccine at participating Lane Cove general practices. Previously AstraZeneca was only permitted to be administered by GP's to residents who fell within the Phase 1a and 1b eligibility criteria.   Locals have advised ITC that they can now source the vaccine at their GP; however, we have been told that there is plenty of supply and minimum waiting time at the Ryde Respiratory Clinic.
From Monday 24th May 2021, if you are 50 years and over, NSW health will be offering appointments for AstraZeneca vaccinations at the NSW Health Vaccination Centre at Sydney Olympic Park from Monday 24 May 2021.
If you are aged between 40 and 49, NSW health has been offering appointments for the Pfizer vaccination at the NSW Health Vaccination Centre at Sydney Olympic Park.  A roving reporter told us the best link to book is here.
Issues with Free to Air Reception in Lane Cove
On Lane Cove Chat, ITC members advised their free-to-air television reception (via antenna) was poor. They were having sound and quality issues across all channels.
ITC contacted the Australian Communications and Media Authority (ACMA) and asked them if they were aware of any issues in Lane Cove. An ACMA spokesperson advised ITC the following:
Have you received many complaints from the Lane Cove Area in the last two weeks?
ACMA has received one complaint within the past 14 days regarding TV reception in Lane Cove NSW. ACMA is investigating this issue further.
What would you advise residents to do?
ACMA has a general guide (https://www.acma.gov.au/poor-tv-reception-your-self-help-guide) to assist viewers who experience tv reception problems to resolve their issue. In this case, the residents who experience TV reception issues in Lane Cove NSW may want to contact ACMA Customer Service Centre on [email protected] or 1300 850 115. This information will assist ACMA in conducting its investigation.
Some residents are blaming this issue on the removal of the Channel Nine tower in Willoughby (next suburb). However, we understand that this tower was decommissioned a while ago.
Based on the available evidence and reported timing of the issue, it is unlikely that the reported issues are related to the removal of the Channel Nine tower in Willoughby. The services from this tower were decommissioned a while ago.
Construction Noise
Are you living near a construction site that has been operating 7 days a week? This week, the NSW Government announced that temporary measures allowing construction on Sundays and Public Holidays will stop on 7th June 2021. Find out more about Construction Noise and what you can do if the builder is not complying with the time restrictions here.
Lane Cove's Housing Strategy
Lane Cove Council is currently consulting with the community on its Draft Local Housing Strategy (LHS).
Metropolitan Sydney councils are required to develop an LHS that assist them in setting a clear plan for housing in their local government areas over the next 20 years.
This Draft LHS intends to provide a detailed, evidence-based framework that informs how, where, and when residential development will occur to support a diverse and growing population for the next 20 years. It expands upon Lane Cove Council's adopted housing principles in its Local Strategic Planning Statement (LSPS).
Submissions received during the public exhibition period will be collated and the issues raised will be addressed in a post-consultation report to Lane Cove Council. Once endorsed by the Council and the Department of Planning, Industry and Environment, the adopted Strategy will be published on Council's website and the NSW Planning Portal.
To find out more, you can view the Draft Strategy and all relevant background documents online at www.lanecove.nsw.gov.au/haveyoursay.
To have your say on the Draft Local Housing Strategy, please make a submission to the General Manager quoting the reference 'Draft Local Housing Strategy – SU8406' by:-
Post: PO Box 20, Lane Cove NSW 1595; or
Email: [email protected]
Submissions close at 5:00 pm on Wednesday, 30 June 2021.
For further assistance, please contact Strategic Planning at Council on (02) 9911 3627 or via email [email protected].
Burns Bay Dance Studio Raises Money for Charity
On Saturday, 21 May 2021, Burns Bay Dance Studios raised over $5 000 for Dance for Sick Kids.   Well done to Chelsea Capper (owner of BBD Studios) and all her dancers.
Lane Cove Loves a Bargain
The annual ALDI ski sale started at 8.00 am on Saturday 21 May 2021, and a roving reporter told us there was a huge line waiting outside of ALDI Lane Cove to grab a bargain on ski gear.
Australia's Biggest Morning Tea
If you would like to be involved in Australia's Biggest Tea on Thursday 27th May 2021, you are invited to Cobden & Hayson Lane Cove's Australia's Biggest Morning Tea. In collaboration with other local small businesses, Cobden & Hayson Lane Cove are hosting a morning tea, and they would love to see and get to know many more of you!! Please pop by for morning tea and help raise money for a great cause. Grab some friends and come along. Details here.
Liveability Census
Lane Cove ​Council is inviting Lane Cove residents to participate in the 2021 Australian Liveability Census.
The online survey will capture community values and measure performance from the perspective of the communities who live in neighbourhoods across Australia.
Lane Cove Council is keen for as many locals to participate to help them better understand how liveable our neighbourhoods are and how we can help make our local government area a place for everyone to enjoy.
The Census survey​ will take less than 15 minutes to complete.
The first part of the survey is about your ideal neighbourhood and what is most important to you – it will take about 5 minutes. In the second part of the survey, you will get to rate the neighbourhood you live in now – that will take less than 10 minutes.
To complete the online survey, visit placescore.org/dc by 30 June 2021.
Crime/Accident and Incident Report
Lane Cove
Investigations are continuing into a collision between a vehicle and pedestrian at the intersection of Burns Bay Road and Beatrice Street.  Around 3 pm on 12 May, the pedestrian is reported to have stepped onto the road in front of a white Toyota Corolla colliding with the vehicle's front and causing the windscreen to break.  The pedestrian was able to stand and walk from the road but was later diagnosed with bleeding on the brain and several fractures and was admitted to the Intensive Care Unit at North Shore Hospital.
Lane Cove
Police were patrolling in Lane Cove on Friday night when they observed a large group of loud, intoxicated youths near the intersection of Rosenthal and Burns Bay Road. Police stopped and spoke with the youths around 11.30 pm, and they were directed to leave the area due to their behaviour.
Lane Cove  
A man has received a $550 fine for Failing to leave a licenced premises on Friday night.  The man was refused service in a bottle shop in Longueville Road around 7.30 pm due to being intoxicated and argumentative with staff.  The man then refused to leave the store, so Police were called.  The man continued to be argumentative with attending Police and was directed to leave and issued a fine.
Lane Cove
Plain Clothes Police were at a location on the Pacific Highway on Thursday 13 May when they observed a man park a vehicle and loiter around an unmarked Police vehicle.  Police approached the man, and checks revealed that the man's licence was disqualified.  The man was also found to be in possession of a prescription medicine that he did not hold a prescription for.  The man was issued with a Court attendance Notice for Drive while disqualified and Possess prescribed restricted substance and is due to appear at Hornsby Court in June.
Willoughby/Artarmon Operation
On 14 May, officers from North Shore Police, Australian Border Force and NSW Fire and Rescue conducted a joint agency operation targeting brothels in Willoughby and Artarmon.   Several immigration and fire safety breaches were detected.   A 42-year-old Willoughby woman was charged for drug possession and will face Hornsby Court in May, and a North Willoughby woman was fined $18,000 for hiring an unlawful worker.
Jobs Jobs Jobs
In the Cove is a local publishing and media business, but we have a huge community focus.  One way we can give back to the community is via our jobs board.  To encourage local employment and to help local businesses, we offer FREE job listings.
We currently have a few local jobs that would suit parents wanting flexible times or Uni Students – Check out our jobs board here.
If you have a local job email us at i[email protected] with your job details.
See The State of Origin on the Big Screen on the Green
This week in review is sponsored by the Longueville Sporting Club (aka the Diddy)
The State of Origin might be in Melbourne on 9th June, but you can watch it on the green on the big screen at the Diddy.
Announcement from The Diddy
"The State Of Origin is just a few weeks away, and we can not wait! Due to indoor capacity restrictions, we will be showing the game live on the top green so that everyone can enjoy it!
We plan to relocate many of our outdoor tables to the top green, making sure you book early to secure your spot. They will go quick! Book Here – https://bit.ly/2RrYnQi (hit the bookings link at the top of the page)
See you soon!"
The Photo Below shows you how HUGE the screen will be.
Are You Looking to Buy or Sell in Lane Cove?
In The Cove is now producing a weekly Lane Cove Property Update.  See our latest update here. 
If you are selling, ask your agent if they are an ITC Lane Cove Property Guide supporter.

In the Cove is on Instagram
If you would like to follow ITC's travels throughout Lane Cove and see some beautiful pictures of where we live follow ITC on
Instagram here.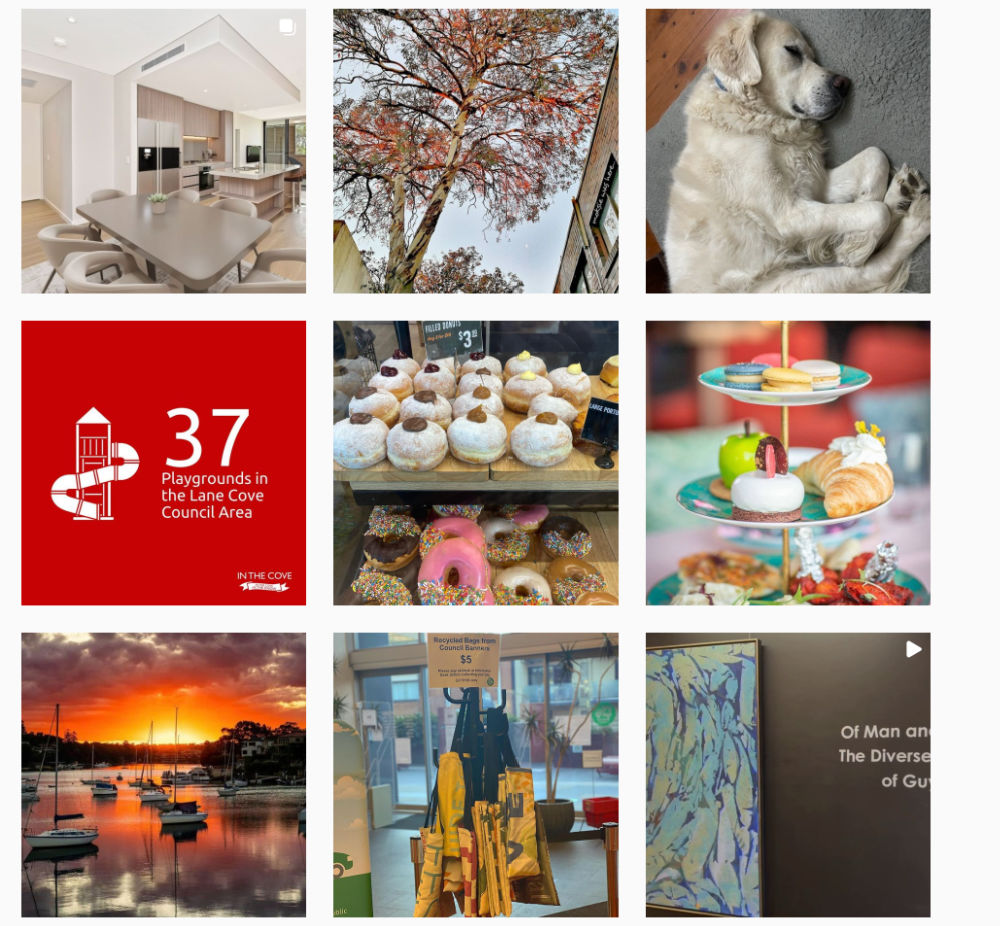 Our cover photo is the Lane Cove Concert Band playing in the Lane Cove Plaza on 22 May 2021 taken by roving reporter Jane Hardingham.