Melbourne-based artist Peter Wegner has won the 2021 Archibald Prize and $100,000 for his portrait of Lane Cove Living Legend artist Guy Warren AM, titled Portrait of Guy Warren at 100.
A six-time Archibald Prize finalist, Wegner painted 100-year-old Warren, coinciding with the 100th anniversary of Australia's oldest and most-loved portrait award.
Speaking from Melbourne, Wegner was emotional when Art Gallery of NSW director Michael Brand delivered the news that his 'brilliant portrait' of Guy Warren was the winner of the 2021 Archibald Prize.
'When Michael called, my wife burst into tears, and I was speechless. This is an unbelievable moment in my life. It's the culmination of years of my time in the studio and validation of my work.
'When I think about the canon of all the previous winners, and I get to be one of those names, especially in the 100th year, it is just an extraordinary feeling. I am humbled.
'Guy Warren turned 100 in April – he was born the same year the Archibald Prize was first awarded in 1921. This is not why I painted Guy, but the coincidence is nicely timed,' Wegner said.
'I have been working on a series of drawings of people who have turned 100, beginning with my Aunty Rita seven years ago. I've gone on to draw more than 90 centenarians. I chose to paint Guy Warren because he is one of the most incredible centenarians l have ever met. This portrait honours Guy in the 101st year of his productive and meaningful life,' Wegner added.
Guy Warren
Guy Warren won the 1985 Archibald Prize with a portrait of artist Bert Flugelman, which is included in the Archie 100: A Century of the Archibald Prize exhibition at the Art Gallery. This is the seventh time he has been an Archibald subject, including a self-portrait in 1996. Guy Warren started his working life at The Bulletin magazine, founded by JF Archibald, whose bequest established the Archibald Award in 1921.
Brand said Wegner's painting was selected as one of 52 finalists and then the winner from 938 entries for the Archibald Award 2021.
'Peter Wegner's tender portrait of Guy Warren provides a moving insight into the artist's state of mind as he navigates his 101st year with characteristic grace and good humour. The fact that  Guy Warren was himself an Archibald Prize winner in 1985 adds a wonderful layer of history to the poignancy of the portrait. Who wouldn't want to look at this content at the age of 100?' said Brand.
Guy Warren is a past Lane Cove Citizen of the Year.  In 2021, Guy was awarded a special Lane Cove Council lifetime achievement award.  The award acknowledged his long-standing support of Lane Cove artists, which began 60 years ago when he arrived in Greenwich. Guy was a member of the Lane Cove Art Panel from its inception in 1963. He also assists in judging the Lane Cove Art Award and the Lloyd Rees Youth Art Award while also being a trustee of the Centrehouse Association from its formation to incorporation.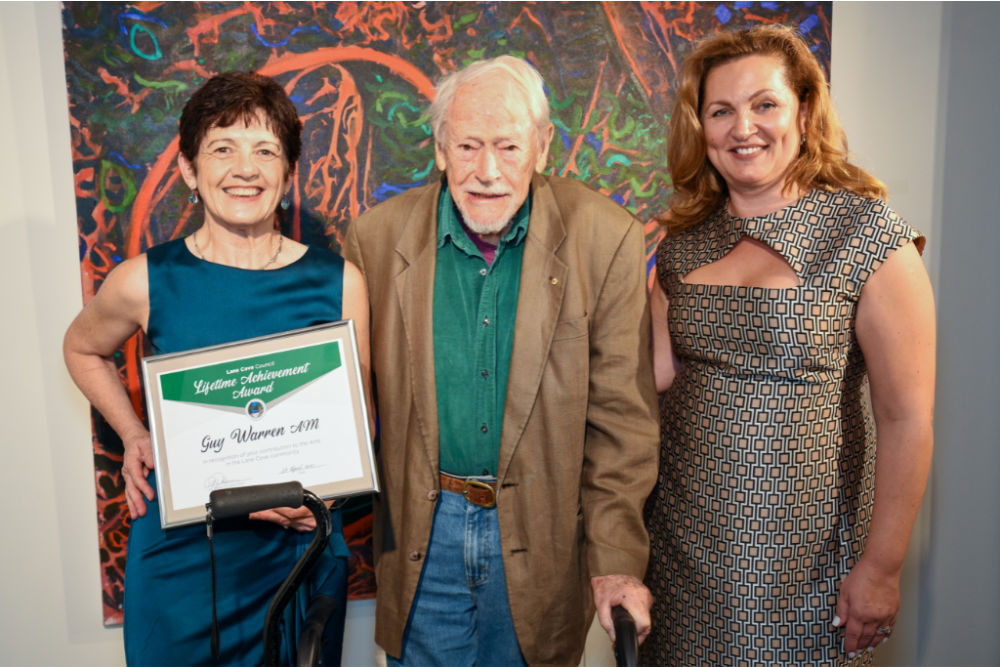 Guy has received the highest of accolades for his contribution to the arts, including a Medal of the Order of Australia OAM (1999) and an Australia Medal AM (2013).
Guy has garnered awards including the AGNSW Trustees' Watercolour Award (Wynne Prize Exhibition) (1968), the Archibald Prize (1985) and the 4th International Triennale of Drawing in Poland (1988). His work is held in public art collections across Australia and prominent international public and corporate collections.
In May this year, Gallery Lane Cove + Creative Studios presented a successful major centenary survey exhibition of Guy Warren's artworks, spanning his creative arc as a painter from the 1940s through to his self-proclaimed time of great productivity during 2020.  The exhibition was initiated and curated by Gallery Lane Cove. You can read more about Guy Warren's exhibition here 
Gallery Lane Cove + Creative Studios named their largest Studio space, primarily designed for painting and drawing, after Guy Warren as a tribute to his support of Lane Cove artists.
Rachael Kiang is the Manager and Curator of Gallery Lane Cove + Creative Studios she told ITC:
"The winning portrait of Guy Warren is an excellent painting. Congratulations to Peter Wegner – it is well deserved. This marks yet another event of significance for the remarkable centenarian artist who was also the winner of the 1985 Archibald Prize himself with the portrait of Bert Flugelman. It is very fitting that the subject of the portrait, Guy Warren, and the Archibald Prize both turn 100 this year."
Each Year the Lane Cove Art Society holds an exhibition called ArtXtra.  This exhibition showcases the amazing talents of the members of the Lane Cove Art Society.
All works are eligible for the prestigious Lloyd Rees Prize and the Guy Warren Prize for the two Best in Show.
In 2017 In The Cove was lucky enough to meet Guy Warren. Below is Guy's picture with the 2017 winner of the Guy Warren Prize, talented Dana Dion Artist. Dana is one of the artists behind the popular Greenwich Village Arts Trail.
About the Archibald Prize
The Archibald Prize winner is decided by the Art Gallery's Board of Trustees. Board president David Gonski said, 'I wholeheartedly congratulate all finalists in the 2021 Archibald, Wynne and Sulman Prizes. The Wynne and Archibald Prizes, which are selected by me and my fellow trustees were especially difficult to judge this year, with a number of worthy contenders. But the decision was unanimous, and I applaud the winners.'
Highly commended – Archibald Prize
This year two highly commended honours were awarded to Sydney artist Jude Rae for her self-portrait Inside out and Brisbane artist Pat Hoffie for her portrait of her daughter titled Visaya in a c-collar.
You can read more about the other winners and how you can view the Archibald Exhibition here.
Our Cover Photo is from AGNSW, Felicity Jenkins.
Are You Looking to Buy or Sell in Lane Cove?
In The Cove is now producing a weekly Lane Cove Property Update. See our latest update here. 
If you are selling, ask your agent if they are an ITC Lane Cove Property Guide supporter.

In the Cove is on Instagram
If you would like to follow ITC's travels throughout Lane Cove and see some beautiful pictures of where we live, follow ITC on Instagram
 here.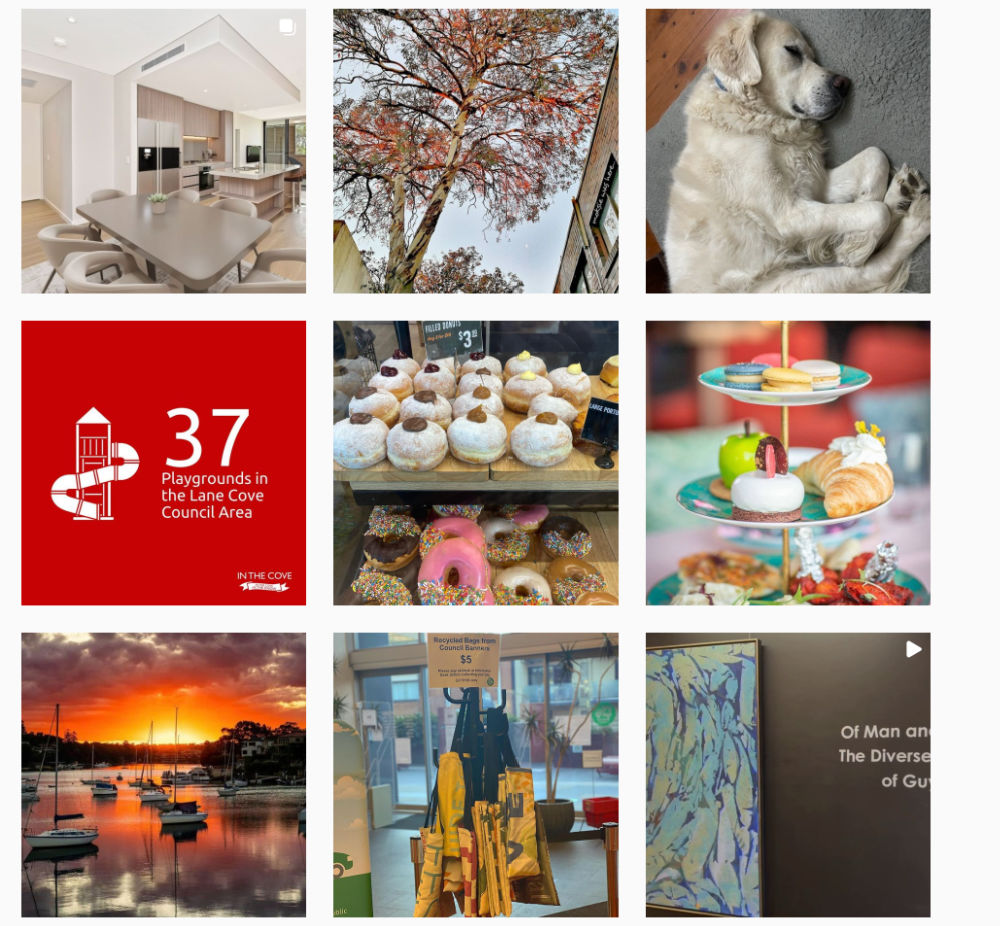 In the Cove Weekly News Blast
Have you ever heard people talking about a hot Lane Cove issue and wondered how they knew about it?  More than likely, they get our newsletter every Wednesday Night at 7.30 pm, and it has all the info that was on any of our social media platforms and more – so sign up now and never have FOMO (fear of missing out). SIGN UP HERE