Welcome to our week in review.  This article has been updated to include COVID19 information as of 14th July 2021.  Happy Bastille Day to all our French readers.
COVID19 Update – 14th July 2021
Lockdown has been extended to Friday 30th July 2021 – this includes home learning.
NSW recorded 97 new locally acquired cases of COVID-19 in the 24 hours to 8 pm last night. Of these locally acquired cases, 61 are linked to a known case or cluster – 45 are household contacts, and 16 are close contacts – and the source of infection for 36 cases remains under investigation. 60 cases were in isolation throughout their infectious period, and seven cases were in isolation for part of their infectious period.
Twenty-four cases were infectious in the community, and the isolation status of six cases remains under investigation. The 24 cases are the issue – unless the number of community transmissions goes to 0 – lockdown will continue.
There are currently 71 COVID-19 cases admitted to hospital, with 20 people in intensive care, four of whom require ventilation.
There were 65,322 tests reported at 8 pm last night, compared with the previous day's total of 49,055. If you have any symptoms, please get tested – closest and quickest testing centres here.
Note – of the 97 locally acquired cases reported to 8 pm last night, 70 are from South Western Sydney Local Health District (LHD), 14 are from South Eastern Sydney LHD, five are from Sydney LHD, four are from Western Sydney LHD, two are from Northern Sydney LHD, and two are from Nepean Blue Mountains LHD.
NSW Health administered 20,622 COVID-19 vaccines in the 24 hours to 8 pm last night, including 6,587 at the vaccination centre at Sydney Olympic Park.
The total number of vaccines administered in NSW is now 2,783,768, with 1,094,431 doses administered by NSW Health to 8 pm last night and 1,689,337 administered by the GP network and other providers to 11.59 pm on Monday 12 July.
Shopping and Exercise
We have been asked to clarify the rules around shopping and exercising.
The rules are:
Shopping
Only 1 person per household may leave their home each day to shop for food or other goods and services.
You may take a dependent person with you if that person cannot be left unaccompanied.
Go directly to and from the shops to get what you need. Do not spend time looking at other things.
Our cover photo was taken in Lane Cove Market Square today around 9.30 am – it shows that Lane Cove is quiet.  ITC was out as we need to pick up prescription medicine from the chemist.
Exercise and outdoor recreation
Stay within your local government area or within 10km of your home
You can exercise with 1 other person who is not from your household.
If there are more than 2 people in your household, you can go out together for exercise.
If you are driving to outdoor exercise and recreation within your local government area or within 10km from your home, you can only share a private vehicle (your car) with other people from your household.
New Rules for Apartments and Units
From Tuesday 13 July, face masks must be worn in all indoor common property areas of residential premises in Greater Sydney (including the Blue Mountains, Central Coast, Wollongong and Shellharbour).
This includes any shared areas in apartment blocks, including lobbies, lifts, stairwells, corridors and laundry facilities.
Masks must be worn by anyone entering, including:
residents
staff such as cleaners and building managers
visitors such as tradespeople, contractors, food and mail delivery services
You do not need to wear a mask inside your own apartment.
If you live in Greater Sydney but not in residence with shared spaces, this mask advice does not apply to you.
COVID 19 Fragments Found in Boronia Park Sewage
COVID19 fragments have been  found in the Boronia Park sewage network (sampled 6 July 2021)
The Boronia Park catchment takes the sewage from Melrose Park, Camellia, Northmead, Constitution Hill, North Parramatta, Telopea, Denistone, Denistone West, Dundas Valley, Dundas, Carlingford, Oatlands, North Rocks, Ermington, Parramatta, Baulkham Hills, Rydalmere, Winston Hills, Woolwich, Huntleys Point, Huntleys Cove, Henley, East Ryde, Meadowbank, Gladesville, Tennyson Point, Putney, Hunters Hill, Denistone East, Ryde, Eastwood, West Ryde.
This is of concern as no cases were reported of COVID19 in those areas up to the date of testing on 6th July 2021.
On two occasions in Tunks Park Sewer Network, Fragments have also been found, and this network services Lane Cove North.
You can check out the list of areas where fragments have been detected here
Free Business Seminar
ITC is excited to partner with Well Run to offer a FREE workshop for any local businesses who would like to learn how to understand their own business performance.
Well Run offers Virtual CFO services for businesses that want more than what their accountant can offer. Delivering timely, accurate information to help reach your businesses potential.
All you have to do is register for the Zoom meeting here.
Lane Cove Historical Society
The Lane Cove Historical Society needs your help. They look after Carisbrook Historic House and unearth amazing historical facts about Lane Cove. They need a treasurer – want to get involved and help them out. By the way, when lockdown is over, you must visit Carisbrook Historical House – it brings the 1880's to life.
Update On Local Council Elections – 4th September 2021
NSW Councils are preparing for all contingencies for the September elections.
Councils are gearing up to help guarantee NSW voters have their say while staying COVID-safe in the September local government elections, Local Government NSW said this week.
LGNSW President Linda Scott said changes to State Government regulations announced on Friday (July 9) would help support those efforts, with voters able to access an online iVote option, as well as postal or in-person options.
"Resident safety remains the number one priority for councils, and I am confident we can meet this priority and still hold fair and transparent elections," Cr Scott said.
"The new rules focus on ensuring COVID-safe voting, which gives every eligible member of the community an opportunity to elect the council of their choice.
"I have met with the NSW Electoral Commission and Office of Local Government this month to confirm councils' commitment to safe, transparent and accessible elections."
The updated electoral regulations allow for an online iVote option under similar circumstances to postal voting, broadening pre-poll eligibility to all electors and expanding postal voting eligibility.
Cr Scott said it was crucial people know all the voting options available to them, as voting in local government elections in NSW is compulsory under State legislation.
"Council elections are a celebration of democracy at a grassroots level, and I am pleased the new electoral provisions released by the State Government this week recognise and support that process," she said.
"It has always been our view that local government elections should be run in the same way as every other level of government.
"At our 2019 Annual Conference, councils supported the online iVote platform as an option to accomplish this.
"The amendments also provide scope for restrictions on campaign posters and handing out electoral materials where these restrictions are necessary for public health reasons.
"I encourage all voters to visit the NSW Electoral Commission's website for official updates."
DA – Submitted for 24/7 Operation of Shell Service Station Burns Bay Road
The operators of the Shell Service Station on Burns Bay Road have lodged a DA for 24/7 operations. If you live around this area and you think this will impact you (either positively or negatively), you can lodge comments with the Lane Cove Council. You can view the DA on the Lane Cove Council website under currently advertised DAs here.
Crime/Incident/Accident Report
On 12th July 2021, Riverview and Greenwich's residents reported attempts to break into cars.  One car was vandalised.
The person below was seen on security cameras trying to break into cars in Greenwich. At one house, he stole the packages that had been delivered in the early morning.
Car Intentionally Scratched at Tambourine Bay Park
An ITC reader reported that her car was intentionally "keyed" while she was out walking with her dog.  The scratches are deep and will require panel beating to fix.
North Shore Police Area Command Report
North Shore Police continue to conduct patrols and investigate reports from the public regarding any breaches of the current Public Health Order restrictions.
A 40-year-old Artarmon man was issued an infringement notice on 10 July when Police observed him visiting a friend in Artarmon.   A 17-year-old male was issued an infringement notice on 9 July to leave his home for around 5 hours to meet and drink with several friends in Chatswood.   Police were also called to a location in St Leonards around 9 pm on 10 July, where six male construction workers were drinking and socialising together after work.  All six males were issued with infringement notices for breaching the Public Health Order.
Police would like to remind people to be vigilant when expecting parcel deliveries.  North Shore Police continue to receive reports of parcel theft, with the most recent reports being in Neutral Bay on 10 July and Greenwich on 12 July.  Police recommend collecting parcels from apartment building lobbies as soon as they are delivered or having them delivered to somewhere secure.
A St Leonards resident has been scammed while trying to sell an iPhone on Gumtree.   A person posing as a potential buyer contacted the St Leonards woman in June, and it was agreed that payment could be made through Paypal. The St Leonards woman posted the iPhone after receiving an emailed Paypal receipt, which was later found to be fake.  The buyer is no longer responding to the St Leonards woman.
A Chatswood resident has been scammed by a person claiming to be from NBN.  The victim was contacted on 8 July and told she would be eligible for a refund if she converted her NBN from copper to fibre optic.  The victim then transferred money to a nominated bank account before realising it was a scam.
Police would like to identify a man who exposed himself in front of a 27-year-old woman on 10 July.  The incident occurred near the bus stop on Military Road and Prince Street around 10.30 am.  The man is described as Caucasian, about 50 years of age, 180 cm tall, large build and curly grey hair and was wearing a long black coat which was buttoned at the top.  Anyone with information should contact Crimestoppers or North Shore Police.
A Crows Nest man has been refused bail and charged with Shoplifting and Damaging Property.  Police allege that the man entered a medical centre in Crows Nest on 8 July and pushed and broke a sign displaying a QR code after being asked to wear a face mask.  The man allegedly left the medical centre and stole beer, whiskey, and vodka from a nearby bottle shop.  Staff at the bottle shop recognised the man as he had been arrested and charged two days earlier for damaging the door of the shop.  Police arrested the man at his home the next day, and he is due to appear at Hornsby Court in July.
A 15-year-old Toongabbie girl has been charged after she allegedly stole a car from Neutral Bay in February.   The vehicle was involved in a collision a few days after it was stolen, and Police were contacted when the driver fled the scene of the accident.   Police seized the vehicle, and a suspect was identified from forensic evidence found in the vehicle.  The 15-year-old girl is due to appear at Children's Court in August.
Toilet Paper Robbery
North Shore Police Area Command has reported an unusual crime in Artarmon (or as we like to call it Lane Cove East – hi to all our Artarmond followers – we love you)
Sometime between 11:00 am Wednesday 30th June and 3:45 pm Thursday 1st July unknown offenders have forced their way into a property on Francis Street, Artarmon. The offenders accessed a storage cage at the property and managed to make off with a snowboard as well as a large box of toilet paper belonging to the residents.
Police are investigating the incident and are asking for anyone that may have noticed any suspicious activity at the stated location during the given times and dates to, please contact North Shore Police on 9414 8499 or Crime Stoppers (1800 333 000 or www.crimestoppers.com.au
Accident
Be careful out there on the wet roads; there was a nasty accident at the lights at
Burns Bay Road and Waterview Drive this week.
Are You Looking to Buy or Sell in Lane Cove?
In The Cove is now producing a weekly Lane Cove Property Update. See our latest update here. 
If you are selling, ask your agent if they are an ITC Lane Cove Property Guide supporter.

In the Cove is on Instagram
If you would like to follow ITC's travels throughout Lane Cove and see some beautiful pictures of where we live, follow ITC on Instagram
 here.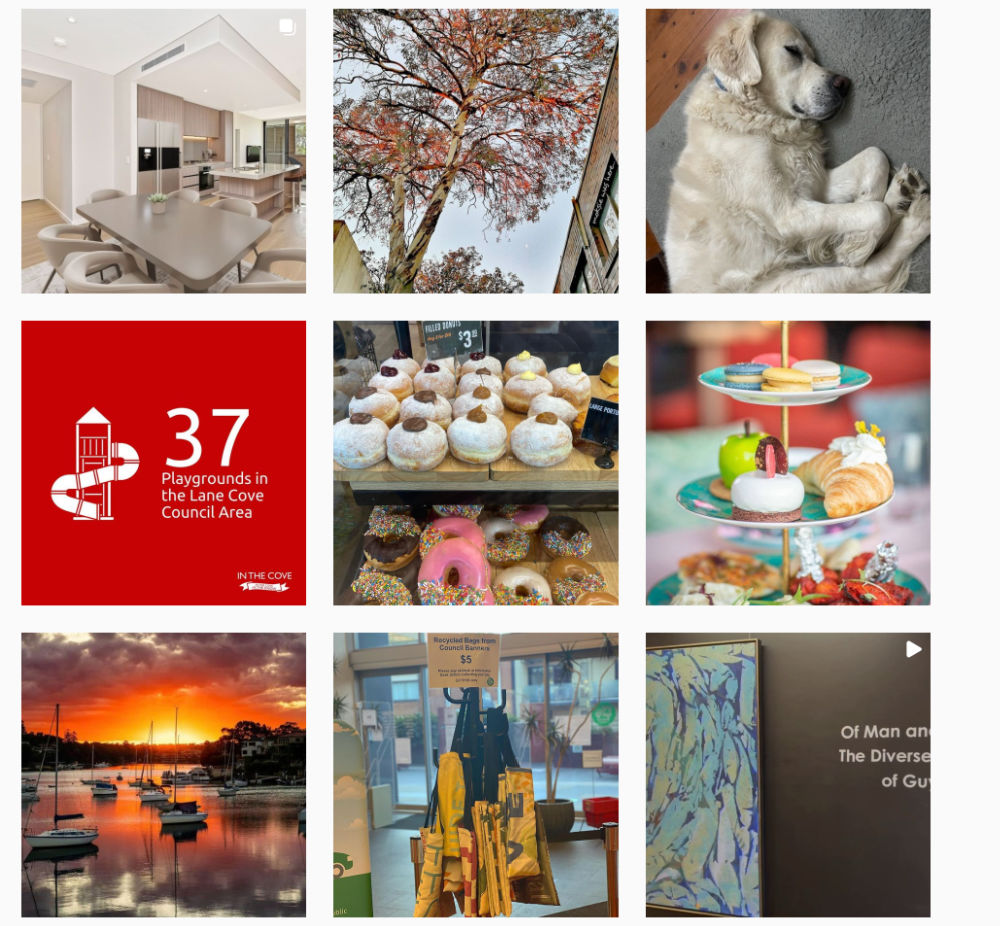 In the Cove Weekly News Blast
Have you ever heard people talking about a hot Lane Cove issue and wondered how they knew about it?  More than likely, they get our newsletter every Wednesday Night at 7.30 pm, and it has all the info that was on any of our social media platforms and more – so sign up now and never have FOMO (fear of missing out). SIGN UP HERE