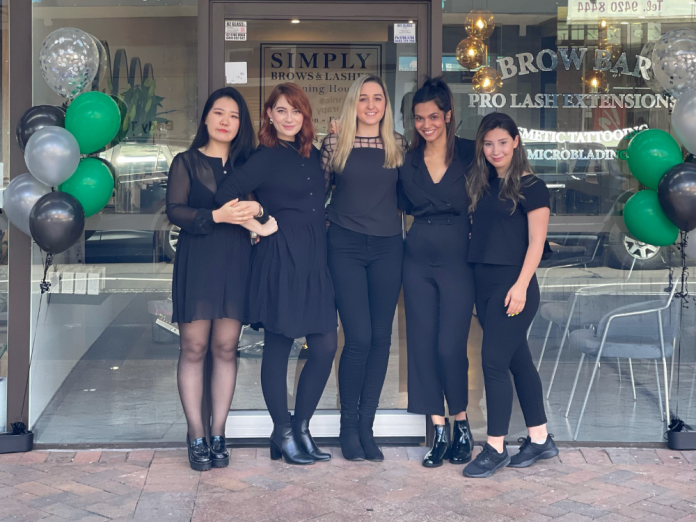 Lane Cove has a new brow, lash and cosmetic tattoo bar – Simply Brows & Lashes.  You know what they say, the eyes frame the face and if you have beautifully groomed eyebrows it makes a difference.
Simply Brows & Lashes – Who Are They?
Simply Brows & Lashes was founded by Jaimee who is a humanitarian at heart and loves helping people.
Over 12 years ago, Simply Brows & Lashes opened the first major store on the famous South Yarra Toorak Road in Melbourne.
Simply Brows & Lashes now have 5 salons across Australia and are planning to open more in the new year!
Their mission is to put customer service first always.
After being in the industry for years they understand that continuity and getting that same amazing standard of service and results is extremely important to clients, and so staff have been thoroughly trained to give thorough consultations on all services to ensure customers get the best brows and lashes!
Services
You will be blown away by the services offered.  They include:
Henna & Tint Bar
Simply Brows & Lashes believe each brow tint should be custom mixed for individual clients as no one colour suits all. We offer a range of tint styles from the most subtle definition with traditional tint right up to super defined statement brows with henna tint.  A brow tint can last up to 2-3 weeks and henna tint about 4 weeks depending on your skin type.
Brow Bar Threading and Waxing
A brow tidy-up or reshape begins with a consultation on the shape, likes and dislikes, what is possible to achieve, and advice on achieving the ideal brow shape for you. Simply Brows & Lashes specialise in threading and waxing so the choice is yours.
Keratin Lash Lift Bar
One way to think of a lash lift is like a perm for your eyelashes. Unlike a lash extension, a lash lift simply alters the shape and colour of your natural lashes.
The Lash Lift services come with Keratin as standard. Have your lashes beautifully curled of your lashes from the base to open your eye. Lasts 6-8 weeks. Add on a brow thread or wax if you choose under our Brow Bar Menu
Classic Lash Extension
Classic Lash extension is the original lash extensions. It is where one extension is applied to one natural lash. Classic lashes are perfect for anyone who already have a lot of lashes, but wants to add more length.
Hybrid Lash Extensions
Take your eyes to the next level with Hybrid lashes – a combination of classic and volume lash extensions across your lash line.
Russian Volume Lash Extension
Russian Volume technique is an advanced technique of applying 2 to 7 very fine lashes in a handmade or pre-made fan to one natural lash. The result is light (IE: damage-free) and soft but incredible fullness and darkness in your lashes.
Keratin Brow Lamination Bar
Eyebrow lamination focuses on creating shiny, smooth brows. Also sometimes called an "eyebrow perm".
Cosmetic Tattooing & Microblading Bar
Enhance your eyebrows with your choice of Microblading, Ombre Powder or a Combination of them both.  Transform your lips by creating more volume, defining the perfect shape and enjoying the colour you've always wanted.
Keep an eye out on their website for their amazing weekly specials here.
After Care
Simply Brows & Lashesmakes sure you leave the salon knowing how to look after your brows.  Find out more here.
Bookings
So if you want beautiful brows and lashes book now here.
Contact Details
This is a sponsored post