The Sydney Edible Garden Trail is back in 2022 and it is bigger than ever!!
What is the Sydney Edible Garden Trail?
The Sydney Edible Garden Trail is a once a year urban edible garden trail run throughout Metropolitan Sydney, celebrating the many ways that Sydney residents are creating food security, building self-reliance, saving money and the environment while enjoying the health benefits of homegrown fruit and veg. Their aim is to encourage and inspire growing edible produce in street gardens, home gardens and public spaces across Sydney (and it all started on the North Shore with the help of Lane Cove locals).
This community event showcases sustainable practices such as mulching for water conservation, recycling and composting to increase soil fertility and reduce landfill, planting to encourage bees, home food production to increase food security, and organic growing techniques to reduce chemical use. Learn about aquaponics, worm farms, wicking beds, banana circles, caring for poultry, companion planting, crop swaps and more.
It's a community not-for-profit event where profits are used to provide grants to build and improve school and community edible gardens.
How Do You Get Involved?
Register Your Garden
There are many Lane Cove locals who have wonderful home gardens and if you would like to share your edible garden with the public, register your garden here to be included in the Edible Garden trail.
Follow the Trail
Want to know more about how to grow your own food? Interested in keeping chooks? Come along to the 2022 Sydney Edible Garden Trail and learn how to get growing!
Visit a multitude of gardens by car, bus or foot on this self-guided tour. The trail runs from 9 am to 4 pm on Saturday 26 and Sunday 27 March 2022 with tickets valid for both days.
Early bird tickets are on sale now – buy tickets here
Buy your ticket for the event by 31 January 2022 to receive 20-30% off the full ticket price.
Child under 15: $5
Early bird adult: $22
Early bird family: $44 (2 x Adult, 3 x Child under 15)
If for any reason, the trial can't go ahead on the scheduled dates, your ticket/s will be transferred to the new date or a refund given.
The trail includes community gardens, school gardens and home gardens.  You can visit as many gardens as you want during the two-day event.   Last year the Mowbray Public School was one of the gardens available for people to visit.
Volunteer
The Edible Garden Trial is a 100% volunteer-run non-profit organisation.  The  Edible Garden Trail team is looking for help with posting on social media in the lead up to the trail in March and help with Grant Submissions (this is an ongoing role).
You don't have to be an expert in either, just keen to lend a hand with a couple of hours free a week in the lead up to our annual event end of March.
Want More Information on the Edible Garden Trail?
Check out some of the gardens from previous years and sign up to their email list to be the first to hear Sydney Edible Garden Trail news.
Find out more about the history of the Sydney Edible Garden Trail here.
Contact Details
Website: www.sydneyediblegardentrail.com
Facebook: @SydneyEdibleGardenTrail
Instagram: @sydneyediblegardentrail
Email: [email protected] 
Local News – Needs Your Support
Many of you have asked how you can support In the Cove. It's so easy – tell your friends about us, follow us on a different platform, subscribe to our weekly news blast, or if you can, we now have a Patreon Account (this allows us to keep local news free – no paywall!!!)
ITC wants to provide even more news to Lane Cove locals by employing local people to help us out. We need your help – yes, we get local business advertising, but that covers our costs and pays our current team.   We do not qualify for any government grants as you must have revenue of over $150 000 a year (we don't)
Feel free to be a reader sponsor if you have enjoyed our local news coverage – no amount is too small or too big. Thank you so much to the people who have already supported us via our press Patreon account every dollar helps offset costs such as insurance, web hosting fees, website manager's fees, Mailchimp fees, internet fees and more. Help Us Here.
Stay tuned. We will be announcing our In the Cove Intern programme soon – where we will take on a part-time PAID intern who lives locally and is studying either PR, Social Media, Communication or Journalism.   This is our way to give back to Lane Cove, and as you would be aware, we offer free advertising for all local jobs as we are passionate about local jobs for local people.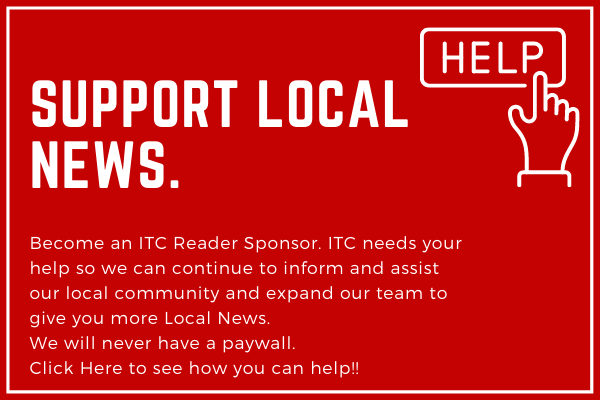 ---
Get Your Local News on Different Platforms
We have so many platforms to follow, each taking a different take on Lane Cove News and Information. Don't miss out!
Facebook: www.facebook.com/inthecove
Instagram – www.instagram.com/inthecove/
Weekly News Blast – https://inthecove.com.au/sign-up-for-newsletter/
Lane Cove Chat by ITC– www.facebook.com/groups/itclanecovechat
Kids in the Cove – www.facebook.com/groups/861987681252413
In the Cove Podcast – inthecove.com.au/in-the-cove-lane-cove-podcast/
Weekly Lane Cove Property Update – https://inthecove.com.au/category/lane-cove-property/
As always, thanks to everyone for the support!!!!
Check out our Instagram Site click on the picture below.