Rapid Antigen Tests (RATS) pricing has been discussed in detail on both the In the Cove Facebook page and Lane Cove Chat by ITC.
This week the Australian Competiton and Consumer Commission (ACCC) released an interim report outlining some of their findings in relation to price gouging and asked the Australian Federal Police (AFP) to investigate retailers in NSW and QLD.
The ACCC has significant concerns about the retail price of rapid antigen tests, reportedly often costing between $20-30 per test and sometimes over $70 a test through smaller retail outlets, despite wholesale costs ranging between $3.95 and $11.45 a test.
These concerning practices emerged from the ACCC's initial analysis of information so far received from the public, suppliers and retailers about the cost and prices of rapid antigen tests across the country.
The ACCC is continuing to analyse the information which includes more than 1,800 reports from members of the public, reflecting the continued significant community interest in the pricing of rapid antigen tests.
ACCC Chair Rod Sims said:
"At the extreme end, we have received reports or seen media coverage of tests costing up to $500 for two tests through online marketplaces, and over $70 per test through convenience stores, service stations and independent supermarkets, which is clearly outrageous,
There are several businesses that have repeatedly come to our notice thanks to the information provided by the public. We are asking those businesses to urgently explain the prices they are charging.
The ACCC has contacted more than 40 test suppliers, major retailers and pharmacy chains seeking information about their costs, current pricing, and stock availability, and reminding them they need to be able to substantiate any claims they make to consumers about the reasons for higher prices.
There is a range of different tests and different pricing, and a number of factors influencing wholesale price including the size of the order and supply channel used. On the data available so far, suppliers and intermediate suppliers report wholesale prices of between $3.95 and $11.45 per test, depending on the type of test and volumes purchased."
The ACCC said they are looking in particular at reports of single tests being sold at around $30 or above from certain stores. For example, such sales have occurred from a number of King of the Pack and Metro Petroleum stores (70 and 40 complaints respectively). However, the ACCC emphasised the complaints are limited to a small number of individual stores in these chains and the majority of stores in those chains have not been the subject of complaints.
Australian Federal Police Launches Investigation
The AFP has launched investigations into RATS price gouging and is warning individuals and businesses that under the Biosecurity Act they face five years' imprisonment.
The Biosecurity Act came into force on 8 January 2022 and will remain in place until 17 February 2022. Under the Act, the AFP has the power to investigate claims of RAT price gouging when a retailer or individual buys RATs from another retailer and sells those RATs with a mark-up of more than 20 per cent. It does not apply to retailers who buy from a wholesaler.
For example, if a tobacconist buys RATs from a chemist and then sells those RATs for more than 20 per cent of what they were purchased for, that tobacconist faces criminal charges under the law.
Two investigations have begun in Queensland and NSW after referrals from the ACCC.
More referrals are expected and will be coordinated under the AFP's Taskforce LOTUS, which was established in 2021 as a targeted and scalable response to potential criminal threats to the COVID-19 vaccine rollout.
Taskforce LOTUS will refer allegations of RAT price gouging to Australia-wide AFP strike teams, which have access to the AFP's world-leading technical and forensic capabilities.
The strike teams have the powers to force individuals or businesses engaged in price gouging to surrender the RATs, which will be sent to the National Medical Stockpile.
To date, the AFP has not seized or surrendered any RATs, PPE or other relevant medical supplies to the National Medical Stockpile.
Taskforce LOTUS is coordinating its price gouging response with state and territory law enforcement, commonwealth agencies and international partners.
Allegations of the illegal import or export of essential medical goods, including RATs and personal protective equipment, will also be coordinated under Taskforce LOTUS.
AFP Assistant Commissioner Crime Command Nigel Ryan said there would be zero tolerance for those who were profiteering from RATs at the expense of the Australian public.
"The AFP will use its full powers to crack down on RAT price gouging. Not only is price gouging of RATs unethical but it is illegal, and the AFP will use its significant resources to ensure it protects the public from the unlawful greed of others,'' Assistant Commissioner Ryan said.
"Commonwealth and state agencies are working together on this issue, and under Taskforce LOTUS, the AFP makes no apologies for upholding the law to help keep Australians safe.
"Those who breach the law face penalties of up to 5 years' jail or a $66,000 fine. My message is clear. Do not risk jail time or a significant fine for a few extra dollars."
Resale and Repackaging RATS
The selling of separated individual tests from multi-packs was also a significant issue reported to the ACCC and is an issue also being addressed by the Therapeutic Goods Administration (TGA).
Consumers have reported packs being split and sold in individual lots, sometimes without instructions for their use, and tests approved for clinical or professional use being sold directly to consumers.
The ACCC is referring such reports to the TGA.
Consumers can report such concerns directly to the TGA via [email protected](link sends e-mail).
How To Report Incidents
Consumers can contact the ACCC to report concerning conduct online.
Further, anyone who has evidence of price-fixing cartels can contact the ACCC anonymously(link is external) or via their webform.
Find A Rat Website
A smart tech person has developed a Find a Rapid Antigen Test site called Find A RAT test. If you want to log Lane Cove information on this website that will help out the community.
However, it relies on the person who logged the info, updating the information when the tests are sold out or someone else updating the info. A person may find a test and log a report but they will not necessarily know when it is sold out and provide an update.
It's a good resource to find out who supplies RATS – for example, Lane Cove Post office had some recently – and ITC only knew about it because of Find a Rat.
If you compare it with the find a Covid19 vaccination site it does have some issues as the find a COVID19 vaccination site links to hotdocs and other booking software and can update in real-time. See more in our article here on booster shots https://bit.ly/3JoQMbo
Please keep letting us know where you have found RATS and how many are in stock – we will update our Facebook Page and also there is a link with real-time information on Lane Cove Chat by ITC.  
Local News – Needs Your Support
Many of you have asked how you can support In the Cove. It's so easy – tell your friends about us, follow us on a different platform, subscribe to our weekly news blast, or if you can, we now have a Patreon Account (this allows us to keep local news free – no paywall!!!)
ITC wants to provide even more news to Lane Cove locals by employing local people to help us out. We need your help – yes, we get local business advertising, but that covers our costs and pays our current team.   We do not qualify for any government grants as you must have revenue of over $150 000 a year (we don't)
Feel free to be a reader sponsor if you have enjoyed our local news coverage – no amount is too small or too big. Thank you so much to the people who have already supported us via our press Patreon account every dollar helps offset costs such as insurance, web hosting fees, website manager's fees, Mailchimp fees, internet fees and more. Help Us Here.
Stay tuned. We will be announcing our In the Cove Intern programme soon – where we will take on a part-time PAID intern who lives locally and is studying either PR, Social Media, Communication or Journalism.   This is our way to give back to Lane Cove, and as you would be aware, we offer free advertising for all local jobs as we are passionate about local jobs for local people.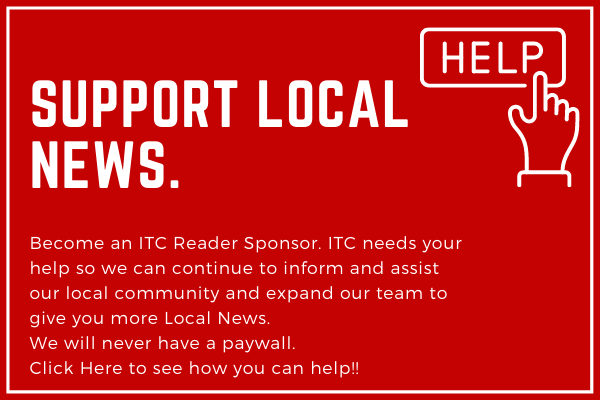 ---
Get Your Local News on Different Platforms
We have so many platforms to follow, each taking a different take on Lane Cove News and Information. Don't miss out!
Facebook: www.facebook.com/inthecove
Instagram – www.instagram.com/inthecove/
Weekly News Blast – https://inthecove.com.au/sign-up-for-newsletter/
Lane Cove Chat by ITC– www.facebook.com/groups/itclanecovechat
Kids in the Cove – www.facebook.com/groups/861987681252413
In the Cove Podcast – inthecove.com.au/in-the-cove-lane-cove-podcast/
Weekly Lane Cove Property Update – https://inthecove.com.au/category/lane-cove-property/
As always, thanks to everyone for the support!!!!
Check out our Instagram Site click on the picture below.