Welcome to our week in review; this week La Nina played havoc with the rain and the wind, impacting Lane Cove.
Lunar New Year Celebrations Cancelled
The Lane Cove Council had an exciting afternoon planned last Friday afternoon in The Canopy and the Lane Cove Plaza with the Lion Dance.
They have worked hard to put on an event, and staff must have been devastated to cancel the event. However, the good news is they are trying to reschedule.
The Lane Cove Council advised:
"LUNAR NEW YEAR EVENT CANCELLED: Unfortunately, our attempts to set up for today's event have been hampered by the rain, and we've had to make the call to cancel our scheduled performances and lion dance this afternoon in the Plaza/The Canopy.
We hope to reschedule the lion dance for next week, and we'll announce the new time/date on our website and underneath this post once known.
Our staff, volunteers and craftspeople are busy making take-home craft packs which will be available to the community in the coming days."
Blustery Winds
We also experienced blustery winds, which resulted in a two-hour power outage for some Lane Cove West and Hunters Hill residents on Sunday, 6 February 2022.
Leeches and Mosquitoes
While we are on La Nina has resulted in more Leeches and Mosquitoes.
Dr Cameron Webb is an expert Mozzie Man, and he is warning people to make sure they do not leave containers of water around their houses. These are breeding grounds for mozzies.
If your kids want to be citizen scientists, they can join in Mozzie Month, which starts in a few days!
Monitoring mosquitoes is essential for mosquito management and mosquito-borne diseases prevention. But mosquitoes also have important ecological roles and can be effective pollinators.
Join hundreds of citizen scientists from all over Australia in this mosquito monitoring initiative. More info here https://www.inaturalist.org/pro…/mozzie-monitors-australia
We have also had reports of leeches in Lane Cove – leeches love bushland. Almost every part of Lane Cove is within 500 metres of bushland. If you are going for a bushwalk, make sure you wear long socks. Have you seen any leeches in your home or have photos? Please share with us.
Find out more about leeches in Lane Cove (the non-human type) here
By the way, if you are looking for a good bushwalk, check out our articles on Lane Cove bushwalks here https://inthecove.com.au/category/bushwalks/.
Illegal Dumping Continues
See our video below, which documents the illegal dumping increasing outside the St Michaels Church Hall over a couple of days.
The dumping has gotten out of hand. This dumping results in Charities having to sort out and find a way to get rid of items they cannot use. With the wet weather, many of the items will be unusable. ITC has spoken to councillors about taking a holistic approach to dumping and looking at assisting charities in preventing this dumping.
The Lane Cove Council household collection service is under pressure due to COVID19 staff shortages, but this is no excuse for dumping.
ITC has put together a guide on recycling, donating, selling, or disposing household items. Find out more here.
Some civic-minded Lane cove locals regularly drop off items at collection points outside Lane Cove. In 2022, we are encouraging people to let ITC know about these drop-offs, and we can do a shout out for you on our numerous social media platforms.
What do you think can be done to stop this and make people aware of where they can be disposed of properly – let us know at [email protected]
Parents NSW Vouchers
The NSW Government has launched Parents NSW Vouchers to thank parents, guardians and carers who provided home learning to their school-enrolled children during 2021.
From February, one person from each eligible household can apply for 5 x $50 vouchers worth $250 in total.
To apply, you must have provided learning from home during 2021 for a school-aged child aged 4.5 to 18 years in 2021.
The 5 x $50 Parents NSW Vouchers can be used seven days a week
at Discover NSW businesses for entertainment and recreation activities
at Stay NSW businesses for accommodation bookings
until 9 October 2022.
If you are searching for a family event that is outdoors and educational, then why not use your vouchers for Sydney Edible Garden Trail. Your kids can learn about growing their own veggies and having chooks. More info here:
You apply by going to the vouchers section of your Service NSW app.
Swimming Carnivals at Lane Cove Pool
Our fantastic cover photo was taken by lane cove local and lover of early mornings https://www.instagram.com/sunrises.of.sydney/ (a very talented photographer, and we will be sharing more of his snaps as we love them).
This photo reminded us that we need to tell you that February is school carnivals and school swimming lessons month at Lane Cove Pool, and before heading off to the pool for outdoor swimming, you should check the Lane Cove Aquatic Centre Page for availability.
This also means that the Little Street Car Park could be a bit busier than usual (depending on if spectators are allowed)
Link to carnival page here: https://bit.ly/34dYxkI
Gallery Lane Cove + Creative Space
Gallery Lane Cove is currently running an exhibition called Presence of Mind, and last week it was featured on ABC Radio National's The Art Show with Daniel Browning.   This is how they described the exhibition.
"Forget wine and cigarettes – how does mindfulness stimulate artists? Cindy Chen and Lachlan Warner are two artists whose Buddhist practice is foundational to their creativity. Curators Kath Fries and Rachael Kiang have included them in a new exhibition exploring the hot topic of mindfulness and meditation, called Presence of Mind."
You can hear the interview here.
The exhibition is free (as are all exhibitions at Gallery Lane Cove).
Presence of Mind continues at Gallery Lane Cove for the remainder of this month, closing at 2:30 pm Saturday 26 February.
They have an extensive list of public programs coming up, ranging from online artist panels, in-person talks, workshops and guided meditations.
Boosters Available Locally for Kids Aged 16 and 17
NSW has Health released the following information about COVID19 boosters for kids aged 16 or 17.
"Aged 16 or 17? You can now get a Pfizer COVID-19 booster dose.
Studies show that immunity against COVID-19 begins to wane over time. Boosters strengthen your protection up to 86% against infection and 98% against serious illness.
If your second dose was over three months ago, you should get your booster dose as soon as possible.
You can get the booster after you have recovered from COVID-19; for most people, this is about 4-6 weeks. We know that people who had the Delta strain have had COVID-19 again, so getting a booster can help remind your immune system and build longer-lasting immunity."
Booster shots appointments are now easier to book in Lane Cove, and they are also easy to book at the NSW State-Run Hubs – Further info here on where to get the jabs in Lane Cove and how to book etc. here.
Burns Bay Reserve – Watercraft
We have had a few people contact ITC and tell us Burns Bay Reserve is hard to walk around due to the number of dinghies, kayaks and watercraft on the shore. The Lane Cove Council will remove any watercraft that are not registered with them – registration is free.
Lane Cove Council released the following statement:
"Dinghy numbers are increasing across the local government area and are sometimes stored on sensitive bushland areas or other inappropriate locations. Any dinghy stored along any of Council's public foreshore areas must be registered with Council or risk being impounded. Registration is free – owners simply need to complete the Dinghy Tag Application Form at www.lanecove.nsw.gov.au/boating. Registered dinghies will receive a tag to place on their vessel.
Dinghies must be registered by 1 March 2021 – any untagged dinghies found after this time may be impounded by Council. If you require further assistance, please call Council's Open Space and Urban Services team on 9911 3555."
Help the Lane Cove Helldogs Raise Money for Cancer
A group of Lane Cove locals are participating in the Tour De Cure, which raises funds to help fund vital cancer projects. Their team, Lane Cove Helldogs, hopes to raise $12 000 plus and would greatly appreciate your support.
It only takes a minute to donate, and any money you give will help to change the lives of patients impacted by cancer.
To help the Helldogs (pictured below), click
here
.
Urban Forest Strategy
We are called Leafty Lane Cove, and trees are intrinsic to the look and feel of Lane Cove.
An Urban Forest Strategy will provide Lane Cove Council with a holistic approach to managing canopy and vegetation cover across the local government area (LGA).
Whether you are a tenant, property owner or visitor to Lane Cove, they would love your input.
Lane Cove's recently adopted Climate Resilience Plan includes developing an Urban Forest Strategy. The Urban Forest Strategy aims to:
increase tree canopy and green spaces;
strengthen controls to prevent/reduce mature tree removal;
adopt a flexible approach to our tree planting strategy to adapt to changing climate.
The Urban Forest Strategy does not replace existing plans, such as the Bushland Plan of Management or the Street Tree Master Plan. Instead, it will bring them together along with relevant legislation.
Please take a few minutes to complete this survey to help plan for the future.
The survey closes at 5:00 pm, Monday 14 February 2022.
Lane Cove Council Sustainability Action Plan
What does a Sustainable Lane Cove look like to you?
Lane Cove Council is seeking your input on reviewing and renewing the Council's Sustainability Action Plan for 2022 – 2027.
They want to hear from you about your sustainability priorities for the next five years as we seek to prioritise objectives and develop actions to promote environmental, economic and social sustainability in Lane Cove.
To participate, please complete a short survey that will capture your sustainability values and insights on key issues, gaps, challenges, needs and opportunities regarding sustainability in Lane Cove.
The 10-minute survey will contribute to refining the direction of the plan and help make sure it aligns with community and industry expectations. Everyone who completes the survey will go in the draw to win one of three Lane Cove Gift Cards to the value of $100.
View the current Sustainability Action Plan.
For more information, contact Council's Sustainability Coordinator at [email protected] or call 9911 3699.
The survey closes at 5:00 pm, Monday 14 February 2022.
Our week in review is sponsored by Health Space Lane Cove

Health Space Lane Cove is conveniently located in the Lane Cove Plaza.
Health Space Lane Cove brings integrated health care to Lane Cove. Established in 2002, their clinic offers holistic and integrated solutions to many health problems, including sports injury, back and neck pain, headaches and posture, managing symptoms to do with chronic illness such as stress and anxiety, digestive concerns, weight loss and hormone imbalances.
They are currently offering ITC readers a back to school special.
Call them on 94189555 to book or to find out more.
---
Keep Local News Free
---
Many of you have asked how you can support In the Cove. It's so easy – tell your friends about us, follow us on a different platform or subscribe to our weekly news blast.
We now have a Patreon account  where you can sponsor us for any amount you like (this allows us to keep local news free – no paywall!!!)
ITC wants to make sure you get local news when you need it by employing local people to help us out. We need your help – yes, local business advertises with us, but this is our sole source of funding. Feel free to be a reader sponsor if you have enjoyed our local news coverage – no amount is too small or too big. Thank you so much to the people who have already supported us via our press Patreon account. Help Us Here.
Stay tuned. We will be announcing our In the Cove Intern programme soon – where we will take on a part-time PAID intern who lives locally and is studying either PR, Social Media, Communication or Journalism.   This is our way to give back to Lane Cove, and as you would be aware, we offer free advertising for all local jobs as we are passionate about local jobs for local people.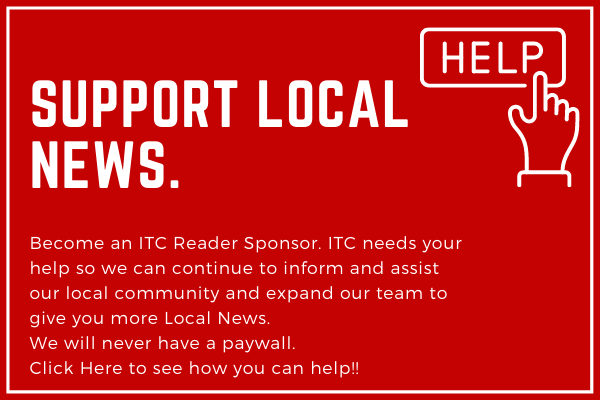 ---
Get Your Local News on Different Platforms
We have many platforms to follow, each taking a different take on Lane Cove News and Information. Don't miss out!
Facebook: www.facebook.com/inthecove