From  1 July 2022, Lane Cove Council's electricity supply will be 100% renewable after the council signed up for one of the largest ever renewable energy deals involving local governments.
Lane Cove Council, along with 24 other participating councils, will have power supplied to their facilities by three NSW solar farms.
Southern Sydney Regional Organisation of Councils (SSROC) brokered the deal with electricity retailer ZEN Energy Retail Pty Ltd. (ZEN Energy).
The other participating councils are Bayside, Burwood, Campbelltown, Canada Bay, Canterbury-Bankstown, Fairfield, Georges River, Hornsby, Hunters Hill, Inner West, Ku-ring-gai, Liverpool, Mosman, North Sydney, Parramatta, Port Stephens, Randwick, Ryde, Singleton, Sutherland, Tamworth, Waverley, Willoughby and Woollahra councils.
Nineteen councils opted for 100% renewable energy.
Worth approximately $180 million, the landmark retail electricity agreement will deliver over 214-gigawatt hours of electricity per year to 25 councils across NSW.
It involves the supply of electricity to over 300 major council facilities, more than 210,000 streetlights and more than 3000 small sites managed by councils. The 25 participating councils collectively represent over 3 million people, which is almost 38% of the NSW population. The agreement commences in 2022 and runs to 2026 with an option to extend to 2030.
Cr John Faker, Burwood Mayor and SSROC President said, "By buying as a group, councils have got a great renewable energy deal at the same cost or at a lower cost than their existing contracts for traditional black power. This is a major win for the environment at a time when the world's focus is on taking solid steps to address climate change. It is a huge demonstration of the commitment of councils to serving their communities, minimising their carbon emissions, and growing the economy of NSW."
SSROC CEO, Helen Sloan said, "SSROC has been leading the market in advocating for shorter-term, lower risk renewable energy supply agreements for councils that can be negotiated at competitive supply rates. This innovative, lower risk, deal lasts for 4.5 years and can be extended for up to 4 more years by participating councils. The approach taken proves that councils can secure competitive pricing and meet their renewable energy targets without having to enter into a long-term agreement."
ZEN Energy CEO, Anthony Garnaut said, "The ZEN team would like to thank SSROC for the privilege of supplying renewable electricity to the council group through this critical decade for climate action. We look forward to working with all participating councils and their constituents to build the zero-carbon future."
Deal in Line with Lane Cove Council's Climate Emergency Declaration
Lane Cove Council resolved at their September 2021 meeting to be part of the renewable electricity deal and is the deal is part of the strategy to implement  Lane Cove Council's Climate Emergency Declaration (read more here).
In September 2019 the Council resolved on a motion of Councillors Brent and Strassberg that Council: –
Declare its support and join over 900 jurisdictions worldwide, including 45 Australian councils, to recognise that we are in a state of climate emergency that requires immediate action by all levels of government.
Acknowledge that climate change poses a threat to the future of our cities, including the Lane Cove Local Government Area.
Declare its readiness to assist the State Government's objective of net-zero emissions by 2050 and its support for creating measurable policies and programs by the Government in its role of reducing carbon emissions and adapting to climate change in NSW.
Call upon the State Government to revise its net-zero emissions 2050 target and move it forward to 2030 in order to avoid irreversible consequences and to create measurable policies that adapt to climate change in NSW.
Write to the Premier of NSW, our State and Federal members, the NSW Environmental Minister and the Federal Environmental Minister, advising them of Council's resolution and calling upon them to act accordingly and urgently.
For the Motion were Councillors Palmer, Vissel, Zbik, Brent, Strassberg and Morris (Total 6). Against the Motion were Councillors Bennison and Brooks-Horn  (Total 2).
How will this Impact Emissions?
In a briefing note to Lane Cove Council in September 2021, Lane Cove Councillors were informed:
"This renewable energy deal combined with Council's other energy savings and own solar power generation projects will see Council achieve a decrease of 73% in emissions, against the 2036 target for 80% reduced emissions.
The Lane Cove Aquatic and Leisure Centre is Council's largest electricity user site, representing approximately 34% of Council's total electricity consumption. Under the lease agreement with Bluefit who operate the facility, they are responsible for the cost of electricity and are therefore free to procure electricity how they determine.
Bluefit recognise and support Council's desire to switch to 100% renewable energy and have agreed to break their existing fixed price (non-renewable energy) contract expiring in June 2023. This will be executed at Bluefit's cost and enable the Lane Cove Aquatic and Leisure Centre to join the SSROC contract 1 July 2022.
Council's strategy to date in relation to renewable energy has been to reduce energy use through more efficient lighting (all buildings and car parks utilise LED lighting) and plant (power correction devices, energy efficient air conditioning, pool filters etc) and install solar photovoltaic (PV) technology to generate renewable energy onsite. The following outlines the sites with solar PV, noting that additional capacity* is planned for FY 2021/22:
The Canopy
Council Depot*
Civic Centre
Lane Cove Library
Kindy Cove
2 Little Street
Scout Hall, Blackman Park
164 Longueville Road
180 Longueville Road
Lane Cove Aquatic and Leisure Centre*
Tantallon Oval*
The Council Depot has an existing solar PV system which will be expanded to a 60kW system with a 30kW battery. This has the potential to meet all the Depot's daytime energy use.
The Lane Cove Aquatic Centre included a 63kW solar PV on the new grandstand. Council will be utilising new lightweight 88kW solar PV on the main roof of the indoor pool in the current final year, bringing the combined solar PV to 151kW.
The Civic Centre has an existing 16kW solar PV system which will be upgraded to a 59kW which will cover 30% of the Civic Centre's energy needs. This project will conclude Council's solar PV rollout on large sites.
The Tantallon Oval redevelopment includes a 60kW PV solar system and 2 batteries. It is anticipated that the solar PV and batteries will be able to completely power the needs of the oval for 9 months of the year. During the winter months, the batteries may need to be topped up from the grid at off-peak times and rates.
The imminent upgrade of the lighting at Bob Campbell Oval and Blackman Park to the latest LED floodlights will further reduce energy consumption. Once these projects are complete, all Council sporting fields with floodlights will utilise energy-efficient lighting, which also delivers cost savings to local sporting clubs.  ITC note: the upgrade to Bob Campbell Oval will not take place this year.
The cost of electricity is a standard recurrent cost reflected in Council's annual budget The introduction of a long-term fixed-price contract on Council's largest utility cost will provide considerable cash flow management benefit, particularly when recognising much of Council's revenue is also on a fixed rate basis.
Council's emissions currently total 2% of emissions across the LGA. With the procurement of 100% renewable energy (inclusive of the Aquatic Centre), Council's emissions will reduce to 0.5% of the LGA's emissions."
Graphics indicating the Council's emissions profile and the benefits of the change are below.
Cover Photo Source:  Zen Energy
Keep Local News Free
---
Many of you have asked how you can support In the Cove. It's so easy – tell your friends about us, follow us on a different platform or subscribe to our weekly news blast.
We now have a Patreon account  where you can sponsor us for any amount you like (this allows us to keep local news free – no paywall!!!)
ITC wants to make sure you get local news when you need it by employing local people to help us out. We need your help – yes, local business advertises with us, but this is our sole source of funding. Feel free to be a reader sponsor if you have enjoyed our local news coverage – no amount is too small or too big. Thank you so much to the people who have already supported us via our press Patreon account. Help Us Here.
Stay tuned. We will be announcing our In the Cove Intern programme soon – where we will take on a part-time PAID intern who lives locally and is studying either PR, Social Media, Communication or Journalism.   This is our way to give back to Lane Cove, and as you would be aware, we offer free advertising for all local jobs as we are passionate about local jobs for local people.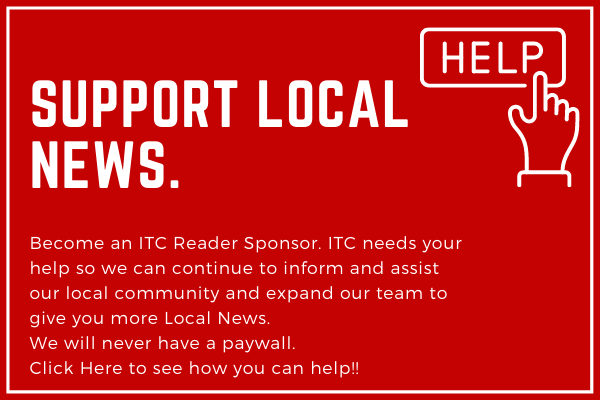 ---
Get Your Local News on Different Platforms
We have many platforms to follow, each taking a different take on Lane Cove News and Information. Don't miss out!
Facebook: www.facebook.com/inthecove