Live music is back.  Now that COVID19 restrictions have been eased, venues are starting to bring back live music, and there is something for everyone from rock/pop/commercial music, cover music, jazz and classical music all in Lane Cove!!!!.
Some exciting news from Lane Cove Council this week.
Lane Cove Council will be holding two concerts at The Canopy to help raise funds for flood and storm impacted NSW communities.
The first concert will feature The Badloves on 26 March 2022 – this is a free concert, but residents are asked to donate to GIVIT.
The second concert will feature Christine Anu on 29 April 2022 and is a ticketed event, and funds received from ticket sales will be donated to GIVIT.
Well done, Lane Cove Council and let's get on board and make these concerts a success.
Details here.
Saturday Nights
Join The Alcott on Saturday Nights (8.30 pm to 11.30 pm) for some cool live music. Each Saturday they have different live acts playing and singing all your familiar favourites.
Sunday Sessions
Enjoy various acoustic sets, with toe-tapping, fun-loving songs to make you smile at the Alcott from 4 pm – 7 pm, Every Sunday.
You can also sip away on some Rose!!
---
Longueville Sporting Club AKA The Diddy
The Longueville Sporting Club is family-friendly.  During March they are holding their popular Sunday Sessions.
---
Masala Kitchen
If you love Indian – this is the place to go, and they have live music every Friday and Saturday Night.  You can also grab a few cocktails while you are there.
Contact Details
Address: Shop 1 and 2, The Canopy 2 Rosenthal Ave Lane Cove
Phone: 049 973 2044
Email: [email protected]
Facebook: @masalakitchenlanecove
Instagram: @masalakitchenaus
Website/Booking: https://masalakitchen.com.au/
---
Garcon
Start the weekend early every Thursday night with live music, decadent French cuisine and not to forget wine on the Canopy terrace.
Garcon is thrilled to have the talented Road Captains taking charge with toe-tapping folk diddies and blues classics you all know and love. Whether you're enjoying a Charcuterie board to share or settling in for a long night – it's sure to be fun!
Contact Details
---
Live music during March from 4-7 pm every Sunday.
Shorties are open from 2- 8 pm
$10 Brix Spritz on Tap
3 Tacos $18
Full menu available
Address:  Shop 1/96 Longueville Road  Lane Cove NSW
Website: Shortieslanecove
Facebook: @ShortiesLaneCove
Instagram:  @ShortiesLaneCove
Email:  [email protected]
---
Sunset Diner
Sunset Diner has been rocking The Canopy lately – so keep an eye out for live music at Sunset Diner – usually on a Saturday night.
Contact Details
---
Lane Cove Music Presents
Music for Love and Laughter featuring John Martin (piano) and Victoria Jacono-Gilmovich (violin)
15 March 2022 @ 7:30 pm – 9:30 pm
Don't miss the first of Lane Cove Music's six 2022 concerts programmed for Tuesday 15th March at 7.30pm. You will enjoy a kaleidoscope of musical styles and moods including the works of Brahms, Chopin, de Falla, Debussy, Kats-Chernin, Noel Coward, along with ragtime and jazz-era gems.
Bookings are essential due to Covid-safe requirements and we regret tickets will NOT be available at the door.
For more information please visit our website www.lanecovemusic.org.au where bookings will open early March.
Enquiries welcome, please phone 9428 4287.d
Lane Cove Music has scheduled some amazing performances throughout 2022
10th May: pianist Andrew Rumsey and clarinettist Thomas Azoury will present a night of musical delights and humorous anecdotes.
21stJune: former principals of Sydney Symphony Orchestra, flautist Janet Webb and harpist  Louise Johnson, will enthral you with a beautiful and varied program of music from the medieval era to Gershwin and beyond.
9thAugust: Wollemi Quintet comprising five vibrant, creative and engaging Sydney Conservatorium students will present a classic repertoire as well as Australian music and lesser known compositions.
11th October: Lane Cove Music's popular annual event, the Pollard Memorial Awards for Performance Excellence. Ten of the most outstanding young solo instrumentalists from 2022 Sydney Eisteddfod will compete for these awards (starts at 7pm)
29th November:  aChoired Voices mixed voice community choir will celebrate the joy of song in a wide range of musical styles.
---
Lane Cove Golf Club
You can try out the new Cinnamon Klub restaurant as you listen to music on Friday night.  From time to time on a Friday night, they will be featuring local groups.
Their next band is Fathers of Greenwich Live Music Lane Cove Golf Club – 18 March 2022 @ 7:30 pm – 9:30 pm
Fathers of Greenwich are playing at the Club next Friday night, 18th March. Featuring the local talent of Brendan Morse, Jim Stewart, Tony Mills, Mark Merrick and Cam Smith, it is sure to be fun filled night with lots of singing and dancing!
Food is available from the club's restaurant Cinnamon Klub, please book your table and dinner reservation here: www.cinnamonklub.com
If you want to know more about their Friday night entertainment, keep your eye on our Lane Cove Events Guide for details or, call the Club on 9427 6631 or check out their What's On Page 
If you are also into dancing then get your dancing shoes out and try a bit of Tango at the Lane Cove Golf Club with A Little Buenos Aires – Tango in Sydney on Sunday afternoons.  More details here.
Contact Details
Facebook: lanecovegolfclub
Email: [email protected]
Phone: 02 9427 6631
Website: lanecovegolfclub.com.au
Address: 180 River Road, Northwood, NSW 2066
---
The Canopy
The Canopy 
2 Rosenthal Avenue, Lane Cove
The Canopy is bringing you local and live music  6-8 pm on Fridays
Friday, March 18 – Lounge Lizards
Friday 1 April – Katcha
---
Bach Akademie Australia Perform with Lane Cove's Madeline Easton
Bach Akademie Australia begins its thrilling 2022 season year with an all-Bach program featuring two of his best and most beautiful cantatas.

And a featured performance takes place on Sunday 10th April 2:00 pm at Our Lady of Dolours Church, Chatswood!
The performance will include one of Bach's best-loved and most jubilant masterpieces, the Easter Oratorio.
"In this celebrated work," says Madeleine, "Bach utilises a full choir and orchestra to amplify his message of pure, festive joy.
This very special work continues to uplift, inspire and comfort us all these many hundreds of years later."
Concert Details
EASTER ORATORIO
Friday 8th April 7:30pm – St Francis of Assisi Church, 463 Oxford Street, Paddington
Saturday 9th April 7:30pm – Joan Sutherland Performing Arts Centre, 597 High Street, Penrith
Sunday 10th April 2:00pm – Our Lady of Dolours Church, 94 Archer Street, Chatswood


J.S. Bach Cantata Am abend aber desselbigen Sabbats BWV 42
J.S. Bach Cantata Bleib bei uns, denn es will Abend werden BWV 6
J.S. Bach Easter Oratorio BWV 249

 BOOKINGS   www.bachakademieaustralia.com.au   1300 785 377

---
Keep Local News Free
---
Many of you have asked how you can support In the Cove. It's so easy – tell your friends about us, follow us on a different platform or subscribe to our weekly news blast.
We now have a Patreon account  where you can sponsor us for any amount you like (this allows us to keep local News free – no paywall!!!)
ITC wants to make sure you get local News when you need it by employing local people to help us out. We need your help – yes, local business advertises with us, but this is our sole source of funding. Feel free to be a reader sponsor if you have enjoyed our local news coverage – no amount is too small or too big. Thank you so much to the people who have already supported us via our press Patreon account. Help Us Here.
Stay tuned. We will be announcing our In the Cove Intern programme soon – where we will take on a part-time PAID intern who lives locally and is studying either PR, Social Media, Communication or Journalism.   This is our way to give back to Lane Cove, and as you would be aware, we offer free advertising for all local jobs as we are passionate about local jobs for local people.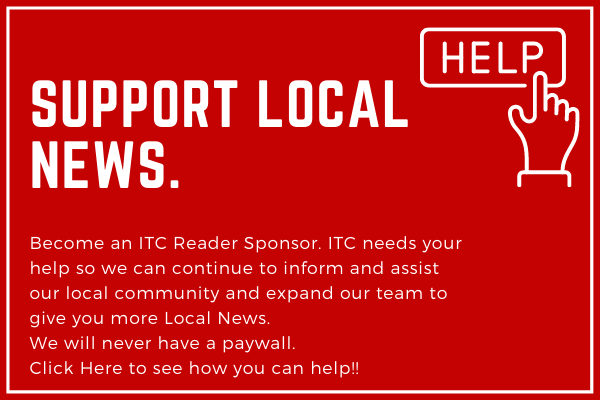 ---
Get Your Local News on Different Platforms
We have many platforms to follow, each taking a different take on Lane Cove News and Information. Don't miss out!
Facebook: www.facebook.com/inthecove