Welcome to our Lane Cove News week in review.  We have had some sunny weather in the last few days, but how long will it last and are you prepared for the temperatures to drop soon?  Our Cover photo was taken on Sunday and shows the beautiful blue skies over the Harris Farm Building (Harris Farm is now looking for staff; see below).
Christine Anu Concert Raises $3 000 for Flood Impacted Residents
Although it was dismal weather last week, the rain stayed away during the Christine Anu concert at The Canopy.  The Canopy and local eateries were packed, and the feedback has been positive.  Well done to Lane Cove Council and Lane Cove residents who helped to raise more than $3,000 for flood-affected NSW communities!
Take -Two – Ice Rink to Be Installed in The Canopy
During his regular Mayoral wrap-up this week, mayor Andrew Zbik mentioned the ice rink at the Canopy (which was cancelled last winter) will go ahead this year.  Details have not yet been released; last year's plans included an ice rink and winter festival activities – see last year's programme here.
Federal Election – North Sydney Electorate
ANZAC Day Wreaths at Lane Cove Cenotaph
On ITC Lane Cove Chat, a reader queried why the ANZAC Day Wreaths had been removed so quickly as usually they are left for about seven days.  The Lane Cove Council advised the following to ITC:
"Normally the wreaths are left in place for around a week – if it rains the silk wreaths are removed earlier to preserve for the next year. Unfortunately during the collection of the silk wreaths this week all wreaths were removed prematurely. We have positioned the remaining wreaths in front of the Honour Roll in Council's foyer where they will stay in place over the coming week."
Outdoor Dining Grant – Lane Cove Streets To be Transformed
Lane Cove has successfully obtained a $500 000 grant to transform public dining spaces as part of the next round of the NSW Government's $20 million Streets as Shared Spaces program rolls out across the state.
Member for Lane Cove Anthony Roberts said the area had been provided $500 000 to brighten the community and bring residents together.
"This exciting project will beautify the area by providing more public space for the community to sit, relax and catch up with friends, admire new art installations, or even dine al fresco in their revitalised surrounds," Mr Roberts said.
"If the pilot projects gain widespread community support, we'll look to make them permanent so more people can enjoy the outdoors and connect with those around them."
The funding will be used to create an adaptable space to accommodate outdoor dining and recreation space through a mountable footpath and the installation of movable bollards along Longueville Road.
In a recent poll, 70 per cent of people stated they were connecting with people in public spaces instead of at home.
The Streets as Shared Spaces program provides funding for councils to test and pilot new and innovative ideas that temporarily adapt streets as safe, shared public spaces to support healthier, secure and resilient communities.  More details here about the Street as Shared Spaces Program.
Cyclists Dismount
Signage has been placed around the Lane Cove Village to remind cyclist/skateboard riders to dismount in the Lane Cove Village Area.
Don't Idle
As families headed back to school last week, Lane Cove Council published a reminder to the community about engine idling while out and about or waiting for school pick-up.
Engine idling is when the car engine is running while the vehicle is stationary – did you know that letting your car idle for more than 10 seconds wastes more petrol than restarting it?
Whether you're picking up your kids or waiting for your food order, it makes sense to turn your car off; otherwise, you're releasing dangerous emissions into places where others walk, play and breathe.
18 Year Old Riverview Male Charged with Break and Enter/Destroy Property – Chatswood 
Police have charged an 18-year-old male from Riverview with a string of offences following several incidents in Chatswood last week.
Police will allege the Riverview man threatened to assault staff at a fast-food restaurant in Chatswood around 1:30 am Tuesday 26th April. Around 2:00 am, police were called to a licensed premise on Victoria Avenue where staff allege the male was being aggressive toward staff there. Police attended the scene and issued the male a move-on direction.
Around 3:50 am, police received a report of a break and enter occurring at a bottle shop on Victoria Avenue, Chatswood. Police attended and will allege they located the Riverview man a short distance away. After treatment for intoxication, he was arrested and taken to Chatswood Police Station. He was Charged with seven offences in total, including break and enter, destroy property, intimidation and fail to comply with move on direction. He was granted conditional bail and will face Hornsby local court next month.
E-bike Stolen
An ITC Lane Cove Chat reader advised the following:
"Very disappointingly, my son's e-bike was stolen from outside the Lane Cove library last Saturday evening, between 9:30 pm- 3:30 am Sunday morning. He is desperate to find it as this is his only possible method to get home to Northwood from his late shift in the city.
The bolts of the bike rack were wrenched undone, and his chain was cut with bolt cutters.
If anyone has any information that could assist my son in finding it, he would be very appreciative."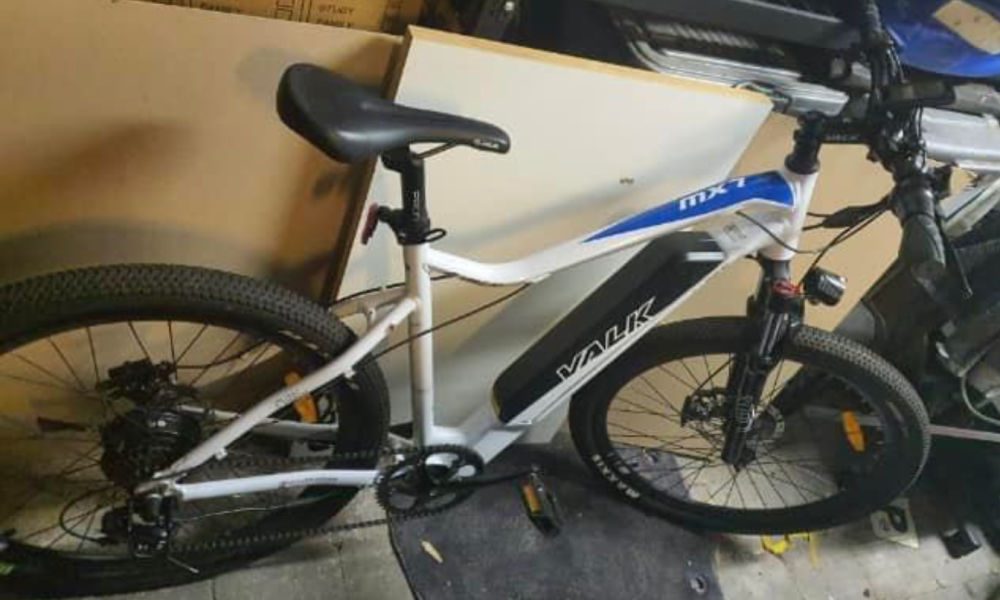 Overheight Vehicle Takes Down Cable on Kenneth Street
A roving reporter told us the following:
"A large truck drove past our house and snapped a telco wire. The truck was driving down Kenneth Street into Longueville. The truck did not stop. The wire ended up draped over a car on the other side of the road. Police, Fire and Ausgrid attended."

Help Support Local and Independent News
You can support us in three ways:
If you own a local business or a Lane Cove resident who owns a business, you can advertise with ITC – our packages start from a $30 monthly fee (for a 12-month commitment).  Email us here for our rates card.
Buy the ITC  team a coffee – our office is nearly every coffee shop in Lane Cove, and we regularly meet locals at coffee shops – buy the ITC team a coffee (or two) here.
Become an ITC reader sponsor –  Feel free to be a reader sponsor if you have enjoyed our local news coverage – no amount is too small or too big. Thank you so much to the people who have already supported us via our press Patreon account. Help Us Here.