In 2019, Lane Cove Council started installing Big Belly Solar Powered Bins into the Lane Cove Plaza.  The Bins have also been installed in The Canopy.
Big Belly Bins are also located at some Lane Cove sports grounds, parks and recreation areas.  In most cases, there is one general waste bin and one recycling bin (but only for plastic/glass bottle recycling).
When the Big Belly Bins were first installed, they looked attractive and were neatly presented.  But this did not last long.
What Makes the Big Belly Bin Different?
A Big Belly bin is solar-powered and includes a compactor.
The Big Belly Bin website states:
"All communities that deploy Bigbelly know that their public spaces will be kept clean and litter-free for constituent enjoyment. Moreover, collection crews reduce waste & recycling collections by 70-80% on average."
A post on the Big Belly Facebook page states:
"The solar-powered smart bins compact the rubbish, which means less emptying (saving truck trips), and no overflow. Because the rubbish is locked inside, litter cannot be wind-blown out of the bins.
The bins alert staff on a phone app when they are near full, so there are no wasted trips checking on bins that don't need emptying and, during busy times, the team is aware when bins need attention. The bins can hold the equivalent of 10 times the rubbish of a standard public litter bin (up to 600 litres of rubbish)."
In 2019 the Lane Cove Council posted the following video on their Facebook page:
"WASTE-FREE WEDNESDAY, PART 1: The team from Solar Bins Australia have been busy installing new Solar Bin Stations in the Plaza. Using solar power, the bin compacts waste and recycling once it fills up, which results in five times more waste storage. More capacity in the bins means fewer collection trips, lower costs and less emissions."
Big Belly Bins Frequently Out of Order
The Big Belly bins are regularly out of order.   The photos below were taken from April 2022 to June 2022
The waste chute is regularly cleaned, and some of the waste chutes turn your stomach when you open them up and the smell hits you in the face.
ITC has been raising issues about these bins for several years.  We raised these issues at the Lane Cove Council public forum, with the previous Mayor and other councillors.  Very little action has been taken to the issues we have raised.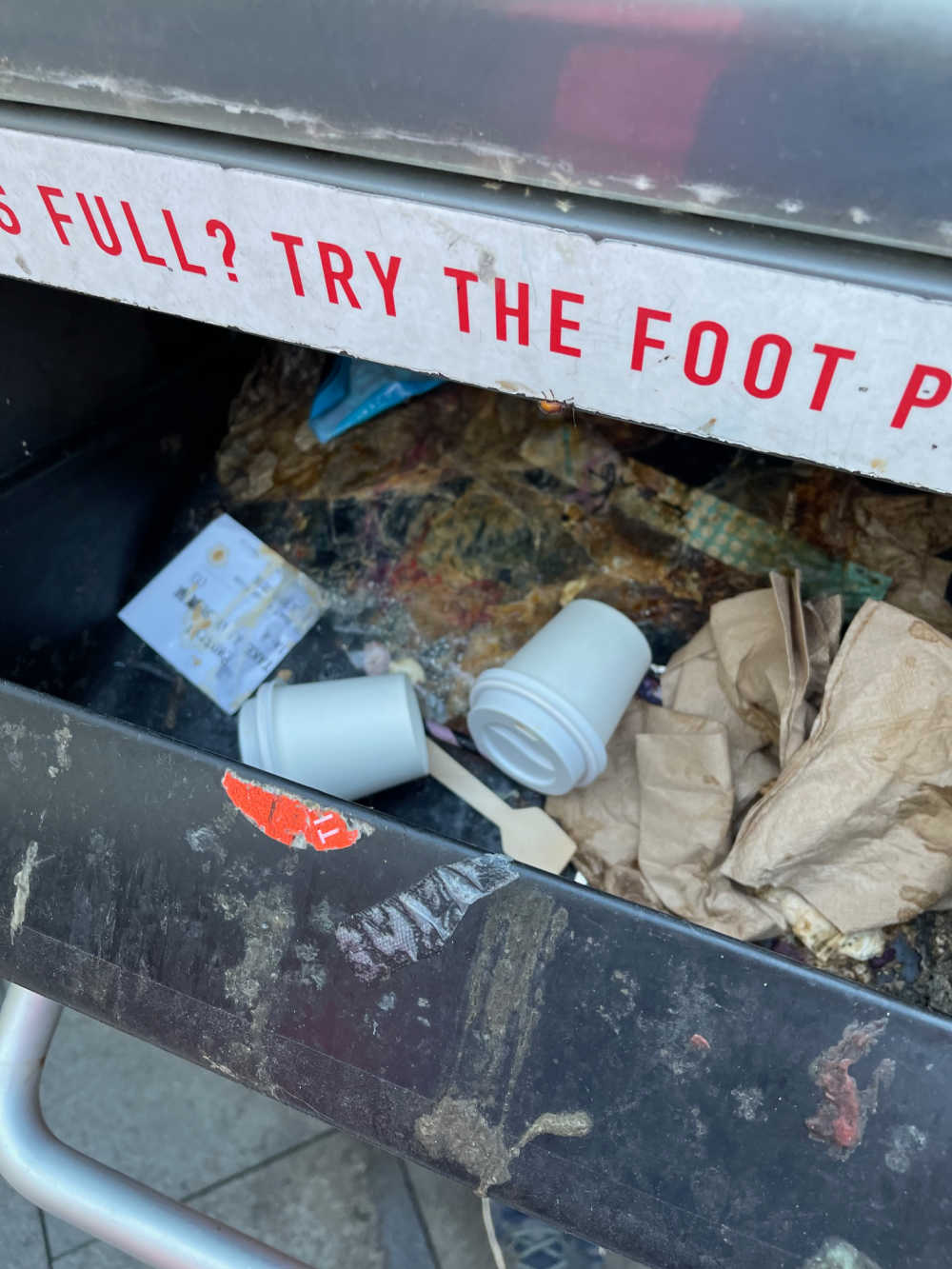 Big Belly Bin – 4th April 2022
Big Belly Bin – 1 May 2022
Big Belly Bin 30 June 2022
Recycling Fail
In April 2019, we discovered that the recycling Big Belly bins are so contaminated with general waste they are emptied by URM's general waste contractor in the same truck as the general waste bin.
When we raised the issue with Lane Cove Council, they said it was the general public's fault for not putting the correct items in the recycling bin.  The recycling bins are only for plastic bottles and glass bottles.  However, look at the picture above on the yellow recycling bin – the main image is a person throwing paper into the bin.
Lane Cove Council's Response
We asked Lane Cove Council the following questions:
ITC: Has the introduction of the bins resulted in less bin collection by Council waste contractors at the Lane Cove Plaza?
Lane Cove Council:  Not yet, this is an active work in progress. ITC Note the bins have been in place since at least 2019
ITC: Has a maintenance contract been entered into and when was the maintenance contract entered into?
Lane Cove Council: The maintenance contract commenced in April this year.
ITC: What is the cost of fixing the bins when they are out of order?
Lane Cove Council: It depends on the nature of the fault; Council has entered into a regular and competitively priced maintenance and service contract that is designed to reduce faults and/or reactive maintenance call outs.
ITC: Has a cleaning contract been entered into?
Lane Cove Council: Yes. In terms of cleaning we are in a transition phase that includes:
Purchasing new inserts (for the mouth of the bin) that we can change on a regular basis versus relying on the manufacturer
Getting a new cleaning quote to increase frequency as the bins are heavily used
We anticipate cleaning frequency (The Plaza) to increase in the very near term to avoid the odour and grime build-up that has occurred.
ITC contacted Taoglass Waste Technologies (TWT) who sell the Big Belly Bins and asked them the following questions:
ITC: What is the standard warranty period for Big Belly Bins?
TWT: Bigbelly offer a 12-month factory warranty. Extended warranty can be purchased at the clients discretion.
ITC:  What is the breakdown rate/out of action rate benchmark?  In other words how often would they require corrective maintenance?
TWT: Like any piece of technology, Bigbelly stations require some maintenance over their lifecycle to ensure proper functionality. Minimal maintenance including annual station power washing and service checks are recommended. We have some Bigbelly stations in the field lasting 10+ years, however it all depends on the environment, usage and after care of the product.
ITC: Does your standard sales procedure suggest that a customer enter into a maintenance contract – for service and cleaning?
TWT:  No.  We recommend putting the bins onto the same maintenance and cleaning schedule as their existing street bins. We do offer a value add to complete the regular maintenance if requested.
ITC: Do most customers take up the option of the service and cleaning contract?
TWT: This is at the client's discretion as to whether they engage our services or contract it out.
Are the Big Belly Bins a Good Investment?
The Big Belly Bins are not cheap.  At a 2021 conference, Andrew Quinn technology director, waste and resources management, for SLR Consulting Australia stated:
"As far as the bins go, some can cost up to $6,500 depending on what you want. Additional features will increase the cost," Quinn said. "There is also a software connectivity fee. The last I heard it was $195 per bin per year. There is also maintenance, which can be $40 per bin per month. Other providers can provide bins up to $4,000. If you want a super duper custom system, then you might pay up to $8,000 for a bin."
Big Belly Bins Negative Press
In 2013,  A Philadelphia City Controller called the Big Belly trash cans a messy waste – read more here.
In 2018 the Surrey Comet published an article about the bins overflowing – read more here.
In 2019 The City of Newport noted that their bins needed upgrading and cleaning more regularly.   Newport City Council member Kate Leonard stated in Newport This Week:
"People complain about them stinking; they aren't able to hold big boxes like a pizza box, that kind of thing. All I can say is there's lots and lots of people around and there's more and more trash every single year,"  Read More here
In 2021 in Lorne, pizza boxes jammed the system and lead to a huge mess. The Surf Coast Shire Council urged residents to take extra care when using the big belly bins after incorrect rubbish disposal caused compacting bin blockages.  Read more here.
In the UK in April 2022 Rotherham Council admitted the solar-powered giant rubbish-crunchers suffered 'intermittent problems' with the bins overflowing – read more here.
Mosman City Council was quoted in the Maitland Mercury stating they had tried an earlier model of the bins and did not feel the cost justified their acquisition:
"Mosman Council, which tested an earlier model of the Bigbelly compactor bins in 2010 that lacked the real-time reporting function, found that the cost of the bins was prohibitive and the technology was unreliable.
"We weren't satisfied with the trial, we didn't see it produce the efficiencies that would justify the initial high cost," said John Saul, team leader of service contracts at Mosman council.
"They were $3000 to $4000 each. A regular bin is $50 to $100," Mr Saul said.
"With an ordinary plastic bin nothing can go wrong. With the technology, it didn't work."
Although the "technology that they've got now might be improved", Mosman Council would not be trialling the bins again in the near future, Mr Saul said.
The City of Melbourne has introduced the Big Belly Bins, and after an initial trial installed more bins.  The Melbourne bins are bigger and clearly marked Recycling and General Waste.
What Needs To Be Done?
The Big Belly Bins have not resulted in less waste collections.
They are frequently out of order.  It appears that the Big Belly Bins are more effective if cleaned and maintained regularly.
It's  a positive step that the bins will now be cleaned more frequently with a cleaning contract being entered into; four years after the Big Belly Bins were first installed.
However, there needs to be an awareness campaign about items which can be recycled in the recycling bin and better labelling on the bin.  Some councils have replaced the chute with a bottle-shaped opening – this makes it clearer to users that only bottles can be put into the recycling bin.
There is no doubt that the bins look better than wheelie bins – but at what cost?
Help Support Local and Independent News
You can support us in three ways:
If you own a local business or a Lane Cove resident who owns a business, you can advertise with ITC – our packages start from a $30 monthly fee (for a 12-month commitment).  Email us here for our rates card.
Buy the ITC  team a coffee – our office is nearly every coffee shop in Lane Cove, and we regularly meet locals at coffee shops – buy the ITC team a coffee (or two) here.
Become an ITC reader sponsor –  Feel free to be a reader sponsor if you have enjoyed our local news coverage – no amount is too small or too big. Thank you so much to the people who have already supported us via our press Patreon account. Help Us Here.