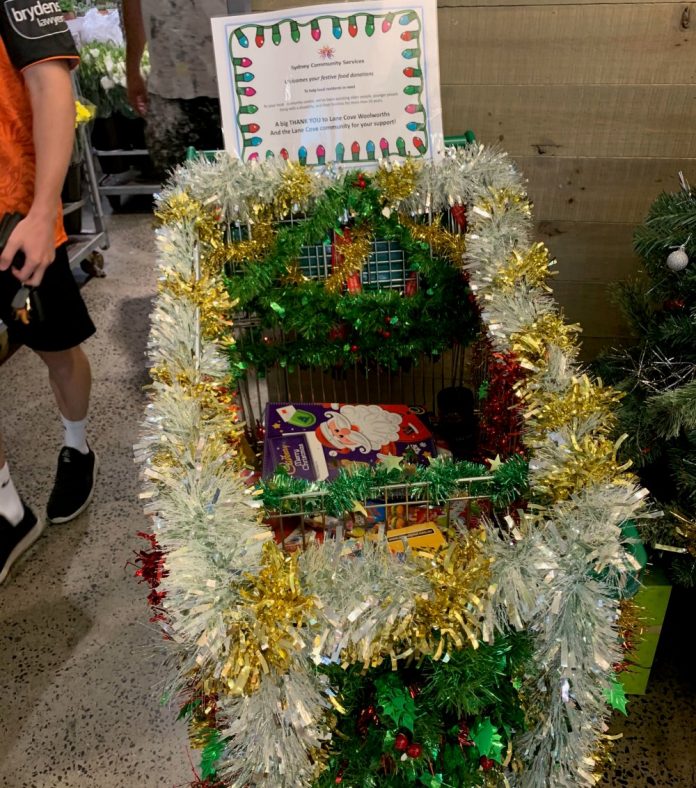 Lane Cove residents are generous.  ITC see acts of generosity every day.  Lane Cove also has one of the highest volunteering rates in Australia.  At this time of the year, ITC readers always ask how they can help or donate to someone in need.  We have put together a list of local donation drives.
This has been a hard year, so if you know someone who lives in Lane Cove Council area and needs a helping hand please email us at [email protected] and we will see what we can do.  One act of kindness can make all the difference and Lane Cove has never let us down.
Sydney Community Services
Sydney Community Services is collecting non-perishable food items to distribute to those in need in our community.  Just purchase an extra item when shopping at Woolworths and leave it in the shopping trolley near the escalators.  These hampers go to locals in need.
With your help, Sydney Community Services distributes more than 200 Christmas hampers every year.
Not everyone enjoys Christmas – it can be incredibly stressful if you can't afford it. Please see a list of ideas for a gift or practical items you can donate to their hampers here.
There are three places to donate:
Please bring your donated items to 46 Gladesville Rd, Hunters Hill or to 1 Pottery Ln, Lane Cove (Little Street Car Park building next to the Pool).
If you shop at Woollies in Lane Cove, there's a tinsel-covered trolley for collecting items for our hampers; or
Greenwich IGA
Sydney Community Services will be distributing hampers until December 18.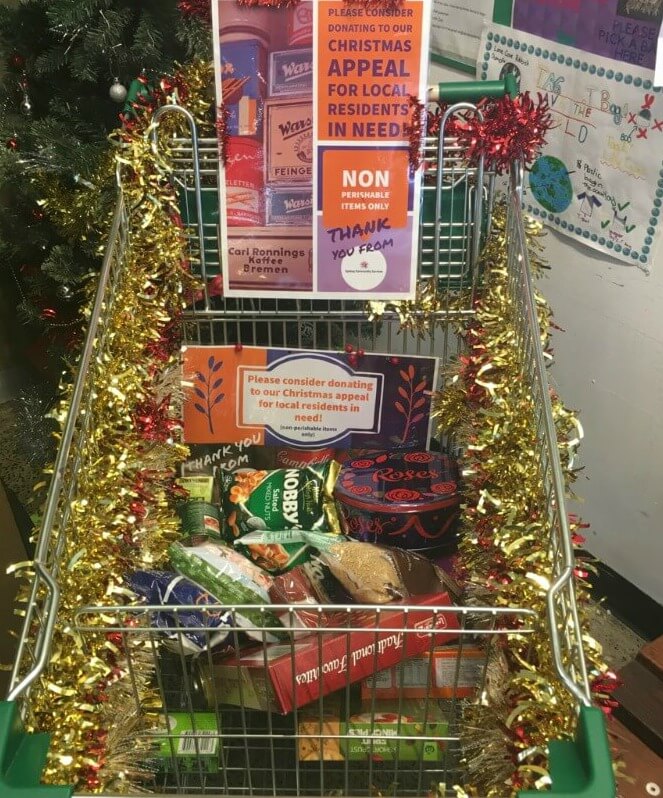 Raine and Horne
This year (as in previous years) Raine and Horne Lower North Shore will be accepting donations for The Salvation Army.
If you would like to donate, please drop off a new unwrapped toy, book, gift voucher or non-perishable food item to either one of our offices in Lane Cove, Willoughby, Mosman, before Wednesday, 14 December 2022.
Lane Cove Office (just near Kasina Korean Eatery).
85 Longueville Road
Willoughby Office
Terrace 3, 183-191 High Street
Mosman Office
145 Middle Head Road
Lane Cove Orthodontics
Lane Cove Orthodontics have the tree up and is ready to receive donations to the Salvation Army.
If you would like to donate, please drop off a new unwrapped toy, book, gift voucher or non-perishable food item to their offices located at  Level 1 138 Longueville Road, Lane Cove, by Thursday, 15 December 2022.
Lane Cove Doctors Medical Surgery
The Lane Cove Doctors Medical Surgery is hosting a 'Christmas Wish' tree for the Salvation Army, which will run from 5 December to 19 December 2022. All locals are invited to drop off gifts under their tree for the Salvation Army.   The Salvation Army mentioned to Lane Cove Doctors Medical Surgery that they are especially looking for gifts for young teens and teens at high school; they are often forgotten during the gifting season.   Items such as gift cards, clothes, puzzles and books are great for teenagers.
Lane Cove Doctors Medical Surgery is located at Shop 1/2/ 118 Longueville Road, Lane Cove.

Salvation Army's Tips for Donations
The Salvation Army's useful tips for gift donations:
Consider donating gift vouchers – A gift voucher means a parent or guardian can still share in the unique joy of buying a gift for their child or family member (vouchers are also ideal for teenagers)
Please consider giving gifts for a range of age groups, including teenagers and parents
Please leave gifts unwrapped, to enable parents/guardians to experience the dignity and joy of choosing gifts based on the recipients' interests or personality. Feel free to include wrapping paper or gift bags
Please donate new items only as your donated gift may be the only present someone receives this Christmas
The Salvation Army's tips for food donations:
Consider donating a supermarket gift voucher, as they allow the recipient the flexibility to purchase their choice of fresh fruit, vegetables and meat
Where appropriate, please ensure items have long expiry dates and are non-perishable
Since these will be received as gifts, consider adding brand name products and some special items to help the recipient celebrate on Christmas Day
Try packing the food into a shopping bag or washing basket that can be reused by the recipient (it's sustainable too!)
Consider providing food that will suit families with young children, people with allergies, the elderly or culturally diverse Australian households.
Salvation Army's Gift Voucher guidelines:
Thet can only accept physical gift vouchers (no printed or electronic gift vouchers please). Popular gift vouchers include:
Supermarkets, e.g. Woolworths or Coles
Department stores, e.g. Kmart, Big W, Target, Myer or David Jones
iTunes
Netflix
JB Hi-fi
Rebel
Event Cinemas or Hoyts
Dymocks
Lane Cove is such a generous community and at this time of year, ITC is regularly asked how locals can support Delvena Women's Refuge. The staff at Delvena never know who is going to walk in the door and need their help. They need to have generic supplies on hand and that is why cash donations and gift vouchers are so appreciated.  Why not buy a Lane Cove Gift Card so parents can choose gifts for the kids from a Lane Cove store?  You can buy a Lane Cove Gift Card at these stores.
However, they told us that this year they are looking for gifts for the following ages:
Girls 17 months, 2, 6, 8 (very sporty), and 16 years old
Boys 4, 5, 7,8,10,11 (very sporty),12,14 and 18 years old (arrived in Australia at aged 16)
It would be great if there could be some indoor games and puzzles for the older kids.
You can drop off your donations at Sydney Community Services.
Your generosity will ensure women and their children escaping domestic violence have a happier Christmas with a small gift to enjoy in their environment, free from violence and abuse.
Lane Cove Council
Santa's elves have been busy putting up the Tree of Joy in the foyer of the Council's Civic Centre and Library!
If you'd like to spread generosity and joy this festive season, please consider taking a tag from the tree and donating an unwrapped gift by Thursday 8 December at Lane Cove Civic Centre or Lane Cove Library.
These gifts will be distributed to local children and families in need. We appreciate your kindness and generosity.
For more information, please contact Council's Seniors and Disability Programs Officer on 9911 3555.
Recycle Smart
RecycleSmart is spreading the Christmas cheer this year by collecting toys from residents' doorsteps in Lane Cove Council to donate to the Refugee and Asylum Seeker Toy Drive.(RASTD)
The RASTD has a detailed knowledge of the immigration sector, they work collaboratively with community development partners to distribute toys out to the 10,000 refugee and asylum seeker children in Australia, many of whom have never had a toy before.
From the 12th to 18th of December, RecycleSmart will pick up toys from Lane Cove residents houses and deliver them to the RASTD.
How it will work:
You may put a maximum of 3 toys in your bags for your pickup
Toys must fit in a shopping bag (roughly 40x40x20cm)
Toys must be LIKE NEW – the quality of toy you would give to a child you know
This means:
In excellent condition
Clean
Safe
Not broken
Complete with accessories and parts
Easy to clean (no soft toys, dolls or teddies)
Must be larger than a tennis ball
Your friendly driver will collect the toys that are in fantastic condition, any toys that are deemed unsuitable for donation will be left behind.
The driver will deliver the toys to the Refugee and Asylum Seeker Toy Drive which will then be delivered out to children all around Australia.
Not only will they bring joy to the refugee and asylum seeker children, the toys that were once loved by other kids will be given a second life.
PetO
Donate to pets in need this Christmas! From now up until Christmas, head into any PetO store, purchase a bauble to stick on our tree for $5 and choose to either donate to Animal Welfare League (@awlnsw) or Cat Protection Society (@catprotectionsocietynsw).

Get Your Local News on Different Platforms
We are more than a Facebook Page,  Weekly Newsletter or  Website – ITC is available on many platforms
Facebook – https://www.facebook.com/Inthecove/
Instagram – www.instagram.com/inthecove/
Weekly News and Events Blast – https://inthecove.com.au/sign-up-for-newsletter/
Lane Cove Chat by ITC (our closed Facebook group for Lane Cove Locals) – www.facebook.com/groups/itclanecovechat
Kids in the Cove – www.facebook.com/groups/861987681252413
In the Cove Podcast – inthecove.com.au/in-the-cove-lane-cove-podcast/
Weekly Lane Cove Property Update – https://inthecove.com.au/category/lane-cove-property/
As always, thanks to everyone for the support!!!!
Help Support Local and Independent News
You can support us in three ways:
Become an ITC reader sponsor –  Feel free to be a reader sponsor if you have enjoyed our local news coverage and would like to be an ITC reader sponsor. You can sponsor us with a monthly sponsorship fee.  We have reader sponsors who sponsor us for $5.00 a month and some who sponsor us for $100 a year – no amount is too small or too big. Thank you so much to the people who have already supported us via our press Patreon account. Help Us Here.
Buy the ITC  team a coffee – We now have a team, and they need to be paid – buy the ITC team a coffee (or two) and that will help us pay their wages and shout then a coffee Buy a Coffee here.
Do you own a Lane Cove Business or a Lane Cove resident who owns a business, you can advertise with ITC – our packages start from $30 monthly fee (for a 12-month commitment). Email us here for our rates card.