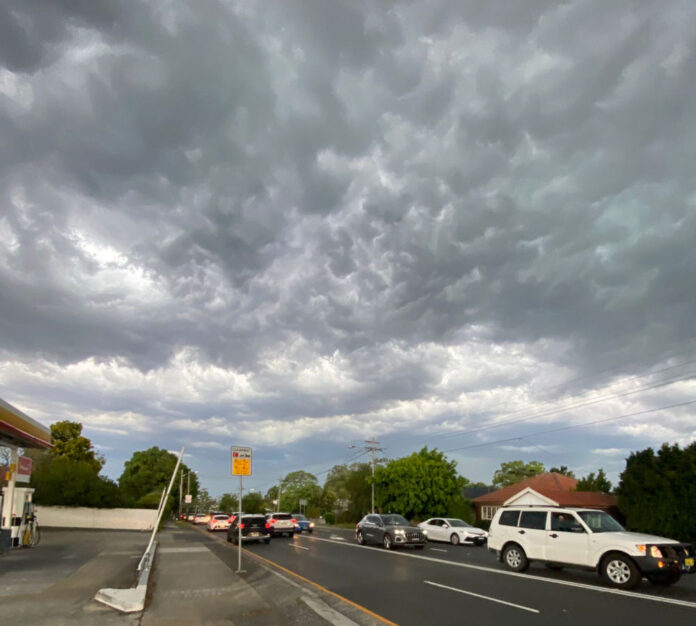 Welcome to our week in review.  This week there has been some wild weather, with a massive thunderstorm on Saturday night taking out power in most of Lane Cove for over an hour and then a downpour on Tuesday night.
Around 70mls was recorded at the Lane Cove Golf Club, leading to the course being closed on Wednesday, 22nd February. There was debris over the course and some particularly bad spots between the first and seventh greens.
Microsoft Announces It Will No Longer Go Ahead with Its Data Centre in Lane Cove North
Microsoft planned to operate a data centre at 706 Mowbray Road Lane Cove North. 
The 1.7ha property was a multi-tenanted office warehouse building with three floors of office space, rear warehouse units and undercover and external car parking spaces.  The site was previously known as Media and Technology Park.
The property was acquired for $63m from VIMG (Vic Investments Management Group) and the data centre was to cost around $318 million (excluding GST) to build.
The zoning for 706 Mowbray Road Lane Cove North is Light Industrial.  The site is located between Epping Road and Mowbray Road West, Lane Cove North and adjoins an E2 conservation zone along the southern boundary
The site has a frontage on Mowbray Road, which falls within the Lane Cove Council Area.  The other side of Mowbray Road is residential and falls within the Willougby City Council Area.  The site is also visible from Epping Road.
Microsoft announced it would not proceed with the data centre but did not provide any reasons for its decision.  ITC has contacted Microsoft and will update our readers when they reply.
Harris Farm Makes Major Announcement at Lane Cove Store about Removal of Artificial Colourings
Following a five-year process working with suppliers, Harris Farm Markets announced no more artificial colours on shelves in any of its stores nationwide.
Harris Farm Markets co-CEO Tristan Harris said:
"This makes Harris Farm Markets the only major grocery provider in the country with this commitment,"
"There's no more Erythrosine (don't try and pronounce this one), no more Tartrazine E102 (ditto), no more weird compounds added to make food look more 'appealing'. Nope, on the shelves at Harris Farm Markets is food as it should be – perfectly driven and coloured by nature".
"For over 50 years Harris Farm Markets have been delivering goodness to Australian families. To continue to do this, we knew we needed to eliminate artificial colours from our shelves. So, for the past five years we have been working with our suppliers, to find new methods of production if needed and alternative ingredients if required. Now, our pasta sauces, dips, juices, peanut butter, cookie dough, curry pastes, chocolates, soups, noodles and even orange juices just to name a few, are all free of artificial colouring", Mr Harris said.
Award-winning pastry chef Anna Polyviou was at the Lane Cove store.
"I learnt of Harris Farms' Coloured by Nature commitment when I first tried to get my products on their shelves. By being knocked back initially, I learnt about Harris Farms' standards, and if I wanted to be a supplier, I needed to meet those. It was a whole new ballgame for me and my team", she said. "For our Triple Choc and Choc Brownie Cookie Dough products, we had to change the white chocolate we used, to one that was completely natural. Even though it was a tiny additive that was the issue, it was still an issue. It was the same with the Peanut Butter we used for our Peanut Butter Fudge".
"The team at Harris Farm worked with us, they nurtured us, they said 'allow us to help you' which was unique. It also started a domino effect, and made us research more about ingredients, and about the products that go into our products. The result is a product that is loved by everybody", Ms Polyviou said.
Business Alert
La Provence is undergoing renovations. We will let you know when they reopen.
Longueville Road upgrades
Lane Cove Council is upgrading the streetscape in Longueville Road to include new flexible outdoor dining options, parklets and seating.
Some sections of parking on the eastern side will change from parking to outdoor dining to public seating/park areas and back again. It will improve the streetscape for pedestrians and businesses and provide a fresh new look.
Upcoming works
Night works will take place at the following locations and dates:
Until Monday 13 March, 7:00pm – 5:00am
Western side: 109-123 Longueville Road.
All 6 parking spaces (including disabled parking) will be closed during construction.
Tuesday 14 March – Monday 24 April, 9:00pm – 5:00am
Eastern side: Little Street intersection to 140 Longueville Road.
Construction will begin from the southern end of Longueville Road and 4-5 parking spaces will be closed at a time.
Due to RMS requirements there may be some movement of heavy machinery outside these hours. The works will involve the removal of existing paving, kerb and gutter and road asphalt on parking lanes with machinery, and replacement of new pavers and kerbs including the installation of steel bollards.
The work will be noisy; however, every effort will be made to minimise the impact of noise on residents and businesses. Council's contractor will endeavour to complete the noisier tasks by midnight.
Lane Cove Council Meeting
The first 2023 Lane Cove Council Meeting is on Thursday, 23rd February. We have gone through the agenda and summarised what is happening. Read more here.
Residents can write to Councillors on any agenda item or issue. The email address that will reach all Councillors is: [email protected].
Public members are invited to attend the public forum of the meeting in-person or online, commencing at 7:00 pm.
If you would like to speak at the Council meeting (in-person or online), register via the online form no later than midnight on Wednesday, 22 February 2023. Even if you do not register by this time, if you attend the Lane Cove Council meeting, Mayor Andrew Zbik always asks if there is anyone who has not registered but would like to speak.
A Zoom meeting link will be emailed to the provided email address.
A time limit of three (3) minutes per public forum address applies.
Council meetings are live-streamed and viewable via the webcast on this website.
Recycle Smart is Collecting Soft Plastics
Well done to the Lane Cove Council, which has reached an agreement with RecycleSmart to pick up soft plastics from your home.
From Wednesday, 22 February 2023, you can book a free Power Pickup for your soft plastics. RecycleSmart will collect it from your doorstep and transport it to the APR Plastics facility in Victoria. The plastics will be shredded, turned into oil and then refined into resin to be used as flexible plastic again.
Find out more here.
Lane Cove Council Fails to Crack Down on Traffic Management Plan Breaches
On Saturday, 18 February 2023, the Lane Cove Council gave the Pathways, 4 Northwood Road Development builders approval to undertake a large concrete pour.  The builders were permitted to work until 10 pm and to have a work zone outside the site to allow trucks to deliver concrete.  This was on the same day as the Riverview Gold Cup and traffic on River Road was busy.
Initially, Lane Cove Council did not inspect the site or take action to ensure the traffic management plan was being correctly implemented.  They only took action to fine the builders after residents made complaints.   A Longueville Resident advised that large concrete trucks were driving along William Edwards Street.  There was also a line of concrete trucks idling on River Road throughout the day.
Lane Cove Council should have been monitoring the site to ensure the Traffic management plan was being implemented.  Lane Cove Council should have also updated the DA portal with copies of the permit so that residents knew the builder had the approval to work out of hours.
Kid Scrabble Club Recommences on Thursday Afternoons in the Lane Cove Library
Come and play Scrabble for free. Just play for fun – no knowledge required!
Two local members from NSW Scrabble are running After-School Scrabble with coaching
Any children from 3rd to 6th Class in any school welcome to come and play!
Every Thursday afternoon from
3.30.pm to 5.00 pm
Lane Cove Library, Training Room 1.
All equipment provided
Call Norma on 0448 419 049 to tell us you are coming
Lane Cove Sport – Free Women's Pre Season Training
FREE preseason fitness Program in February 2023 
Sports-playing women 17+ of the Lane Cove district are invited to join a free pe-season fitness program being run by Lane Cove Rugby on the greens of the Diddy through February 2023.
It would interest those keen to build their fitness in preparation for their 2023 sporting season.
The Program consists of 5 weekly Tuesday evening sessions from 6.30 to 7.30 commencing on Tuesday 31st January 2023 and finishing on Tuesday 28th February 2023 and run by Fitrev at The Diddy Cnr River Road West & Kenneth Streety Longueville Sydney.
Fitness Revelation is a well-known fitness studio located at the Diddy, and the program is free due to the sponsorship of the Lane Cove Rugby Union women's rugby group.
Places are limited to the first 30 applicants.
Contact: Bella.: 0466 111 165. Email: [email protected].
Info: www.lanecoverugby.com
Our Cover Photo are the grey clouds rolling in on Saturday around 6.00 pm
Week in Review Sponsor – Paws Galore Boutique Dog Boarding