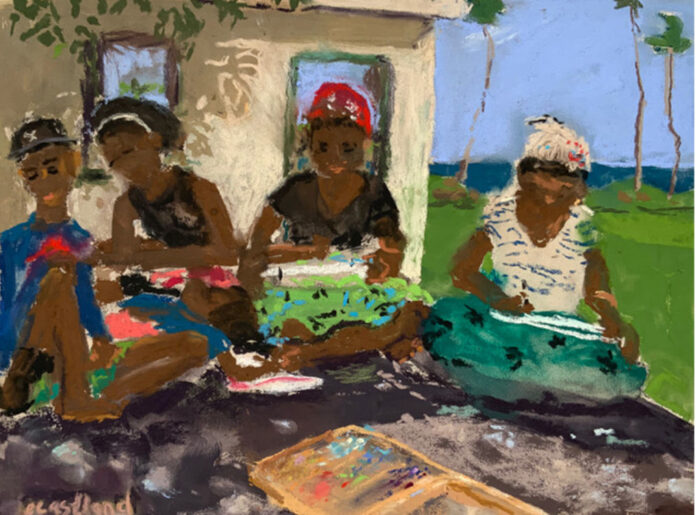 If you've never been to Gallery Lane Cove (located across from the Library), you should pop in and see one of their latest exhibitions. Entry is free.
In April Gallery Lane Cove + Creative Studios will present new immersive exhibitions and interactive spaces reflecting on the natural environment and personal connections to physical landscapes.
There are two new exhibitions from local artists and a pop-up Creative Space for their April exhibition program. During the month of April, the gallery welcomes Pacific Traces, a solo exhibition by Elizabeth Eastland, and Embrace by Creatives Connect.
Elizabeth Eastland
Through pastels, watercolour, and poetry, Sydney-based artist Elizabeth Eastland documents a six-month sailing journey through the tropical islands of Fiji and New Caledonia.
This new body of work forms a multi-arts installation reflecting the multiple perspectives of the journey, running through time and taking place over a thousand sea miles.
Beneath this story, also lies a more personal narrative to the artist, a poetic dialogue with her father during the time he was dying.
Elizabeth's artworks layer memories of past and present as she reminisces on her early childhood in the Pacific Islands, and finds joy and friendship with the people she meets during her travels in these distant, yet familiar locations.
Elizabeth reflects, "In the gentle and clear waters of the islands, as I painted, wrote and played with the islanders, I reflected that we cannot always see the grand narrative, and perhaps life is approached most fully by being present, by living fully, as a series of vivid moments."
Pacific Traces and Embrace will be showing at Gallery Lane Cove + Creative Studios from Wednesday 5 April until Saturday 29 April.
Our cover photo is Elizabeth Eastland, Makogai, 2022, pastel on archival ground paper, 23 x 30.5cm. Image courtesy of the artist.
Creatives Connect
Exhibiting alongside Pacific Traces, Gallery Lane Cove + Creative Studios also presents  Creatives Connect a local artist group.
Formed by artist Lisa Shepherd in August 2022, Creatives Connect is a group of women artists, each with their unique practice, who meet regularly to connect, support, share and create with each other. The group seeks to provide a sense of belonging in what can often feel quite daunting in an art world.
Showing for the first time as a group, Creatives Connect's exhibition Embrace features a diverse range of artistic approaches, including painting, printmaking, ceramics, jewellery and illustration.
Although each artist's practice differs, the exhibition hosts underlying explorations into nature, mental and physical landscapes, and contemporary craft practices.
Creatives Connect explain the exhibition, "Through our work we are embracing life. Through life we are embracing the passion we have for our art practices. Through our friendships we are embracing new connections and opportunities. And through those new connections we've all made within Creatives Connect, we are embracing being women in the art world."
Artist include: Anna Lloyd, Nicole Miranda, Amanda Morters, Romanda Newman, Nina Paine, Lisa Shepherd, Karina Vallins, Wendy Walker
Pop Up Creative Space
Coinciding with the School Holidays, the gallery space will also hold a pop-up Creative Space with free drop-in craft activities and interactive artworks. Bridging the two exhibitions, this space is a great opportunity for children and families to learn more about the artworks in the gallery and keep busy (and creative!) during the holidays. Open to all ages; activities will be centered around art and the environment, with a strong focus on recycled materials.
Artist Talks, Demonstrations and Workshops
Accompanying the April exhibition program will be a series of artist talks, demonstrations and workshops, in addition to Gallery Lane Cove + Creative Studios' Autumn School Holiday Program running from 11 – 21 April.
Embrace Collage & Watercolour Workshop with Anna Lloyd (Ages 6-11 years)
Wednesday 12 April 10:30 am – 12 pm
Elizabeth Eastland in Conversation with Fiona McIntosh
Saturday, 15 April 11 am – 12 pm
Book Here
Embrace: Artist Talks & Demonstrations
Saturday, 15 April 1 pm – 2 pm
Book Here
Soft Pastel Workshop with Elizabeth Eastland
Saturday, 22 April 9 am – 3 pm
Cyanotype Workshop with Lisa Shepherd
Saturday 29 April 12pm – 2pm
Contact Details and Hours
Opening Hours: Tues to Friday 10:00 am – 4:30 pm  Saturday and 10.00 to 2.30 pm
March 2023 Events
The March Exhibitions will be at Gallery Lane Cove + Creative Studios until 1st April 2023.
During March, the gallery will be showing a solo exhibition by local artist Jane Bodnaruk titled 'is it over yet?', and the group exhibition 'Edition Four' curated by artist-run-initiative More Than Reproduction.
The two exhibitions will address themes of womanhood, identity, and place through experimental art making processes and materials.
The International Women's Day exhibition program seeks to provide a platform for women artists to share their work, and support emerging creatives in Sydney.
More Than Reproduction (MTR) is a Sydney-based artist-run printmaking initiative, dedicated to strengthening printmaking practices in Australia. They strive to build a sense of creative community, and provide a platform for artists in the early stages of their careers – specifically women and gender diverse creatives.
Every March, coinciding with the anniversary of the collective's founding and International Women's Day, MTR  holds an exhibition of women artists curated from their monthly artist profile program. Marking the fourth exhibition in the annual 'Edition' series, 'Edition Four' seeks to spotlight experimentation as a methodology within what is considered to be traditional printmaking processes of etching, linocut, serigraphy, lithography and monoprinting. The selected works push the boundaries of conventional printmaking, shifting mediums rooted in tradition into a contemporary and experimental place.
Featuring 15 women artists from NSW and ACT, it includes prominent emerging and mid-career artists Danielle Crenaune (represented by Australian Galleries), Carolyn Mckenzie Craig (Head of Printmaking, National Art School), and Linda Sok who is currently based in New York and was a finalist of the coveted 2022 Churchie Emerging Art Prize.
Alongside this dynamic show, Gallery Lane Cove + Creative Studios will also be presenting  is it over yet?, a solo exhibition by Sydney-based artist Jane Bodnaruk.
Through a series of delicate and intimate works, Bodnaruk interrogates how actions of care both connect and contrast with the value we put on textiles today, and how art can express a woman's (often invisible) commitment to nurturing in daily, domestic life.
Extending from a recent exhibition titled That was Then This is Now, Jane's new offering archives headlines, actions and thoughts gathered from the past 3 years through embroidered tray cloths (or doilies). This new exhibition repositions itself into our post-lockdown and post pandemic context, where as the artist explains, "we are shrouded in a 'COVID-fog', forgetting what we did (and didn't) do."
As part of the IWD Exhibition Program, Gallery Lane Cove + Creative Studios is hosting an extensive lineup of public programs including artist talks and a combination of textile and printmaking workshops. Details can be found on the gallery's website.
The two exhibitions will be showing at Gallery Lane Cove + Creative Studios from Wednesday 1 March until Saturday 1 April. Opening hours Tuesday – Friday 10:00am – 4:30pm and Saturdays 10:00am – 2:30pm.
Public Program information available at www.gallerylanecove.com.au/events
Enrol in an Art Class or Workshop
Gallery Lane Cove + Creative Studios is located in the building directly across from the Lane Cove Library.  Melbourne might have the Paris End of Collins Street, but Lane Cove has the Cultural Precinct in Longueville Road (Gallery Lane Cove + Creative Studios,  Lane Cove Library and the Living and Learning Centre all located on Longueville Road).
Gallery Lane Cove provides the whole community with opportunities to attend art workshops and term classes in printmaking (including screen printing), sewing, jewellery making, knitting, life drawing, painting and pottery.  ITC is especially excited about going to pottery/ceramic classes (ITC became obsessed with pottery after watching the Great British Pottery Throwdown – like MasterChef for potters).
If you would like to know the courses coming up and be notified when there is a new course Email Gallery Lane Cove and put 2023 Workshops in the subject line.  They will then get back to you and let you know what is coming up.  Find out more here.
Gallery Lane Cove + Creative Studios stages several exhibitions a year.  Entry is FREE (yes FREE).
Contact Details and Hours
Opening Hours: Tues to Friday 10:00 am – 4:30 pm  Saturday and 10.00 to 2.30 pm
Gallery Lane Cove and In the Cove are community partners – Gallery Lane Cove is a not for profit organisation, and we offer a discounted ITC Business Supporter package to them – this article is part of that arrangement.
Help Support Local and Independent News
You can support us in three ways:
Become an ITC reader sponsor –  Feel free to be a reader sponsor if you have enjoyed our local news coverage and would like to be an ITC reader sponsor. You can sponsor us with a monthly sponsorship fee.  We have reader sponsors who sponsor us for $5.00 a month and some who sponsor us for $100 a year – no amount is too small or too big. Thank you so much to the people who have already supported us via our press Patreon account. Help Us Here.
Buy the ITC  team a coffee – We now have a team, and they need to be paid – buy the ITC team a coffee (or two) and that will help us pay their wages and shout then a coffee Buy a Coffee here.
Do you own a Lane Cove Business or a Lane Cove resident who owns a business, you can advertise with ITC – our packages start from $30 monthly fee (for a 12-month commitment). Email us here for our rates card.