In October/November 2023, Gallery Lane Cove + Creative Studios will present two new exhibitions,  Strange Notions – untethered fibre artists and Sydney Printmakers
Strange Notions – untethered fibre artists
The exhibition runs from 11 October – 4 November 2023.
Artists include:  Rebecca Brady, Jennifer Corkish, Lorna Crane, Pam de Groot, Jennifer Florey, Desdemona Foster, Cathie Griffith, Ellen Howell, Catherine Lees, Denise Lithgow, Brenda Livermore, Helen MacRitchie, Mandy McAlister, Robyn McGrath, Rhonda Nelson, Samantha Tannous, Kirry Toose, Judith Wilson, Elaine Witton.
 'Strange Notions', is a group exhibition by 19 fibre and textile artists known collectively as 'untethered fibre artists inc'.
They aim to extend the viewers' vocabulary of textile and fibre art and provoke personal thoughts and journeys through contemporary, innovative, and expertly crafted works.
'Strange Notions' present representational and conceptual works of fibre art that delve into rich resources, from the tangible to the non-tangible, the personal to the communal, yielding critical reflections and thoughtful projections.
Each artwork is a celebration of differences in the combination of fibres and techniques, rephrasing assumptions and reflecting the diversity in approach to artmaking, through the vocabulary of fibre.
Opening Event
Opening Event
Join Gallery Gallery Lane Cove + Creative Studios for the opening event, meet the artists and enjoy some refreshments on Wednesday, 18 October, 6-8 pm.
Special guest: Lisa Cahill, CEO and Director of the Australian Design Centre.
RSVP here
Public Program
Artists' Talks
Saturday 4 November, 11 am-12 pm
Be part of the conversation with the exhibiting artists as they discuss the themes, techniques and issues behind their works.
RSVP here
Sydney Printmakers 2023
The Sydney Printmakers Collective exhibition features nationally and internationally acclaimed printmakers.  This exhibition runs from 8 November to 2 December 2023.
Sydney Printmakers explore all traditional and contemporary forms of printmaking and have built up a reputation for excellence in the field. The collective aims to develop a dialogue between their practices and the wider audience by promoting the diversity of printmaking as a versatile, adaptive and engaging medium.
Artists: Karen Ball, Tina Barahanos, Susan Baran, Anthea Boesenberg, Ruth Burgess, Seong Cho, Neilton Clarke, Jacqui Driver, Salvatore Gerardi, Maximilian Gosling, Rew Hanks, Angela Hayson, Lea Kannar-Lichtenberger, Roslyn Kean, Therese Kenyon, Carmen Ky, George Lo Grasso, Graham Marchant, Seraphina Martin, Carolyn McKenzie-Craig, Esther Neate, Evan Pank, Janet Parker-Smith, Jenny Robinson, Marta Romer, Mark Rowden, Anna Russell, Gary Shinfield, Laura Stark, Andrew Totman, Thea Weiss,  Mirra Whale, Ann Bewah Wu, Cheryle Yin-Lo, Sharon Zwi.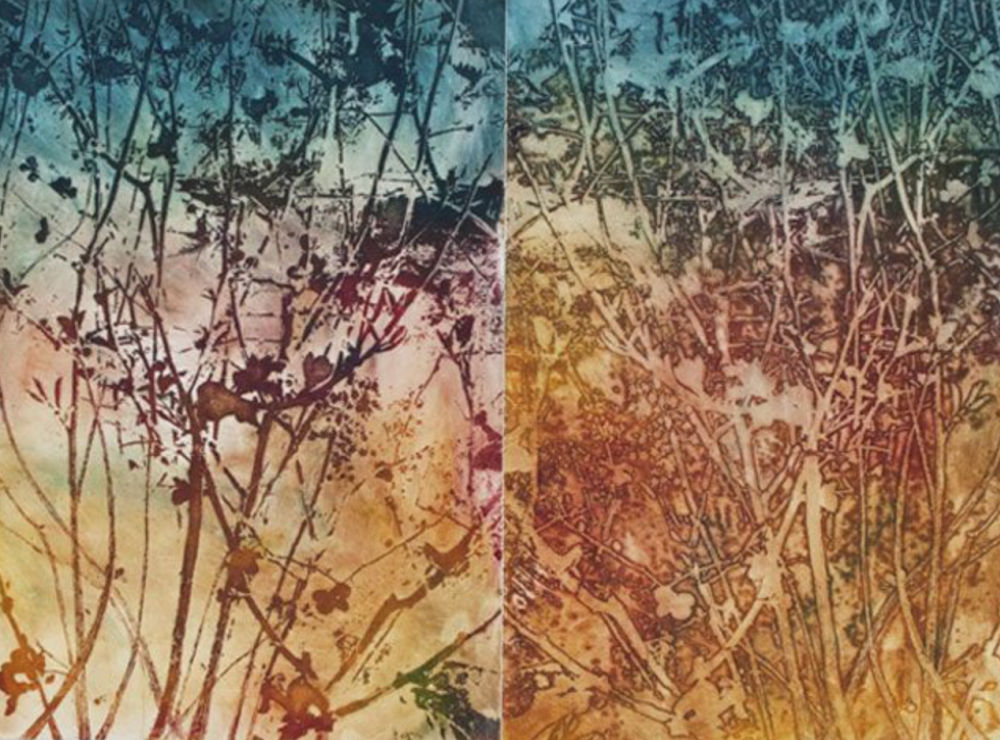 Opening Event
Wednesday, 15 November 2023 , 6 – 8 pm
Join the Gallery for the opening event, meet the artists and enjoy some refreshments.
Public Program:
Artists' Talks
Saturday, 2 December 2023, 11 am-12 pm
Be part of the conversation with the exhibiting artists as they discuss the themes, techniques and issues behind their works.
Sculptural Felting 3D Landscape Vessels Workshop by Denise Lithgow
Saturday 21 October, 10 am-4 pm
Cost: $90 + $25 materials fee (total $115)
Design and create a unique sculptural landscape vessel using pure merino wool in this inspiring creative workshop. Textile artist Denise Lithgow will guide you through the process of making and moulding felt into innovative forms and shapes. You'll learn how to form shapes and translate these into three-dimensional non-functional vessels. Enthusiasm and imagination are the best ingredients to bring along to this workshop.
All felting materials and equipment are provided.
Participants to bring:
– 1x old towel
– 1x apron
– Bag to take wet felt home
Places are strictly LIMITED! Book your spot now before it's too late!
Cover Photo
Our cover photo is Katherine Boland, Aquarium I #5, 2023, acrylic glass print. Image courtesy of the artist.
Gallery Lane Cove + Creative Space Contact Details
Opening Hours: Tues to Friday 10:00 am – 4:30 pm  Saturday and 10.00 to 2.30 pm
If you've never been to Gallery Lane Cove (located across from the Library), you should pop in and see one of their latest exhibitions. Entry is free.
School Holiday Programmes
Spring School Holiday Program – 25 – 29 September and 3 – 6 October 2023
Gallery Lane Cove + Creative Studios invites you to join a fun and creative selection of pottery, drawing, painting, sewing and craft in our Spring School Holiday Program. Come join their experienced, talented teachers for a day with lots of fun art-making, sketching and getting creative with friends!
Book here and book soon as classes fill up quickly.
Help Support Local and Independent News
You can support us in three ways:
Become an ITC reader sponsor –  Feel free to be a reader sponsor if you have enjoyed our local news coverage and would like to be an ITC reader sponsor. You can sponsor us with a monthly sponsorship fee.  We have reader sponsors who sponsor us for $5.00 a month and some who sponsor us for $100 a year – no amount is too small or too big. Thank you so much to the people who have already supported us via our press Patreon account. Help Us Here.
Buy the ITC  team a coffee – We now have a team, and they need to be paid – buy the ITC team a coffee (or two) and that will help us pay their wages and shout then a coffee Buy a Coffee here.
Do you own a Lane Cove Business or a Lane Cove resident who owns a business, you can advertise with ITC – our packages start from $35 monthly fee (for a 12-month commitment). Email us here for our rates card.