Fiona Crawford grew up with a wonderful doll house.  It was lovingly hand built, two storeys, with gorgeous windows and arches.  It was a 4th birthday present for an active, imaginative, and curious young girl.
But, this is not just any doll's house… this one has quite the history.
Fiona Crawford told ITC the following:
My beloved father, Robert, was a civil and production engineer who could solve any problem. So, it was natural for him, some 50 years ago, to design and build a doll house for his daughter Fiona.  He and his wife, Lynnette, who decorated the interior, were up till all hours finessing the final touches to ensure it was ready in time for the great unveiling.
I could hardly contain my excitement and delight when presented with my own home!
I recall the countless hours 'playing house' with friends and the family's Siamese kitten, Chinta, who sashayed from one room to another before heading upstairs to settle in one of the rooms, contemplating life from the window.
A whole afternoon would slip by, and in that time, I would have thoughtfully reconfigured some of the furniture, prepared a bedroom for expected guests, and cooked dinner in the kitchen, before putting the children to sleep at night and settling in to watch TV with my husband.  There were so many variations on what I could do in my own home.  The options were endless.
Decades on, I was keen for others to enjoy what I had experienced as a child whilst preserving this gift, a true labour of love from my parents.
But, where does one find a 'builder' who would renovate a doll's house?  I contacted The Lane Cove Community Men's Shed (which I discovered was one of the first two men's sheds established in Australia in 1998 by a grant from the Federal Government) to see if they would be willing to undertake the required restorative work to its structure, interior and exterior – in the hope that it might continue to provide joy to children who would appreciate a wonderful distraction.
I had Ronald McDonald House Westmead in mind, knowing they provide young children and families with a sanctuary – a home away from home – while the family's child faces treatment for an often debilitating illness.  Ronald McDonald House connects (via a 200m walkway) to The Children's Hospital at Westmead and provides around 1,500 families a year with accommodation and home-comforts. During the holidays, siblings of the child undergoing treatment, who have remained in regional hometowns during term-time (often with grandparents) can reunite with their families at Ronald McDonald House.
I spoke with Ron Sinclair, a craftsman and member of The Lane Cove Community Men's Shed.  He is a woodworker with an eye for detail and the skills to deliver remarkable results.
He and the team readily accepted the challenge and set about restoring the roof structure, reinforcing the internal walls and base, repairing the gables, installing wooden floors, replacing the carpet in the bedrooms, tiling the upstairs bathroom and painting.
A floating timber staircase replaced the existing staircase, with a transparent banister to complete the restoration.  Although all work undertaken by Australian community men's sheds is voluntary, I was keen to make a contribution towards The Lane Cove Community Men's Shed, given the wonderful work they do in the community.
Fiona then donated the beautifully renovated Doll House to Ronald McDonald House Westmead.
When building the doll house, Fiona's father drew inspiration from a home in St Ives which was designed in the manner of a high-gabled Dutch cottage. The cottage in St Ives has since given way to a block of home units however, Fiona's six-roomed, two-storey doll house endures five decades on, and will bring joy for many years to come.
The recently delivered doll house is already bringing joy and excitement, as this quote from Matthew Mifsud of Ronald McDonald House Westmead, testifies:
"Hi Fiona.  I just wanted to drop you a note to let you know the beautiful doll house you donated has found a home here at the RMHC Westmead House. We have had two girls take a keen interest and love playing with the house… we will undoubtedly have others as more kids enjoy the house. It will continue to be such a special part of the Learning Centre, and we are so thankful for the donation and the incredible craftsmanship of the Lane Cove Community Men's Shed to restore the doll house."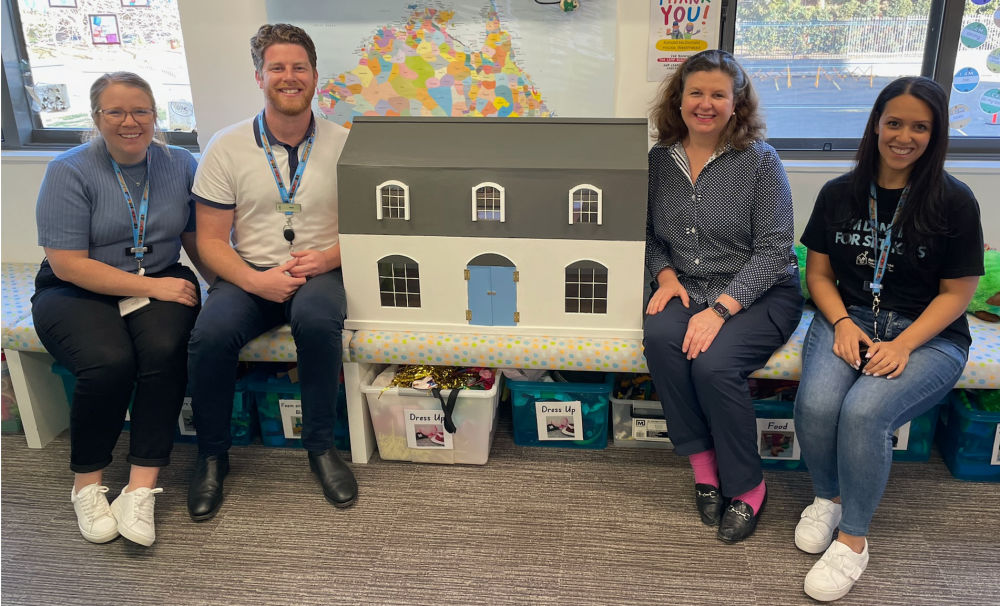 Fiona said:
"Australia's community men's sheds do incredible work, and the community component is relevant to this story.  Bunnings kindly donated carpet tiles and paint, the Lane Cove Community Men's Shed applied their skills and expertise to preserve a family treasure, and Ronald McDonald House Westmead willingly accepted to be the custodians of the newly-named Ronald McDonald Dollshouse, which will continue to inspire the imaginations of young ones.  When a community pulls together, the outcome has a lasting impact."
The Lane Cove Community Men's Shed ("the Shed")
The Lane Cove Community Men's Shed is open to any men who have a shoulder to lean on or, need a shoulder.
The Lane Cove Community Men's Shed is the perfect place for men looking to craft a nice dovetail and improve their mental well-being at the same time.
"In a world where loneliness and mental health issues hide beneath the surface, this busy workshop is out to prove that good company can work wonders for our hearts and minds," says Peter Stidston, Lane Cove Community Men's Shed President.
"This is not just a place for repairing furniture. It is a community of men with common interests, who like to fix things and enjoy a good laugh at the same time.
Step through our doors, and you'll be immediately impressed by the camaraderie and mateship where you can open up, contribute your skills and make a real difference. It can be a lifeline", says Peter.
The Shed welcomes men from all walks of life. Whether you are a skilled tradesman, like painting or want to learn new skills, you will fit in at the Shed.
The Lane Cove Community Men's Shed is seeking new members to have fun and feel the power of connection. Whether you're keen on making wooden toys for your grandkids, tinkering with tools, or just reminiscing about the good ol' times, the Shed offers a smorgasbord of opportunities.
Lane Cove Community Men's Shed Contact Details
Address:  15 Fig Tree Street Lane Cove (underground Car Park of St Columba's Retirement Village)
Phone:  9418 8459
Website:  https://lanecovemensshed.org.au/
Operating Hours: 10.00 am to 3.00 pm, Monday to Thursday.
Cover Photo:
Fiona Crawford and Ron Sinclair with the renovated doll house at the Lane Cove Community Men's Shed
Help Support Local and Independent News
You can support us in three ways:
If you own a local business or a Lane Cove resident who owns a business, you can advertise with ITC – our packages start from a $35 monthly fee (for a 12-month commitment). Email us here for our rates card.
Buy the ITC  team a coffee – our office is nearly every coffee shop in Lane Cove, and we regularly meet locals at coffee shops – buy the ITC team a coffee (or two) here.
Become an ITC reader sponsor –  Feel free to be a reader sponsor if you have enjoyed our local news coverage – no amount is too small or too big. Thank you so much to the people who have already supported us via our press Patreon account. Help Us Here.