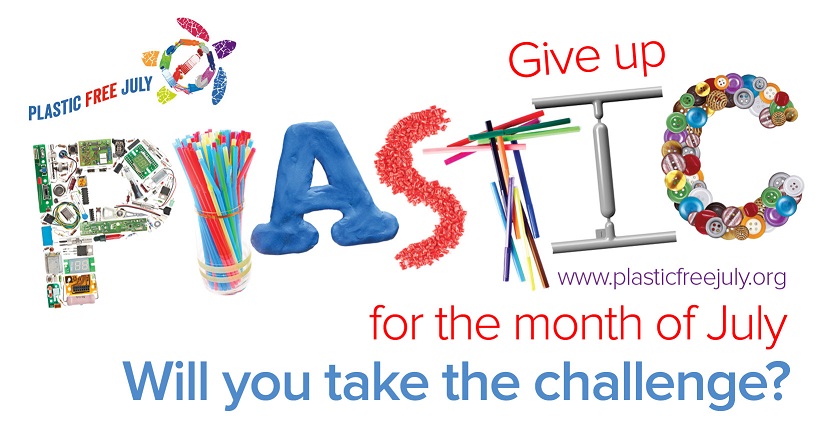 A major climate change marker has been passed. A monitoring site jointly run by the Bureau of Meteorology and the CSIRO located at Cape Grim (we did not make that name up) has become very famous for all the wrong reasons. The monitoring station is situated in a remote part of north-western Tasmania.
Recently we hit a reading of 400 parts per million (ppm) of carbon dioxide in the atmosphere. Scientists say there is no going back. Now whether you believe in climate change or not (just look at the weather we have had in May and June!!), it is always a good idea to reduce plastic use, recycle and reuse.
Plastic Free July aims to raise awareness of the problems and amount of single-use disposable plastic in our lives and challenges people to do something about it.
You can sign up for a day, a week or the whole month and try to refuse ALL single-use plastic or try the TOP 4: plastic bags, water bottles, takeaway coffee cups and straws.
We thought it would be a good time to tell you about some ways you can reduce plastic use in Lane Cove.
Reusable bins are located in Lane Cove Shopping Centres to assist our community's reliance on plastic bags.  Plastic bags are mostly used when shopping and the bins have been placed in strategic areas to assist shoppers when:
You have forgotten to bring your reusable bags to the shops
Need extra bags because you bought more than anticipated
Left the reusable bags in the car
A roving reporter sent us these pictures of how they have managed to remove packaging from their pantry. They will now buy all their ingredients in bulk from the Source Bulk Foods Lane Cove. The Source has a zero plastic packaging policy.  All food is sold in paper bags or you can take in your own jars/containers and fill them up. It's about shopping from bulk rather than in bulk. You do not have to buy 20kg of rice at a time.
Before
Ditch the Takeaway Coffee Cup
Go Vita Lane Cove – sell cute Cheeki reusable coffee cups. Currently, if you buy the cup they will throw in one free coffee from Story!
As part of the Plastic Free July month, you may also want to think more about recycling.
Are you Recycling Correctly?
According to Recycle Smart a recent survey revealed that 99% of residents are still unsure how to recycle some household items. Recycle Smart has released an app to help you choose the right items to recycle. You can find out more here.
Coles Recycling
You can recycle your batteries and globes by placing them in the bin located in Coles Lane Cove.
Do you have a local issue you would like help with? ITC is here to help just email us at [email protected]
You can subscribe to our newsletter by filling out the form at the bottom of our homepage. Our newsletter is sent out every Wednesday Night at 7.30pm and includes details of Lane Cove Events for the next seven days or so, and articles you may have missed during the previous week.
Have you liked our Facebook page or Instagram Page – what are you waiting for?!