We know that many people in Lane Cove love running, so we asked one well known Lane Cove runner, Andy Smith, to tell us the top 10 hill runs in Lane Cove.
You cannot run a solid distance around Lane Cove without encountering at least one or two decent gradient hills so if you want to be challenged these are the roads to look for otherwise if you're just starting out or wanting to take it easy, these are the places to avoid ! 
These are all from my own experiences of running around the Lane Cove area so there may be other hills that could be included which I have not tried yet. If anyone else has a "favourite" hill that isn't on the list I'd be interested to hear about it and, of course, would be thrilled to give it a try !
Note that all of the hills I have chosen are all adjacent to roads therefore trails and paths between roads have been excluded. The stats and maps are all taken from Strava so I relied on the people who created the segments to include all of the fun steep sections of the hill. 
10) Phoenix St (between Dorritt St and Longueville Rd) 500m x 41m at 8% 
A gentle start from the roundabout at Dorritt st which levels out as you pass Pottery Green Oval. The hard work then starts as you approach the Lane Cove pool and with a constant gradient all the way to Longueville Rd. Not seriously steep but the length of the climb will sneak up and bite you as you approach the top.
9) Bridge St (between River Rd and Burns Bay Rd) 500m x 33m at 6% 
This may not look like a tough hill to climb but that can often be what fools you into starting too hard and then realizing half way up that you've made a big mistake ! It's a reasonably manageable gradient but plenty of length is a good recipe for a tough finish as you approach Burns Bay Rd. Don't under estimate this one !
8) Burns Bay Rd (between Linley Point Reserve and Penrose St) 700m x 40m at 6%
This climb feels like its longer than 700m so it's one to pace yourself carefully on. This is also the ideal training hill in the local area if you have the City2Surf in mind and want master heartbreak hill with its gentle bends and subtle gradient variations.
7) River Rd Golf Course (Gore Creek to Northwood Rd) 500m x 28m at 5%
This is another climb that is ideal for City2Surf training especially if you continue up Longueville Road to add some extra distance and altitude. The saviour with this climb is that you have plenty of downhill running to prepare yourself beforehand and it starts with a gradual increase in gradient until you cross the entrance into the golf course. For the next 200m you have some work to do !
6) River Rd dipper (between Warraroon Rd and Wangalla Rd) 200m x 18m at 8%
Use the downhill run from William Edward St to get a run up as you're going to need it ! You know it's steep when you hear the distinctive sound of cars changing down gears to crest the hill so, as a runner, you're best to do the same. Pick a lower gear by shortening your stride and watch out as the gradient ramps up as you come around the left hand bend. (ITC note:  We can't even wallk up this hill without stopping every two steps to take our breath)
5) Dorritt St (between Phoenix St and Little St) 200m x 23m at 9% 
The first time I did this climb was on a bike and I wondered whether it might actually be faster to run up it. The answer?, both are painful and require commitment! Yes you can run up quick but plan to use Longueville Rd as your finish line and take a short stroll to the village to recover with breakfast and coffee. (ITC note: Yes this is steep a friend of ITC was walking up this hill in heels when a lovely bus driver stopped and told her to hop on the bus, he thought it was too steep to walk in heels).
4) Cobden Ave or Allison ave  (between Kimberley Ave and Pacific Hwy) 200m x 28m at 12%
You can take you pick of two roads which are equally challenging, or do both ! From the moment you turn into these streets you're into the "steep and go deep" from the bottom to top.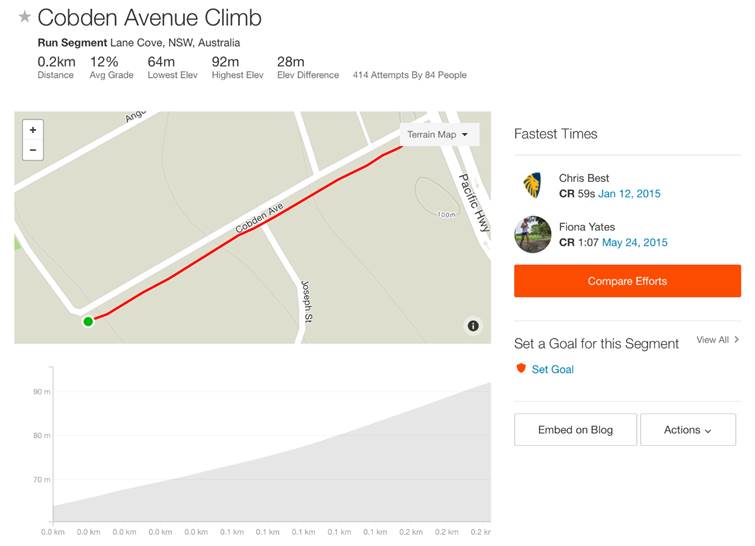 3) River Rd Greenwich Rd intersection west (between St Vincents Rd and Greenwich Rd) 200m x 24m at 10%
Strava has this segment named "River Heartbreak" for good reason. The stats suggest that it's not as steep as some of the climbs rated easier on my list but you take one look at this from the base of the climb and you wonder if the GPS readings must be out of synchronization. From bottom to top this is another climb that is dead straight with no change in gradient to ease the pain. 
2) Gore St ( from Gore Creek reserve on St Vincents Rd To Carlotta St) 400m x 51m at 11%
This one is a bit of a hidden treasure. My advice is to enjoy a bit of trail running from River Rd following Gore Creek until you reach the peaceful Bob Campbell Oval. From here you can head up St Vincents Rd to get the legs working hard before making the right hand turn onto Gore St. The choice here is to use the stairs on the footpath or attack the climb on the road, either way it's going to be hard work until you reach a very gradual decrease in gradient to Carlotta St.
1) Riverview St (from Kooyong Rd to Riverview College) 200m x 34m at 13%
Don't be fooled by the short distance and 13% average as this is one very nasty and unforgiving hill to attempt to run up. The best way to describe this hill is to break it down into roughly 5 x 40m sections (running 40m sounds much easier !). You start the climb at a leg testing gradient of just under 20% as the road bends to the left. Luckily this climb is not straight so you cannot see what's ahead of you and you can grab a short break in the 2nd section where it eases off to under 10%. Next thing you know you're running but feel like you're not making forward progress thanks to the 3rd section with gradients approaching 25% ! If you have survived this part you are rewarded with a short break back in the single digital gradients before finishing with a final climb to the summit next to one of Riverview College ovals. Well done, you survived !      
Special mention – Ronald Park (between Ronald Ave and Pacific Hwy) 100m x 17m at 12%
This one is not a road climb so I haven't included in my top 10 list but it rates a special mention as it's a popular one for running clubs and boot campers to use when they are up for the challenge of doing hill repeats. Leave the stairs for the pedestrians and attack the grass for some real fun…..on a dry day
Thank you so much to Andy Smith for writing this blog and testing out those hills.  What do you think?  Are there any other hills in Lane Cove that are challenging?  Let us know.
---
Do you have a local issue you would like help with? ITC is here to help just email us at [email protected]
You can subscribe to our newsletter by filling out the form at the bottom of our homepage. Our newsletter is sent out every Wednesday Night at 7.30pm and includes details of Lane Cove Events for the next seven days or so, and articles you may have missed during the previous week.
Have you liked our Facebook page or Instagram Page – what are you waiting for?!