Apple Dental as not only passionate about teeth, but they love shiny new things (like nice clean teeth!), and are always keeping their equipment and surgery up-to-date. They even have iPads in the waiting room for their younger patients to play on.
Dr Mark from Apple Dental tells us more about how they take advantage of the digital age to help their patients.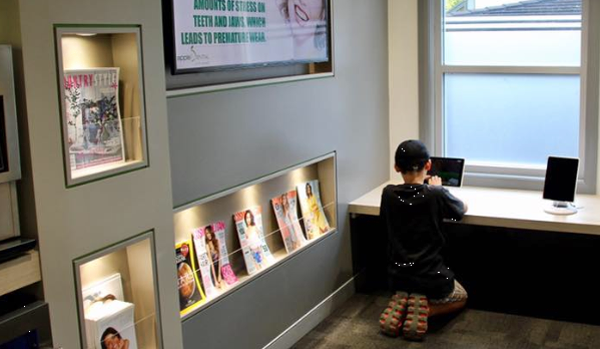 We certainly live in interesting times, with so many of our daily processes being driven by computer power. The world of dentistry is no different and most recently we have enjoyed increasing benefits as a result.
At Apple Dental, we consider ourselves as early adopters and we no strangers to utilising technology for the benefit of our patients.
I first brought digital x-ray into my practice back in 1998, well before digital photography was a common thing. Digital x-rays have several benefits over conventional film x-rays, with the ability to manipulate and images to read the x-rays more accurately. Perhaps the greatest benefit lies in the sensitivity of the sensors compared with film, which means we only use approximately 5% of the film radiation exposure to achieve a high-quality image compared to film.
More recently we were amongst the first general dental practices to install a Cone Beam CT (CBCT) machine. This produces digital 3-D x-rays of our patient's facial and jaw areas, and has resulted in the detection of many previously unnoticed conditions. Dental problems such as chronic abscesses and cysts often go undetected because they are painless. We are also able to detect conditions that we would rather not find, such as tumours.
CBCT also allows us to plan implant placements. The software allows digital placement of implants into the most ideal position and angulation according to the desired position of the final tooth, proximity or neighbouring teeth, nerves and sinus spaces, and the available bone space. Once the final position is confirmed, the digital file is sent electronically to a laboratory which produces a precision implant placement guide. This allows us to place the implant exactly as planned and because we know where the implant is going, we only need to remove a tiny circle of gum tissue to get the implant inserted, so recovery is quick and easy.
Another significant application of digital dentistry at Apple Dental is CEREC. If you've ever had a crown, bridge, porcelain veneer or porcelain inlay, you'll remember having to have an impression done of your mouth, and temporary crowns or fillings made to see you through the 2 weeks before you had the restorations placed. With CEREC, instead of an impression, a camera takes a digital scan of your mouth and produces 3D digital model of your teeth. Your restorations are designed in front of you before being milled and finished from various porcelain materials on site. The result is high-quality crowns, bridges, inlays and veneers, all in one visit.
Apple Dental is proudly locally owned and operated with a high proportion of local residents within the team. With no corporate or health insurance ties there is no shareholder or contractual pressure to consider cutting on expenses or driving up profits. The focus is purely on patient care and quality clinical outcomes.
Apple Dental are one of ITC's fabulous Platinum Sponsors. Without their support, along with our other sponsors, our website would never have been possible. #itcplatinumsponsor
Contact Details
Address:1 Finlayson St Lane Cove NSW 2066
Telephone:  (02) 9420 5050
Email: [email protected]
Website:  www.appledental.com.au
Facebook:  @appledental 
You can book appointments online at www.appledental.com.au.  They are open six days a week and two late nights.
---
Do you have a local issue you would like help with? ITC is here to help just email us at [email protected]